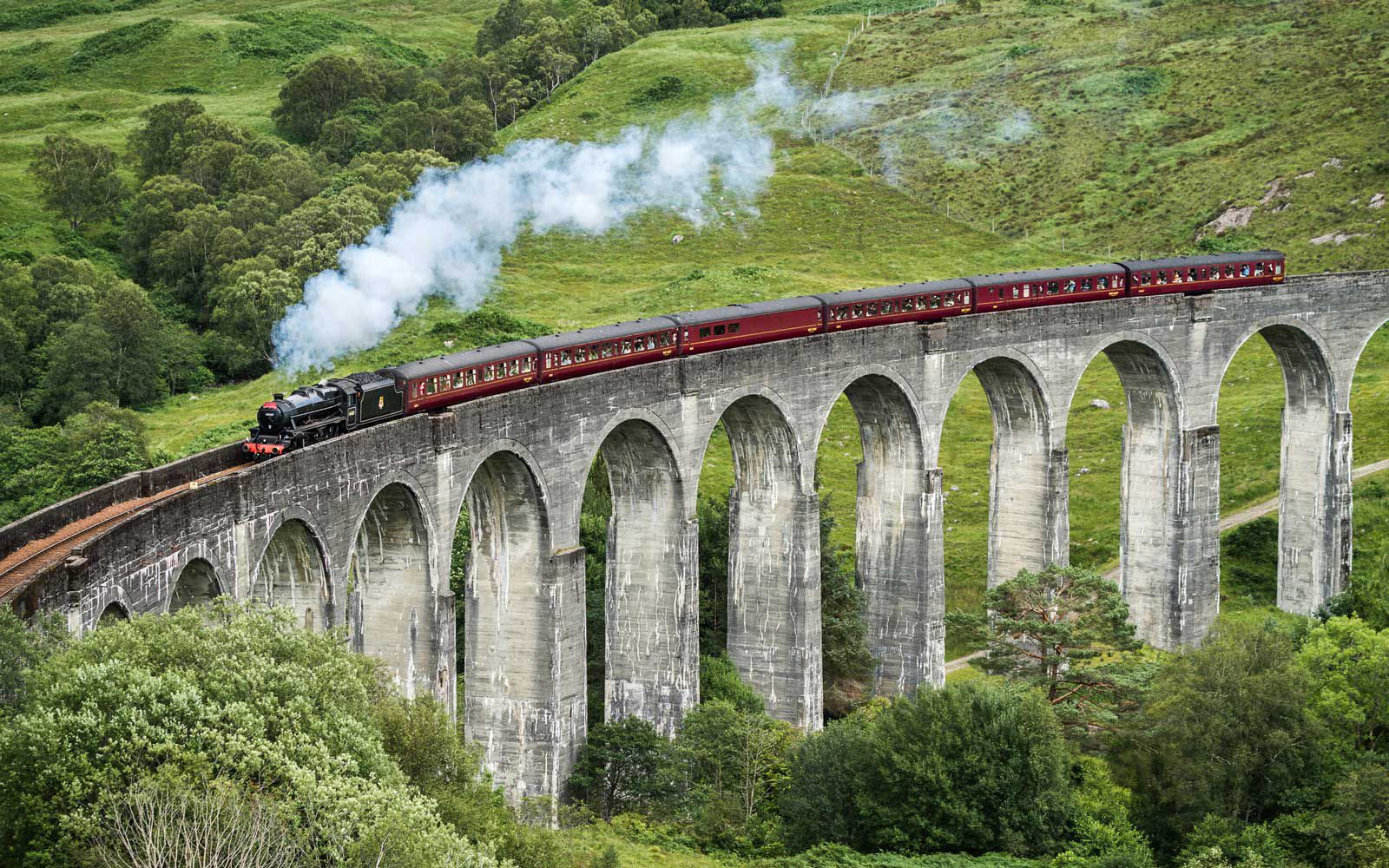 When you hear Toy trains, What do you imagine? You may imagine a Hogwartsesque experience, recalling the scene when Harry takes his first step into the fantastical world of Hogwarts, boarding the train from Platform no. 9 3/4, gulping down mysterious sweets from the onboard candy trolley, and enjoying the scenes of unbelievable amazement. Hold that thought because you can experience the same without having to leave for Scotland. Yes, toy trains in India.
There are a total of 5 toy trains that run on the hill stations of India. The reason they are called toy trains is due to the 2 ft narrow gauge railway they run on and the bogies are also smaller in size than the standardized one, imparting an illusion of a Play thing more than the real deal.
Here is the list of the top toy trains that are still running in India
Kalka-Shimla Railway, Himachal Pradesh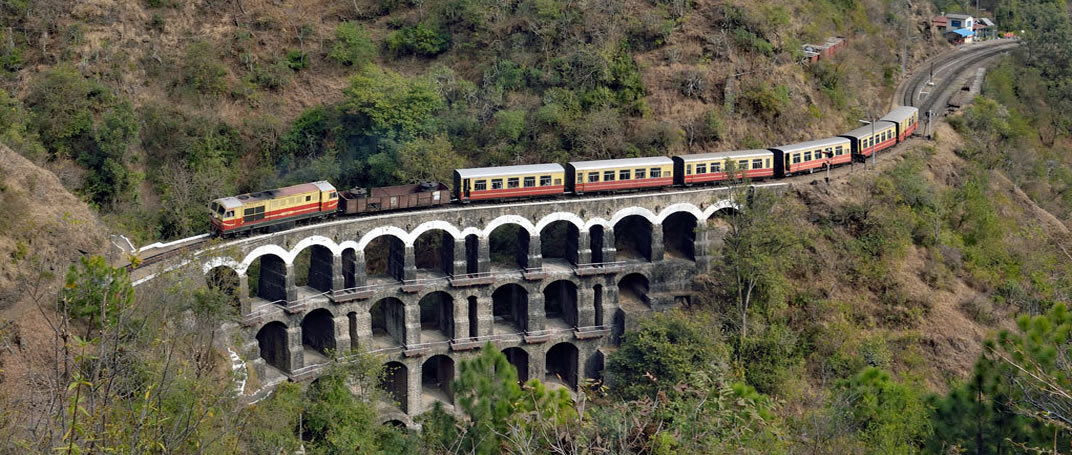 The Kalka-Shimla railway was formerly built with the intent to connect Shimla to the existing Indian rail system during the British Raj when Shimla was the Summer Capital of Imperial rulers.
Since then, this railway has gained massive popularity due to its spectacular views of the hills and nearby localities, all of which serve to exemplify the fantastical nature of the ride.
For the same reason, the Kalka-Shimla railway has its name added to the mountain railways of India's World Heritage Site.
Stations Covered By This Railway:

The track has 20 picturesque stations; Kalka→Taksal→Gumman→Koti→Sonwara→Dharampur→Kumarhati→Barog→Solan→Salogra→Kandaghat→Kanoh→Kathleeghat→Shoghi→Taradevi→Taradevi→Summer Hill→Shimla. The longest station is Barog.

Trains Running On This Railway: Kalka Shimla Toy Train, Shivalik Deluxe Express; Kalka Shimla Express; Himalayan Queen; Kalka Shimla Passenger; Rail Motor; Shivalik Queen.
Price: Entry fee for the Kalka-Shimla Toy train is ₹320 per person for Adults (Rail Motor Car),₹160 per person for Children (Rail Motor Car), ₹510 per person for Adults (Shivalik Deluxe Express), ₹255 per person for Children (Shivalik Deluxe Express), ₹470 per person for Adults (Himalayan Queen), and ₹235 per person for Children (Himalayan Queen)
Darjeeling Himalayan Railway, West Bengal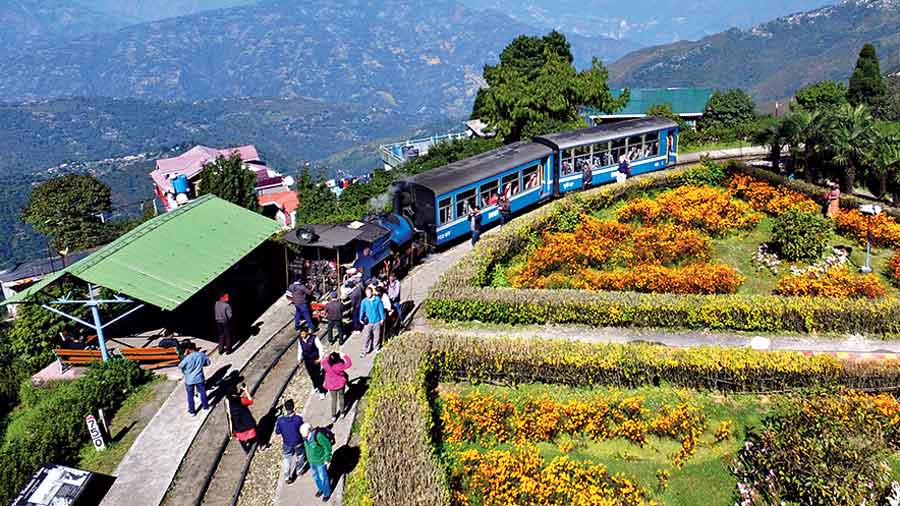 Darjeeling's worldwide popularity is due to its quality Tea production. If your mind wavered to Toy Trains, I could say we are on the same track.
Darjeeling's Toy train ride is a staple for its tourism. Once a place for recuperating for the East India Company. It is of the most popular toy trains in India. The railway track built on a twisty and steep route on a 2ft narrow rail has become a thing of many delights since colonial rule. And as of 1999, it was internationally recognized by putting its name on the UNESCO list of World Heritage Sites.
During the Covid-19 pandemic, the services were put on a halt due to safety measures but as of August 2021, the services were resumed. Visitors can avail of rides on the Toy Trains without any hesitation.
Stations Covered By This Railway:

New Jalpaiguri→Siliguri Town→Siliguri Junction→Sukna→Rangtong→Tindharia→ Agony Point→Gayabari→Reverse No. 6→Mahanadi→Kurseong→Tung→Sonada→Rongbull→Jorebungalow→Batasia Loop→Darjeeling

Trains Running On This Railway: "Darjeeling Mail" from New Jalpaiguri to Kurseong and Darjeeling; "Joy Train" from Darjeeling to Ghum & back.
Price: The ticket price for New Jalpaiguri to Darjeeling Passenger Train is 1,700 rupees in AC Chair Class and 1,420 rupees in First Class. Joy Rides is ₹1,500-1,600 in First Class with a steam engine and ₹1,000 in First Class with a diesel engine, which also includes entry to the Ghoom Railway Museum.
Nilgiri Mountain Railway, Tamil Nadu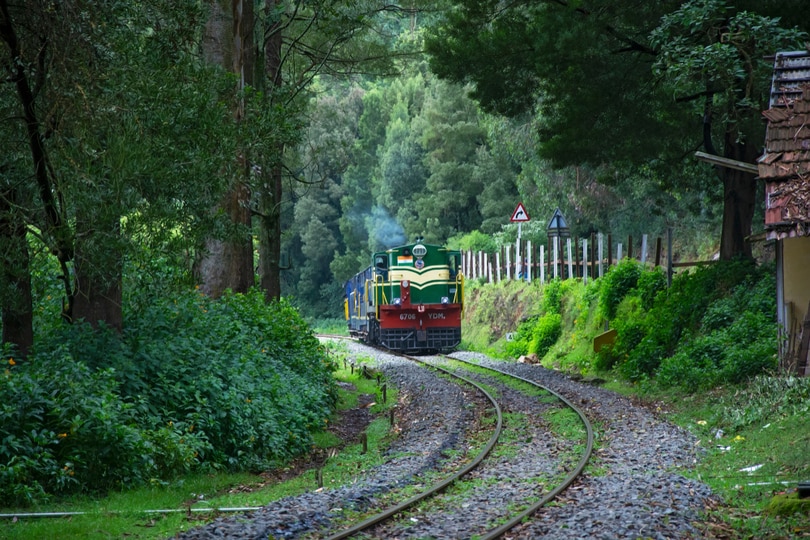 The Nilgiri Mountain Railway is another UNESCO-recognized site on the list. One of its kind, proudly the only existing rack railway in India that aids to climb the steep ranges of Nilgiri Hills with ease.
The steepness of Nilgiri Hills is no joke! Rack railway is a steep-grade railway that allows for smooth sailing on steep grades above 10%. Nilgiri Mountains have a steep grade of 8.33% making it the steepest track in all of Asia.
If you want something equivalent to a roller coaster, this is it. The uphill journey takes around 4.8 hours, and the downhill journey takes 3.6 hours.
Stations Covered By This Railway:

Mettupalayam→Kallar→Adderly→Hillgrove→Runneymede→Kateri Road→Coonoor→Wellington→Aravankadu→Ketti→Lovedale→Fern Hill→Udhagamandalam.

Coonoor, Udhagamandalam, and Wellington stations have been featured in National as well as in International films.
Trains Running On This Railway: Ooty Toy Train, Mettupalayam-Ooty MG Passenger, Coonoor-Udagamandalam MG Passenger, Coonoor-Udagamandalam MG Passenger, Coonoor-Udagamandalam MG Passenger
Price: Entry fees for the Ooty toy train is ₹205 per person in first class, ₹30 per person in Second Class, and ₹15 for the Unreserved category
Matheran Hill Railway, Maharashtra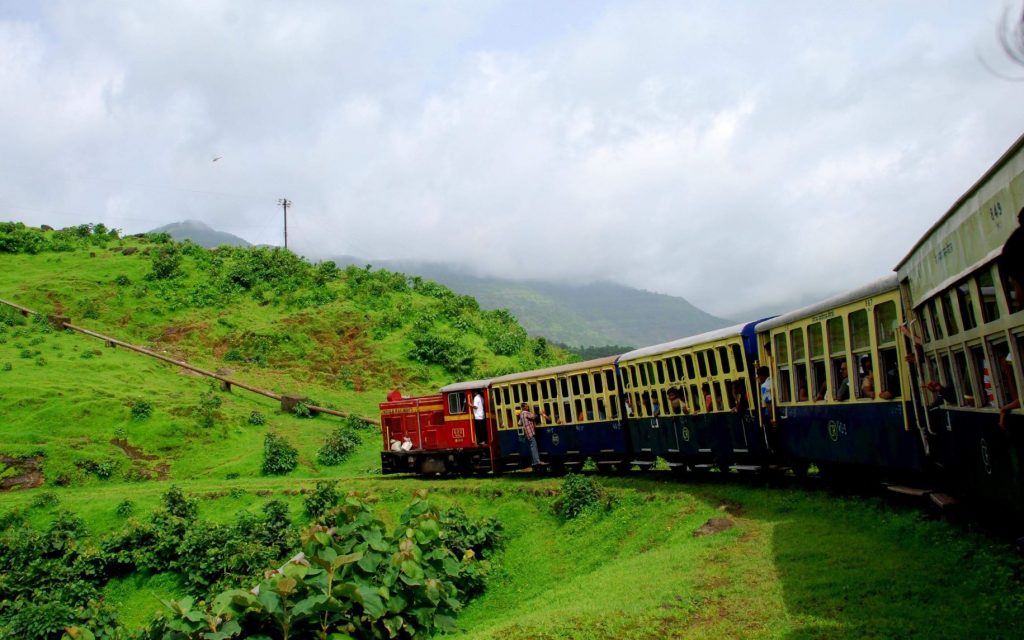 Imagine succumbing to the thought of building a railway and actually managing to complete it, only because you wanted to, this is exactly what Abdul Hussein Adamjee Peerbhoy did in the year 1901 to 1907. Not only did he build a successful railway he also managed to gain worldwide recognization with it, Matheran Hill Railway jumps off and on the wagon of UNESCO's list of World Heritage Sites.
Matheran Hill Railway connects Neral to Matheran in the Western Ghats. If you experience the emerald-green Western Ghats up close, board a Toy train on the Neral-Matheran route.
The toy train services are said to be back by the end of 2022 since services were suspended due to the destruction made by cyclone Nisarga in 2020.
Stations Covered By This Railway:

Neral→Jumapatti→Water Pipe→Aman Lodge→Matheran

Trains Running On This Railway: The Matheran Hill Railway Toy Train
Price: Neral to Matheran in the first class is priced at ₹300 for the adults and ₹180 for the children and second class prices for the adults the is ₹75 and ₹45 for children
Kangra Valley Railway, Himachal Pradesh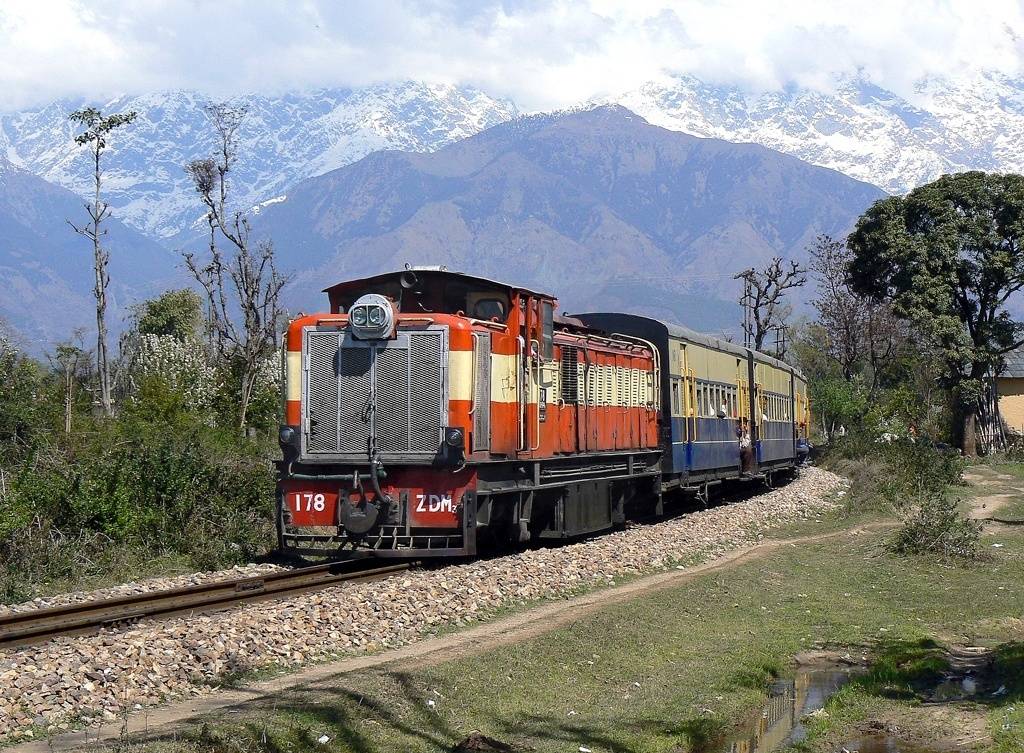 The Kangra Valley Railway is the longest Narrow Gauge line not just in India but in the world as it is the longest 2 ft 6 inch (762 mm) Gauge Railway. It is one of the most popular toy trains in India. The thought that the mere proposal of Kangra Valley Railway was dropped even before it was taken up raises many questions. But it was a reality at one time when the project was rejected by the government for insufficient remunerative interest.
If the Kangra Valley Railway didn't exist it would have deterred the easy accessibility to the hill stations of Dalhousie and Dharamsala, which are much-beloved tourist attractions today. With the efforts of the Uhl Hydropower project at Shanan, the project was introduced into the 1926-27 budget and completed in 1929.
The Kangra Valley Railway truly helped to open up Kangra & Kullu valleys. The Kangra Valley Railway also comes under the tentative list of UNESCO World Heritage Sites.
Stations Covered By This Railway:

Pathankot→Dalhousie Road→Kandiwal→Nurpur Road→Talara→Balleda Pir Larath→Bharmar→Jawanwala Shahr→Harsar Dehri→Meghraj Pura→Nagrota Surian→Barial Himachal Pradesh→Nandpur Bhatauli→Haripur Guler→Tripal→Jwalamukhi Road→Koparlahar→Kangra→Kangra Mandir→Samloti→Nagrota→Chamunda Marg→Paror→Sulah Himachal Pradesh→Palampur Himachal→Patti Rajpura→Panchruthi→Majhairan Himachal→Baijnath Paprola→Baijanth Mandir→Ahju→Chauntra Bhaterh→Joginder Nagar

Trains Running On This Railway: PATHANKOT – JOGINDER NAGAR Passenger, Kangra Queen, Pathankot-Baijnath, Pathankot- Jawalamukhi
Price: In the LUX Train Kangra Queen, a to-and-fro journey from Pathankot and Palampur will cost you a fare of ₹330 for 1st class, a chair car for ₹310, and 2nd class for ₹190.
All of the aforementioned have a UNESCO emblem attached to them. UNESCO, an internationally recognized organization, lends its name only to the deserving. We can show our appreciation for this thing of predated past, by booking a ticket for our next trip. If you liked this article don't forget to share it or leave a comment below.
You may also like Best Places For 3 Days Trip In India.
FAQs (Frequently Asked Questions)
How many heritage toy trains are there in India?
There are five toy trains that are running to the hill station on a narrow gauge. The bogies are also very small like toys, so they are called toy trains. Through most of them are running at a loss, yet the public demand is so high that these are continuing on their routes.
Which train is popularly known as a toy train?
The Darjeeling Himalayan Railway, also known as the DHR or the Toy Train, is a 2 ft (610 mm) gauge railway that runs between New Jalpaiguri and Darjeeling in the Indian state of West Bengal. Built between 1879 and 1881, it is about 88 km (55 mi) long.
Which hill station is the toy train served at?
Your journey on the toy train of Ooty hill station starts from the Mettupalayam and takes you all the way up to Udagamandalam via a route through Coonoor in the Nilgiri Hills. It is known to be the only toy train in India running on a meter gauge rack which is also called a cog railway.
Why Nilgiri Mountain Railway is famous?
It is the only meter gauge rack railway in India. Its youngest X-class locomotive is over 50 years old, and the oldest is 80 years old. The Nilgiri Mountain Railway is the steepest track in Asia, ranging from 1,069 feet to 7,228 feet above sea level at its highest points.