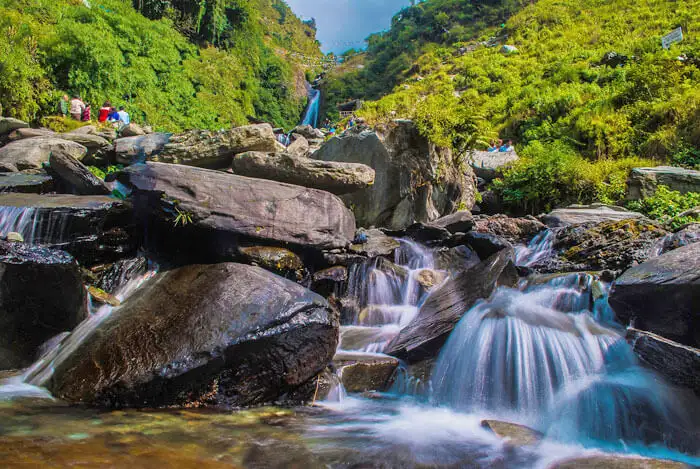 India is a country rich in historical and natural wonders. Its topography changes every few hundred kilometres. This makes it one of the most beautiful countries to visit and travel to. However, the work culture in India may require a lot of your time and interfere with your leisure interests. This makes it very difficult to go on long trips and the only holidays you get are the weekends. To help you relax, we've compiled a list of the Best Places For 3 Days Trip In India.
22 Best Places For 3 days Trip in India
North India
Sanchi
Sanchi, located approximately 46 kilometres from Bhopal, is a renowned pilgrimage destination in Madhya Pradesh and is home to a collection of Buddhist buildings including palaces, temples, monasteries, and monolithic structures that are UNESCO World Heritage Sites. Sachi has a lot of attractions dating back to the 2nd and 1st centuries BC.
The architecture of the Sanchi Stupa, discovered in 1818, is brilliantly designed, and its grandeur can be seen through the Stupas and the elegant carvings on its exterior. The Sanchi Stupa's most intriguing characteristic is that Lord Buddha has been metaphorically depicted by footprints, wheels, thrones, and so on rather than his personal picture.
The lotus in stupa symbolises the people's progress from the muck of materialism to the reality of existence. Similarly, the female tree spirits in the gateways represent fecundity. Sanchi has numerous hotels located throughout the city. There are a variety of luxury resorts, guesthouses, and smaller inexpensive hotels with all modern conveniences. It is one of the best places for 3 days trip in India as it is not a very big city so you can enjoy it very quickly.
Nearest Railway Station: Sanchi Railway Station (0 km)
Nearest Airport: Raja Bhoj Airport (54.7 km)
Areas of Interest: Sanchi Stupa, The Great Bowl, Ashok Pillar, The Eastern Gateway, Udaygiri Caves, Sanchi Museum.
Agra
Agra, located on the banks of the Yamuna River in Uttar Pradesh, is a renowned tourist destination since it is home to one of the world's seven wonders, the Taj Mahal. With two other UNESCO World Heritage Sites, Agra Fort and Fatehpur Sikri, it provides a sneak peek into the architectural history and legacy of the Mughal dynasty. History, architecture, and romance combine to create the charm of Agra, making it a must-see for anybody living in or visiting India.
Agra is the most populous city in Uttar Pradesh and the twenty-fourth most populous city in India. With its lengthy and rich history, it is no surprise that Agra, along with Delhi and Jaipur, is part of the famed Golden Triangle Circuit for travellers. Aside from its landmarks, Agra has several fascinating cuisine options. It is just as well-known for its Petha as it is for the Taj Mahal. Agra is also known for its marble artefacts, which are best purchased in the Sadar market.
Agra is typically visited on a day trip from New Delhi or other neighbouring cities in Uttar Pradesh, but it is well worth the trip. It is one of the best places for 3 days trip in India. You can enjoy the taste of the city without staying for weeks. Prepare to be surprised, amazed, inspired, and thrilled. However, be wary of conmen disguised as unofficial tour guides and bogus handicrafts.
Nearest Railway Station: Agra Railway Station (0 km)
Nearest Airport: Agra Airport (6.1 km)
Areas of Interest: Taj Mahal, Agra Fort, Jama Masjid, Fatehpur Sikri, Itmad-Ud-Daulah's Tomb, Akbar's Tomb, Moti Masjid, Sikandra Fort, Jodha Bai ka Rauza, Mehtab Bagh, Mother Teresa's Missionaries of Charity, Wildlife SOS
Haridwar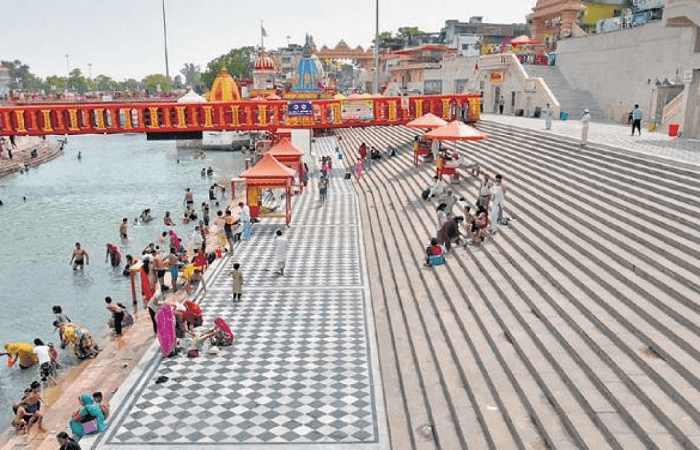 Haridwar, located in Uttarakhand, is one of India's seven holiest cities. It is situated where the sacred river Ganga initially meets the Indo-Gangetic plains. Haridwar is a famous Hindu temple town dotted with temples, ashrams, and small lanes where millions of worshippers gather to take a bath in the holy Ganges. A dip in the sacred Har Ki Pauri is thought to cleanse one of all sins. This makes it one of the best places for 3 days trip in India so come here and cleanse all your sins.
The famed Ganga Aarti, done every evening at the Har ki Pauri Ghat, is the highlight of Haridwar. Thousands of worshippers gather to pray to the Ganga and float diyas down the river. Haridwar is one of four cities that host the Kumbh Mela every twelve years (the others are Ujjain, Nasik, and Allahabad).
Every year during Saawan, the Kanwar Mela is also held here (rainy season). It is also the gateway to Uttarakhand's Char Dham and the starting point for some of the major tourist towns like Rishikesh and Devprayag. The city is adequately served by bus and train, but it is notably congested during the yatra season, which runs from May to October. Planning a trip to Haridwar is very easy and you only need 3 to 4 days to enjoy the city.
Nearest Railway Station: Haridwar Railway Station (0 km)
Nearest Airport: Jolly Grant Airport (41.3 km)
Areas of Interest: Mansa Devi Temple, Crystal World, Har Ki Pauri, Chandi Devi Temple, Maya Devi Temple, Sapt Rishi Ashram, Bara Bazar, Local Markets, Rajaji National Park, Pawan Dham
Manali
Manali, one of Himachal's most prominent hill stations, offers spectacular views of the Pir Panjal and Dhauladhar mountains, which are covered in snow for most of the year. With the ongoing Covid-19 pandemic, Manali has become a popular destination for young people seeking longer stays for jobs.
Old Manali is a popular neighbourhood for such folks, thanks to its relaxing cafes, good wifi, modest eateries, and convenient shopping. There are numerous homestays and hostels that provide cheap dorm beds for extended visits. Manali is surrounded by numerous trekking possibilities, giving it an ideal base for exploring this side of the Himalayas.
In the adjacent town of Kullu, the River Beas offers excellent rafting opportunities. The Parvati Valley, which borders the Parvati River and includes Kasol, Manikaran, Tosh, and other tiny settlements, attracts visitors for longer stays. The Atal Tunnel now allows travellers to reach Sissu in a matter of hours, making Spiti much more accessible.
If you want some relaxation from city life then Manali is one of the best places for 3 days trip in India.
Nearest Railway Station: Jogindernagar Railway Station (145 km)
Nearest Airport: Bhuntar Airport (50 km)
Areas of Interest: Hidimabha Devi Temple, Solang Valley, Rohtang Pass, Manu Temple, Manali Sanctuary, Mall Road, Old Manali, Van Vihar National Park, Jogini Falls, Nehru Kund, Arjun Gufa, Cafe 1947, The Castle Manali, Rahalla Falls, Beas River, Jagatsukh
Mukteshwar
Mukteshwar is a tiny hill town in Uttarakhand about 50 kilometres from Nainital. Mukteshwar is known for adventure sports and a breathtaking view of the Himalayan ranges. It is named after the 350-year-old Shiva Temple located here, Mukteshwar Dham. The name of the charming town comes from the idea that Lord Shiva defeated a demon here and granted him Mukti, or salvation.
Mukteshwar, with its lush green pathways and small roads, is a favourite trekking destination, as well as rock climbing and rappelling. The picturesque orchards, evergreen forests, undulating meadows, and tiny cottages and dwellings built in quaint colonial architecture are major draws here. Mukteshwar's allure lies in spending time alone, enjoying nature and listening to the bird's chirp. It is one of the best places for 3 days trip in India.
Nearest Railway Station: Kathgodam Railway Station (73 km)
Nearest Airport: Pantnagar Airport (100 km)
Areas of Interest: Mukteshwar Temple, Chauli ki Jali, Bhalu Gaad Waterfalls, Sitla, Ramgarh, Indian Veterinary Research Institute, Chauli Ki Jali, Mukteshwar Dham, Bhalu Gaad Waterfalls, Mukteshwar Inspection Bungalow, Mukteshwar Mahadev Temple
Dehradun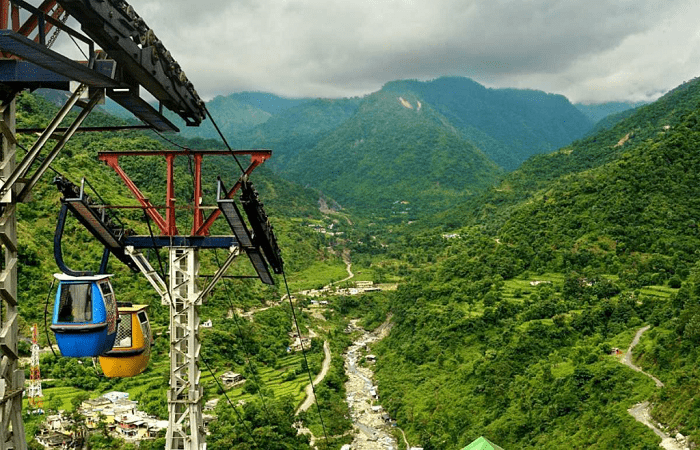 Dehradun, the state capital of Uttarakhand, serves as a gateway to some of the country's most prominent hill destinations, including Nainital and Mussoorie. It is most renowned for its top boarding institutions, such as the Doon School and the Indian Military Academy, which are located in the Doon Valley. In fact, because of the number of schools in the city, Dehradun is known as the "school capital of India."
This city produces an abundance of the popular Basmati rice, which is then shipped to other regions of the country. Despite prospering in several businesses such as education, agriculture, and construction, Dehradun is still known for its tranquil and relaxing lifestyle where the weather is good and the air is fresh.
It is located between the Ganga and Yamuna rivers, two of the county's most notable water features. The settlement is 450m above sea level and provides a comfortable stay for travellers. It is one of the best places for 3 days trip in India. Dehradun's scenery is bright and vibrant, lending the city a regal allure that complements its gorgeous temples and architecture.
Dehradun is close to some of India's most prominent pilgrimage destinations, including Haridwar and Rishikesh. There are various sites to see in this beautiful city, and if you are planning a vacation to Dehradun, include these on your itinerary.
Nearest Railway Station: Dehradun Railway Station (0 km)
Nearest Airport: Jolly Grant Airport (22 km)
Areas of Interest: Robbers Cave, Tapkeshwar Temple, Chopta-Tungnath, Deer Park, Doon Valley, Tibetan Market, Rajaji National Park, Kalsi, Har ki Dun, Maldevta, Shikhar Falls
Nainital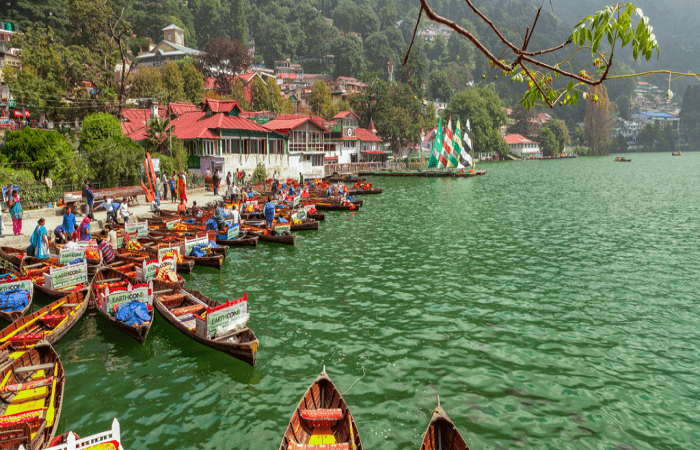 Nainital is a picturesque hill station in Uttarakhand, located in the foothills of the Kumaon highlands. It is the most frequented hill station in North India, located close to Dehradun and Delhi. Nainital is an ideal weekend retreat from Delhi and the surrounding areas.
Nainital has a lovely climate all year, making it a popular hill station for families, couples, and even lone visitors. It is easily accessible by road from adjacent major cities and is suitable for a two-day visit. Nainital's centre is Naina Lake, which has Mall Road on one side, Thandi Sadak on the other, and the bus stand opposite it.
Nainital was founded by the British because of its likeness to the Cumbrian Lake District. It is filled with exquisite colonial architecture that adds to the attractiveness of the area. Some minor hill towns near Nainital, such as Pangot, Ranikhet, and Almora, remain relatively untouched. There are also some tiny walking paths in Nainital.
Nainital is guaranteed to create an impression on you, whether you wish to go boating in the gorgeous Naini Lake, eat some Garhwali and Kumaoni specialities, shop for souvenirs, or take a ropeway ride to drink in the beauty of the Himalayas from Snow View Point.
Nearest Railway Station: Kathgodam Railway Station (35 km)
Nearest Airport: Pantnagar Airport (59.2 km)
Areas of Interest: Nainital Lake, Naina Peak, The Mall Road, Tiffin Top, High Altitude Zoo, Lands End, Bhimtal Lake, Kilbury Bird Sanctuary, Kainchi Dham, Naukuchiatal
Rishikesh
Rishikesh is a tehsil in Uttarakhand's Tehri Garhwal region, directly on the banks of the Ganges, India's holy river. This historic city is supposed to have been founded in the 9th century AD by Adi Shankaracharya and includes countless mythological and religious traditions related to Lord Vishnu, Lord Bharat, and various renowned sages.
Rishikesh's picturesque splendour is enhanced by the mighty Ganges cutting directly through the city, which is located in the foothills of the lofty Garhwal Himalayas. The gorgeous riverside promenades, acres of forests, lush mountains, and pure blue skies give the city a dreamlike image.
The city is known for its magnificent temples, ceremonies, architectural marvels, and yoga ashrams. Every temple here, from the Neelkanth Mahadev Temple to the Raghunath Temple to the 13-story Trimbakeshwar Temple, has its own wonderful legend that draws visitors from all over the world.
Rishikesh also has its fair share of unusual and adventurous activities. If you don't want to experience the adrenaline rush of white water rafting, which is offered up to grade 6, you can spend your time doing things like cliff jumping, kayaking, body surfing, and so on. There are beautiful waterfalls here, such as Patna Fall and Neer Garhi Fall, that are ideal for escaping into nature's raw wilderness. If you are spiritual, you must not miss the jaw-dropping grandeur of the Maha Aarti.
Nearest Railway Station: Haridwar Railway Station (25 km)
Nearest Airport: Jolly Grant Airport (35 km)
Areas of Interest: Lakshman Jhula, Ram Jhula, Parmarth Niketan Ashram, Triveni Ghat, Beatles Ashram, Gita Bhavan, Neelkanth Mahadev Temple, Shivpuri, Neer Garh Waterfall, Swarga Ashram
South India
Goa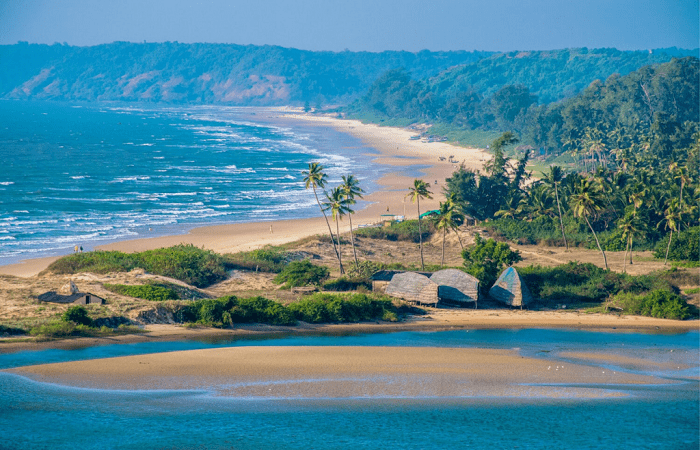 The beautiful land of Goa has become India's favourite holiday destination ever since it gained its independence from the Portuguese. Rising to prominence with the boho and hipster culture, Goa tourism has achieved legendary status over the years. Starting out as an exotic hippie town, the holiday experience of Goa has now evolved to match some of the best holiday destinations around the world.
Goa offers a wonderful holiday experience with its rich history and plethora of activities. The contemporary infrastructure perfectly complements the great historical value of this vacation location. While the seafood is delicious, Goa offers one of the best nightlife scenes in India, with fashionable pubs, beach shacks, sophisticated cafes, and several clubs and discotheques.
Goa is especially ideal for younger travellers with limited funds due to the state's reduced alcohol pricing. The people of Goa are extremely proud of their past and history. In reality, the majority of Goa tourism focuses on highlighting and preserving their history for future generations. Each Goa tourist attraction emphasises its culture and heritage. We recommend a week to enjoy Goa but one can also have fun in 3 to 4 days.
Nearest Railway Station: Madgaon Railway Station (0 km)
Nearest Airport: Dabolim Airport (23.9 km)
Areas of Interest: Baga Beach, Calangute Beach, Grand Island, Dudhsagar Waterfalls, Fort Aguada, Candolim Beach, Tito's Street, Arambol Beach, Bom Jesus Basilica, Palolem Beach, Curlies, Club Cubana, Anjuna Flea Market, Chapora Fort, Mapusa Friday Market, Divar Island, Salim Ali Bird Sanctuary
Ooty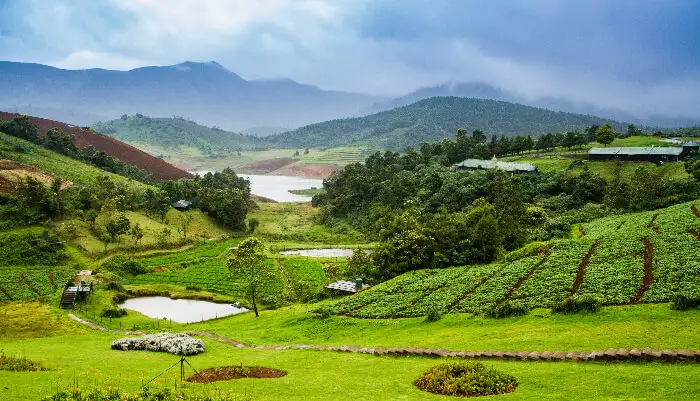 Ooty, also known as Ootacamund, Udagamandalam, or Udhagai, is the capital of Tamil Nadu's Nilgiris district. Ooty, derived from the Toda words othakal-mund, which means "home in the mountains," is located at 7347 feet above sea level and was founded by the British in the nineteenth century. The Queen of Hill Stations, known for its numerous tea estates, boasts multiple lovely picnic areas with steep mountains, lush forests, and scenic grasslands.
The town was dubbed 'Snooty Ooty' since it served as the Madras Presidency's headquarters. While the town began to expand a few decades ago, some of the exquisite Raj-era mansions still survive, offering the ideal blend of Indian hustle and bustle and the peace and quiet of parks and gardens. It is one of the best places for 3 days trip in India for young travellers.
With the low temperatures and picturesque surroundings, the journey up to Ooty by miniature train or road can be extremely romantic thus making it a perfect site for couples. With its nice weather between April and June, Ooty acts as a respite from the heat. If you're coming between October and March, bring some winter clothes with you or buy them cheaper in Ooty. Many areas of the forest are designated as natural reserve forests, and camping in certain areas may require special permission.
Nearest Railway Station: Mettupalyam Railway Station (40 km)
Nearest Airport: Coimbatore Airport (88 km)
Areas of Interest: Nilgiri Mountain Railway, Emerald Lake, Rose Garden, Ooty Lake, Botanical Garden, Kalhatty Waterfalls, Kamraj Sagar Dam. Mudumalai National Park, Stone House, Pykara Waterfalls, Doddabetta Peak, St. Stephen's Church, The Tea Factory and the Tea Museum
Pondicherry
Pondicherry is a little town near Tamil Nadu that happens to be the most popular tourist destination. This little Union Territory of India is a virgin French colony with exquisite houses that fascinate tourists with its architecture and is also known as India's French Capital.
The town's age-old culture and architecture offer a masterpiece to be discovered. Pondicherry is a renowned traveller destination with countless hidden gems to be explored slowly over months. Pondicherry has everything you need for a wonderful getaway. Sun-kissed beaches, unearthly ashrams, elaborate museums, plush family parks, and fashionable clubs provide an unforgettable experience.
You might enjoy staying at opulent resorts or splurging all night. Water sports, dining on exquisite local food, and shopping for bohemian items are among the main activities in Pondicherry. It is one of the best places for 3 days trip in India.
Nearest Railway Station: Puducherry Railway Station (0 km)
Nearest Airport: Puducherry Airport (3 km)
Areas of Interest: Paradise Beach, Sri Aurobindo Ashram, Auroville, Serenity Beach, Arikamedu, Auroville Beach, Basilica of the Sacred Heart of Jesus, Rock Beach, Ousteri Lake, Varadaraja Perumal Temple, Ousteri Wetland and National Park, Meeran Mosque, Ananda Ranga Pillai Mansion
Murudeshwar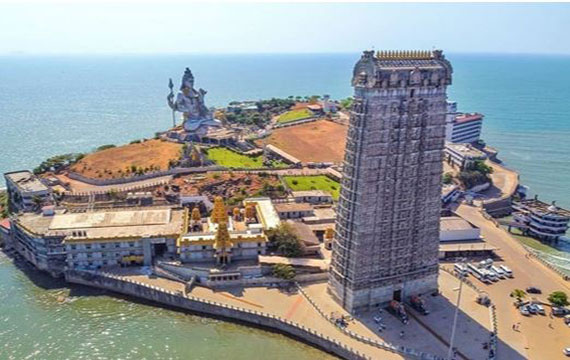 Murudeshwar has a long history and is home to the world's second-highest Shiva statue. The site dates back to the days of the Ramayana and is famed for the massive Lord Shiva statue on the beach that overlooks the entire town. It is located on the western coast of Karnataka.
The Statue of Lord Shiva, set within lovely and verdant surroundings on a small hillock and joined by his beloved Nandi and the rest of his temple firmaments, can be a truly awe-inspiring sight in Murudeshwar. Other attractions, aside from the temple, include exciting beach activities like swimming, snorkelling, and boat trips, as the sea is unusually tranquil and lovely here.
The region near the temple has decent footpaths close to the shore, allowing tourists to enjoy a quiet stroll as well as stunning sunsets from the temple's hillock.
When it comes to finding hotels and resorts that fit any budget, you'll have lots of possibilities. Because Murudeshwar lies in the Uttara Kannada district, there are many other sites nearby that you can visit, such as Tipu Sultan's reconstructed fort, hill resorts on adjacent Sahayadri hills, and attractions in surrounding coastal cities like Bhatkal. Given the lengthy coastline and nearby mountains, there are numerous more natural attractions.
Nearest Railway Station: Murudeshwar Railway Station (0 km)
Nearest Airport: Mangalore International Airport (153 km)
Areas of Interest: Murudeshwar Temple, Lord Shiva Statue, Murudeshwar Beach, Kollur Mookambika Temple, Idagunji Ganapati Temple · Apsara Konda Falls, Mirjan Fort, Near Gokarna
Kanyakumari
Kanyakumari is the southernmost tip of the Indian Peninsula, bordered by three seas: the Arabian, Indian, and Bay of Bengal. It is a small seaside town in Tamil Nadu, which was once known as Cape Comorin.
Kanyakumari is home to the magnificent convergence of the Bay of Bengal, the Arabian Sea, and the Indian Ocean. But this is not a miracle; the beauty is that the water of the three seas does not mix; you can clearly distinguish between the turquoise blue, deep blue, and sea green waters of the three seas. Visit the Triveni Sangam point and the famed View tower for the best sunset and sunrise views.
The town is built in a rugged environment with high sections of hills, coconut trees, and paddy fields. Kanyakumari is also the only site in India where you can see both the dawn and the sunset from the same beach.
Thirparappu Falls, Courtallam Falls, and Olakaruvi Falls are among the Kanyakumari waterfalls not to be missed. Kanyakumari serves true South Indian cuisine, with seafood and coconuts featured in practically every dish.
Nearest Railway Station: Kanyakumari Railway Station (0 km)
Nearest Airport: Trivandrum International Airport (67 km)
Areas of Interest: Thirparappu Falls, Vivekananda Rock Memorial, Thanumalayan Temple – Sthanumalayan Kovil, Thiruvalluvar Statue, Bhagavathy Amman Temple, Padmanabhapuram Palace, Kanyakumari Beach, Wax Museum, Sanguthurai Beach, Olakaruvi Falls
Mahabaleshwar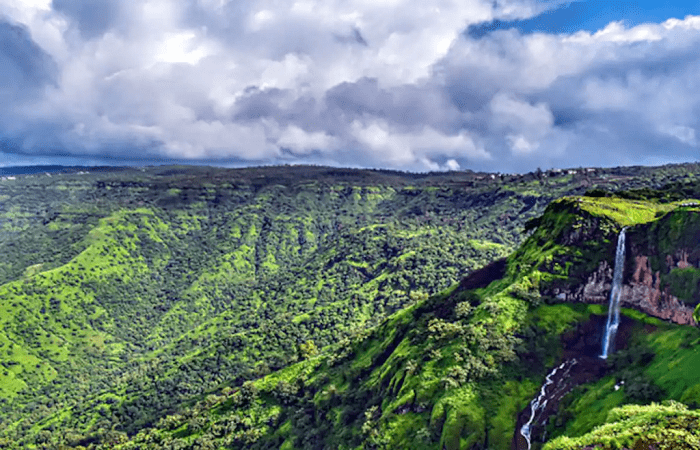 Tourist attractions in Mahabaleshwar will captivate your mind with their natural grandeur, nestled in the scenic Western Ghats. Mahabaleshwar is famous for its many rivers, beautiful cascades, and breathtaking peaks. The city has old temples, boarding schools, manicured and beautiful green deep forest, waterfalls, hills, and valleys that will take your breath away throughout your visit.
Mahabaleshwar is undoubtedly one of the most popular weekend getaways from major areas such as Mumbai and Pune. It is a prominent hill station with a variety of tourism activities and attractions for passionate visitors and nature enthusiasts.
The Western Ghats hill station is the source of the Krishna River, which flows through Maharashtra, Karnataka, and Andhra Pradesh. Mahabaleshwar is also known for its captivating beauty and magnificent strawberry farms. It has zigzagging roads, a constant breeze, vantage spots with stunning views of hills and valleys, plenty of strawberries to feast on, and the main strip full of shops selling all kinds of curios and munchies.
Mahabaleshwar has a plethora of attractive tourist attractions that exude charm and elegance. It is one of the best places for 3 days trip in India. There are various captivating tourist attractions in Mahabaleshwar, which are surrounded by a few murmuring waterways, evergreen timberlands, captivating slopes, and mountains.
Nearest Railway Station: Wathar Railway Station (60 km)
Nearest Airport: Lohegaon Airport (120 km)
Areas of Interest: Tapola, Pratapgad, Lingamala Falls, Venna Lake, Mapro Garden, Elephant's Head Point, Lodwick Point, Rajpuri Caves, Table Land, Connaught Peak, Lord Mahabaleshwar Temple, Babington Point, Parsi Point, Morarji Castle
Gokarna
Gokarna is a city in the Karnataka district of Uttara Kannada that translates to 'cow's ear.' According to popular mythology, it is the location where Lord Shiva emerged from Mother Earth's incarnation in the form of a cow. The town is interspersed with ancient temples and is home to one of the oldest temples since time immemorial, Mahabaleshwar, which is enshrined with Lord Shiva.
There are numerous beaches, pilgrimage sites, and waterfalls that are popular tourist destinations. In fact, the town is built around the River Aghanashini, which is considered a sacred spot by believers. The tranquil beaches are ideal for watersport activities such as surfing, scuba diving, snorkelling, parasailing, and jet skiing.
If you want to participate in watersport activities, the optimum time to visit is after the monsoon, from September to December. Gokarna's winters are colourful, with a somewhat cool environment and beautiful green surrounds. Summers in Gokarna are hot and humid, followed by showers that calm the environment with a significant rainfall.
Aside from the beaches, the Mahabaleshwar Temple attracts numerous pilgrims and saints. Yana is another charming village near Gokarna, with lush surroundings and rocky terrain ideal for sports such as cycling and trekking. Another prominent sport is mountaineering.
Nearest Railway Station: Ankola Railway Station (20 km)
Nearest Airport: Goa Airport (94.8 km)
Areas of Interest: Om Beach, Kudle Beach, Half Moon Beach, Paradise Beach, Namaste Cafe, Mahabaleshwar Temple, Gokarna Beach, Mirjan Fort, Koti Tirtha, Nirvana Beach, Bhadrakali Temple, Baada Beach, Shiva Cave, Lalguli Falls, Mahalasa Temple
West India
Udaipur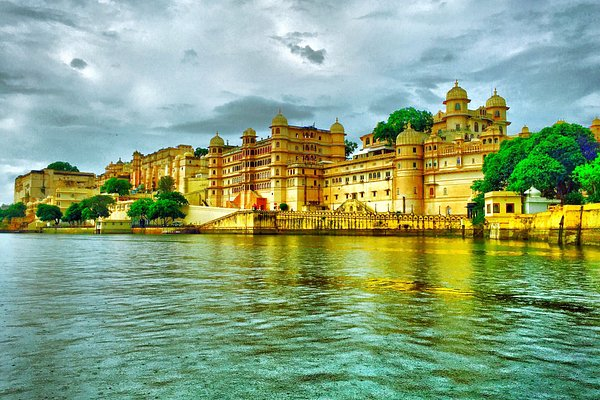 Udaipur, located in the southernmost section of Rajasthan, is encircled by the Aravalli Range and is rich in natural beauty. It was founded in 1559 as the embryonic capital of the Mewar Kingdom by Maharana Udai Singh II. Udaipur is well-connected to other parts of India by air, rail, and road.
Unlike other sections of Rajasthan, Udaipur exudes tranquillity. It is a blend of regal majesty, steep slopes, and magnificent panoramas away from the metropolitan commotion. Because of the numerous interconnecting natural lakes in and around the city, Udaipur is also known as the "City of Lakes."
The "City of Lakes" is also known as the "White City" because of the Rajput-style Palaces and Forts in Udaipur's usage of white marbles. Additionally, the city's residences and other structures are dressed in white. Udaipur is well-known for its historic Rajput-era forts, huge palaces, picturesque lakes, architectural temples, museums, galleries, traditional festivals, and vibrant culture. It is one of the best places for 3 days trip in India.
Lake Pichola, City Palace, Eklingji Temple, Ambrai Ghat, Vintage Car Museum, Bada Mahal, and Shilgram are among the must-see attractions in Udaipur. If you are planning a visit to this city then you must see these places. Trekking, paragliding, cycling tours, and helicopter rides are among the exhilarating activities available in Udaipur. Sunset boat cruises on Lake Pichola or Fateh Sagar Lake are good options for finding peace and quiet. All this makes it one of the best places for 3 day trip in India.
Nearest Railway Station: Udaipur Railway Station (0 km)
Nearest Airport: Maharana Pratap Airport (20 km)
Areas of Interest: Bagore Ki Haveli Museum, City Palace of Udaipur, Lake Pichola, Shri Ekling Ji Temple, Sajjangarh Monsoon Palace
Jaipur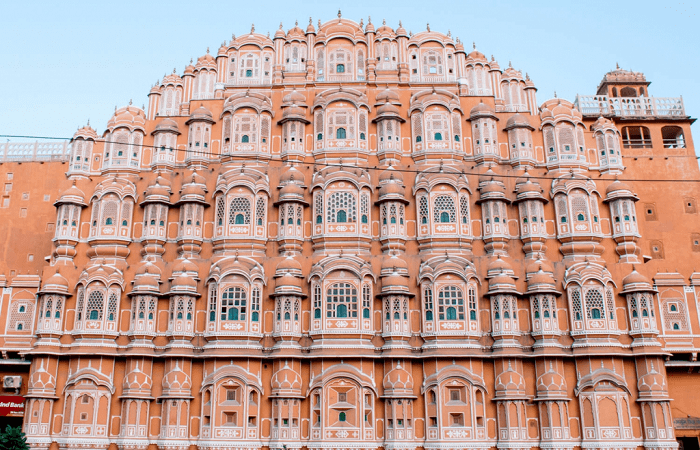 Rajasthan's capital and largest city is Jaipur. Because of the distinctive tint of its buildings, it is known as the Pink City. The 'pink' of the Pink City is Gerua, which was used to coat the city during the Prince of Wales's visit in 1905-06. Jaipur is famous for its interesting monuments and vibrant markets, as well as its magnificent handloom clothing and well-laid-out gardens.
It is not difficult to fall in love with Jaipur the moment you arrive. Jaipur, together with Delhi and Agra, constitutes the Golden Triangle of Indian tourism. Not only does it draw local visitors, but it is also a popular stopover for overseas tourists. Jaipur is also a good starting point for those who want to explore Rajasthan's interior. Whether it's the majestic Jodhpur or Jaisalmer, the desert metropolis of Rajasthan, or the lesser-known Shekhawati region, Jaipur provides a jumping-off point for all of these and more.
Within 3 days you can enjoy the Hawa Mahal and Jantar Mantar along with Rajasthani food and hills. It is one of the best places for 3 days trip in India.
Nearest Railway Station: Jaipur Railway Station (0 km)
Nearest Airport: Jaipur International Airport (9.5 km)
Areas of Interest: City Palace, Jantar Mantar, Hawa Mahal, Amber Fort, Albert Hall Museum, Birla Mandir, Nahargarh Fort
Kota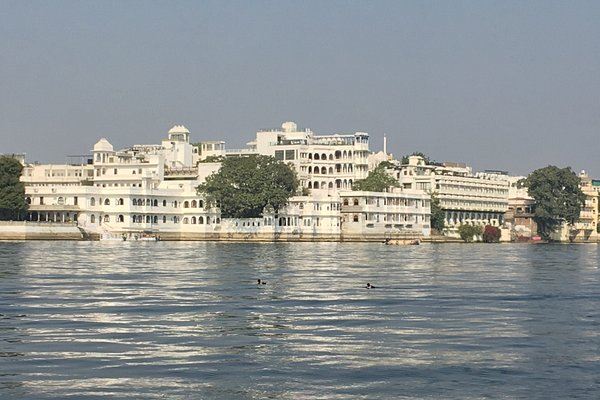 Kota is the third-largest city in Rajasthan and one of the most popular tourist destinations. Kota, located on the banks of the Chambal River, is well-known for its peculiar style of paintings, castles, museums, and places of worship. Gold jewellery, Doria sarees, silk sarees, and the famous Kota stone are all popular in the city.
The city of Kota is well renowned across the world for its architectural splendour, which includes exquisite palaces, temples, and museums that depict the grandeur of a bygone era. Kota is noted not only for its gorgeous man-made architecture but also for its appealing natural beauty. There are a lot of areas where you may properly treat your senses, such as Kishor Lake, Kota Barrages, and Chambal Garden.
The city embodies the charm of Rajasthan with its historical heritage, modern attractions, historic landmarks, and breathtaking views across the Chambal River. During your visit to Kota, make sure to allow enough time to marvel at places such as Kota Barrage to admire the surrounding lush greenery, Kishore Sagar Lake to watch the reflection of lights, Seven Wonders Park to see all the wonders of the world in a single palace, Jag Mandir Palace to explore the queen of Kota, Garadia Mahadev Temple to gape at the amazing views, and Chambal Garden to see giant trees kissing the sky.
Nearest Railway Station: Kota Railway Station (0 km)
Nearest Airport: Kota Airport (5.8 km)
Areas of Interest: Seven Wonder Park, Rao Madho Singh Museum, Abheda Mahal, Darrah National Park, Chambal Garden, Garh Palace, Godawari Dham Temple, Khade Ganesh Ji Temple, Karneshwar Temple, Kota Barrage
Pushkar
Pushkar is one of India's oldest cities. It is located northwest of Ajmer and is a popular location for thousands of visitors and worshippers travelling to Rajasthan. Pushkar, at 510 metres in elevation, is flanked on three sides by hillocks. The essence of the famed Pushkar rose, known as 'the rose garden of Rajasthan,' is sold all over the world. Pushkar is a wonderful city with an amazing mythological history and a legacy of ageless architectural heritage.
Pilgrims from all across the country come to the lake to bathe in its holy water. The hallowed Pushkar Lake echoes with the chants and songs of the 400 blue temples that line its banks. Pushkar has recently become one of the most popular tourist sites for both Indian and international visitors.
The annual Pushkar Camel Fair, held in November, draws a large attendance. Pushkar will easily captivate you with its spirituality and tranquillity. Pushkar is a must-see destination in India because of its exquisite architectural heritage and fascinating history.
Nearest Railway Station: Pushkar Railway Station (0 km)
Nearest Airport: Sanganer Airport (146 km)
Areas of Interest: Pushkar Lake, Brahma's Temple, Varah Temple, Savitri Temple, Pushkar Camel Fair, Man Mahal, Rangji Temple, Desert Camp, Mahadeva Temple, Pushkar Bazaar, Merta City, Rose Garden, Kishangarh, Apteshwar Temple, Man Mahal, Visit Pushkar Bazaar, Adventure Desert Camp, Merta City
East India
Darjeeling
Darjeeling is a scenic town in the Indian state of West Bengal, nestled in the foothills of the Lesser Himalayas and surrounded by emerald-green tea plantations. The majestic Kanchenjunga rises over this lovely town and is the world's third tallest mountain. Darjeeling, also known as the "Queen of the Hills," is a popular tourist destination recognised for its picturesque beauty, ancient woods, charming buildings, friendly people, and mountain panorama.
UNESCO has designated the toy railway, which was founded in 1881, as a World Heritage Site. The railway travels from the plains to over 2000 metres above sea level, providing stunning views of the mountains as it chugs along. Darjeeling's 86 tea farms are responsible for creating the world-famous 'Darjeeling Tea.'
Monasteries, botanical gardens, a zoo, and the Darjeeling-Rangeet Valley Passenger Ropeway cable car, the longest Asian cable car, are among the most prominent attractions in Darjeeling. Tiger Hill is an excellent location for viewing the sunrise over the mountains in all its blazing splendour.
Nearest Railway Station: New Jalpaiguri Railway Station (72.8 km)
Nearest Airport: Bagdogra Airport (96 km)
Areas of Interest: Tiger Hill, Batasia Loop, Padmaja Naidu Himalayan Zoological Park, Peace Pagoda, Ghum Monastery, Rock Garden, Darjeeling Himalayan Railway, Nightingale Park, Himalayan Mountaineering Institute, Singalila, National Park, St. Andrew's Church, Happy Valley Tea Estate, Tinchuley, Observatory Hill, Sandakphu Trek
Sikkim
Sikkim is India's smallest state, located in the country's northeastern region. It is surrounded by Nepal, Bhutan, and Tibet, hence there is no shortage of tourist attractions in Sikkim. This city is noted for its magnificent beauty, verdant meadows, crystalline lakes, and towering mountain ranges as the gateway to the Himalayas.
This mountain kingdom has its own identity; you will be lost in the state's intriguing destinations, as well as witness the cohabitation of Hinduism and Buddhism, which has given rise to a distinctive and peaceful culture in the state of Sikkim.
It'll be difficult not to fall in love with this region, with its clean and green highways, valleys, mountain peaks, and meadows. The eastern Himalayan state has rhododendron groves and deep woodlands, orange and apple orchards, and a serene atmosphere that hits anybody who visits hard.
Sikkim is the place to go when the rest of the country is on fire in the summer. The mountainous state provides a fantastic escape from the heat and mundane life on the plains. During the summer, there will be a swarm of wildflowers that will fill the valleys and truly make your stay worthwhile.
Nearest Railway Station: New Jalpaiguri Railway Station (120 km)
Nearest Airport: Bagdogra Airport (152.4 km)
Areas of Interest: Tsomgo Lake, Nathula Pass, Yuksom, Lachung, Lachen, Yumthang Valley, Teesta River, Ravangla, Pelling, Zuluk, Namchi, Khangchendzonga National Park, Rumtek Monastery
Bishnupur
Bishnupur in West Bengal's Bankura district receives its name from Lord Vishnu, the deity of the Vaishnavite Malla Kings who governed there. Traditional architecture and handicrafts such as pottery and weaving reflect Bishnupur's magnificent past. Bishnupur is most known for its stunning clay temples.
The unusual architecture blended styles from nearby locations. Bricks and terracotta, as well as characteristics such as the curving Bangla roof, were combined with Muslim domes and multi-lobed arches. The temples, made of native laterite and brick, were decorated in terracotta tiles representing scenes from the epics Mahabharata and Ramayana. Temples such as the Shyam Ray Temple and the twin shrines of Jor Bangla and Rasmancha are must-sees.
Bishnupur's temples, along with those at Ambika Kalna in the Burdwan district, are among the last terracotta temples. Bishnupur is also noted for its handloom saris, terracotta ceramics, antiquities, and jewellery, as well as the Bishnupur school of painting. Local music academies preserve the rich history of the Bishnupur Gharana, a school of Hindustani classical music. If you love to visit old temples and learn about the historic past of the city, then Bishnupur should be in your list.
Nearest Railway Station: Bishnupur Railway Station (0 km)
Nearest Airport: Tulihal International Airport (27 km)
Areas of Interest: Rasmancha, Shyamrai Temple, Jorebangla Temple, Madan Mohan Temple, Dalmadal Kaman Canon, Maa Chinnamasta Temple
And there you have it. 22 Best Places For 3 Days Trip in India for your enjoyment with family and friends. Make sure to like and share this article. Also, don't forget to share your trip experience at these places in the comment section below.
You may also like 7 Highest Hill Stations In India To Visit!
FAQs (Frequently Asked Questions)
Which is the best place for 3 days trip in India?
Alleppey, Goa, Pondicherry, Gokarna, Rishikesh, Darjeeling, McLeodganj, Sikkim, Agra, and Udaipur, are some of the best places for 3 days trip in India.
Which is the cheapest trip from India?
Nainital, Lonavala, Shimla, Munnar, Kanyakumari, Digha, Meghalaya, Darjeeling, and Sikkim are some of the best places to visit on a budget.
How can I travel at a low cost?
Follow the guidelines to save money while travelling:
1. Use Railways for Travel
2. Travel in the Offseason to avoid the crowd and expensive rates
3. Travel in groups, Use Public/Local Transport
4. Avoid big popular markets and go to local shops
5. Carry your own Essential items
Is Travelling a waste of money?
Travel is the one thing you can buy that will make you richer in experiences, friends, knowledge, wisdom, memories, and love for this wonderful planet we live on. Travel is not a waste of money for illusory reasons; it is an investment in your own future and, more significantly, in your own present.
How can I travel cheap in India?
Follow these tips to save money while travelling:
1. For long-distance travel, choose the Indian Railways
2. Backpacker hostels are ideal
3. In the mountains, bring a tent
4. Avoid visiting during peak tourist season
5. Eat at Restaurants that do not serve tourists