Saputara is a hill station located in Sahyadris Ranges or also known as the Western Ghats. Saputara means "Land of Snakes". It is a town positioned in Maharashtra-Gujarat Border located in Dang District. Saputara is very famous for its beautiful lakes, green lush hill stations, and mesmerizing valleys. Combine all these with picnic spots and playgrounds, this becomes one of the most enjoyable places and some of the best places to visit near Saputara.
Saputara
Weather
Saputara experiences winter from October to February and this time is considered best to visit this place. The average minimum and maximum temperature remain around 10 to 30 C respectively which is very good for traveling and relaxing. Monsoon is also good to visit this place as it enhances the greenery and beauty of this place. It is ideal for families and groups traveling for fun and relaxation. It will definitely be a refreshing trip.
Saputara is at an altitude of 1000 m and the climate remains relatively constant. For serious travelers, this place is good to visit at any time of the year because the hill station remains mesmerizing differently in every season.
How to visit Saputara
The only way to visit this place is via roads because there are no railway stations and airports nearby. The closest airport is Surat Airport and the nearest railway station is Waghai Railway Station. So the best way is to first visit Bolimora Station via train and then continue the journey further through a bus. It is also well connected to major cities via the road transport network. It is about 247km from Mumbai, 155k from Surat, and only 79km from Nashik.
Staying in Saputara
After visiting Saputara, you might want to get a place to stay. Don't, worry because there are tons of resorts and lodges in the area which are some of the best in class. Here we have a list of places which you can consider to stay according to your needs.
Manas Homestay
A well-reputed 3-star accommodation with a beautiful garden, it offers many facilities like free WiFi, flat-screen TV, and a private bathroom. It is about 350m from Saputara Hill Station.
Aakar Lords Inn
It is one of the perfect destinations for your holidays located in Dang Forests. Delivered with many amenities like Free parking, internet, gym, swimming pool, children activities, etc. It is about 500m from Saputara Hill Station.
Hotel Lake View
Got its name from its view, Lake View hotel is a beautiful location with all facilities like parks, swimming pool, boat club, theatres, museums, and ropeways. It is about 1.2km from Saputara Hill Station.
Toran Hill Resort
It has all-around necessary amenities like a boat club, ropeways, and a museum in the cool of the hill. Add this with facilities like free WiFi, parking, pools, this is one of the best resorts you get to stay in. It is about 600m from Saputara Hill Station.
Shilpi Hill Resort
Located in the heart of Saputara hill station, it is an ideal weekend destination. It has beautiful surroundings and scenic landscapes with the view of a stunning lake. It also provides all the necessary amenities and facilities. This place is about 600m from Saputara Hill Station.
Suggested reads: Places to Visit Near Nagpur within 200 km
There are many places near Saputara to visit like: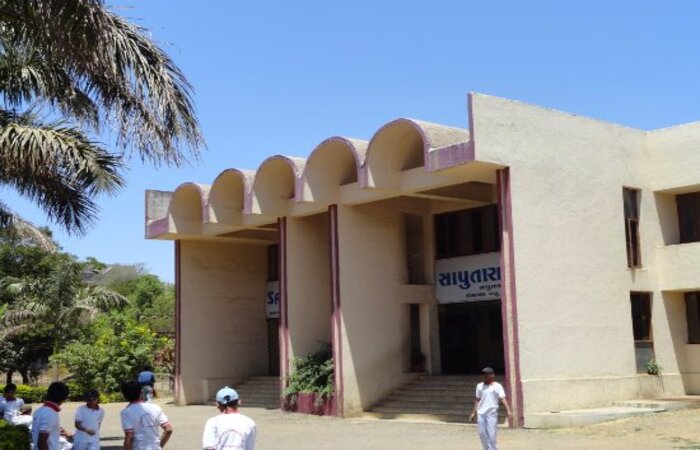 Saputara Tribal Museum
It is a small museum on Surat-Nashik road in Saputara. Established in 1970, this place is very popular for its historical significance. It has a very large number of artifacts and handicrafts about 420 and they depict the everyday life of the communities in the region. Workshops and exhibitions are held every year in the museum so make sure to check out that. It is about 500m from Saputara.
Suggested reads: Waterfalls Near Nagpur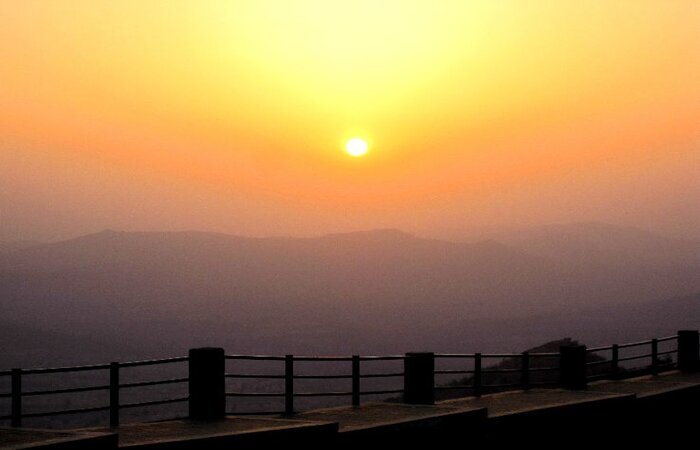 Sunrise Point
Known for its magnificent view of Sunrise and green lush greenery, Sunrise point is the best place to visit and relax with family and friends. But you have to climb up to this place here because there is no straight road leading to this place but all that work is worth it. It is about 700m from Saputara main city.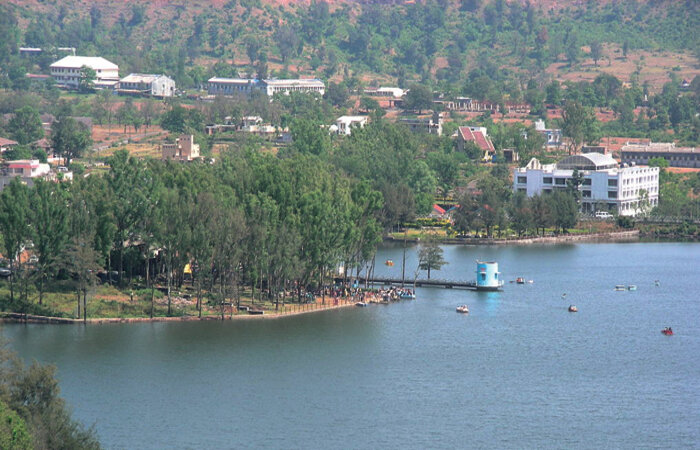 Saputara Lake
It is extremely popular for its hill resorts and its lake. Saputara Lake has boating facilities and other enjoyable activities. Being a very peaceful area with green lush surroundings and beautiful terrain, it becomes a perfect spot for a walk and picnic spots. This place is about 1.2km from Saputara.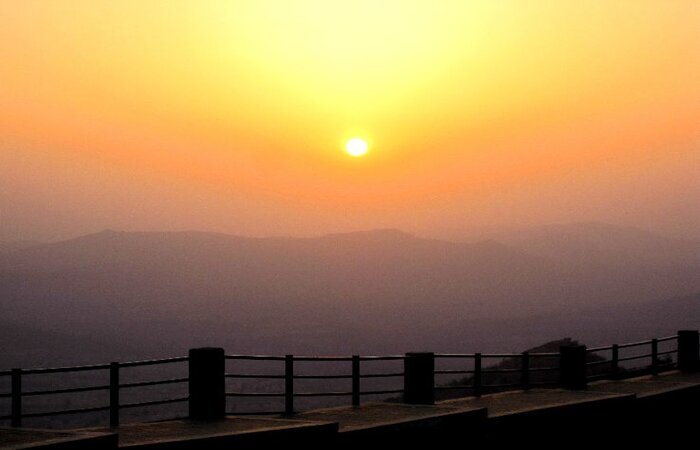 Sunset Point
Blessed with a beautiful sunset location, Sunset Point is one of the most famous spots in Saputara. It gives a beautiful view of Dand Forest with a beautiful sunset. Along with its beautiful views, it also has ropeway facilities to this palace which cames it an awesome spot to hang out with family and friends. This place is about 1.9km from Saputara.
Suggested reads: Best Adventure Activities in Igatpuri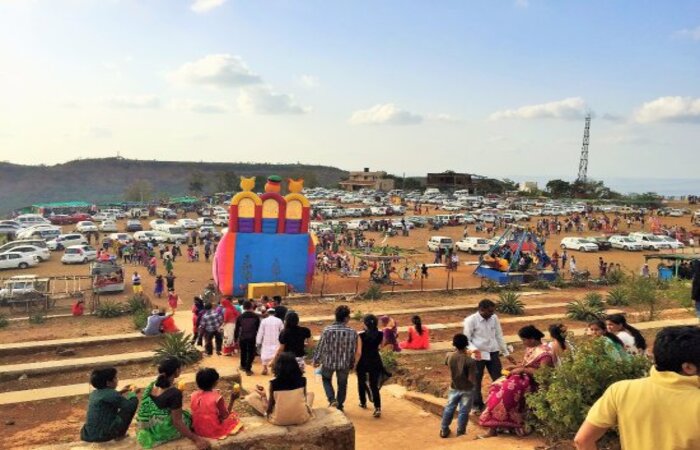 Table point
It is a plateau on the hilltop and therefore it is advisable to use your vehicle to reach the top. This place offers several adventurous activities like horse riding, camel ride, paragliding, etc. Its ropeways from start to end are also one of its major attractions which allow nature lovers to explore the surroundings from the top. It is about 2.5km from Saputara.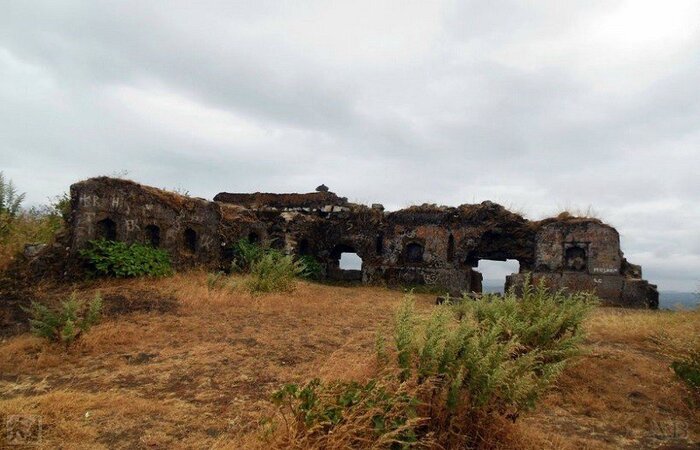 Hatgadh Fort
It is about 6.4 km from Saputara and was built by Maratha King Shivaji. Very popular among tourists for its historical significance and beautiful surroundings.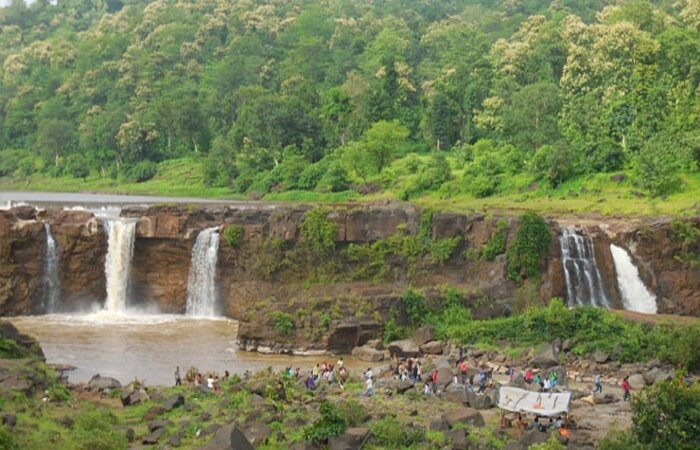 Gira Waterfalls
Breathtakingly beautiful and mesmerizing, Gira waterfall is a nature's wonder that is surrounded by green lush jungles and rocks. Its beauty is at its peak during the monsoon. Gira Falls is a 30m drop from into the Ambica River and is among the most picturesque sights in the state. It is about 49km from Saputara.
Vansda National Park
Also known as Bansda National Park, it is a beautiful national park with trees reaching heights of around 120ft and great biodiversity. This place is home to many exotic species of the country. It is about 52 km from Satpura.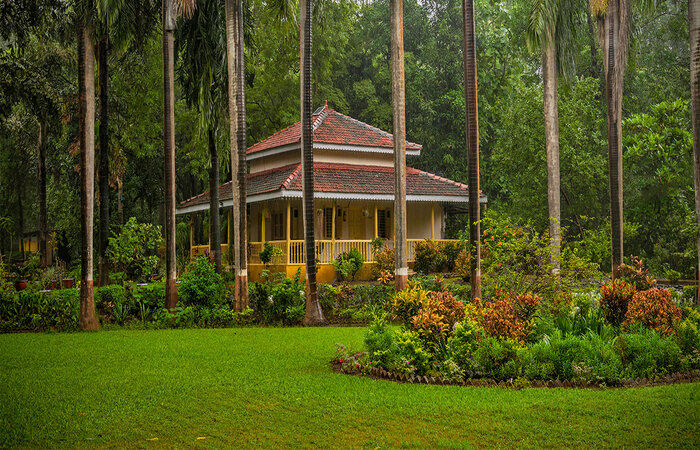 Waghai Botanical Garden
One of the most beautiful botanical gardens in India, Waghai Botanical Graden is a Bio-diversity Conservation Center that contains a very large number of exotic species of plants that are used for study purposes. There is a lot of written information about the plants around the whole center. It is about 50km from Saputara.
After Saputara hill station, Don hill station is very famous and known for its rich biodiversity. It is a village at an altitude of 1000m and is the second hill station in the state after Saputara. It is blessed with very pleasant weather, a beautiful environment, and its culture and heritage.
It is situated in the Dang district in Gujarat and has a tribal population of around 1200 only. They celebrate Don Mahautsav which is also a large tourist attraction as it involves tribal songs, dances, and dressing with beautifully vibrant, and colorful clothes. This place is also very attractive for adventure enthusiasts as many trekking and camping trips take place in this spot along with paragliding with professional paragliding operators. It is about 52km from Saputara.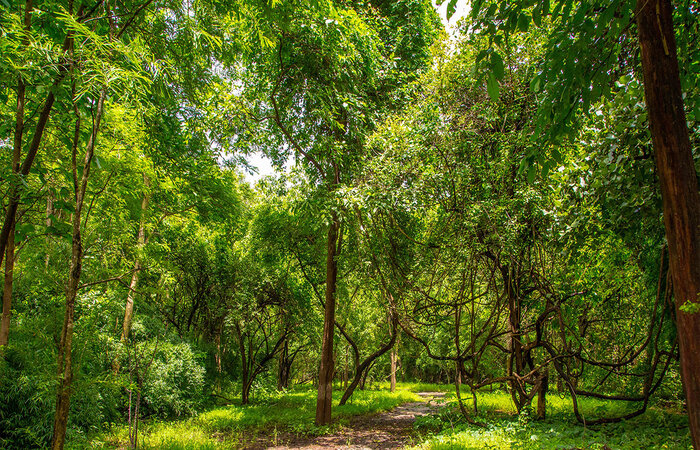 Purna Sanctuary
About 160.84 sq. km large, Purna Sanctuary is a wildlife sanctuary that is spread over large hills, plateaus, valleys. It is drained by the beautiful river Purna which gave the wildlife sanctuary its name. The human population represents only the tribal population mainly of Bhils, Warlis, etc. They are a very rich culture in the form of houses, jewelry, dresses, and agriculture. It is about 69km from Saputara.
FAQs (Frequently Asked Questions)
What is the best time to visit Saputara?
Winter is the best time to visit this place. This is because during winters, temperature becomes constant, and thus traveling throughout the day becomes easy and you don't have to worry about sweating and other stuff.
What is Saputara famous for?
Saputara is famous for its beautiful lakes, hill station, green lush surroundings, pleasant climate, adventure activities it offers, resorts, etc. It attracts thousands of tourists and adventure enthusiasts daily. It has native tribes and their culture and heritage. It is a year-round destination for families and friend groups looking for pleasant weather, wide roads, sightseeing, and restaurants with a mesmerizing view of lush greenery and beautiful waterfalls. These are some of the many things to do in Saputara.
Is Saputara worth visiting?
Saputara is worth visiting because of beautiful sightseeing, waterfalls, lakes, hill stations, and pleasant weather. Restaurants and Resorts are also available here which are best in their class and are the perfect options for you to stay.
What activities can you do in Saputara?
There are many adventurous activities that you can do in Saputara. Paragliding, trekking, rock climbing, boating are some of the most popular activities to do in Saputara
How to visit Saputara?
The best way to visit this place is via a bus or a personal vehicle. The Railway network is not present in this area and the nearby railway station is in Waghai Railway Station and the nearest Airport is in Surat.
We hope our article helped you to find your perfect destination in Saputara. If yes then please comment below and like and share this article.