Nagpur is Maharashtra's winter capital and the state's third largest city. It is also proposed to be one of the country's smart cities and is known as the Tiger Capital. What makes Nagpur so popular in India is its extensive orange production, which has earned the city the title of "Orange City." We will take a brief look at top best places to visit near Nagpur down below.
Nagpur is blessed with several historical and religious sites, as well as a few modern-day attractions. It is a pleasant place to spend a holiday in Maharashtra. Nagpur, as one of the most important cities in Maharashtra, contributes significantly to the state's major tourist destinations. Nagpur's tourist attractions are primarily concentrated in the Chota Nagpur Plateau region.
Here are Exciting places you can visit near Nagpur
Top places to visit near Nagpur under 50km:
Deekshabhoomi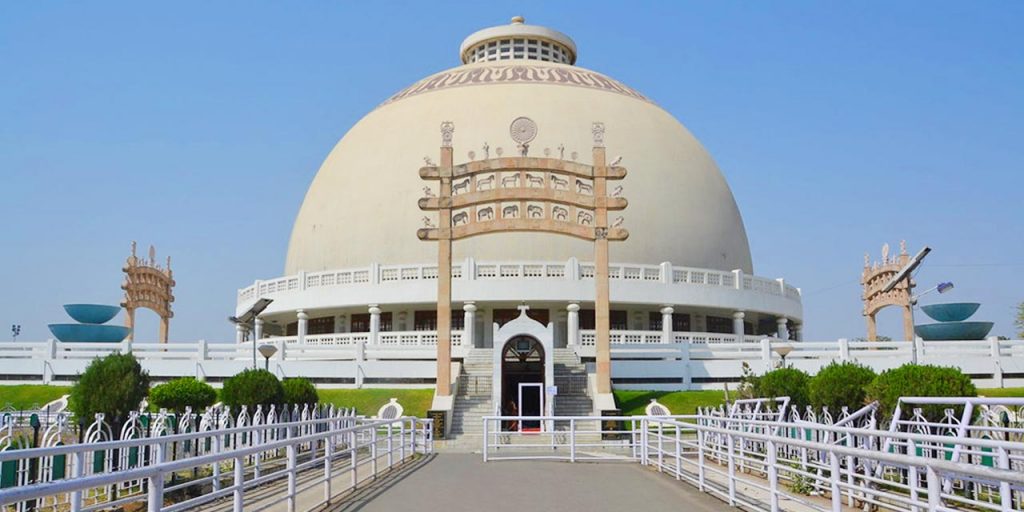 Deekshabhoomi is a popular tourist destination in Nagpur, located on the site where Dr. Babasaheb Ambedkar, the architect of the Indian Constitution, converted to Buddhism on October 14, 1956. It was a historic and auspicious day as 600,000 people converted to Buddhism in support of Dr. Ambedkar.
The literal meaning of 'Deekshabhoomi' is the place where Buddhists are ordained. Dr. Ambedkar stated that he chose Nagpur for his Buddhist conversion because it was the home of the 'Nag' people, who were early supporters of Buddhism. Also, the day he chose was Ashoka Vijaya Dashmi, the anniversary of Emperor Ashoka's conversion to Buddhism.
Distance from Nagpur: 5 km
Best way to visit: Bus, cab, personal vehicle, on foot.
Nearby places to visit: Ambazari Lake, Waki Woods, Dhapewada, Ramtek, and Khekranala
Ambazari Lake
The Ambazari Lake, located on the southwest border of Nagpur in Maharashtra, India, is one of the city's eleven lakes and the largest. Rowboats and self-driven paddleboats are also available to visitors, adding to the fun and excitement of visiting the lake and allowing them to explore the surrounding scenic beauty.
The Nagpur Municipal Corporation looks after and maintains the Ambazari Lake, which is located just 6 kilometres from Nagpur's western outskirts (NMC). It was originally built in 1870, during the reign of Bhonsle, to supply water to the city. The Ambazari Garden, located just beside the Ambazari Lake, is particularly popular with children and serves as an amusement park for them.
There are also walking paths, a fountain, electric rides, and various amusement games for children in the garden. The lake's name, Ambazari, is derived from the fact that it is surrounded by mango trees. The Nag River also originates here, and the scenery is breathtaking!
Distance from Nagpur: 6 km
Best way to visit: Bus, cab, personal vehicle.
Nearby places to visit: Swaminarayan Temple, Shree Ganesh Mandir Tekdi, Nagpur Ramtek Temple, Deeksha Bhoomi, Khindsi Lake, Adasa Ganpati Temple, Sai Baba Temple, and Raman Science Centre
Tadoba
The "Tadoba National Park," also known as the "Tadoba Andhari Tiger Reserve," is Maharashtra's oldest and largest National Park. It is one of India's 47 project tiger reserves. It is located in Maharashtra's Chandrapur district, about 150 kilometres from Nagpur.
The total area of the tiger reserve is 1,727 square kilometres, which also includes the Tadoba National Park, which was established in 1955. The Andhari Wildlife Sanctuary was established in 1986 and merged with the park in 1995 to form the current Tadoba Andheri Tiger Reserve.
The name "Tadoba" is derived from the name of God "Tadoba" or "Taru," . It is praised by the local tribal people of this region, and "Andhari" is derived from the name of the Andhari river, which also flows through this region. Tadoba National Park is divided into three forest ranges. Tadoba north range, Kolsa south range, and Morhurli range, which lies between the first two.
The park contains two lakes and one river that fill up during the monsoon season: 'Tadoba Lake,' 'Kolsa Lake,' and 'Tadoba River.' These lakes and rivers provide essential ingredients for the park's survival. Also, accommodation is available and is primarily concentrated near two of the city's most popular entrance gates, Kolara Gate and Mohurli Gate.
Distance from Nagpur: 6 km
Best way to visit: Personal vehicle, cab, bus.
Nearby places to visit: Kolara Gate, Mohurli Gate, Tadoba Lake
Futala Lake
The city of Nagpur is home to eleven magnificent and scenic lakes, one of which is Futala Lake. It is also known as the Telankhedi Lake and is located in the western part of Nagpur, about 6 kilometres from the city centre. It is thought to be over 200 years old. Raja Bhosle built the Futala Lake, which spans 60 acres.
For its charming atmosphere and beauty, the lake is well known not only in Nagpur but also throughout the state of Maharashtra. The coloured fountains, which are a sight to behold when lit up, are perhaps the best attraction at this lake, and are enjoyed by people of all ages.
The breathtaking Futala Lake is surrounded on three sides by lush green forests, with a well-landscaped Chowpatty on the other. All of this adds to the lake's beauty and draws visitors from all over the country to enjoy some peaceful moments in the lap of nature, away from the dirt and dust of daily life. In addition, the environment is cool and pleasing.
The delicious food served by the restaurants near the lake is an added bonus, as is the lake's convenient location. In short, this is why Futala Lake has become a popular picnic spot for locals and is visited by a large number of people every day. To sum up, Futala Lake is a must visit.
Distance from Nagpur: 6 km
Best way to visit: Personal vehicle, cab.
Nearby places to visit: Swaminarayan Temple, Shree Ganesh Mandir Tekdi, Nagpur Ramtek Temple, Deeksha Bhoomi, Khindsi Lake, Adasa Ganpati Temple, Sai Baba Temple, and Raman Science Centre
Swaminarayan Temple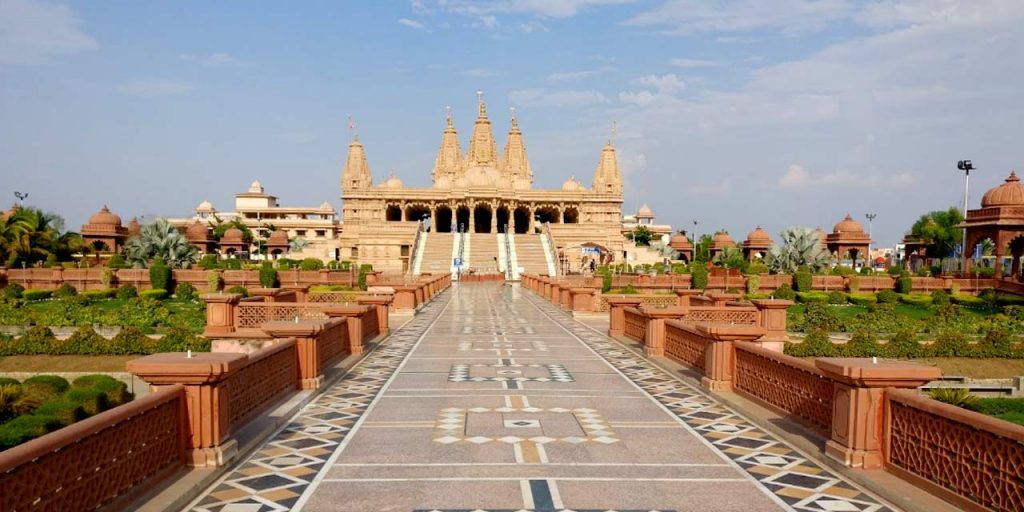 Swaminarayan Temple, which is well-built and decorated, attracts devotees from all over. The green carpet inside the temple grounds is soothing to the eyes and contributes to the overall positivity of the environment, while the staircase to the temple keeps one staring in awe.
The best time to visit the temple is in the evening, after or during sunset, when the temple is fully illuminated with hues against the dark night sky background. Also, the cleanliness and elegance of this place is very attractive.
Distance from Nagpur: 8 km
Best way to visit: Bus, cab, personal vehicle, on foot
Nearby places to visit: Lavasa, Tulsi Baug, Rajiv Gandhi Zoological Park
Amba Khori
Amba Khori, located near Totladoh on the banks of the Pench River, is known for its natural beauty and serenity. Its allure is irresistible to both locals and visitors. This makes it into the list of best places to visit near Nagpur.
Totladoh Lake-Dam, "the Shakuntals' Eyes" When viewed from above, the meghdoot reservoir at Totladoh and the lower pench reservoir at Navigaon Khairi resemble the tear-filled eyes of Shakuntala, Kalidas' epic heroine. The Meghdoot reservoir, which is fed by the Pench Hydro-electric project, is about 80 kilometers from the Nagpur-Jabalpur highway. It is also a place of tourist attraction.
Distance from Nagpur: 29 km
Best way to visit: Personal vehicle, cab.
Nearby places to visit: Dhamma Chakra Stupa, Ramtek Fort Temple, Lata Mangeshkar Musical Garden, Ambazari Lake, Amba Khori, Waki Woods.
Waki Woods
Waki Woods, located about 30 kilometres from Nagpur, is a sight to behold. Aside from a breathtaking natural landscape for a picnic day out, the lush greens offer a plethora of activities. Life in these 'woods' is a perfect blend of modernity and nature, as fully furnished tents with amenities such as electricity and phones are available.
And there's more. Thanks to Waki's bird sanctuaries, you can enjoy boating, archery, a trekking adventure, or unleash your inner wildlife photographer. While in the woods, don't forget to treat your taste buds to some lip-smacking delicacies at the Waki Woods Dhaba.
Distance from Nagpur: 29 km
Best way to visit: Personal vehicle, cab.
Nearby places to visit: The Pench Tiger Reserve, Chikaldhara, Ambazari Lake, Adasa, Ramtek, Navegaon National Park, Futala Lake
Adasa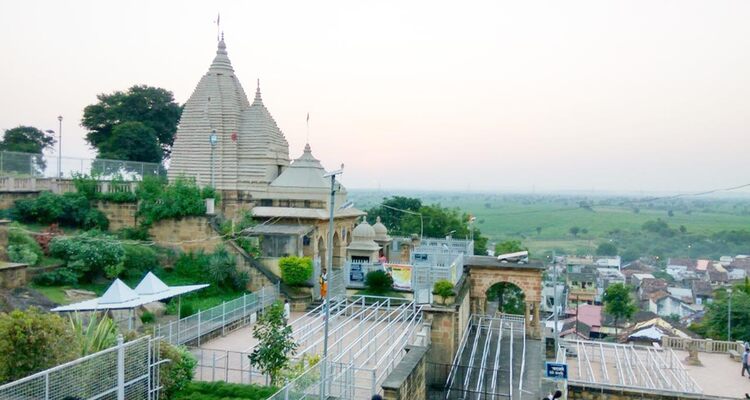 The shrine of Lord Ganapati in all his glory is nestled atop a tiny hillock. A short 100-metre walk takes you to the shrine where you can pray to the elephant god. A 360-degree bird's eye view of the region is available from the hillock.
The main draw is the eight Ashtavinayak Ganapati Temple, which stands tall and majestically. Visitors can also spend the day with family and friends at one of the nearby picnic areas.
Distance from Nagpur: 42 km
Best way to visit: Personal vehicle, bus, cab.
Nearby places to visit: Dragon Palace Temple, Japanese Rose Garden, Futala Lake.
Suggested Reads: Top 7 Soothing Waterfalls Near Nagpur
Ramtek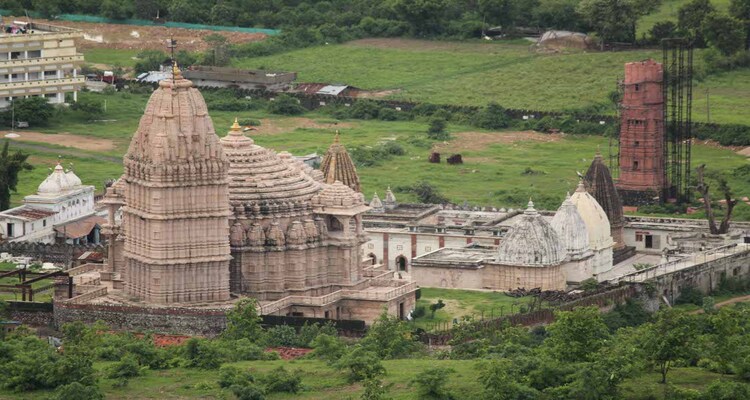 Tourism in Ramtek or Ramgiri has grown in popularity as a result of its connection to myths, legends, and the reign of Vakatakas. It is thus assumed that Lord Rama, along with Sita and Laxman, stopped at Ramtek to rest while in exile. The location also housed Hindu sages, who were disturbed by the presence of demons.
As a result, Lord Rama made a vow to relieve the place of its distress, and the location was named Ram-tek after the incident. Ramtek covers an area of 1129 square miles and is home to lush green hillocks, beautiful lakes, and breath-taking ancient temples, provides tourists with a plethora of scenic sightseeing opportunities. The Rama Temple, also known as Ram Dham, is one of the tourist attractions that should not be missed.
It is thought to be over 600 years old. There is the Jain temple, also known as Shantinath Atishaya Kshetra, which is popular with tourists due to its beautiful carvings and sculptures. And then there's Khindsi Lake, a naturally formed body of water surrounded by beautiful flora and fauna.
The lake also provides boat rides to its visitors in a variety of different boat shapes. The Ramtek Dam on the Sur River, with no spillway gates, provides a serene and beautiful setting for picnics; and finally, the Pench Dam, also known as the Kamthikhairy Dam, is another earth-filled dam on the Pench River located within the Pench National Park.
This large body of water is also well-known for the large island that it provides for birdwatchers and photographers. It is the best place to visit near Nagpur under 50km.
Distance from Nagpur: 49 km
Best way to visit: Personal vehicle, cab, bus.
Nearby places to visit: Ramtek, Rama Temple, Khindsi Lake, Pench Dam, Sur River.
Top places to visit near Nagpur under 100km:
Khekranala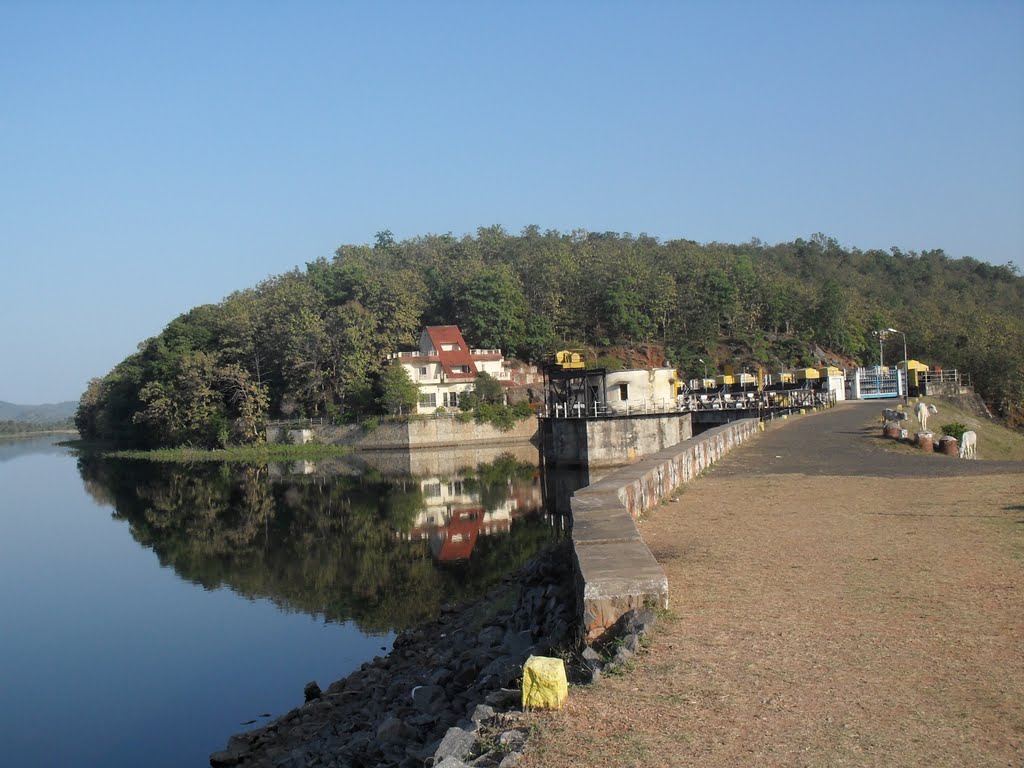 Khekranala, located 65 kilometres north of Nagpur in the Khapa range, is a lovely dam site. Khekranala, located on the Chhindwara Road near Khapa, is an ideal destination for adventure seekers, particularly those interested in trekking.
The tranquil lake surrounding the Khekranala Dam is the main attraction here, surrounded by a dense forest with a diverse range of flora and fauna. The lush greenery, healthy climate, and fascinating environment draw visitors from all over the state. In addition, the Maharashtra Tourism Development Corporation has created lodging options for visitors.
It is also a highly recommended picnic spot for friends and family trips along with being one of the best places to visit near Nagpur under 100km.
Distance from Nagpur: 57 km
Best way to visit: Personal vehicle, cab
Nearby places to visit: Amba Khori, Dhapewada, Sitabuldi Fort, Telankhedi Garden, and Ram Dham
Pench National Park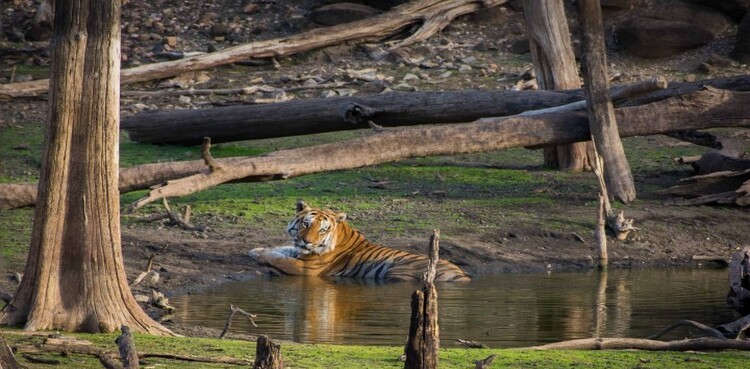 Pench National Park is located in the districts of Seoni and Chhindwara in Madhya Pradesh, India's heartland. Pench National Park, named after the pristine River Pence that runs through the park, is one of India's most popular wildlife reserves. The park is also mentioned in the famous 1894 storey 'The Jungle Book,' written by renowned English author Rudyard Kipling.
Pench National Park, which sprawls over a massive area of 758 sq km, including the core area, has a rich wildlife that provides visitors with one of the finest wildlife experiences in India. It is one of the best places to visit near Nagpur.
Since its inception as a wildlife sanctuary in 1965, the park has served as a safe haven for a variety of wild creatures, including the Royal Bengal tiger, barking deer, four-horned antelope, Indian wolf, and other fascinating species. However, in 1975 and 1992, the sanctuary was designated as a national park and a tiger reserve, respectively. In short, Pench National Park is a must visit of nature enthusiasts.
Distance from Nagpur: 78 km
Best way to visit: Personal vehicle, cab, bus.
Nearby places to visit: Bhedaghat, Kanha National Park, Sanchi, Khekranala, Ramtek
Suggested reads: Best Trekking Bags
Top places to visit near Nagpur under 200km:
Adilabad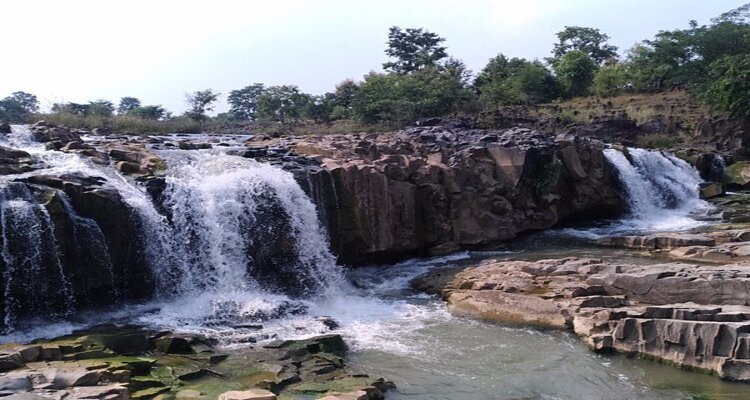 Adilabad is a town in Telangana state, India, and the district headquarters for the Adilabad district. It is Telangana's northernmost district, connecting the state to Central and North India. It is located 290 kilometers from the capital city of Hyderabad and records some of the most extreme temperatures in South India and about 196 km from Nagpur.
With its historical temples, monuments, and breathtaking waterfalls, Adilabad provides tourists with a one-of-a-kind experience. Kuntala Waterfalls, Telangana's highest waterfall, is also located near the Sahyadri mountain ranges. Pochera waterfalls are located in dense forest where the Godavari River descends from a height of 20 metres.
Basar Saraswathi Temple, located on the banks of the Godavari River, is a prominent temple in Adilabad and one of only two temples in India dedicated to the Hindu goddess of knowledge, music, arts, and sciences, Saraswati.
The Kawal Wildlife Sanctuary is set among dense forests, making it an ideal habitat for wild animals and plants. Pranahita Wildlife Sanctuary is a well-known tourist destination in the Adilabad district. All these places make Adilabad a perfect place to visit and also a perfect picnic spot near Nagpur under 200km.
Distance from Nagpur: 196 km
Best way to visit: Personal vehicle, cab.
Nearby places to visit: Kawal Wildlife Sanctuary, Kunthala Waterfalls, Pochera Waterfalls, Shivaram Wildlife Sanctuary, Mahatma Gandhi Park, Adilabad, Jainath Temple.
Suggested reads: Trekking Trips for Students
Best Picnic spots near Nagpur:
Waki Woods
Waki Wood is one of those picnic spots near Nagpur that make a vacation seem well-spent with plenty to do. This resort is ideal for visiting with family, friends, colleagues, or students. It is located near the Waki Dargah, which is visited by many people who pass through Waki.
This location, which is only about 30 kilometres from the city, is an excellent choice for those who do not want to travel far to spend an exciting day trekking.
Dhapewada
Dhapewada Lake is a small lake in the Dhapewada hamlet. Water sports and the Vithoba Temple on the banks of the Chandrabhaga River draw visitors to this location. You can also visit Khindsi lake nearby, which graces the Ramtek Hill and is a popular couple picnic spot near Nagpur. It is also known as Pandharpur of Vidarbha.
This location is popular for couples and families looking for a weekend getaway from Nagpur. The months of March to October are ideal for visiting this location.
Ramtek
Ramtek, another history lover's paradise, is said to be where Lord Rama rested during his long exile. Rama's Temple, which has architectural, mythological, and spiritual significance, can be found here. Ramtek is only 50 kilometres away, and nearby attractions include the Jain Temple, Totladoh Waterfall, and Khindsi Lake.
The Kalidasa Festival, which includes dancing, drama, and music, is held in November and is a great time to visit this town. This is without a doubt one of the best picnic spots near Nagpur.
Khekranala
Khekranala, located in the heart of the Khapa range, is an ideal picnic spot near Nagpur for nature lovers. The location serves as a picnic spot as well as a fantastic trekking destination, with great trekking trails available for visitors. The lake's blue water provides the perfect colour balance to the emerald green landscape. The monsoon season is the best time to enjoy the natural beauty of the area.
Amba Khori
The Amba Khori, one of India's most famous waterfalls, is also one of the most well-known picnic spots on the list. From its magical waterfall to its lush green landscapes, this place is a nature lover's paradise, and when combined with the sunrise in the morning, you can witness one of nature's most breathtaking marvels.
Evenings and mornings also changed the hues of the sky, adding to the scenic beauty of the waterfall. If you're looking for peace and quiet, this is the ideal picnic spot near Nagpur.
Ambazari Lake
Ambazari Lake, Nagpur's largest lake, is also an excellent picnic spot. The charisma of the place lies in the manicured garden and the clear waters of this lake, which cover an area of nearly fifteen square kilometres. A huge dinosaur model, as well as air-filled animals, greets visitors to the Ambazari Lake garden.
In the evening, the promenades along the lake are crowded with joggers and casual strollers. The lake's recreational activities are plentiful and provide an enriching picnic experience.
Futala Lake
Futala Lake is a picnic spot near Nagpur that allows visitors to relax and socialise with their friends or families. Futala Lake is a great place to reflect on life. It is all about peace and tranquilly. As the sun sets, the lake sparkles in the moonlight, leaving one speechless and awestruck. This lake is an excellent place to recharge your soul and rejuvenate.
Conclusion
And there you have it. Top places to visit near Nagpur under 200km. All these places are good to go with family and friends and you will surely have a great time at these places. Not interested in Nagpur? You may like Best places to visit near Nashik in which we discussed about top places for you and your family to visit in Nashik.
If you liked this article than make sure to like and share this article. Want to give any suggestion than make sure write us down below in the comment section.
FAQs (Frequently Asked Questions)
Which is the picnic spot near Nagpur?
Ramtek, Tadoba, Waki Woods, Adasa are all best places to go for a picnic with family and friends. Also, all these places offer a variety of fun activities.
Is Nagpur worth visiting?
Nagpur is definitely worth a visit with your family and friends. It is also good for couples as it offers several picnic spots and beautiful hotels in the lap of nature.
What Nagpur is famous for?
Nagpur is very popular for its oranges, temples, greenery, industries and a lot of picnic spot.