Tirthan Valley, known as 'Himachal's Best Kept Secret,' is located at an elevation of 1600 metres above sea level in the Kullu District of Himachal Pradesh. It is a perfect getaway destination blessed with a wealth of nature's treasures. This valley is the ideal location if you are tired of the hustle and bustle of everyday metro life, which . The valley is named after the pristine Tirthan River. It provides access to the newly designated UNESCO World Heritage Site – The Great Himalayan National Park (GHNP), which covers an area of 1100 sq km.
Tirthan Valley is a trekker's paradise, with some of the best trekking opportunities in the world. Not to mention bird watchers who spend days camping in the heart of the park. We will discuss about some of the best Tirthan Valley Treks that you can go for.
Trekking places in Tirthan Valley
Jalori Pass-Serolsar Lake Trek
Serolsar Lake is a lovely mountain lake surrounded by fascinating folklore. The lake is close to the Buddhi Nagin Mata temple. The lake is surrounded by towering trees, but legend has it that whenever a leaf falls on the lake's surface, it is picked up by one of the two birds that guard it. It is one of the most popular Tirthan Valley treks and attracts thousands of hikers throughout the year.
The hike to Serolsar Lake is short and easy, taking less than three hours. The hike begins at Jalori Pass, which is about a 90-minute drive from Gushaini village in Tirthan Valley. The trail has a couple of campsites that are happy to provide visitors with a warm stay in the hills. This trek is about 9.4 km long and usually takes around 3 hours to complete.
Great Himalayan National Park (GHNP) Park Gate Trek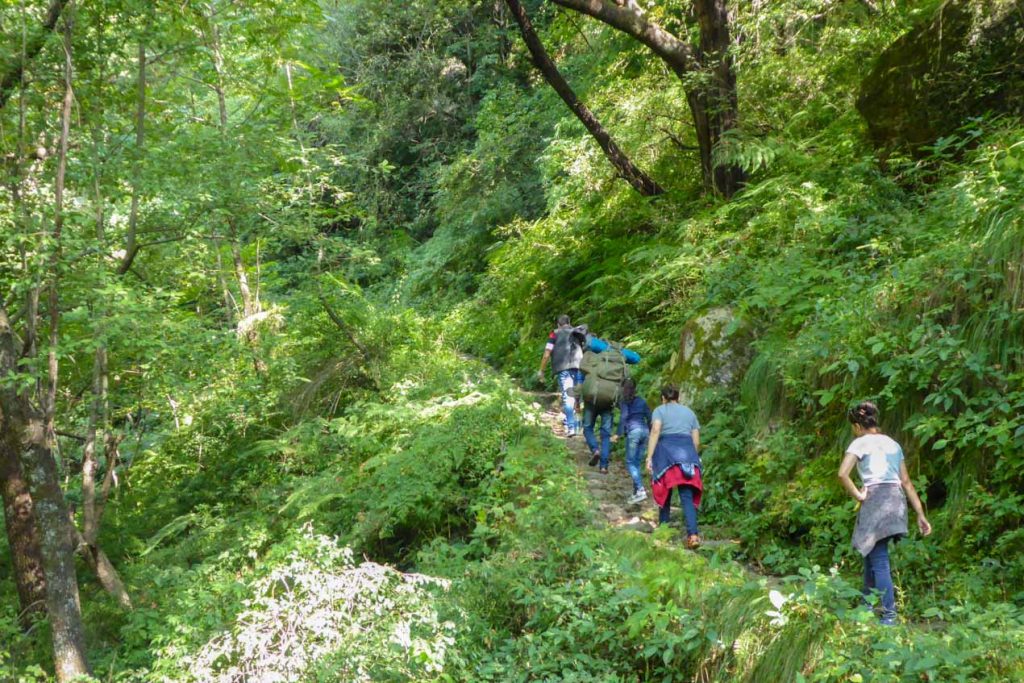 Tirthan Valley is also known as the Great Himalayan National Park's gateway, and the hike to the gate itself is breathtaking. The day hike begins in Gushaini Village and follows the Tirthan River. The hike passes through the traditional mountain village of Ropa, which also serves as a good rest stop before continuing on.
The GHNP hike is one of the few Tirthan Valley treks in Himachal that is suitable for people of all fitness levels. The ascent from Gushaini village is only 480 metres. The area around the gate provides fantastic panoramic views of the surrounding mountains and makes for a picture-perfect camping spot. A Forest Rest House is also nearby. It is about 6 km in length and takes about 2 hours to complete. It is one of the best Tirthan Valley treks.
Jalori Pass Trek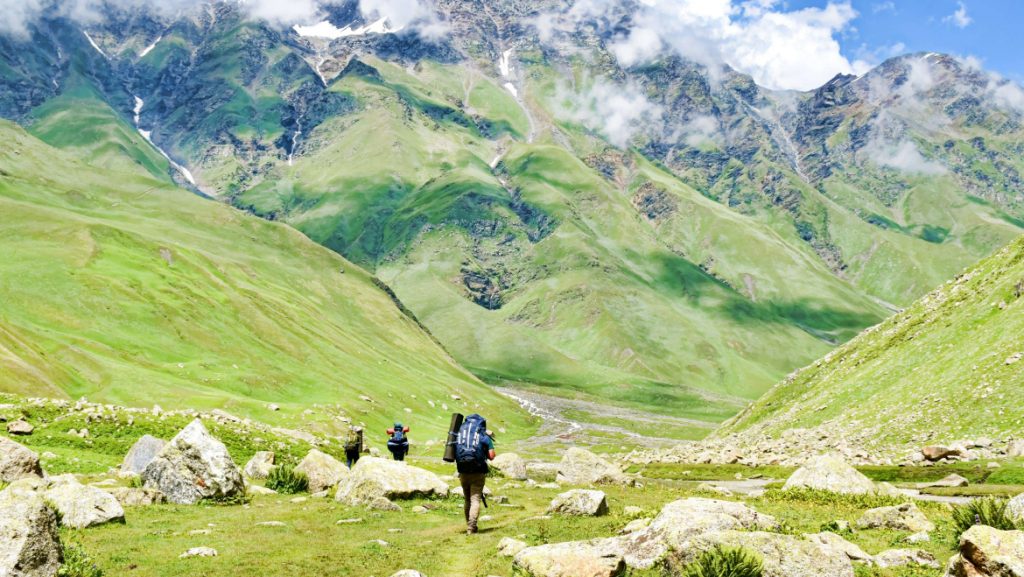 Jalori Pass, located approximately 100 kilometres from Shimla in Kullu, is located away from the hustle and bustle of city life. The tranquil ambiance provided by the mighty Himalayas provides unrivalled opportunities to unwind the body and savour nature's splendour. The seasonal flowers that bloom in the region, as well as the exotic flora and fauna, relax the senses of every trekker in the midst of the immaculate solitude of the highlands. This trek is about 8 km in length and takes 6 hours to complete.
Trekking on this beautiful trail takes visitors to breathtaking locations such as Shoja, Sereolsar Lake, Sakiran, Lambri, Bashleo, and the Great Himalayan National Park. A trekker can also visit the forts of Fatehpurgarh, Raghunathpur, and Kalagarh. In this article, we will discuss about trekking spots and resorts for your stay along with some nearby places for you to visit.
Tirath Valley Trek
Tirath trek provides an excellent challenge within Tirthan Valley for those interested in a challenge. The trek, as the name implies, takes one to the source of the Tirath River, which flows through Tirthan Valley. The trek is long and difficult, taking approximately 8-9 days to complete. The good news is that the nearly 30-kilometer-long trail is dotted with beautiful campsites, making the whole thing a little easier.
Tirath summit, at a height of 12,319 feet, provides a true taste of the adventure that the Great Himalayan National Park has to offer. Make sure to carry all the essentials to avoid any unnecessary halts. It is one of the most beautiful Tirthan Valley treks.
Tirthan Jibhi Trek
Jibhi, a riverside retreat blessed with a wealth of nature's treasures, is an adventure-centric getaway. This peaceful valley is ideal for trekking, fishing, wildlife viewing, and exploring undiscovered hill villages. The breathtaking valley features stunning ridgelines, forests, waterfalls, mountains, meadows, and lakes.
Jibhi is an ideal rejuvenation destination for travellers looking to escape the monotony of life in concrete jungles and busy cities. Jibhi has the perfect mix of lovely short trails that can be followed without a guide. Then comes longer, more elusive paths deep into the forests that can only be explored with expert guidance. Breathtaking waterfalls and meandering rivers are a pleasure to eyes and ears.
More daring visitors can scale the surrounding ridges. Among these natural wonders are unique villages, some of which can only be reached on foot, and a number of delightful temples, such as Shringa Rishi Temple, Chehni Kothi, and Buddhi Nagin – Serolsar Lake.
How to Reach Tirthan Valley
Tirthan Valley from Delhi
Because Tirthan Valley is in Himachal Pradesh's Kullu region, you must take the Delhi-Manali Highway to a place called Aut after Mandi. You do not need to enter the Jawahar tunnel at Aut; instead, continue on the right road into Banjar Valley.
The distance between Delhi and Tirthan Valley is approximately 511 kilometres via the Mandi-Pandoh route.
Delhi – Ambala (188 KM) – Kalka – Shimla (370 KM) – Narkanda (430 KM) – Ani – Khanag – Jalori Pass (520 KM) – Shoja (524 KM) – Banjar (538 KM) – Tirthan (544 KM)
There is an alternate route that exists from Delhi to Shimla to Jalori Pass to Banjar – Tirthan. This alternate route is about 40 km long.
Delhi – Ambala (188 KM) – Kalka – Shimla (370 KM) – Narkanda (430 KM) – Ani – Khanag – Jalori Pass (520 KM) – Shoja (524 KM) – Banjar (538 KM) – Tirthan (544 KM)
The best method to reach Tirthan Valley is to get to Aut, which is in the Kullu district, and then move towards the village of your choice. You can get to Aut in the following ways:
By Train
The nearest railway station is 225 kilometres away in Chandigarh. There are no direct trains from Shimla or Delhi to Mandi. Take a taxi or a bus to Mandi. The Joginder Nagar station is 120 kilometres from the valley and is also an option.
By Bus
Take a regular HRTC bus or a Delhi-Manali Volvo bus, and you'll be in Aut by 6 a.m. the next morning. Take a taxi or the Kullu-Shimla bus from Aut. Hittingchhiking from Aut to the valley is also an option.
By Air
The nearest airport is in Bhuntar, 50 kilometres from the Tirthan Valley. Given the inclement weather in Kullu, there may be limited connectivity at the airport.
By Car
To get to Aut, take the Delhi-Manali highway. Do not enter the Jawahar tunnel at Aut; instead, take the road to the right, which leads to Banjar Valley. The distance between Delhi and Tirthan via this route is 511 kilometres.
Best time to visit Tirthan Valley
The best time to visit the enthralling Tirthan Valley is between March and June, which is the spring/summer season. The weather is pleasant and ideal for exploring the flora and fauna, particularly the lush green meadows and apple orchards. The winter season, which lasts from November to December, January to February, could also be an excellent time to visit the valley, especially for those looking for a location that receives snowfall and can withstand icy conditions.
The monsoon season lasts from June/July to August. The region receives moderate to heavy rainfall and transforms into a beautiful location, but it is inconvenient for explorers because visibility decreases significantly.
Weather in Tirthan Valley
Tirthan Valley weather is cool and pleasant all year because it is located at an elevation of approximately 1600m. Summer temperatures in Tirthan Valley range between 20 and 30 degrees Celsius, making it the ideal time to visit this destination.
In the winter, however, the temperature in Tirthan Valley drops to 0 degrees Celsius, and it can become bitterly cold. At this time of year, the valley receives snowfall, making it an ideal getaway for anyone who wants to experience snowfall in the mountains.
During the monsoon season, the valley receives moderate to heavy rainfall, turning it lush green. So, depending on when you plan to visit Tirthan Valley, you may encounter a variety of weather conditions.
Where to stay in Tirthan Valley
Trishla Resort
Trishla Resort, if you are looking for hotels in Tirthan Valley, adds to the pristine beauty of Tirthan Valley. This could be the nearest property to the Tirthan River. Trishla Resort in Tirthan Valley Himachal Pradesh is a popular resort with vast gardens and a pleasant garden with colourful flowers where you may sit with your family, bathe in the sun, and sip tea. This resort's personnel is well-known for being kind and welcoming.
Location: 2 Km From Ghnp, Vill Mungla, P.O Gahidhar Tehsil Banjar Distt Kullu, Banjar, Kullu
Starting Price: Rs 3000
JJ Resort
JJ Resort is one of the best locations to stay in Tirthan Valley. During the winter, JJ Resort is a popular winter destination. As the snow falls, the atmosphere becomes more quiet and peaceful. They say that "there is no place like home," and JJ Resort certainly meets that notion, providing everything homely! Beautiful furnishings, friendly employees, quick room service, and tranquil surroundings await you here during your deep escape from city life.
Location: Shamshi, Kullu
Starting Price: Rs 3000
Sharda Resort
Sharda Resort boasts the most obedient and eager personnel of any Tirthan Valley resort or hotel, with the goal of gratifying its guests. Furthermore, the resort's location rejuvenates the souls of the travellers. The parking facilities and the lovely view of the Tirthan River from the room windows will make your stay at Sharda Resort unforgettable.
Location: Sharchi road, Banjar
Starting Price: Rs 2000
Green Alpine
The Green Alpine Homestay is another option for lodging in Tirthan Valley. An unplanned stay in Green Alpine will make your trip everything it should be.
Set amidst a little stream near the river, this location is great for spending time with family and friends. In addition, an elegant waterfall is only 8 to 10 minutes away from the hotel.
Location: Gada Gushaini Rd, Jibhi, Himachal Pradesh 175123
Starting Price: Rs 1500

The Tirthan View Homestay
The Tirthan View Homestay is an excellent spot to enjoy peace and tranquillity. It is another another popular vacation spot that is completely kid-friendly and serves extremely great food. This hotel offers features such as breathtaking mountain views. Tirthan View Homestay is an excellent choice for those looking for a smog-free weekend getaway in Tirthan Valley.
Location: Bandal, Gushaini, Kullu
Starting Price: Rs 2000
Nearby Places to Visit
Gushaini
Gushaini, located in Kullu's enchanting Tirthan Valley, is known for its adventure trails and breathtaking views. Away from the crowded treks in the Kullu-Manali valleys, the region makes for an excellent trekking and camping destination. Gushaini also has villages worth visiting on the outskirts of the region. Above all, the roaring Tirthan river gushing through the meandering mountain paths is breathtaking!
Gushaini is surrounded by lush greenery and vast orchards of apricots, peaches, and pears. Aside from the view, the aroma of the surrounding nature and the enchanting peaks in the background are sure to delight! The people of Gushaini are extremely friendly and welcoming. They make you feel at ease and assist you if you become stranded.
Suggested reads: Best Trekking Places in Tamil Nadu
Serloskar Lake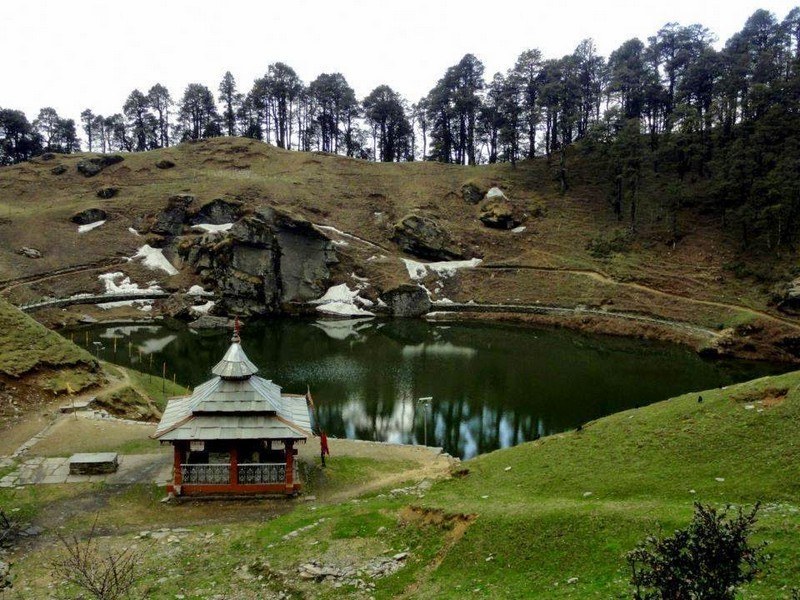 Serlosar Lake, another popular attraction in the village, is about 5 kilometres from Jalori Pass. The walk to the lake from Jalori pass is equally beautiful, with a dense canopy of oak trees. The lake is located at an elevation of approximately 3,100 metres and is thought to have medicinal properties.
The location is more well-known for its temple dedicated to the Goddess Budhi Nagin. The Goddess is said to have a hundred sons and to serve as a guardian of the area. The hike to the lake is moderate, and it is recommended that you bring your own refreshments because there is only one shop half a kilometre before the lake. Some guesthouses have now been built near the lake.
Great Himalayan National Park (GHNP)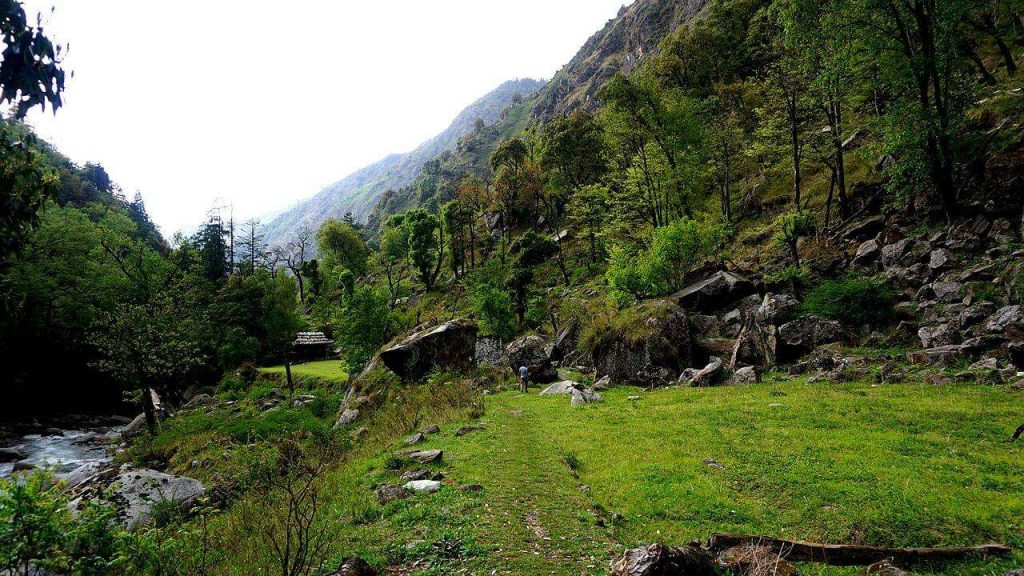 The Great Himalayan National Park was established in 1984 and is a UNESCO World Heritage Site. It is one of the most beautiful places to visit in Tirthan Valley, surrounded by breathtaking flora and fauna. The park, which covers an area of 754 square kilometres, is home to approximately 181 bird species and 31 mammal species. The park is located in the Himachal Pradesh state at the confluence of four valleys: Tirthan, Parvati, Sainj, and Jiwa Nal.
Camping among lush green forests and meandering streams is very popular among hikers. Within the park's boundaries, there are numerous villages. You can visit them to learn about the tribes' traditions and culture.
Jalori Pass
Jalori Pass, or Jalori Jot, is one of the most beautiful places to visit in Tirthan Valley, located at a height of 10,800 feet above sea level. The Pass remains unexplored, making it an ideal destination for trekkers and adventure seekers. Huge coniferous trees, wild roses, ferns, and Iris flowers adorn the area.
Several migratory birds, including the Blue Robin, Magpie, Nutcracker, and many other bird species, call the adjacent forest home. Snow-capped mountains, tiny hamlets, green meadows, and deep valleys adorn the entire trekking trail through Jalori Pass.
Jibhi
The village is about 12 kilometres from Jalori Pass and about 8 kilometres from Banjar. This spectacular and peaceful hamlet offers the beauty of nature through its dense Pine tree forests, ancient temples, and sparkling lakes, making it an offbeat tourist destination. It is worthwhile to spend the night in Jibhi to experience the village's enthralling beauty.
The best option is to stay in one of the Victorian-style cottages nestled among the lush greenery of the village. Jibhi has a plethora of things to do, including numerous camping areas, hiking trails, fishing holes, and bird-watching spots. After a long day, you can light a bonfire and spend the night gazing at the stars.
Chhoie Waterfall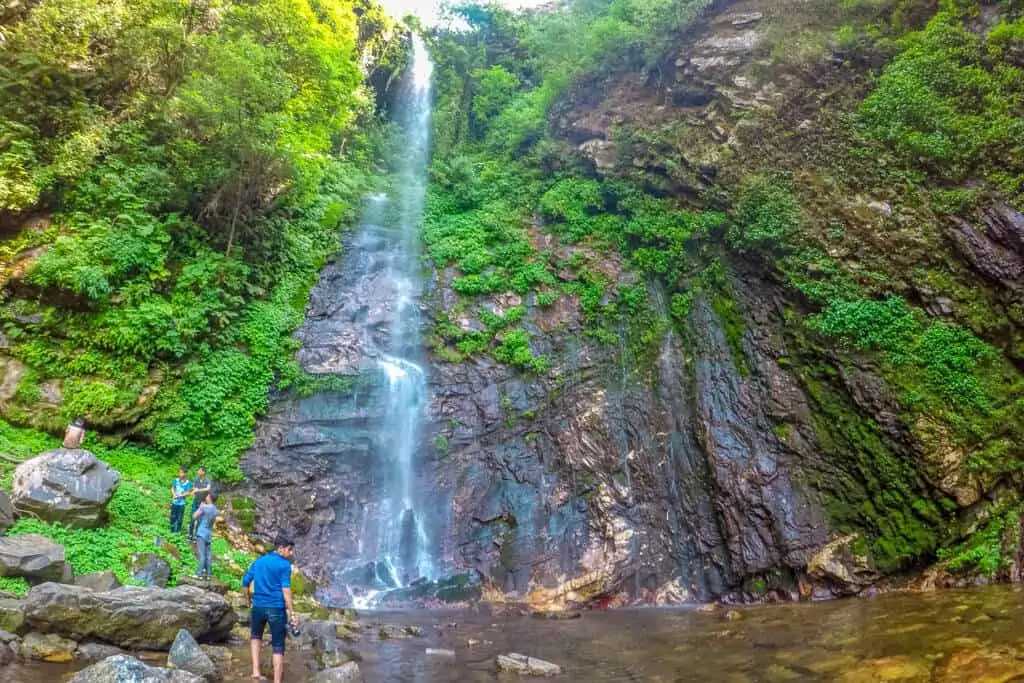 The Tirthan Valley's main attraction is the Choi or Chhoie waterfall. The waterfall is located in Great Himalayan National Park and requires a steep hike to reach it. However, what appears to us as a simple waterfall is actually a place of worship for the locals. As a result, littering should be avoided in these areas. It is also a very famous trekking spot so you can also plan to visit this place for adventure purpose.
And with this we conclude our article on Tirthan Valley treks . Hope you liked this article and found this helpful. If yes, then make sure to like and share this article and also don't forget to share your experience at these places down in the comment section. You may also like Trekking Trips for Students.
FAQs (Frequently Asked Questions)
How long is Tirthan Valley Trek?
There are many treks in Tirthan Valley. Most of them is around 5 to 6 km . Tirath Trek is the longest about 30 km long and takes 9 days to complete.
Is Tirthan Valley worth visiting?
Tirthan is the best offbeat destination with a lot to offer because of its location, views, or nature. Tirthan Valley's rustic charm, pretty rivulets, insanely scenic hikes and treks, The Great Himalayan National Park, and unique culture make Tirthan Valley an absolute must visit.
How do I plan a trip to Tirthan Valley?
The nearest airport to Tirthan Valley is Bhuntar, which is approximately 48 kilometres away. Flights to this region are frequently operated by Indian Airlines and Deccan Airways. To get to the location, you can also use Jagson Airlines' helicopter service, after which you can take a taxi.
Does it snow in Tirthan Valley?
Yes it snows in Tirthan Valley during winter months.
Which river flows in Jibhi?
Tirthan River flows in Jibhi. Tirthan a river which is a tributary of Beas river.
How many days are enough for Tirthan Valley?
10 days trip will be enough if you want to go on longest trek like Tirthan Valley trek but if you want to go on an medium length trek then a week or less may be enough.
Is Road to Tirthan Valley Safe?
Yes, road to Tirthan Valley is very safe. But make sure to drive properly as their are a lot of curvy roads near valley and hilly region in between.
How far is Parvati Valley from Tirthan valley?
Tirthan Valley is about 109 km from Parvati Valley.