Didupe Falls is an unexplored waterfall at the base of Charmadi Ghat in Karnataka. It is one of Karnataka's lesser-known waterfalls and one of the best places to visit near Chikmagalur. Locals refer to Didupe Falls as Kadamagundi Falls or Anadka Falls.
As a seasonal waterfall, Didupe reaches its peak during the monsoon season. It plummets from a 70-foot-high rocky cliff, splattering the ground with great force. On most sides, this waterfall is surrounded by rocky terrain and dense misty forests.
At the base of the waterfalls, a beautiful natural pool forms where visitors can take a dip and play with water. However, because the pool is not very deep, it is not suitable for swimming.
Aside from that, landslides are common in these areas during the monsoon season, so it is always best to hire a local guide to visit the falls. To visit Didupe Falls, one must first obtain permission from the Didupe village forest department. There are several routes to the falls, the most well-known of which are through the stream and areca nut field.
How to reach Didupe Falls
By Road
Didupe town is about 24 km from Ujire town which takes about 40 minutes by car. Ujire is a town near Dharmasthala. It is in Belthangady taluk of Dakshina Kannada district. Ujire is an important junction for travelers in this region. Because there are no frequent bus services, it is always preferable to hire a jeep from Ujire. If you are driving to this location, be cautious because the roads are in poor condition.
If you are planning to go from Bengaluru then it is about 306 km via NH73 and NH75 which will take you about 6 hours to complete. Buses are also available if you don't want to drive.
By Train
Mangalore Junction is the nearest railway station to Ujire which is about 51 km away. You can book a ticket to Mangalore Junction and then from their you can take a bus or jeep and then head for Ujire.
Trekking at Didupe Falls
The trail begins at the base of Charmadi Ghat, where the multi-folded Didupe waterfall creates a tranquil pond structure. The journey to the top is difficult due to the steep climbs, but it is well worth it. Beginners can take a break at Didupe Falls, where they can swim and observe nature.
Those who are more daring can reach the summit of the trek at Ermayi Falls. Aside from swimming, visitors can also camp here. After completing this difficult trek, it is very satisfying to watch the sun cast a golden glow on the rocks and skittering frogs skitter across the streams.
Suggested Reads: Top 7 Waterfalls Near Nagpur
Best time to visit Didupe Falls
The waterfall is best visited between November and March. During the monsoon, water flow can be high, rocks can be slippery, and landslides are possible, whereas water quantity is reduced during the summer. You can visit this area from 7 AM to 5 PM and there is no entry fee.
Nearby Places to Visit
Ermai Falls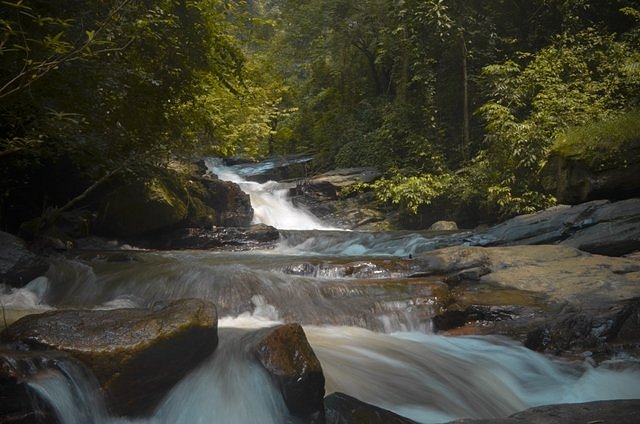 Ermai Falls is a breathtaking waterfall near Kajoor in Karnataka's Chikkamagaluru district. It is one of Karnataka's lesser-known waterfalls and one of the best places to visit near Chikmagalur. This is a multi-layered waterfall that cascades from 75 feet down the rocky terrain. At the bottom, it forms a 5-foot-deep pool where tourists can swim or play with water. However, avoid getting too close to waterfalls during the monsoon season because the water level rises along with the strong currents. Climbing without the assistance of locals or experienced trekkers is dangerous, and many people have died as a result.
It is a seasonal waterfall that reaches its peak during the monsoon season. The waterfall is on private property, but the public is welcome to visit. In addition, there are two other waterfalls near Ermayi that can be trekked with the assistance of locals. Because this is a remote location, avoid getting lost in the jungle because finding your way out can be difficult. Furthermore, there are no eateries or restaurants nearby, so it is preferable to bring food.
To get here, go to Uijre and then to Mundaje, where you can take a detour to Didupe village. After about 6 kilometers, you will reach the point where you can take the route to Ermayi Falls, just before the Kajoor Dargah, on which four-wheelers can travel for about a kilometer. Following that, one must cross the Ermai stream and then trek the remaining 1.5 km to the destination.
Distance from Didupe Falls: 5 km
How to visit?: Bus, Cab, On foot
Nearby places to visit: Madikeri, Manjusha Museum, Panambur Beach, Chennakesava Temple Belur, Dharmasthala , Didupe Falls
Suggested reads: Trekking Trips for Students
Mullayanagiri
Mullayanagiri, Karnataka's highest peak, is located 20 kilometers and 23 kilometers from Chikmagalur and Baba Budangiri, respectively. On the topmost summit of this Mullayanagiri peak, there is a small temple with a small statue of Tapasvi Mullappa Swamy. Tapasvi Mullappa Swamy, according to regional mythology, meditated for years at the cave on top of Mullayanagiri peak.
This is how the peak came to have its current name. The term 'Mullai', on the other hand, is associated with the forests in old Kannada literature. The caves at the top of the Mullayanagiri hills are not particularly deep and have an entrance that leads directly to the temple's garbhagudi.
Mullayanagiri's panoramic beauty is breathtaking, nestled between the Nilgiris and the mighty Himalayas. This is what makes the Mullayanagiri peaks one of the most appealing intermediate trekking destinations. The trail to Mullayanagiri's highest peak begins in Sarpadhari and extends for 3 kilometres. Despite the fact that it is relatively steep, you can easily cover the distance in 1.5 hours.
On your way, you can admire a Nandi statue, small streams, and a cave with a small water source. You must carry enough food and water with you because there are no reserves. Otherwise, you'll have to suppress your hunger and thirst until you reach the Lord Shiva temple at the top.
Distance from Didupe Falls: 94 km
How to visit?: Bus, Cab, Train
Nearby places to visit: Shree Sadashiva Rudra Temple, Manjusha Museum, Panambur Beach, Chennakesava Temple Belur, Dharmasthala , Didupe Falls
Kudremukha National Park
The Kudremukh (Horse Face) Range gets its name from the distinctive shape of its main peak. Deep valleys and steep precipices connect the broad hills that overlook the Arabian Sea. Kudremukh is thought to have served as a landmark for sailors on the western coast for over 2000 years. Apart from the main trek to Kuduremukha Peak, other trekking trails in Kudremukh include Kurinjal Peak, Gangadikal Peak, Seethabumi Peak, Valikunda, and Narasimha Parvatha, which are still 'undiscovered' by tourists.
The best time to visit is after the monsoon, when everything is lush green and the rivers, streams, and waterfalls, such as Kadambi Falls and Hanuman Gundi Falls, are at their best. Ganga Moola is a beautiful spot in the Bhagawathi forest where the three rivers Tunga, Bhadra, and Netravati begin. The main attractions here are a shrine to Goddess Bhagavathi and a 1.8m high Varaha image inside a cave.
Distance from Didupe Falls: 104.5 km
How to visit?: Bus, Cab, Train
Nearby places to visit: Surya Sadashivarudra Temple, Manjusha Museum, Panambur Beach, Chennakesava Temple Belur, Dharmasthala , Didupe Falls
Jhari Waterfall
Jhari Waterfalls, also known as Buttermilk Falls, are located near Attigundi, 12 kilometres from Baba Budangiri. It is one of the most well-known waterfalls in the Chikmagalur district, as well as one of the best tourist attractions in the area. The springs that originate in the mountains create these mesmerising falls, which are surrounded by dense forests and coffee plantations.
There is also a pool in the lower part of the waterfall where tourists can swim, play in the water, and relax. It's the ideal place to get away from the hustle and bustle of city life and relax in the midst of nature's splendour. This waterfall is an ideal location that offers visitors a peaceful environment. This is one of the best tourist destinations in Chikmagalur, and every visitor should make a trip there. Jhari waterfall is well worth a visit because of its peaceful environment.
Distance from Didupe Falls: 114.5 km
How to visit?: Bus, Cab, Train
Nearby places to visit: Jamalabad Fort or Gadai Kallu, Manjusha Museum, Panambur Beach, Chennakesava Temple Belur, Dharmasthala , Didupe Falls
Hebbe Falls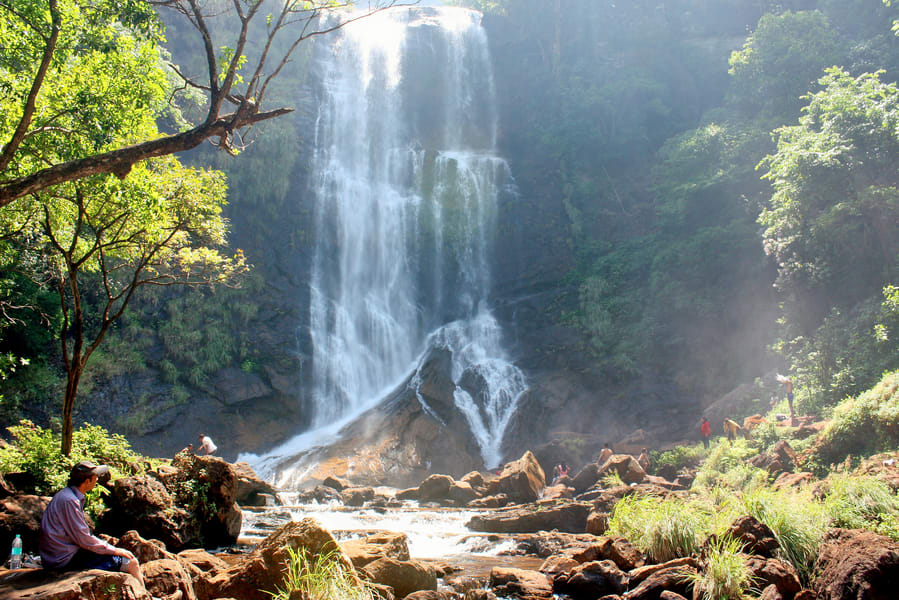 Chikmagalur District is well-known for its natural wonders, including the enchanting Hebbe Falls. It is one of Karnataka's most beautiful waterfalls, located near the popular hill station of Kemmangundi. Hebbe Falls, hidden within the Bhadra wildlife sanctuary, is a heavenly delight for nature lovers.
The journey to the Hebbe Falls will take your breath away, with coffee estates surrounding it. The mild coffee aroma and dense forests surrounding you will make you feel like a little butterfly flitting around the beautiful falls. Hebbe Falls draws a large number of nature lovers and wanderers. Kemmangundi, a well-known hill station, is about 10 kilometres from the falls.
Tourists from Kemmangundi who are looking for a one-of-a-kind waterfall frequently take a four-wheeler ride to Hebbe Falls. In Kemmangundi, there are cab services that ride through the bumpy roads surrounded by pukka and dense forests. Some adventurers travel to Hebbe Falls to enjoy the natural beauty. The trek takes in some of the most beautiful views of the forest and coffee estates.
From a distance, one can hear the sound of the falls gushing with the ground. The trekking path becomes a little uneasy during the rainy season because it becomes slippery, and leeches can be found in large numbers almost everywhere. Hebbe Falls is one of the most beautiful natural areas in Chikmagalur District. It creates a natural jacuzzi filled with medicinal substances. These medicinal herbs are thought to have healing properties. This unique feature of the falls draws the attention of curious biologists.
Distance from Didupe Falls: 158 km
How to visit?: Bus, Cab, Train
Nearby places to visit: Sri Janardhanaswamy Temple, Manjusha Museum, Panambur Beach, Chennakesava Temple Belur, Dharmasthala , Didupe Falls
And there you have it. A perfect guide for Didupe Falls. If you find this article useful then make sure to like and share this article. If you want to give any important points to improve this article then you can do so in the comment section down below.
FAQs (Frequently Asked Questions)
In which district Didupe Falls located?
Didupe is a beautiful waterfalls situated in Dakshina Kannada district of Karnataka.
What are the timings for Didupe Falls?
Tourists are allowed to visit Didupe Falls between 7 AM to 5 PM.
What is the entry fee for Didupe Falls?
There is no entry fee for visiting the Didupe Falls.
What is the distance for Didupe Falls?
Didupe falls is at a distance of 4 km from Didupe, 23 km from Ujire, and 95 km from Chikmagalur.