A fine combination of hills and forest, Mahabaleshwar used to be a sanatorium and health resort during the 19th century. It was originally known as Malcolmpeth. This beautiful forested hill station is located to the south of Mumbai. In fact, it remains evergreen all year along with pleasant weather conditions.
There are numerous places to visit at Mahabaleshwar which make it the perfect destination for a day trip as well as a weekend holiday retreat.
You cannot get any particular answer to what is famous in Mahabaleshwar. There are many things that one cannot cover in a single trip. That's why it is helpful if you sort the interests first and then plan accordingly. For instance, whether you are going on a family trip or an adventure with friends, it will determine the kind of places you will prefer to pay a visit.
Among the many places to visit in Mahabaleshwar for couples, friends, and families, below places particularly attracts tourists of all age groups and guarantee a fun time.
Places to visit at Mahabaleshwar. Here is the top 10 list
Tiger Spring Point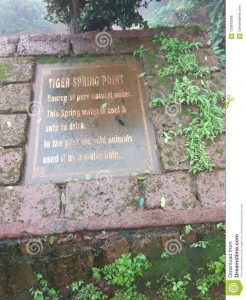 This is one of the highest points of Mahabaleshwar. The best time to pay a visit to the Tiger Spring point is after the rainy season when it is overflowing. This is a major watering hole for animals of that region for the entire year. The cool spring water is also suitable for tourists to drink.
Located near the Savitri river, this point used to be an off-beat attraction. It has now become quite popular due to the exotic view from here that has managed to impress everyone. Tourists have to trek through the rocky path with railings that will ultimately take them to the Spring point.
If you like adventure and have a thirst for experiencing nature at its best, this place to visit in Mahabaleshwar must be on your list.
Table Land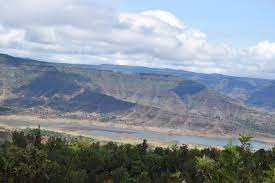 Located at 4550 ft. above sea level, Table Land is the second-longest mountain plateau of Asia and one of the most talked-about places to visit at Mahabaleshwar. It sprawls over almost 95 acres of flat laterite rocks and thick vegetation.
The main attractions of this destination are the shooting point, Pandava's footprints, Devil's Kitchen, Rajpuri Caves, and One Tree Point. Visitors can enjoy themselves with many activities such as horse riding, paragliding, and many more. It is also the highest point of Panchgani and is surrounded by barren hills.
Additionally, you can also witness the spectacular views of the sunset and sunrise from this volcanic plateau.
Tapola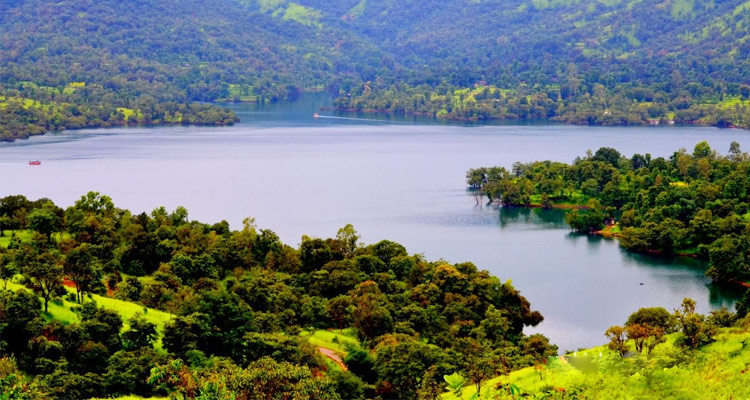 Better known as the Mini Kashmir of the West, Tapola is more of a modest hamlet in the hill station. Technically, it is 25 km from Mahabaleshwar-Panchgani road. You can enjoy a pleasant drive through the narrow rustic roads. However, it is better to skip the trip during the rainy season.
The sloppy terrain and dense fog aren't safe for driving. Although it is practically a dead-end, you can enjoy plenty here.
For instance, the beautiful Shivsagar Lake located here is 90 km long. You can also take part in numerous fun activities here. To name a few, we have kayaking, boating, water scooter rides, swimming, etc. For those who love trekking, this village is regarded as the base for the Jungle Trek up to Vasota Fort.
You can also check out the historic Pratapgad Fort of the 17th century. If you want to enjoy the serenity of nature away from bustling city life, this is an ideal destination. Tourists won't even get cell phone towers here. In that way, it is a complete detox from the daily routine.
Connaught Peak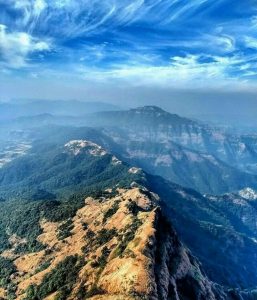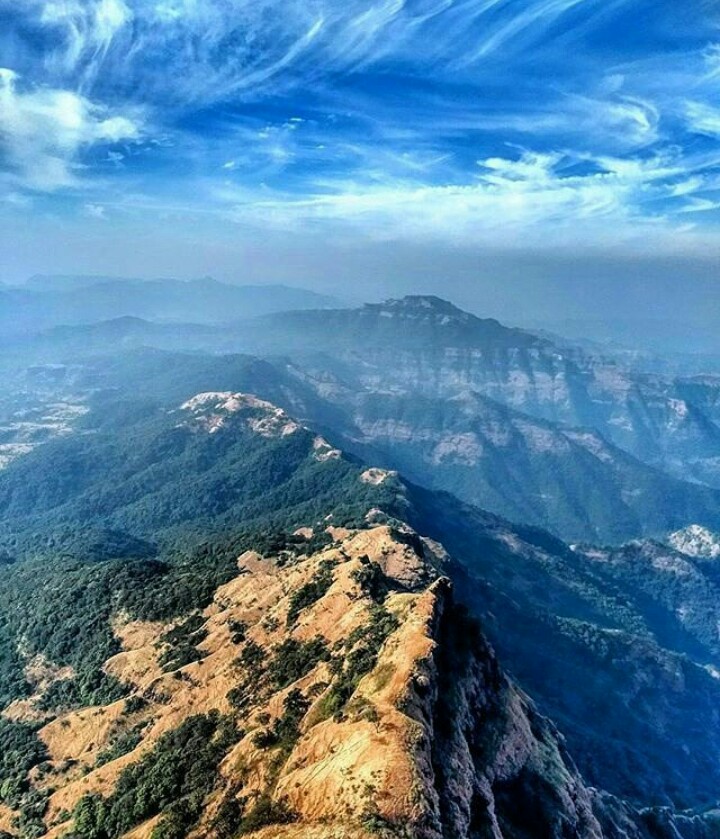 Originally known as Mount Olympus, Connaught Peak is at 1400m above sea level. It is among the most beautiful places to visit at Mahabaleshwar. Surrounded by lush greenery with a tinge of mist (as it's so high), the view from this spot is truly mesmerizing. If you are keen on visiting this place, do so during the monsoon months as the weather is extremely pleasant.
Connaught Peak is one of the most popular trekking spots in Mahabaleshwar. However, it is safer during the summer season and after the monsoon to climb the trail for a spectacular view. You can also visit the beautiful Venna Lake, Helen's Point, Falkland Point, Wilson Point.
These are popular sunrise points that offer a 360-degree view of the place and the beautiful Dhobi Waterfall.
Lingamala Falls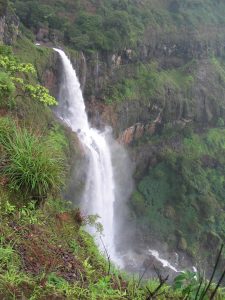 One can reach this destination quite easily as it is only 6 km from the Mahabaleshwar bus stand. The Lingamala Falls originate above 600 feet above the cliff. Dense greenery envelopes this region from all sides.
If you enjoy tranquility in the arms of nature, this is the perfect spot for you. Since the falls are pretty massive, they have been divided into two levels— lower deck and upper deck. Tourists who want to swim and enjoy some cool splash can do it in the lower deck or popularly known as the mini waterfall.
You can reach the upper deck after a 30-minutes trek from here to enjoy an even more panoramic view. Visitors frequent this Mahabaleshwar specialty mostly from June to September. The weather remains cool and pleasant after the summer months.
Mapro Garden
Situated on Mahabaleshwar-Panchgani road, Mapro Garden is the most well-known specialty of Mahabaleshwar. Every year, thousands of visitors frequent this place. This destination accounts for the highest production of strawberries in the country i.e., around 85%.
It was established during the 1980s. This tourist spot is mainly known for its fresh delicacies like strawberry pizza, strawberry bhel, fresh strawberry cream, strawberry sandwiches, and so on. However, that's not all. If you are in Mapro Garden, you must visit the famous Chocolate Factory once.
This spot is quite popular among both children and adults. One can try out the tasty marmalades, candies, toppings, and syrups for free. The best time to visit Mahabaleshwar Mapro Garden is March-April.
The famous annual Strawberry Festival occurs during that time. Visitors can relish the hand-picked fresh farm strawberries and enjoy traditional folk performances like Shivkalin Dhol.
Kaas Pathar
Better known as the Kaas Plateau Reserved Forest, this tourist spot has been declared as a UNESCO World Natural Heritage Site. Kaas Pathar is a biodiversity hot spot that is celebrated for its numerous wildflowers and different species of endemic butterflies. Especially for flora enthusiasts, this is indeed one of the most sensational places to visit at Mahabaleshwar.
In simple words, this plateau is a stretching land of splashing colors due to the variety of flowers that bloom in this region all year. The perfect time for you to pay a visit to this home of more than 800 different types of flowers is after August. That is when the monsoon season is over and the land is thriving with colorful flora.
Mahabaleshwar Temple
Built on the outskirts of the hill station, close to Satara, the famous Mahabaleshwar Temple goes back as far as the 16th century. This is a well-known place of worship that also represents the renowned Maratha legacy.
This Mahabaleshwar temple in Maharashtra is better known as Mahabali. The 6 feet long deity of Lord Shiva is one of the main attractions of this temple. The historic architecture of this place deserves special mention.
Apart from that, you can also get to view the belongings of Lord Shiva such as his damru and bed. You can also enjoy the peaceful ambiance of this place and meditate on the premises. It is best to visit the Mahabaleshwar Temple from October to February because of the cool climate.
Bombay Point
This is the widely talked about Sunset Point that Mahabaleshwar is famous for. It is located at a distance of 3km from the bus stand. Tourists can enjoy the spectacular view of the sunset over the valley.
The place gets its name from the location i.e., Old Bombay Road. Locals refer to it as the oldest point of Mahabaleshwar. The rocky trail to the point has railings on both sides. The spot offers a lot of fun activities such as choupati games, horse riding, photography, trekking, and so on. There are shops that sell local Maharashtrian delicacies such as bhel, vada pav and masala even corn.
If you have planned a day trip or looking for the perfect picnic spot, consider Bombay Point is ideal.
Elphinstone Point
Dr Murray of British India had found the famous Elphinstone Point of Mahabaleshwar in 1830. It has acquired its name from the then Governor of Bombay Presidency, Mountstuart Elphinstone.
It is most likely the highest point and one of the most significant places to visit at Mahabaleshwar. If you want to enjoy a panoramic view of the entire Mahabaleshwar, this is where you do it from! Every valley and highland are visible from this point. Dense flora has decorated this place beautifully from all sides. This is indeed the "spot-on" destination for photographers.
Beware of monkeys! Tourists can view their playful activities from afar but it will be unsafe to get closer or bring snacks near them. You can climb up the lofty cliff through the terrain guarded by rails. Every year, thousands of tourists frequent this point to get away from the incessant noise of city life and get some peace.
FAQs (Frequently Asked Questions)
Which point is famous in Mahabaleshwar?
1. Tapola
2. Elephant's Head Point
3. Mapro Garden
4. Venna Lake
How to reach Mahabaleshwar?
From Mumbai: The distance from Mumbai to Mahabaleshwar is 262 km. One can avail bus services from Maharashtra State Transport. It takes around 6-9 hours. Similarly, private cabs or cars are also convenient options. There is no direct flight from Mumbai to Mahabaleshwar; you have to go via Pune.

From Pune: Mahabaleshwar is 120 km from Pune. You will be able to cover it within 3.5 hours if no breaks are taken. Private cabs and cars are availed mostly but you can also travel by direct buses from Pune.
Best time to visit Mahabaleshwar
Ideal time to plan Mahabaleshwar is summer from March to June with an average temperature of 33 degree Celsius. The period from December to February is equally good to visit the scenic hill station with the mercury dipping down to around 20 degree Celsius.
How many days are enough for a worthwhile Mahabaleshwar trip?
For covering most or all the important points in Mahabaleshwar, 3 days are enough.