One of India's cities with the fastest population growth is Ahmedabad. Ahmedabad is known for its culture and lip-smacking Gujarati food items. There are many nearby hill stations which are the ideal destination for a break if you're in Ahmedabad.
Here are 17 Hill Stations Near Ahmedabad
Hill Stations Near Ahmedabad Within 50 Km
There isn't a hill station within 50 km of Ahmedabad. Nonetheless, you can visit the additional locations listed below without a doubt. Well, within 50Kms there are no hill stations but don't be disappointed there are some wonderful places that you can check out.
Thol Lake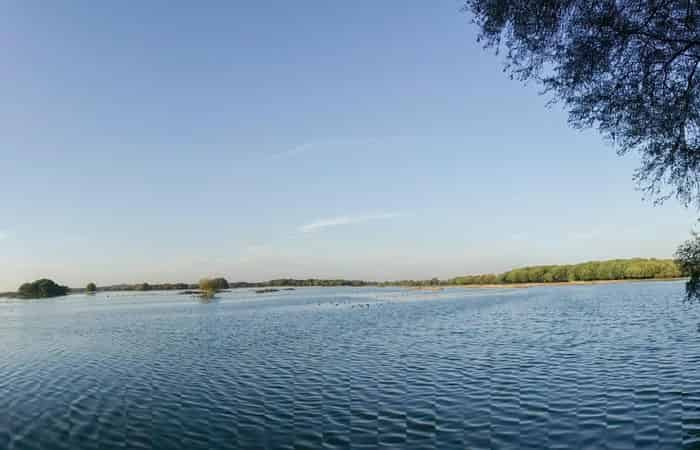 Thol Lake which is just 30 km from Ahmedabad is home to the well-known Thol nature refuge, which attracts a wide variety of birds. The bird refuge has a shallow water body built right into it.
This particular refuge is home to mammals besides birds, including bluebull, striped hyena, wolves, golden jackal, and blackbuck. The presence of marshy vegetation all around this specific lake is one of its key draws. In addition, there are numerous varieties of flowers and prickly plants can be found here.
How to reach Thol Lake?: It is 28 km from main city so you can take a bus or cab to this place.
Kanjari Deer Park
It is a lovely area for a day trip away from Ahmedabad city's bustle. A An area of open grassland where black bucks, various birds, and butterflies can be found.
The town of Kanzari, which is close to the Thol Bird Sanctuary, is located around 40 kilometres from Ahmedabad. This deer park doesn't have a designated border or entry gate. You must enter the forest and look for the deers.
You can even discover them on the road.
How to reach Kanjari Deer Park?: It is 28 km from main city so you can take a bus or cab to this place.
Gandhinagar
The most popular and nearby picnic location from Ahmedabad is Gandhinagar. It boasts a lot of tourist attractions and a very green atmosphere. The greenest capital city in all of Asia is Gandhinagar.
Indroda Dinosaur and Fossil Park, known as India's Jurrasic Park, is located in Gandhinagar. You can also visit other locations, such as Sarita Udhyan, Akshardham, Swarnim Park, Adalaj Stepwell, etc.
How to reach Gandhinagar? It is 27.9 km from main city so you can take a bus to Gandhinagar Bus stand or cab.
Hill Stations Near Ahmedabad Within 200 Km
Polo Forest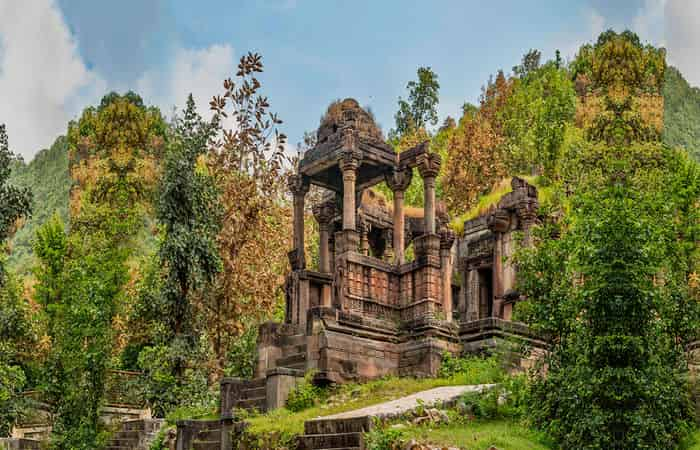 This hill station is located in the Aravalli range and feels somewhat new compared to other different hill stations close to Ahmedabad. Polo Forest, with its tiny hillocks surrounded by a vast, breathtaking forest which covers more than 400 square kilometres, is a very historic village with many artefacts dating back to the 10th century.
Polo Forest is undoubtedly the ideal destination for a single-day picnic close to Ahmedabad because of its lush beauty and peace. It is one the best hill stations near Ahmedabad to visit.
How to reach Polo Forest?: It is 149.6 km from main city. You can take a bus to Vijaynagar to reach this place.
What is Polo Forest famous for? It is popular for Polo monuments. The forest has the remnants of various Hindu and Jain temples from the 15th century, including Sharneshwar Shiva temple, Sadevant Savlinga na Dera, Surya Mandir, and Lakhena na Dera.
Places nearby Polo Forest to visit: Swaminarayan Temple, Dada Hari Wav, Sabarmati Ashram, Auto World Vintage Car Museum, Kankaria Lake
Best time to visit Polo Forest: Polo Forest is open to the public all year. You may enjoy the breathtaking ecotourism beauty throughout the year. Nonetheless, the majority of tourists prefer to visit between the monsoon season and winter – between August and February. It is the height of the forest's greenery, and the river is overflowing with water.
Hill Stations Near Ahmedabad Within 400 Km
Mount Abu
It takes 5 hours to drive from Ahmedabad to the mountainous, forested hills of Mount Abu. The Aravalli Range's tallest peaks are where Mount Abu is situated. The cyclist inside of you would undoubtedly be enticed by the winding roads heading up to Mount Abu.
This rocky plateau is sometimes referred to as a "oasis in the desert" due to its consistently cool climate. Due to its beautiful splendour, it is at the top of the list of sites to visit close to Ahmedabad.
How to reach Mount Abu ?: It is 227.2 km from Ahmedabad. Direct bus service is available between these cities.
What is Mount Abu famous for?: Mount Abu, located near Jodhpur and Udaipur, is home to numerous religious sites, the most notable of which are the Dilwara temple, Brahmakumari Ashram, Guru Shikhar, and Jain temples. It is both a serene retreat and a great location for a religious trip.
Places nearby Mount Abu to visit: Dilwara Jain Temples, Nakki Lake, Peace Park, Mount Abu Wildlife Sanctuary, Guru Shikhar Peak, Sunset Point, Achalgarh Fort
Best time to visit Mount Abu: Although Mount Abu is a year-round attraction, the months of November to March are considered the ideal months to visit.
Suggested Read: Best Hill Stations Near Sangli To Visit 2023
Ranakpur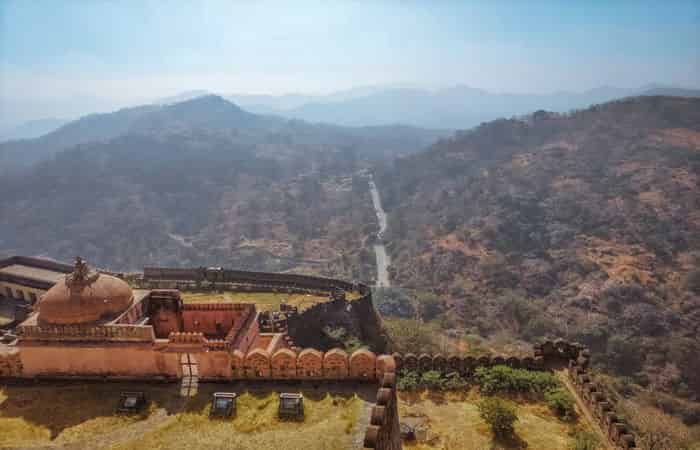 Ranakpur is one of the best hill towns to visit nearby Ahmedabad. It also serves as the most sacred site for Jains. You can experience a lot of adventure here and get a close-up view of nature's untamed side. It is one the best hill stations near Ahmedabad to visit.
Although while two days are sufficient for exploration, if you want to go inside and outside, you may require longer time. Moreover, because it is only about 305 kilometres from Ahmedabad, transportation there is fairly quick.
How to reach Ranakpur?: It is 300 km away from main city. Private buses are available on this route. Many trains are also available between these two cities.
What is Ranakpur famous for?: Ranakpur is well-known for its marble Jain temple, which is regarded to be the most magnificent of the Jain temples.
Places nearby Ranakpur to visit: Ranakpur Jain Temple, Ranakpur Jungle Safari, Desuri, Muchhal Mahavir Temple, Narlai, Ranakpur Dam, Sadri, Surya Narayan Temple
Best time to visit Ranakpur: The winter season, which begins in October, is the best time to visit Ranakpur. The months of October to February are ideal for a visit because the weather is mild and the atmosphere is relaxing. This is also the busiest time for tourists.
Wilson Hills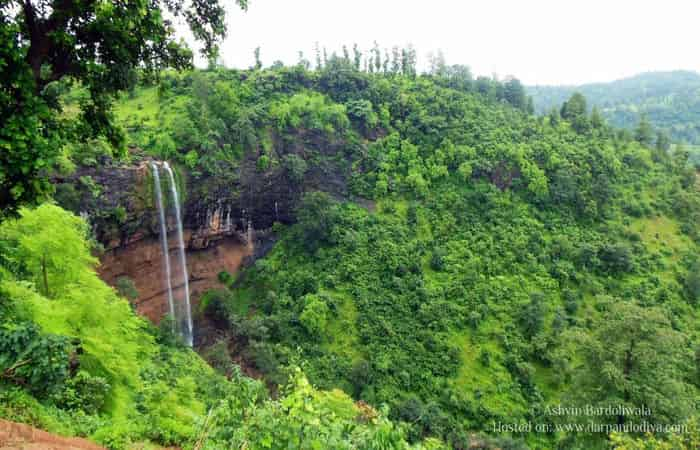 Wilson Hills is one of the few hill stations in the world that offers a glimpse of the sea, with an average altitude of 2500 feet. Its breathtaking scenery and several breathtaking waterfalls make it a well-known hill station close to Ahmedabad.
Also, compared to other areas in the region, this area has less summertime humidity, making it a well-liked vacation spot.
How to reach Wilson Hills?: It is 365 km from main city. Buses and trains are the best way to travel Ahmedabad to Wilson hills to this place. Valsad station is closest to it at about 53 km.
What is Wilson Hills famous for?: It is popular for its scenic views.
Places nearby Wilson Hills to visit: Barumal Shiva Temple, Wilson Hills Museum, District Science Centre, Bilpudi Twin Waterfalls
Best time to visit Wilson Hills: Wilson Hills is a favorite summer destination since it has a cooler and less humid environment than the surrounding area. March to September are best months to visit this place.
Mandu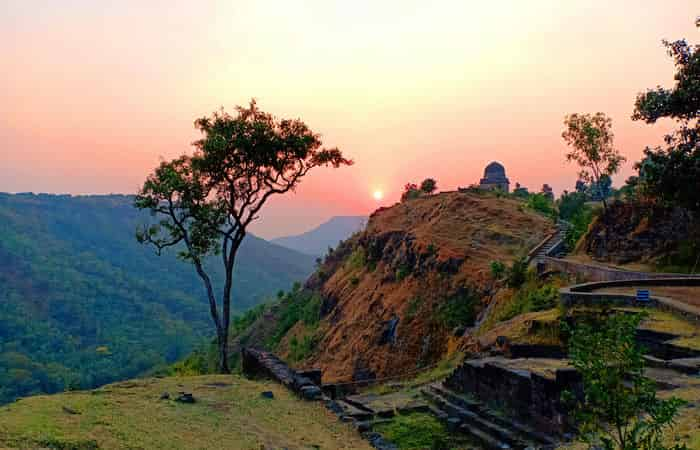 A rocky outcrop in Madhya Pradesh's Dhar district is home to the fortress town of Mandu. The area, which is well-known for its mediaeval architecture, features amazing buildings from the 10th and 11th centuries. It is one the best hill stations near Ahmedabad to visit.
It was a significant military garrison during ancient times, as evidenced by the 12-gateway, 37-km-long battlemented wall. Along with offering break from the city, this hill station also sheds crucial light on our rich legacy and history.
How to reach Mandu? : It is 369 km from Ahmedabad city. You can take a train to Mandu station to visit this place.
What is Mandu famous for? Mandavgarh or Mandav or Mandu is famous for its amazing forts in the region.
Places nearby Mandu to visit: Hathi Mahal, Hathi Mahal, Elephant Palace, Mandav, Jahaz Mahal, Jahaz Mahal, Jahaz Mahal Internal Rd
Best time to visit Mandu: The best time to visit Mandu is between October and March, when the weather is mild. Summers are quite hot from March to May, as they are in the rest of Madhya Pradesh, while winters are a little cooler.
Toranmal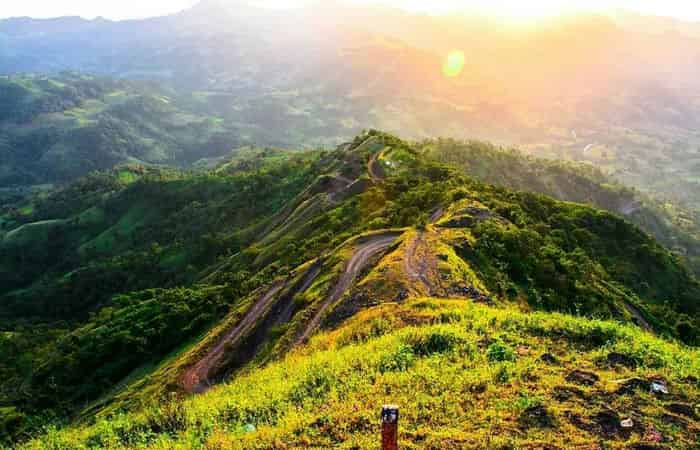 A hill station is located in the Satpura Range which is known as Toranmal. This hill station draws throngs of travellers and pilgrims from all across the nation.
Toranmal is located on a plateau with a saucer-shaped shape that is surrounded by lovely lakes, waterfalls, and forests. This area is not only tucked away in the middle of nature, but it is also immersed in holy places that illustrate its culture and traditions.
During the Mahashivratri festival, thousands of devotees flock to Gorakhnath Temple, one of the primary attractions.
How to reach Toranmal?: It is 369 km away and buses are the best way to reach this place.
What is Toranmal famous for?: Toranmal is well-known for its sugarcane and its products. Due to its location in Maharashtra, the restaurant primarily provided tasty and spicy Maharashtrian cuisine.
Places nearby Toranmal to visit: Sita Khai, Lotus Lake, Yashavant Lake, Machhindranath cave, Aawashabari Point, Khadki Point
Best time to visit Toranmal: The optimum time to visit is from October to May, after which the monsoons knock on the town's door. Toranmal has pleasant summers with more rainfall than the monsoons.
Saputara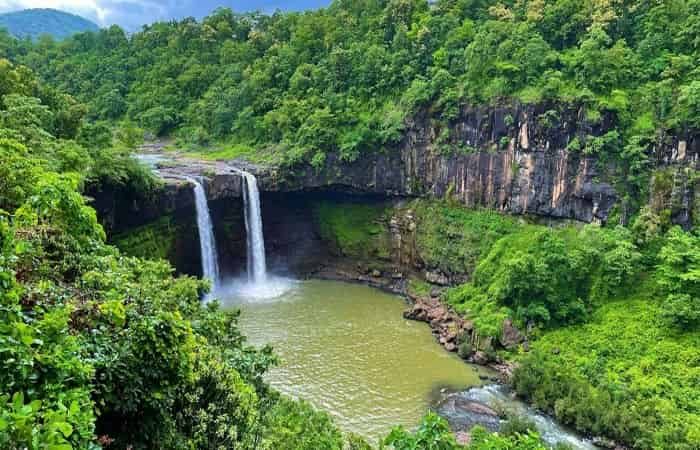 Saputara is a charming tiny hill station in Gujarat's Dang district, nestled in the Sahyadris or Western Ghats. It is one of the best places for 2 days trip near Ahmedabad.
The town is a tourist favourite because of its lush green forests, undulating mountains, glittering waterfalls, beautiful meandering roads, vivid scenery, and plenty of delightful cubbyholes to spend time with your loved ones.
It is positioned 875 metres above sea level and is ideal for eco-tourists, animal aficionados, and those who enjoy adventure activities.
Saputara, located four kilometres from the Maharashtra border and 250 kilometres from Bombay in the Dang district, literally means "snake habitat," and the tribals of this region worship snakes, especially around Holi.
It is a beautiful highland location rich in flora that offers stunning panoramas, unique tribal culture, and excellent trekking chances.
How to reach Saputara?: It is 400km away but is well connected by railway. The Waghai railway station at Billimora is the nearest railhead from Saputara (approximately 50 kilometres away)
What is Saputara famous for?: Saputara is a wonderful destination for nature and wildlife enthusiasts. The Saputara tourist spots completely characterise the history and culture of the people who live here.
Places nearby Saputara to visit: Hathgadh Fort, Vansda National Park, Sunrise Point, Sunset Point, Saputara Lake, Gira falls, Echo Point, Step Garden, Table Point, Saputara Tribal Museum, Lake Garden, Saptashringi Devi Mandir, Purna Sanctuary
Best time to visit Saputara: October is generally pleasant in Saputara. Winter season begins in the month of November and continues till February.
Suggested Read: Saputara Hill Station and places to visit nearby in 2023
Don Hill Station
Don is a rural hill station located in Gujarat's Dang district at an elevation of 1000 metres. It is the state's second hill station after Saputara, and it is also higher in elevation than the former. It is one the best hill stations near Ahmedabad to visit.
A day journey to Don is sufficient to experience the great bio-diversity of the hill station. You will be greeted by nice weather with temperatures ranging from 32 degrees Celsius to 17 degrees Celsius.
Don Hill Station, named for the famous warrior and guru Dronacharya, is a relaxed village with a tribal population of roughly 1200 people. Having said that, the area is rich in culture and legacy.
How to reach Don Hill Station?: It is 404 km away. The nearest railway station is Waghai, on the Billimora-Waghai narrow gauge section of the Western Railway about 61km away.
What is Don Hill Station famous for?: It is popular for its scenic views and environment.
Places nearby Don Hill Station to visit: Waghambe, Salher and Salota fort
Best time to visit Don Hill Station: The best time to visit Don Hill Station is between the monsoon months of July and October. Frequent showers enrich the natural beauty of this place.
Hill Stations Near Ahmedabad Within 500 Km
Jawhar
Jawhar, also known as Thane's "Little Mahabaleshwar," is a charming hill station surrounded by the lush and scenic Sahyadri hills. It was once in Thane but is now in the newly formed Palghar district.
The hill station is not only beautiful, but it also entertains visitors with its strong cultural ethos and historic architectural marvels. It was founded under the Munke dynasty and used as a camp for Maratha king Shivaji and his troops.
Jawhar, a considerably less explored and pristine hill station in Maharashtra, provides a calm respite from the city's hustle and bustle.
This small town is a true nature getaway, with beautiful valleys, gorgeous mountains, deep woodlands, and gushing waterfalls, as well as a nice environment all year round.
How to reach Jawhar?: It is 458 km away. You can visit by bus but trains are also available. Igatpuri is the nearest railway station at a distance of 60 km.
What is Jawhar famous for?: Jawhar is recognised for its beautiful scenery, waterfalls, lakes, dams, forts, palaces, and cultural legacy.
Places nearby Jawhar to visit: Jai Vilas Palace:, Shirpamal, Dabhosa Waterfall, Hanuman Point, Sunset Point, Jai Sagar Dam
Best time to visit Jawhar: The best time to visit Jawhar is from June to March when the surroundings are loaded with lush beauty and climatic conditions are perfect for excursions and outdoor activities.
Suryamal
Suryamal is the tallest peak in the region, located in Maharashtra's Thane district. The little yet attractive hill is a popular tourist destination due to the spectacular views that can be observed from the hilltop. It is one most popular hill stations near Ahmedabad to visit.
The area is rich in valleys and thick forests, making it ideal for nature lovers and those looking to escape the city chaos.
How to reach Suryamal?: It is 496km away. the nearest railhead is located in Igatpuri which is about 50 kilometres away. Buses are preferable to use
What is Suryamal famous for?: It is known for its treks and hikes especially in winter and monsoon month.
Places nearby Suryamal to visit: Suryamal Peak
Best time to visit Suryamal: Winter runs from November to February and is the finest season to visit Suryamal since the animal and bird population is at its peak.
Hill Stations Near Ahmedabad Within 600 Km
Matheran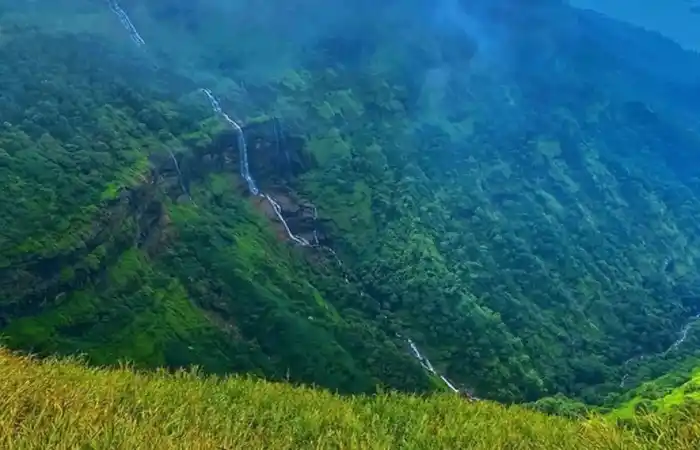 The Matheran hill station, also known as the "cutest small hill station in India," is the finest site to enjoy the sunset and sunrise views, as well as some mind-blowing scenery to keep you fresh and at the moment.
This amazing hill station provides the best tourist attractions in Matheran that are unspoilt and unaffected by the buzzing city bustle that surrounds the town.
The location is actually on the Western Ghats, at an elevation of roughly 800 metres above sea level. The location always offers great weather to enjoy at any time of year, but its attractiveness is enhanced during the rain and thunderstorm season.
Another advantage of the lovely hill station is that it is environmentally benign, with no traffic jams or buses honking on the road. The Maharashtra government took measures in order to preserve Matheran.
The best part about this place is that it is calm and pleasant, with no horn buzzing or pollution, and it also contains some hypnotic sites and vistas of magnificent nature that will leave you captivated by its beauty and make you feel relaxed and stress free.
How to reach Matheran?: It is 555km away from Ahmedabad. You can take a train to Matheran Station to visit this place.
What is Matheran famous for?: Matheran is also a pleasure for photographers, who may explore and capture the finest of the lovely hill station's splendour.
Places nearby Matheran to visit: Matheran Toy Train, Louisa Point, Echo Point, Charlotte Lake, Irshalgad Fort, One Tree Hill, Porcupine Point, Prabal Fort, Panorama Point, Monkey Point, Matheran Market, Khandala Point, Rambagh Point, Honeymoon Hill, Madhav Ji Point, Chang Bhale Temple, King George Point
Best time to visit Matheran: Though Matheran has a pleasant climate throughout the year, the best time to visit is between October and May.
Khandala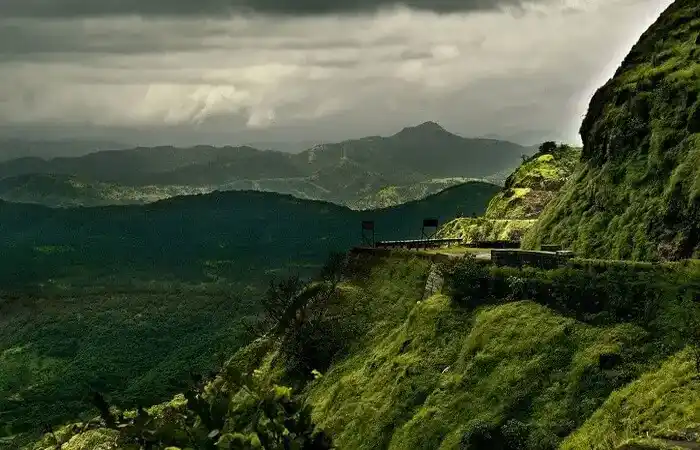 Khandala City is a hill station located in Maharashtra's Western Ghats Mountain Range. Khandala is a magnificent place with a lot of nature's seductive charm.
Because it is surrounded by lush green forest covers, misty valleys, and gushing waterfalls, it is a perfect weekend escape as well as an adventure hotspot for visitors from all over the country.
Khandala is best known for hiking tours that provide panoramic views of the Sahyadri mountain ranges in the Western Ghats. Khandala has some of the best tourist attractions in Western India.
Khandala is also a dream place for thrill seekers. Trek to the top of the Tiger's leap for pristine dawn and sunset views, walk to the top of the Rajmachi fort for captivating natural beauty, savour the spellbinding ambience at the reversing station, and hike up to the Shrivardhan Fort for views of the gorgeous Sahyadri Mountain ranges.
How to reach Khandala?: It is 592 km away and has its own railway station called Khandala Station so train is the best way to reach quickly.
What is Khandala famous for?: Khandala is well-known for its beautiful rock formations. Travelers frequently drive to Tiger's Leap to demonstrate their rock-climbing abilities and to see the Shiv Linga rock.
Places nearby Khandala to visit: Tiger's Leap, Duke Nose, Kune Waterfalls, Reversing station, Shooting Point, Lion's Point, Shrivardhan Fort, Bushi Dam, Lonavala Lake, Celebrity wax Museum, Shingroba Temple
Best time to visit Khandala: Khandala has pleasant weather all year round. The best time to visit is June to September, during monsoon season, when surroundings come alive in beautiful, lush greenery, and the lakes get filled up to the brim with the rain.
Suggested Read: Most Beautiful Hill Stations Near Kolhapur
Lonavala
Lonavala, a prominent hill station at an elevation of 2,047 feet above sea level, is a charming respite from the frenetic noise of city life.
Its pleasant atmosphere, spectacular splendour, historical forts, old caves, and lovely lakes make it India's most popular tourist destination.
The exquisiteness and appeal of this location have long drawn the attention of tourists, honeymooners, young people, and celebrities. It is open all year and can be visited at any time. Monsoon season is ideal for viewing gorgeous lakes, emerald splendour, and cascades.
Lonavala is also well-known throughout India for its Chikki (the hard candy sweet). It is ideal for trekking and mountaineering because it is surrounded by Sahayadri hills.
How to reach Lonavala?: It is 596km away and id connected to Lonavala Station. You can take a train to this station or a direct bus.
What is Lonavala famous for?: Lonavala is a popular weekend destination for residents of Pune and Mumbai. Its mountainous station's nice weather provides relief from the sweltering summer heat.
Places nearby Lonavala to visit: Tiger's Leap, Bhushi Dam, Lonavala Lake, Imagica Adlabs, Celebrity Wax Museum, Rajmachi Fort, Aamby Valley, Amrutanjan Point, Karla Caves, Bhimashankar Trail, Bhaja Caves, Visapur Fort, Ryewood Park, Tikona Fort
Best time to visit Lonavala: The best thing about Lonavala is the pleasant weather all year round. The best time to visit is June to September, during monsoon season, when the surroundings come alive in beautiful lush greenery, and the lakes get filled up to the brim with the rain.
Hill Stations Near Ahmedabad Within 700 Km
Mahabaleshwar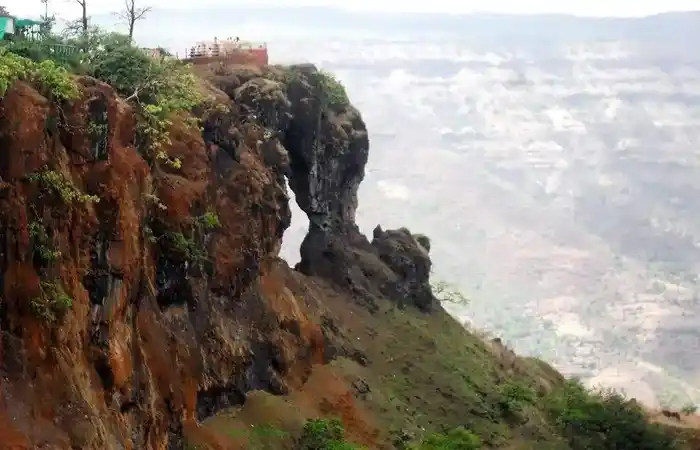 Mahabaleshwar is a hill station in Maharashtra's Satara district, located in the Western Ghats. Mahabaleshwar is highly known for its various rivers, spectacular cascades, and breathtaking peaks, in addition to strawberries.
Mahabaleshwar is also a Hindu pilgrimage site since the Krishna River originates here. Mahabaleshwar, once a British summer capital, is a hill station with historic temples, boarding schools manicured and lush green deep forests, waterfalls, hills, and valleys.
It is frequently used as a base for visiting the spectacular Pratapgad Fort, which is about an hour distant. Mahabaleshwar is made up of three villages: Malcolm Peth, Old Kshetra Mahabaleshwar, and a region of the Shindola hamlet.
How to reach Mahabaleshwar?: It is 777km away from the main city. You can take direct flights to Pune about 120km from Mahabaleshwar and then travel by bus.
What is Mahabaleshwar famous for?: Mahabaleshwar is well-known for its strawberries and temples. Essentials in Mahabaleshwar include the town's famous farm fresh strawberries and raspberries.
Places nearby Mahabaleshwar to visit: Tapola, Pratapgad, Lingamala Falls, Venna Lake, Mapro Garden, Elephant's Head Point, Lodwick Point, Rajpuri Caves, Table Land, Connaught Peak, Mahabaleshwar Temple, Babington Point, Parsi Point, Morarji Castle
Best time to visit Mahabaleshwar: Winter, from November to February, is possibly the best season to visit Mahabaleshwar.
This concludes our article on 17 Best Hill Stations Near Ahmedabad To Visit. We hope you find this article useful. Make sure to like and share this article and comment below if you think we missed something.
You may also like 7 Top Resorts With Adventure Activities In Gujarat.
FAQs ( Frequently Asked Questions )
Which mountain range is in Ahmedabad?
The Aravalli Range is located to its north, and the Sahyadri Range, often known as the Western Ghats, is located to its south.
Which hill station is near Ahmedabad?
Polo forest is the hill station which is nearest to Ahmedabad. It is approximately 157 km from Ahmedabad. Do hill stations have good transportation options? Certainly, these mountain towns offer adequate rail, road, and air transit options. Which are the best times to visit these places? One can visit a hill station throughout the year. Are the aforementioned hill stations and those close to Ahmedabad safe to visit? Indeed, it is typically regarded as safe to travel to and from these locations. Conclusion I hope you have liked reading about the hill towns close to Ahmedabad. The natural resources that hill stations typically have make them beautiful to view. Here, you can definitely have an adventure of a lifetime. Please let us know in the comments if you enjoyed any of the hill stations on this list. Share with your friends and let them know about these hill stations too!
Which hill station is best near Gujarat?
Satpura, the Wilson Hills, the Don Hill Stations, Matheran, Mount Abu, Lonavala, Khandala, Mahabaleshwar, and Jawhar are the most popular hill stations near Gujarat.
Which is the famous mountain in Ahmedabad?
Mount Abu is a popular weekend destination for Ahmedabad residents.
Which place is best for one day trip in Gujarat?
Following are some of the best places for one day trip in Gujarat:
1. Great Rann of Kutch
2. Gir Wildlife Sanctuary
3. Gandhinagar
4. Mandvi
5. Patan & Modhera
6. Dwarka
7. Lothal and Dholavira
8. Ahmedabad