A sleeping bag is a warm padded bag that is used to sleep in an outdoor area. It protects us from insects, temperature, and weather.
There are many brands to choose from and here in this article, we will be discussing the best brands to consider when buying a new sleeping bag. Here is a list of the best sleeping bag brands in India.
Best Sleeping Bag Brands in India To Go For
There are several types of sleeping bags available in the market according to one's needs and thus it is essential to choose the one that fits right in your needs. Lets take a look at the best 4 brands below.
4 Best Sleeping Bag Brands in India You Should Try
Kefi Outdoors
Kefi manufactures a very wide range of items like rain covers, coats, sleeping bags, jackets, gear bags, etc. Their products are very durable and of high quality.
Trajectory Bonfire
Known for their comfort and value-for-money sleeping's bags, they are a good-to-go option. They also offer other bags and accessories for outdoor adventures.
Ohuhu
Ohuhu is known for its durability, high quality fabric and large size sleeping bags very popular for outdoor activities and extreme climates.
Coleman
Coleman is one of the leading brands in the USA in outdoor recreation products and is known worldwide for high-qualitative Outdoor and Camping products, from Tents, Sleeping Bags to Ice Boxes and Furniture.
Types of Sleeping Bags:
Sleeping bags of different shapes:
Rectangular sleeping bag
Barrel-shaped sleeping bag
Mummy-shaped sleeping bag
Double sleeping bag
Quilt
Elephant's foot sleeping bag
Sleeping bags of different temperature ratings:
Sleeping bags of different insulation types:
Down sleeping bag insulation
Synthetic sleeping bag insulation
What to look for before buying?
Temperature Rating: The temperature rating of a sleeping bag is extremely important to have a comfortable night's sleep. It varies from brand to brand therefore checking it according to your needs before buying is very important. One should also look for features like vents that will help you to maintain the airflow and air temperature on your own.
Shape: Depending on your preferred sleep position and body length, it is the next very important thing to look for. There are tens of sleeping bags available of different shapes o choosing the right one can help you to get a good night's sleep. Don't be shy to try out your comfortable position before purchasing a sleeping bag.
Insulation type: Buying a synthetic insulation type will give you extra pockets and a quick-drying feature. Synthetic sleeping bags are also very durable and last much longer. the only problem is that they are not very easy to pack and fold into smaller baggage. On the other hand, Goose-Down insulation is good for packing, good insulation, and water resistance also. The only downside is that they are relatively expensive as compared to their synthetic counterpart.
Right Fabric: Choosing the right fabric is also very important to ensure a smooth and comfortable experience. There are many fabrics in which sleeping bags are available like Nylon, Polyester, Ripstop, and Poly-Cotton. Each of them has its own advantages like: • Nylon: Comfort, Durability, Breathable • Polyester: Durable, Wrinkle resistant, wear, and tear-resistant • Ripstop: Woven fabric, nylon qualities, wear, and tear-resistant • Poly-Cotton: Soft, Comfortable but doesn't dry fast
Other features to look for: Kid-friendly sleeping bags should be preferred while purchasing. Hoods, pillow pockets, draft blocking features, pockets, are also some important things to look for while buying a new sleeping bag.
Our Top Picks
Best Budget
Kefi Sleepmate Mummy Sleeping Bag is our budget pick. The build quality of this sleeping bag is decent for its price range and the fabric used is very durable. Its large and roomy even for tall people. Kefi is a very popular brand for outdoor equipments and products and this sleeping bag is up to mark as other Kefi products.
Best Quality
Ohuhu Waterproof Sleeping Bag is our pick for best quality. The fabric quality is outstanding with comfortable filling. Its very roomy and can even fit in two medium sized people if required.
The temperature rating is also very good and it can help you to keep yourself warm even in blood-freezing temperatures. Its the best quality sleeping bag that you can get in this price range.
List of Best Sleeping Bags in India
Ohuhu Waterproof Sleeping Bag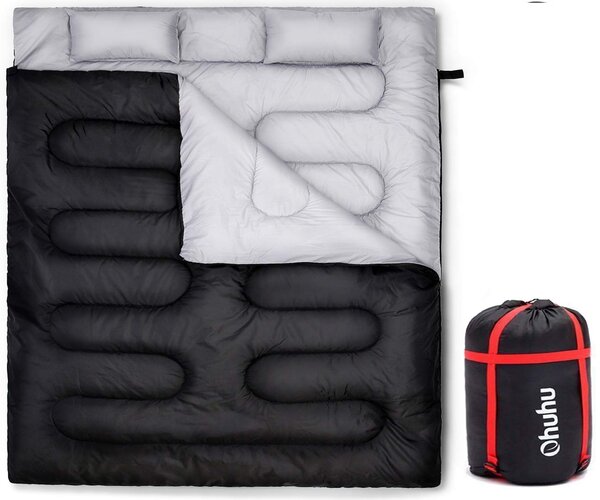 Very comfortable even under the cold, harsh winds. Keeps warm and cozy even when it's 32F~ 50F, it is extremely comfortable and super warm. Ohuhu double sleeping bag is crafted with high quality water-resistant 210T polyester, lined with TC fabric and filled with luxurious cotton that works together for cloud-like comfort. Click here to buy it on Amazon.
It is the best sleeping bag if you go out hiking, camping, or on any adventure trips. It is extremely lightweight and is very easy to carry around. It's about 220cm x 70cm which is enough for one person to sleep comfortably.
Pros
Spacious and comfortable and easy to carry/foldable
Filled with cotton
All season sleeping bag
High-quality polyester
Cons
Shape not suitable
Not good for extreme cold

Suggested reads: Best Backpack Brands in India
Kefi Outdoor Army Sleeping Bag
This camouflage sleeping bag cover is made of Nylon, which is water-resistant and super high quality Hollow fiber with Fleece Liner to support -10 to 0°C, not only to keep you comfortable but also warm at night. Size 80 x 30 inches, perfect for a person up to 6 '2 feet.
Lightweight, Easy to fold, portable backpacking sleeping bag, suitable for women, men, teenagers and kids. Click here to buy it on Amazon.
Another excellent option for outdoor adventures, hiking, and camping. It is a heavy-duty sleeping bag made to long last and provides comfort at the same time. It is very light eight around 800gm and can easily accommodate a very tall person.
It's warm and waterproof. It is one of the best sleeping bag brands in India and is suitable for most people.
Pros
Easy to carry and lightweight
Very durable and comes with a bag
High-quality fabric and stitches
Cons
It may be too big for some people

Trajectory Bonfire Sleeping Bag
Another very comfortable and lightweight sleeping bag to make your journey enjoyable and stress-free. Its unique shape is very comfortable for those who like to sleep straight. It comes with a travel-friendly bag and it weighs about 1.2kg which is a little bit heavy as compared to its above counterparts. Click here for Amazon deal.
Many pockets are built inside and its polyester along microfiber will make your sleep smooth. The bag has a mummy shape design which is wide at the shoulders and narrow at the legs end to provide maximum comfort, warmth and freedom.
Being one of the best sleeping bag brands in India, there is no compromise in quality.
Pros
Maximum comfort, warmth, and easy to carry
Comes with a travel bag
Easy to clean because of its fiber
Tough cover
Value for money
Cons
Maybe a little bit heavy for some people
Its unique shape may create problems for some

Suggested reads: Best Trekking Shoes in India
Kefi Sleepmate Mummy Sleeping Bag
Weighing in at just 925gm and with its latest Supra-Loft insulation, the Sleepmate 15 Ultralight Compact Sleeping bag is one of the lightest and most versatile sleeping bags on this list. It is one of the most portable sleeping bags, it comes with extra cushioning and is very suitable for very cold climates.
Click here to buy it on Amazon.
With dimensions of 82 x 30 inches, these sleeping bags are incredibly roomy for any adult or child under 6'3. It's easy to get in, get out and turn around to find a comfortable sleeping position. Supra-loft insulation offers the utmost waterproof, compressible and lightweight warmth to keep you feeling safe.
Kefi is one of the best sleeping bag brands in India.
Pros
Beautiful design with compact packing
Very open design with multiple zips
Zipper and pockets available
Storage sack also included.
Cons

Coleman Sun Ridge Sleeping Bag
This sleeping bag is very sleep comfortable, even when it's 40⁰ F (4.44⁰ C) outside. The warm weather bag fits heights up to 5ft 11-inch (1.8 m) and is designed to keep you cozy and safe. A special zipper system plows the fabric away from the zipper to avoid snags and zips up all the way every time. Click here for Amazon deal.
The Thermo lock system reduces heat loss through the zipper. When you're ready to pack up, the Roll Control loop fasteners help you perfectly fold the sleeping bag and the Quick Cord system makes rolling it up and fastening it a cinch without tying.
The 33-inch x 75-inch (83cm x 190.5cm) bag comes with a five-year warranty and is machine washable, with a brushed polyester cover and polyester tricot lining.
Pros
Rough and tough with polyester
Big enough for everyone
Cons

Suggested reads: Best Rucksack Brands in India
Coleman Palmetto Sleeping Bag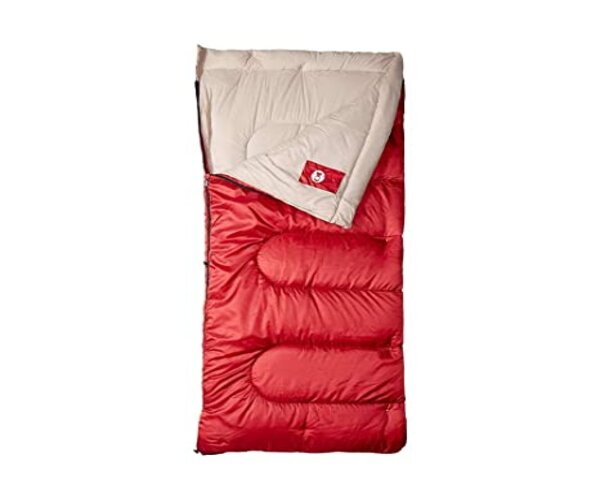 The Palmetto is a Cool Weather sleeping bag with a cover made of polyester and a soft tricot fiber blend liner. The patented two-way no-snag zipper plows fabric away from the zipper. Due to the full zip it can also be used as a blanket.
Very comfortable for temperatures around 10 to 15 degrees Celsius, It will easily warm your cool nights. Click here to buy it on Amazon.
Weighing about 1.3kg is comes with a nice carrying bag which makes it travel-friendly. The space inside is sufficient for most people, about 191x84cm, and equipped with a full zip line. Wrap-N-Roll, roll, tie and transport for easy storage. This integrated packing system makes storage a cinch.
It is also one of the best sleeping bag brands in India.
Pros
The polyester fabric makes it rough and tough
Easy to carry
Cons

This was our list of best sleeping bag brands and their products which you should consider will planning to buy a new sleeping bag on your trip to make your journey peaceful and restful with a night of good sleep.