A Traveling bag is very useful for frequent travelers, professionals and especially students. It is a must for every professional. Travel bags come in a variety of designs and sizes but all of them serve the same purpose, to keep your belongings safe. Every brand offers something unique enough and useful to but it is important to choose the brand that offers the most suitable bag for your needs. We have listed the best backpack brands in India that you can use to decide which bag suit best for your needs.
How to choose right backpack for travel?
Whether you're going on a day hike through gently rolling hills or an extended expedition across an ice shelf, knowing how to choose the best backpack for the job will make your trip infinitely more enjoyable. There are numerous options available, which can be confusing a lot, but getting it right will ensure comfort and dependability day after day. Keeping this in mind, we've put together a detailed guide on how to choose a backpack.
Backpack Types
The primary function of your backpack will influence every aspect of the purchasing process. A winter mountaineer who plans to spend a month on the slopes of an eight-thousander will have different needs than a round-the-world traveller who expects to do little more than the occasional day hike.
Trekking backpack: It is extremely light, spacious, and durable, and it is suitable for most camping and trekking trips, including shorter wild camping and winter mountaineering trips. It has enough room for a sleeping bag and light camping gear, and the fact that it's only 38 litres encourages me to keep the weight down.
Daypack Bagpacks: A daypack is a small version of a backpack that is lightweight, large enough for a few extra small items, and is typically reserved for shorter day hikes.
Expedition bagpacks: Something larger and more durable is required for longer expeditions. This pack is large and comfortable enough for high camp carries, but it also packs down small enough to be used as a day pack on day hikes. Because of the removable lid, it can be compressed even further and used as carry-on luggage on flights.
Adventure travel packs: They are great crossover backpacks-cum-suitcases designed for active vacationers. Many of the above elements are combined with everyday features such as laptop and gadget compartments, a zippered shoe compartment, and a separate wet/muddy gear compartment in the backpacks. They frequently have more rigid exteriors, similar to those of suitcases.
Size and Capacity
Small Backpacks (Under 19L)
Medium Backpacks (20-29L)
Large Backpacks (30-39L)
Features
Loops for walking poles and/or ice axes: Use these loops for your walking poles and/or ice axes.
Front zipped panel: This can be unzipped to gain access to the main compartment.
Lid: At the top of your pack, the lid usually has a pocket for easy access storage. In some cases, the lid can be removed to save weight or to serve as a small hip pack.
Chest strap: The chest strap (or sternum strap) is attached to the shoulder straps and, when fully adjusted, sits across the chest. The strap's position and length should both be adjustable. They will improve the pack's stability and keep the shoulder straps from slipping.
Shoulder straps: The thickness and type of padding used on the shoulder straps, like the hip belts, will vary depending on the size of the pack. Thick padded straps provide comfort and support, while thinner straps provide greater flexibility. Mesh straps, once again, improve ventilation.
Back Panel: For comfort, the back panel should be contoured and padded. They should be adjustable and have foam channels for cushioning and improved breathability. Consider a pack with a suspended mesh system for better ventilation when hiking in warm weather.
Hip belt: A properly fitted hip belt can enhance your hiking experience. If it doesn't fit properly, it can be a miserable experience. The weight of the pack should be distributed evenly so that your shoulders do not ache. The larger the pack, the thicker the padding, which provides maximum support and comfort when carrying heavier loads.
Hip belt pockets: These are quick-access pockets that are ideal for snacks, phones, wallets, gloves, and other small necessities.
Waterproofing: Fully waterproof packs, particularly large capacity backpacks, are uncommon because they necessitate a great deal of stitching, zippers, and will invariably have a hole in the top (so you can pack it!). Instead, tough and durable fabrics with some water resistance are used. These can be treated with a water repellent treatment, or a removable rain cover is a far more popular option. Packing your gear in waterproof stuff sacs is another (or additional) option.
Security: If you're backpacking abroad and will be passing through a lot of cities and transportation hubs, it may be worthwhile to invest in additional security products. Padlocks and slash-proof mesh nets are just two ways to further secure your luggage.
Top 10 backpack brands in India
American Tourister
American Tourister is a famous luggage brand that's known for its good quality and incredible value. They offer most diverse types of luggage bags and are at the top of their game. We recommend American Tourister Casual Backpack from this brand.
Wildcraft
This brand is very popular for trekking and hiking products. These bags are very durable but quite expensive as they target extreme climate conditions. Wildcraft 44 Ltrs Casual Backpack is the one we recommend from Wildcraft.
AmazonBasics
Amazon Basics are relatively new in the game but they have already established itself as a tough competitor. They offer high-quality products which a good value for money. AmazonBasics Slim Carry-On Weekender Backpack is the most recommended bag from this brand.
High Sierra
High Sierra offers great products, especially for adventure activities. These products are very durable and reliable but they are quite expensive. We recommend High Sierra Swerve Pack from High Sierra.
VIP
They offer some of the most attractive and vibrant bags available in the market. It has good quality products along with great style. VIP Radian Laptop Backpack is the most recommended bag from his brand.
SkyBags
It is the most popular brand among youths as they have some of the best looking and colourful bags available in the market. Their products are good and value for money. Skybags Footloose Colt Casual Backpack and Skybags Weekender Hiking Backpack will suit best for you from SkyBags.
Fur Jaden
Fur Jaden is a very good brand known for its security and bag quality. These bags are good to go if you can buy them. Fur Jaden Grey Anti Theft Casual Backpack is the one we choose for you.
Safari
Safari is a very reputed brand that offers a wide type of bags from formal to adventure. Their bags are very comfortable but often expensive. Safari 45 Ltrs Black Large/Travel/Office Laptop Backpack is a perfect match from this brand on our list.
Nike
Nike bags are very popular as they are known for their other sports equipment's too. There bags are good and durable.
Adidas
One of the most known brand in the world, Adidas is the biggest player in the sports industry. Its backpacks are also popular all over the world.
Let's see backpacks from these brands so that you can decide which bag to go for. If you think that these bags are not what you were looking for then you check our other articles on Best Trekking Bags and Best Rucksack Brands in India. In the Trekking Bags article we talked about both large and medium capacity bags perfect your long outdoor trips and hikes. In the later one we talked about 30L and above capacity Rucksacks perfect for carrying multiple items with comfort.
Our Top Picks
Best Budget
American Tourister Casual Backpack is our pick if you are tight on budget. It is best value for money. It is very lightweight and is build tough. Its compact size is suitable for students and professionals. Its design is very good and the brand is famous all over the world. This bag is best value for money.
Best Quality
Skybags Weekender Hiking Backpack is our pick if you are looking to get best quality. Skybagis known for its outdoor quality products and this is one of them without any doubt. Not only for outdoors but this bag is also excellent for casual purposes. Its build quality is top-notch and straps are well crafted for comfort.
Best backpacks in India
American Tourister Casual Backpack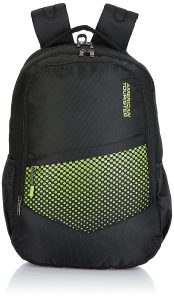 American Tourister has some of the most fashionable backpacks. Despite the fact that this backpack is not like the typical travel backpacks for women, many adore its unisex design. American Tourister is one of the best backpack brands in India that offer budget friendly high quality bags. Click here to buy it on Amazon.
When people travel, they dislike carrying official or formal-looking backpacks, and this backpack perfectly meets their style requirements.
Furthermore, this backpack, manufactured by one of India's leading backpack brands, meets basic quality standards. It is extremely light and evenly distributes the weight of its contents. Furthermore, because American Tourister is a well-known international brand, this backpack comes with an international warranty.
Specifications
Capacity: 32 litres
Dimensions: 32.5 cms x 18 cms x 50 cms
PROS
Good quality
Padding for comfort and support
Handy water bottle compartments
1-year international warranty
Value for money
Ideal size for travel and everyday casual use
Very stylish unisex design
CONS
No designated laptop compartment
No rain cover
Wildcraft 44 Ltrs Casual Backpack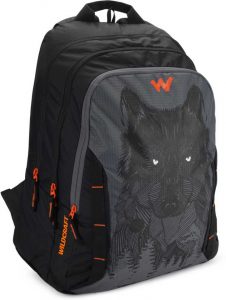 Wildcraft is one of the best backpack brands in India, and it is especially popular among travellers. This backpack is great because it can easily carry 8-10 pairs of clothes. It is an excellent backpack for a weekend trip. Click here to get it on Amazon.
This backpack appeals to my husband in particular. Its simple design with a bold logo on the front places it at the top of the list of cool backpacks for men in this price range.
This backpack's tall height and adjustable straps allow it to sit comfortably on men's hip structures, making it one of the best backpacks for men available online.
The backpack also has all of the features of a full-sized backpack, such as a laptop compartment, spacious interiors, and awesome fabric pockets on the outside for water bottles.
The best part is that this backpack comes with a 5-year warranty!
Specifications
Capacity – 44 litres
Dimensions – 10.5 inches x 13.5 inches x 19 inches
PROS
Good quality
Full-sized, ideal for short trips as well as daily use
Laptop compartment
Large interiors
External water-bottle pockets
5-year warranty
CONS
Design is not suitable for girls
Susceptible to wear and tear
AmazonBasics Slim Carry-On Weekender Backpack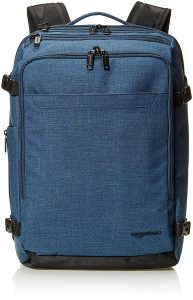 If you don't typically go on long travels and just need a carry-on bag for weekend vacations, this is the ideal option. This compact and lightweight backpack has enough capacity for all of your stuff on a short journey. The backpack also contains a front pocket for easy storage of smaller and important things. Click here to buy it on Amazon.
Aside from its small size, the backpack offers a fully vented back panel with ample padding for comfort. The style of this weekender backpack additionally makes it incredibly handy to carry about. It has pass-through panels for luggage handles as well as low-profile grab grips on the top and sides. The side zipped water bottle pocket is easy to access without protruding inconveniently.
This travel backpack's compartments provide enough space for all of your essentials. It also includes a laptop sleeve and a fleece-lined tablet compartment. This backpack's compact shape makes it exceptionally easy to squeeze into tight spaces, which greatly aids in travelling.
Specifications
Capacity: 33 litres
Dimensions: 52.07 x 34.29 x 20.32 cm
PROS
Compact and spacious
Very convenient to carry
Modern design
Safe to carry electronics
Well-organized pocket space
Special strap added for sling
CONS
No rain cover
Relatively small
Not suitable for long trips
High Sierra Swerve Pack
This bag is all about a perfect finish, high quality, and a place for all of your possessions. A high Sierra backpack is pricey, but it is still excellent value for money. This backpack features a large laptop compartment with two-way access. It is so well-padded that your laptop will be protected within no matter how hard it is knocked. The accessory compartment also has a convenient USB slot, making it the perfect tech backpack. Click here to buy it on Amazon.
This laptop's best feature is its front organiser section. The pocket sizes are ideal for storing all of the small items that you need to access fast. It contains a little key holder to keep your keys safe. It is one of the best backpack brands in India for your adventure needs.
The S-shaped straps with a suspension system, which ensure that the weight of the backpack does not fall on your back, are the nicest feature of this backpack. Even when the backpack is fully loaded, the weight is evenly distributed across your back and hips. If you are very particular about buying a premium quality backpack for all your tech and travel needs, this backpack is ideal for you. As a result, you may carry this backpack for an entire day without suffering any discomfort.
Specifications
Capacity – 36.5 litres
Dimensions – 19.7 x 48.3 x 33 cm
PROS
Outstanding quality
Handy organiser front pocket
Water-bottle pockets on the outside
USB slot on the back
Comfortable mesh padded back panel and S-shaped straps
Perfect size for a full-sized backpack
Light-weight
CONS
VIP Radian Laptop Backpack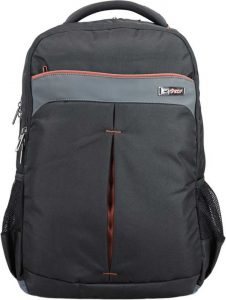 VIP's Radian laptop bag is one of the best travel backpacks in India. The fabric used to manufacture this pack is nylon. This high-quality bag is appropriate for professionals and office workers. You may transport your work materials, such as files, reports, diaries, and assignments, in addition to your laptop. Click here to get it on Amazon.
This Radian bag has three main compartments to store the material. Its back segment has a laptop storage facility with both sides mesh pockets. All pockets are zipper safe which makes this bag more secure. The backside of the bag is fully cushioned and it has a well-designed handle.
VIP bags are very classy and simple looking. If you are looking for a clean looking classic bag than VIP is the best backpack brands in India for you.
Specifications
Capacity: 27 litres
Dimensions: 33 x 18 x 54 cm
PROS
Ample space
Multiple pockets
Secure and safe
Reliable
Long-lasting
Padded back
Comfortable straps
CONS
Lack of internal pocket for small things
No rain cover provided
Skybags Weekender Hiking Backpack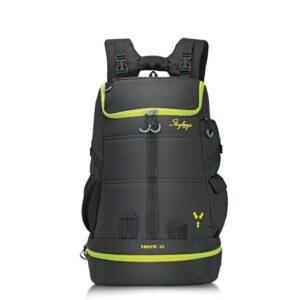 Skybags' Weekender hiking backpack is the third item on the list. The pack's raw material is nylon. The lightweight and well-organized bag offer you sufficient room with efficient management. You will be satisfied with this item because it has all features of an ideal travel backpack. It is made of nylon fabric and has two main compartments to store your stuff. Click here to buy it on Amazon.
A sleeping mat holder is available along with two smart segments are available that put all items with the administration to easy access. The backside of the bag has padded and adjustable and stuffed shoulder straps. A mash-style side pocket to hold a water bottle and it is also compatible with laptops and tablets. A waist belt is also accessible.
Specifications
Capacity: 49 litres
Dimensions: 33 cms x 29 cms x 57 cms
PROS
Multiple compartments
Well organized pockets
Cushioned back
Comfortable straps
Durable backpack
Easy to access
Reliable bag
Rain cover
Zipper lock
CONS
Suggested Reads: Best Trekking Shoes in India
Fur Jaden Grey Anti Theft Casual Backpack
Fur Jaden's anti-theft bundle is intended for both office employees and students. Grey color casual backpack is popular among young people due to its fashionable and bold appearance. It is one of the best backpack brands in India to secure you items. Click here to get it on Amazon.
This casual pack includes a charging facility as an added bonus. With the attached USB charging port, you can charge your phone at any time and from any location. All of these would make your trip so much easier. The USB charging device is the most crucial component of this travel backpack.
To keep your things, a Casual backpack contains one main compartment and seven little inside pockets. The main part has a laptop sleeve as well as several organized divisions for quick access to your belongings. There includes a gripping handle as well as padded straps.
Specifications
Capacity: 15 litres
Dimensions: 28 x 13 x 42 cm
PROS
Lightweight
Unisex
Water-resistant
Durable
Stylish look
Easy to access
Portable charger pocket
Multiple pockets
Zipper safe
CROS
Skybags Footloose Colt Casual Backpack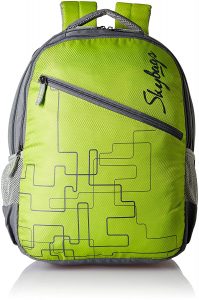 For the manufacturing of the Footloose colt bag, polyester material was used. This bag offers appropriate storage capacity for you, and it is lightweight. The casual bag is divided into three sections where you can put your belongings. The front division is responsible for making items easily accessible. Mesh compartments are constructed on both sides of the bag and straps are padded and adjustable. All zippered compartments are secure. Click here to buy it on Amazon.
SkyBags is one of the best backpack brands in India especially for students and people who are looking for a good bag to carry office items. Their bags are very attractive and vibrant in color.
Specifications
Capacity: 29 litres
Dimensions: 33 x 19 x 40 cm
PROS
Extremely light-weight
Ample of space
Multiple sections
Zipper lock
Comfortable straps
Cushioned back
Well management
CONS
Not water-resistance
Not laptop compatible
Safari 45 Ltrs Black Large/Travel/Office Laptop Backpack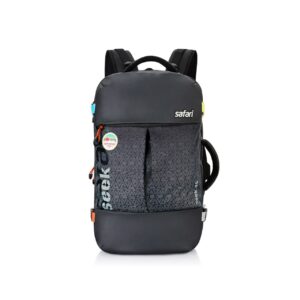 It is an overnighter backpack that is one of a kind. It has a unique luggage-like opening, which we may also refer it as a book opening. This bag can also be expanded up to 5 cm. It has a really attractive appearance and is made of PVC fabric. Cross packing straps are provided on the interior to aid with packaging. Click here to get it on Amazon.
There is also a convenience pack available, similar to the one found in luggage. It contains a 17″ laptop part as well as a tablet section. Because it has a capacity of 45 litres, it incorporates load stabilizers on the shoulder straps, similar to those found in rucksacks. A great bag for a vacation or business journey of 2-3 days.
Specifications
Capacity: 45 litres
Dimensions: 53 cms x 32 cms x 27 cms
PROS
Lightweight
Spacious
Comfortable straps
Cushioned back
Durable
Good looking
Rain Cover
laptop compartment
CONS
Nike Hayward 2.0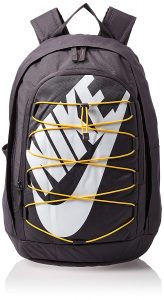 The polyester shell of the Nike Hayward 2.0 has a strong weave for long-lasting durability, which should help it withstand the rigours of school. The adjustable shoulder straps allow you to personalize your carrying experience, allowing you to wear it however you like. Click here to buy it on Amazon.
There's a spacious main compartment inside the backpack, and while there's no laptop sleeve, you can still carry plenty of electronics inside and in the two large side pockets. A front zipped pocket is also useful for keeping items that require quick access, such as pencils, phones, and other small items.
The Nike Hayward 2.0 also has a chest strap to help relieve the strain of anything you're carrying. You can't go wrong with this inexpensive Nike bag, which is a modern take on an old favourite.
Specifications
Capacity: 30 litres
Dimensions: 48 x 33 x 23 cm
PROS
Light weight
Comfortable straps
Cushioned back
Durable
Multiple pockets
CONS
Suggested Reads: Best Sleeping Bag Brands in India
Adidas Premium Essentials Modern
If mature, smart, and tidy sums up your desired back-to-school mood, the Adidas Premium Essentials Modern Backpack is for you. It's fashionable without being too flashy, with a two-tone/textured design, and the little but large Adidas emblem on the front pops wonderfully. Click here to get it on Amazon.
The Premium Essentials Modern backpack comes in only one colour: black. However, the textured foundation is a dark grey that contrasts wonderfully with the rest of the bag.
It has two side pockets, an outer zip laptop compartment that can hold up to a 15-inch laptop, and a front zip pocket for small items like keys, pencils, and power banks.
There are also open compartments on the inside for pens, USB cords, and other small objects, as well as adjustable compression straps on either side. The backpack also has a chest strap to keep it in place during extended walks.
Specifications
Capacity: 24.9 liters
Dimensions: 58 x 38 x 30cm
PROS
Light weight
Good looking
Cushioned back
Well equipped
Multiple pockets
CONS

This concludes our article on the best backpack brands in India. we hope you find this article informative and useful. Please like and share this article and make sure to comment down below if we missed any good backpack brands.
FAQs (Frequently Asked Questions)
Which brand is best for backpack in India?
American Tourister, SkyBags, Fur Jaden, Nike, VIP, Wildcraft are some of the best backpack brands in India for travelling, casual and students.
Which material is best for backpack?
Nylon and other synthetic polymers are best for bags as they have light weight with high durability and strength.
What is the most durable backpack brand?
High Sierra, Fur Jaden and American Tourister offers some of the most durable backpacks in India. They use synthetic polymers which enhances he durability of their bags while at the same time keeping the overall dry weight of the bag low.