In the digital age, finding the perfect accommodation in India has never been easier, thanks to the best hotel booking app in India. Discover seamless reservations and exclusive deals here!
10 Best Hotel Booking Apps in India To Choose From
Top 10 Best Hotel Booking Apps in India
MakeMyTrip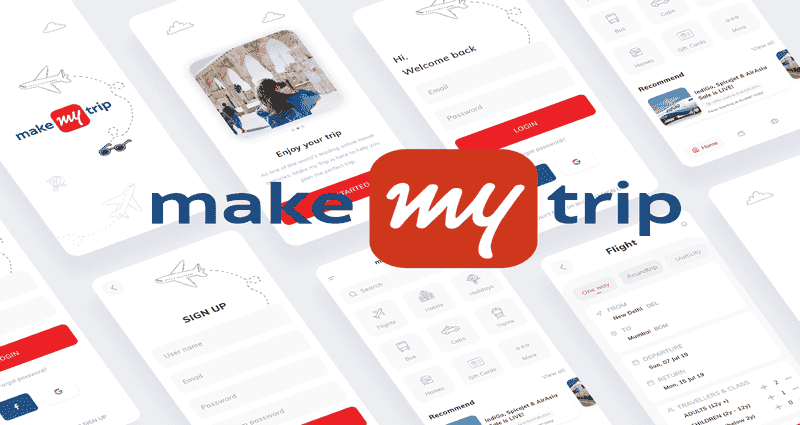 MakeMyTrip, a popular app for hotels, travel, and experiences in India, stands out for its user-friendly interface, extensive choices, and excellent customer service.
It is one of the best app to book hotel rooms in India. It simplifies booking with various options like refundable rooms, meal-inclusive rates, and more, all in one place.
Enjoy exclusive discounts and access all your bookings effortlessly. Explore luxury accommodations with MMT Luxe, both in India and globally.
Suggested reads: Top 10 Flight Booking Websites In India
Skyscanner
Skyscanner offers budget-friendly travel and hotel booking solutions through its website and app. It presents a variety of hotel providers, enabling you to find the best deals by comparing options.
Whether you're a budget traveler or seeking luxury stays, they've got you covered.
Look out for special flash sales for incredible rates on fantastic properties when booking. Easily filter properties with free cancellation options to suit your preferences.
With Skyscanner, you have access to top hotel providers' best prices without the need to visit multiple websites for bookings.
trivago
Trivago, a versatile platform, enables you to discover ideal stay options both domestically and internationally.
It streamlines your travel planning by allowing you to seamlessly incorporate accommodations into your itinerary.
Plus, with access to some of the best deals, you can secure a stay that's often 10% more affordable than standard rates, all in a hassle-free and convenient manner.
Trivago extends its reach to over 190 countries across the globe, ensuring you have a wide array of choices at your fingertips.
The platform also facilitates easy price comparison from various websites, empowering you to make an informed selection.
Additionally, the Trivago Rating Index consolidates user reviews from different booking sites, offering valuable insights for confident decision-making.
Agoda
With a whopping 2.5 million properties at your disposal, the Agoda application stands out as a top-notch hotel booking app for your next destination.
It offers a diverse range of choices, including apartments, hotels, motels, villas, and homes, with transparent pricing and no hidden charges throughout the booking process.
Furthermore, Agoda provides 24/7 customer support to address any queries you may have at any time, ensuring a seamless experience.
Plus, by becoming an Agoda VIP member, you can unlock exclusive benefits and access even more enticing offers.
Booking

Booking.com stands out for its exceptional travel deals, where you can view comprehensive prices, including taxes, directly on the search results page.
This user-friendly feature simplifies budget planning for your stay. Moreover, Booking.com's commitment to customer satisfaction shines through with 24/7 support available in over 40 languages, ensuring your travel experience is hassle-free.
With a selection of 27 million stay options worldwide, you're sure to find the perfect accommodation. Plus, Booking.com offers flexibility with free cancellation on most bookings, providing peace of mind.
As if that weren't enough, the app also grants you access to the Genius membership program, which comes with additional perks like discounts on select stays, room upgrades, and complimentary breakfasts.
Goibibo
Goibibo is a well-known and trusted hotel booking app in India. It's renowned for its reliability and commitment to providing timely assistance and refunds when necessary.
Additionally, Goibibo offers some of the best deals on top-rated accommodations, ensuring you can enjoy quality stays without compromise. Earn goCash on your travel expenses, which you can redeem for future bookings.
The app provides multiple booking options, including the flexibility to book now and pay later. Most of the stays offered on Goibibo come with cancellation options, adding to your convenience during your travel planning.
Kayak
Kayak simplifies your travel experience by allowing you to compare prices from hundreds of websites in one place. It keeps your travel details organized and easily accessible. Plus, you can filter pet-friendly stays directly in the app, making travel with your pets hassle-free.
With regular price alerts, you'll always be in the loop for the best deals. The mobile-based deals ensure you get the most competitive prices for your stay. You can save your stay preferences to receive alerts and updates. Lastly, the app makes it easy to share your travel details with your family.
OYO Rooms
OYO Rooms shines as India's top hotel booking app, particularly popular among both married and unmarried couples. It is one of the best hotel booking app in India for couples.
It offers a wide array of affordable lodging choices, spanning hotels and resorts, all at highly competitive rates. The app even has a dedicated section tailored for unmarried couples, showcasing hotels that welcome them with valid local identification.
Users have the flexibility to choose accommodations based on factors like location, price, and available amenities, all while taking into account feedback from previous guests. Additionally, the app includes an in-app map for easy navigation to nearby attractions, restaurants, and popular destinations.
Cleartrip
Cleartrip is a user-friendly travel booking app that simplifies planning and booking vacations or business trips. With over 400,000 hotels in 15,000 cities, it offers a wide range of accommodation options.
Beyond hotels, the app also helps you book flights, compare prices and ratings, and manage all your travel plans in one place.
Cleartrip offers one-way trip deals to international destinations like Bangkok, Dubai, Paris, and more. It ensures a secure payment experience with UPI options and allows you to pre-book hotel rooms, making it a convenient choice for all your travel needs.
Hotels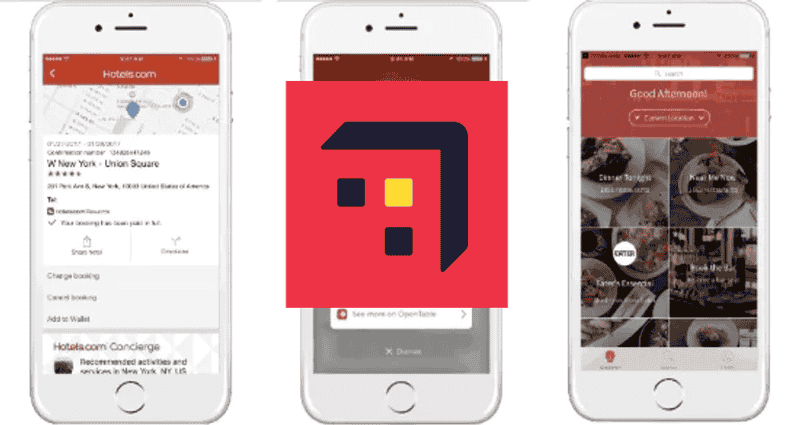 The Hotels.com app is an easy, fast, and safe way to book hotels. Once you sign in, you'll stay logged in for quick access to your bookings.
You can save your favorite hotels for easy comparisons and view your past, present, and future bookings, even offline.
Hotels.com offers a wide range of properties, including resorts, homes, and apartments, with over a million options worldwide.
When you join Hotels.com Rewards, you earn a free night after booking ten times on the app. Silver and Gold members enjoy exclusive perks, and many hotels offer free cancellations.
This concludes our article on 10 Best Hotel Booking App in India: Unlocking Luxury. We hope you find this article useful. Make sure to like and share this article and don't forget to comment down your suggestions below.
You may also like 10 Best Flight Booking Apps In India: Unlocking Seamless Travel
FAQs (Frequently Asked Questions)
What are the top 10 hotel booking app in India?
Following are the top hotel booking app in India:
1. MakeMyTrip
2. Skyscanner
3. trivago
4. Agoda
5. Booking
6. Goibibo
7. Kayak
8. OYO Rooms
9. Cleartrip
10. Hotels
What is the best app to buy hotels?
Booking.com stands out as a premier hotel application with an extensive selection of more than 27 million properties and a wealth of feedback from 135 million satisfied guests. This versatile platform caters to various rental property categories, encompassing hotels, vacation rentals, houses, and apartments, making it an optimal choice for your accommodation needs.
Which are best online hotel booking sites in India?
Following are the best online hotel booking sites in India:
1. MakeMyTrip
2. Goibibo
3. OYO
4. Booking.com
5. Yatra.com
6. Trivago
7. Agoda
8. Expedia
Why is OYO used by couples?
In contrast to some other hotels, OYO stands out for its inclusive policy, welcoming unmarried couples without any discrimination, and ensuring a hassle-free booking experience for them. It is the best app for hotel booking for unmarried couples.
How do couples use OYO?
Utilizing the aggregator's "relationship mode" on their website and mobile app, couples can easily secure rooms by presenting their local identity cards. This feature ensures a seamless booking process, as it exclusively lists hotels that warmly accept guests just as they are, eliminating any potential complications.