With our 10 Best Flight Booking Apps In India, discover seamless travel planning applications to have on your phone. Navigate our top pick, unlocking convenience, affordability, and endless destinations at your fingertips. Let's begin.
Here Are 10 Best Flight Booking Apps In India
Top 10 Flight Booking Apps In India
MakeMyTrip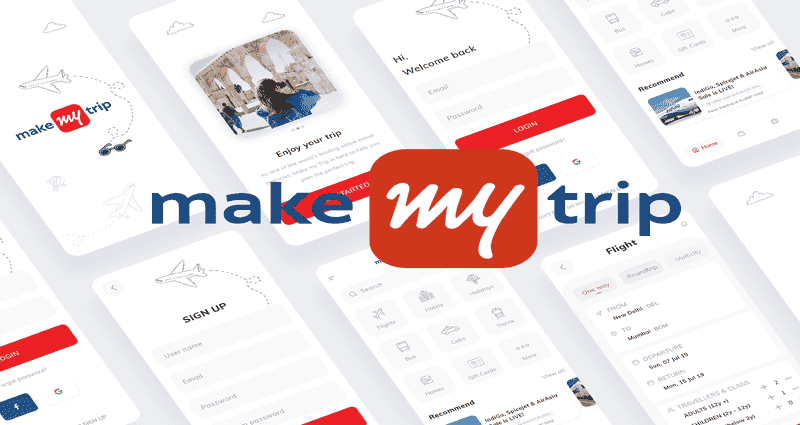 MakeMyTrip is a versatile application designed for various travel and hotel reservation needs. It is one of the best app to book flight tickets in India.
MakeMyTrip simplifies the process by offering comprehensive services for both travel and accommodation bookings.
This app caters to both domestic and international travel requirements, making flight reservations hassle-free. The added benefit is the availability of discounts and special offers through the app.
Suggested reads: Top 10 Flight Booking Websites In India: Navigating The Skies
EaseMyTrip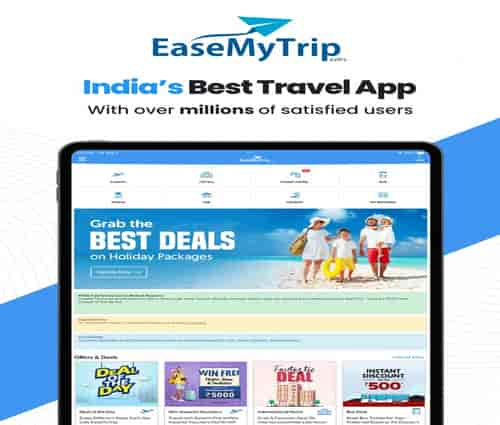 If you're looking to make significant savings on your flight ticket reservations, the ideal application for you is EaseMyTrip.
This app offers the convenience of booking flights, hotels, bus tickets, and holiday packages. It serves as an all-in-one platform, enabling users to make bookings with attractive discounts.
A major advantage is that users are not subjected to any convenience fees within the EaseMyTrip mobile app.
Goibibo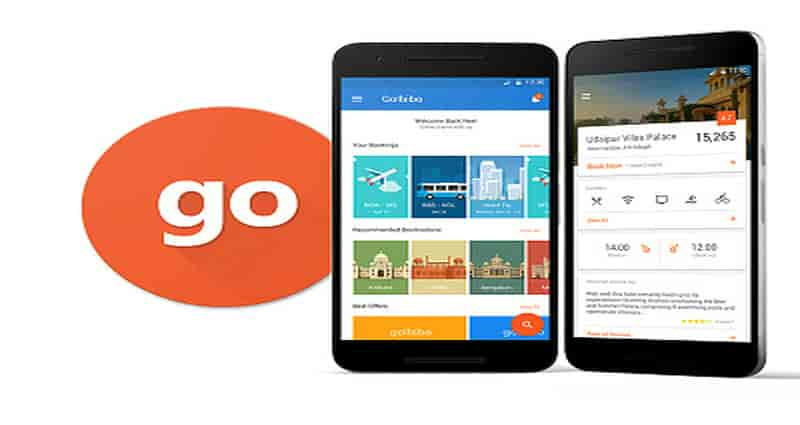 Goibibo emerges as the favored travel booking app among Indians, boasting an uncomplicated user interface and a straightforward booking process.
This app offers an exceptional degree of user-friendliness, making flight ticket reservations a breeze. Goibibo consistently extends attractive discount offers across a range of flight bookings, encompassing both domestic and international airlines.
Goibibo's discount offerings cater to various categories of travelers, including first-time explorers, frequent travelers, and even those embarking on business trips.
Each instance of flight booking through the Goibibo app brings potential savings through exclusive discounts.
Furthermore, the app integrates a flight tracker feature, permitting users to stay informed about flight statuses, including delays, modifications, and cancellations.
Cleartrip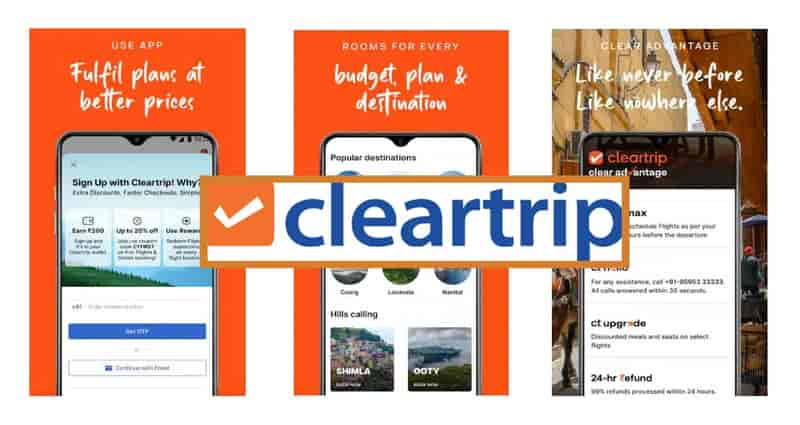 Cleartrip stands as a comprehensive solution for all your travel and hotel reservation requirements. This platform serves as a convenient hub for efficiently searching and booking the best domestic and international flights.
Notably, the app incorporates a fare alert feature, ensuring that you are promptly notified about fluctuations in flight ticket prices.
For added convenience, the app enables seamless cancellation or rescheduling of flight bookings directly from the platform.
By saving your card information, you can make use of the Cleartrip app to book flights with a single touch in under 60 seconds, thereby optimizing your time and simplifying the booking process.
Expedia
Expedia is a popular travel app used for flight and hotel booking. This platform enables you to book flights, buses, and cabs at the lowest price guaranteed.
A standout feature of Expedia is its commitment to providing the best rates; if you find a lower price or realize you paid more, the difference will be refunded to you.
For those keen on exploring exceptional flight deals for specific Indian occasions, Expedia consistently offers remarkable discounts on flights worldwide.
These deals can result in savings of up to 50% on flight bookings. This combination of features establishes Expedia as a go-to platform for your travel needs.
Yatra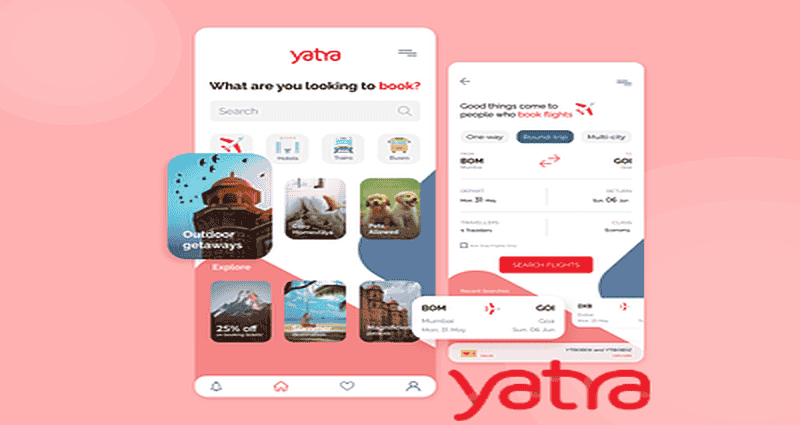 Yatra is India's premier travel application, offering a wide array of booking options including Flights, Hotels, Buses, Trains, and Cabs.
Renowned for its excellence, Yatra is a preferred choice among users for flight ticket reservations within India. The Yatra Android app has garnered an impressive 10+ million downloads.
Yatra's strength lies in its incredible assortment of economical deals and discounts tailored for flight ticket bookings.
Yatra boasts an exceptional customer support system, encompassing avenues such as calls, emails, and social media, ensuring a top-tier customer experience.
Indigo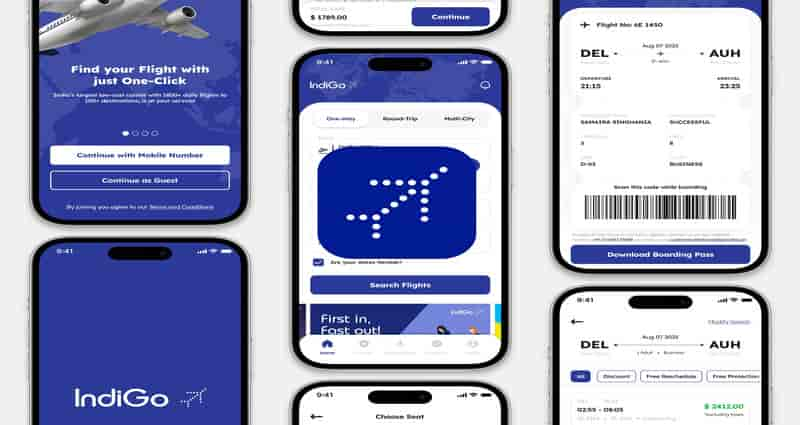 When discussing the seamless booking of flight tickets in India, the IndiGo app emerges as a must have option.
Renowned as one of the nation's foremost airlines, IndiGo has successfully extended its dedication to providing outstanding service to a user-friendly mobile application.
Furthermore, through a combination of intuitive design, extensive features, and real-time updates, the IndiGo app provides travelers with a convenient and efficient platform to explore, compare, and secure flight tickets.
Ixigo
Ixigo also stands out as one of the most sought-after flight booking apps, trusted by over 100 million individuals.
This popularity is well-reflected by its impressive 4.5 ratings on the Android app platform, a testament to its reliability and trustworthiness.
A distinctive feature of the Ixigo app is its ability to facilitate a comprehensive fare comparison across more than 100 travel platforms.
Ixigo assures users the provision of the most economical flight tickets, both for domestic and international airlines. Notably, the app goes a step further by predicting future flight fares and offering timely alerts through the mobile app.
Skyscanner
Skyscanner, a widely recognized flight-booking app and website, has gained its reputation for providing a range of travel-related services.
Developed by a mobile app development company in India, Skyscanner is dedicated to assisting travelers in finding budget-friendly flight, accommodation, and car rental options from various companies.
One user-friendly and cost-effective strategy for saving on airfare through Skyscanner is to input your destination and select the "cheapest month" option. This feature allows users to easily identify the most economical flight options for their desired destination.
The platform also helps users find budget-friendly hotels and rental cars, complete with flexible change and cancellation policies.
Booking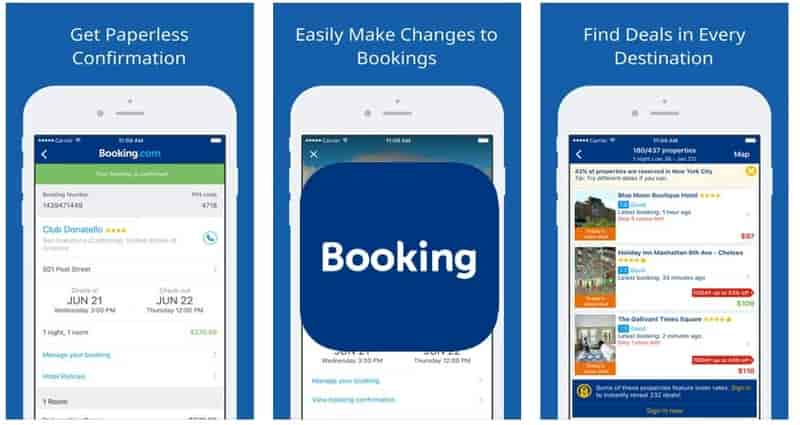 When it comes to business travel, Booking.com for Businesses stands out as a best online booking service that's particularly well-suited for small enterprises without elaborate travel arrangements.
This platform serves as an invaluable tool for businesses aiming to gain insights into their business travel expenditure. It also offers the capability to make bookings for over 150 airlines, spanning from budget carriers to those providing business-class options for long-haul flights.
The application's AI-driven customization allows flight results to be tailored according to the traveler's preferences, enhancing the overall user experience.
This concludes our article on 10 Best Flight Booking Apps In India. We hope you find this article useful. Make sure to like and share this article and don't forget to comment down your suggestions below.
You may also like How Can I Change My Flight Without Paying A Fee?
FAQs (Frequently Asked Questions)
Which app is best for flight bookings?
Following are the best flight booking apps:
1. MakeMyTrip
2. EaseMyTrip
3. Goibibo
4. Cleartrip
5. Expedia
6. Yatra
7. Indigo
8. Ixigo
9. Skyscanner
10. Booking
Which is the best flight booking site in India?
Following are the top 10 flight booking websites in India:
1. MakeMyTrip
2. Goibibo
3. IXIGO
4. Expedia
5. Easemytrip
6. Cleartrip
7. Yatra
8. Booking
9. UdChalo
10. Trip
Which app offers cheap flights?
Ixigo stands as a prominent platform for both domestic and international flight bookings in India, offering economical options. This platform presents a diverse array of flight choices from various airlines, ensuring that you can easily discover a budget-friendly flight that aligns with your travel requirements.
How to get cheapest flight?
To book the cheapest flight, use flight search engines, be flexible with travel dates, set price alerts, consider budget airlines, and check for deals. Remember to book in advance and use incognito mode for better results.
Which day flight is cheapest in India?
Maximize savings on flights with these tips:
Domestic Travel: Choose Tuesdays and Wednesdays for cheaper fares. For a hassle-free journey, fly on Saturdays and Mondays.
International Adventures: Opt for Wednesdays and Thursdays for pocket-friendly flights, ensuring more value from your travel budget.