Looking for places for the long weekend? Don't worry we have curated a list of places for 2 days trip near Pune especially for you.
Lying on the banks of river Mutha, Pune, which once used to be the center of power established by Shivaji, is a full-fledged city in Maharashtra now. Many prefer to call it the "Queen of the Deccan". Apart from bakeries, historical forts, museums, and the IT sector, Pune is also famous for its cafes, hill stations.
2 Days Trip Near Pune For The Perfect Weekend Getaway
9 Best Places For A Perfect Weekend Getaway From Pune
Lonavala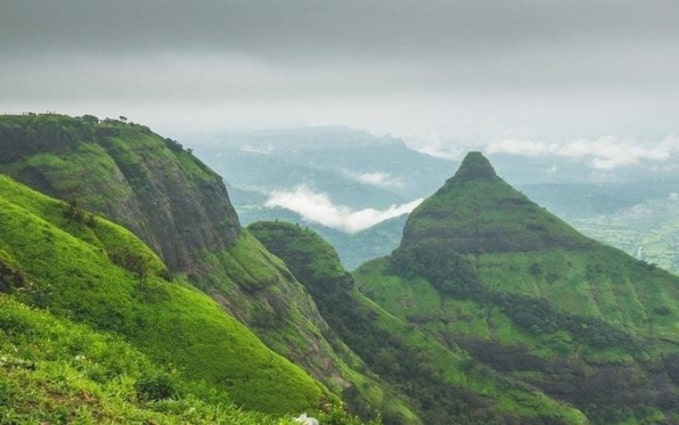 Let's start with one of the most popular hill stations near Pune! It is situated approximately 65km from the city, at a height of 625 meters above sea level. It gets its name from Sanskrit "lonavli" which roughly translates to "caves". Naturally, the hill station is adorned with beautiful caves such as Karla, Bhaja, and Bedsa.
Lonavala is mostly known for its natural beauty and cool climate around the year. Visitors frequent this place especially during the monsoon season to witness the beautiful rain-fed waterfalls.
If you enjoy a drive along the mountainside roads, the journey to Lonavala from Pune is also going to be magical for you. Lastly, the lush greenery of the valleys, beautiful lakes, and hard candy (chikki) will surely make your trip all the more memorable. It is a great place to visit near Pune for couples.
How to reach Lonavala from Pune? You can avail train, bus or cab services to reach Lonavala from Pune. It takes somewhere between 1-1.5 hours. 
What is famous in Lonavala? The Lonavala Lake and Kune Falls are spectacular and not to be missed.
What is the best time to visit Lonavala? July-September, during and just after the monsoon months will be ideal.
Check Places to Stay in Lonavala
Lohagad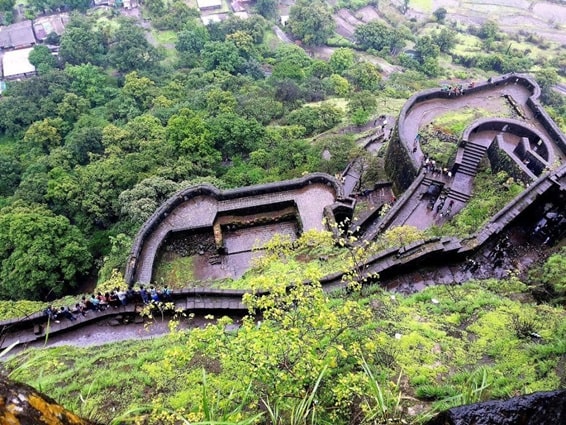 A 1.5-hour drive to the northwest of Pune will take you to the mesmerizing and off-beat hill station of Lohagad. If you are planning a 2 days trip near Pune, this is an ideal destination.
Best known for the Lohagad Fort, a popular trekking spot, this hill station is situated at a height of 3389 feet from sea level. Although it is very close to Lonavala, the crowd isn't as much as it is over there.
This place is simply perfect for history and archaeology buffs. Besides, the natural beauty is also spot-on. The Government has recognized Lohagad Fort as a protected monument. You can enjoy the panoramic view of the Duke's nose, Tung Hills summit and Tikona Hills from here.
Provisions for boating and various water sports have also been made at the Pavana Dam. If you are lucky, you might witness a lot of unique bird and insect species as well.
How to reach Lohagad from Pune? You can take the train up to Lonavala and then go to Malavli via local train from Lonavala. Since the destination is just 5 km away from Malvali, shared auto and taxi cabs are easily available.
What is famous in Lohagad? The Bhaja Caves and historic Lohagad Fort are the most famous.
What is the best time to visit? Any time except for the monsoon months is ideal because the rain makes the roads sloppy and dangerous for driving or trekking.
Velas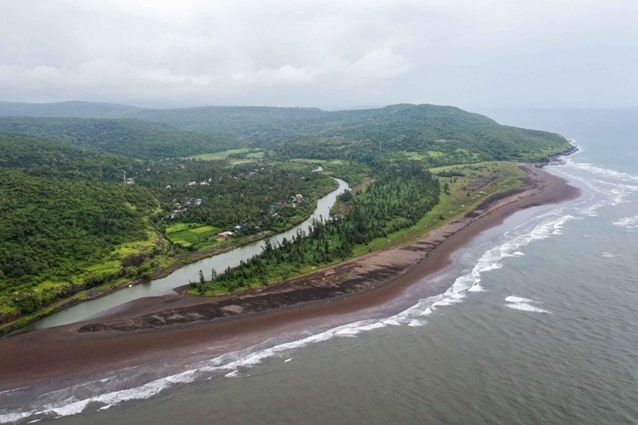 It is a coastal beach on the Konkan, situated 198 km away from Pune. This is a remote village known for its pristine ambiance, the beautiful sea and Olive Ridley turtles. The third has brought international attention to this destination. Every year the turtles pay a visit to this spot for laying eggs.
This rustic place is guarded by extensive mountains on three sides. The ideal time to visit this place for a 2 days trip near Pune is February-March. The Annual Sea Turtle Festival takes place at that time. Visitors can enjoy the hatchling of eggs that the volunteers release in front of everyone. It will certainly account for a unique experience.
Velas is one of the best destinations near Pune for a romantic getaway as this place is mostly secluded.
How to reach Velas? A 5 hour drive through the Mumbai-Goa highway will take you to this turtle beach.
What is Velas famous for? The Turtle Festival is the most looked-forward-to event in Velas.
What is the best time to visit Velas? March-April is the time when the festival takes place- visit during that time.
Panchgani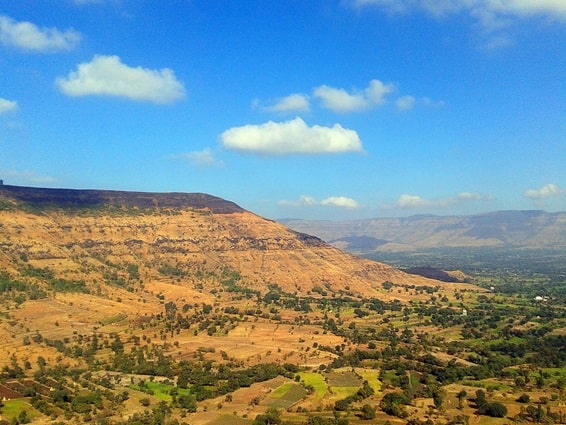 About 100 km from Pune is the "place of five hills" or the better-known Panchgani. It is at an altitude of 1334m from sea level. If you are planning a weekend trip near Pune, this versatile destination is simply perfect. The best time to visit Panchgani is during the winter and monsoon months.
Apart from the spectacular mountains, serene lakes and adventure sports, this place is mostly celebrated for strawberries. The fresh strawberries of Mapro Garden are a must-try if you visit here.
There are a number of historical points as well like the Pratapgad Fort and Table Land. Its twin hill station, Mahabaleshwar is located just 19 km from here.
How to reach Panchgani from Pune? You can reach Panchgani by bus. It takes approximately 2 hours. You can also avail cab services.
What is the most famous attraction of Panchgani? The Kaas Plateau is the most popular point of Panchgani.
What is the best time to visit Panchgani? October-February months are fairly suitable for a trip to Panchgani.
Check Places to Stay in Panchgani
Malshej
Celebrated Maratha King Shivaji was born here. Malshej is the ideal destination if you're planning a weekend trip from Pune. You have to drive 120 km through the rustic beautiful roads to get here. This place to visit near Pune has it all— mountains, raging waterfalls, historical forts and dense forests.
Other than natural beauty, tourists can also enjoy various adventure sports. For instance, there are facilities for trekking, rock climbing, waterfall rappelling, etc.
If you have a keen interest in historical monuments, visit the Shivneri Fort and Harishchandragad Fort here. The Malshej Ghat mountain pass within the Western Ghats also deserves special mention. In fact, you can witness a variety of flora and fauna here. Bird watching is a popular activity of Malshej.
The best time to visit is right after the monsoon when the weather is pleasant and there is no risk of driving through the windy roads. If you want to trek or hike during your 2 days trip near Pune, the ideal time is winter.
How to reach Malshej from Pune? It's a 4-hour drive through the Pune-Nashik Highway. You can go by private car. If you are going by train, reach Kalyan and take a taxi from there.
What is Malshej famous for? The Pimpalgaon Joga Dam is one of the most famous destinations of Malshej.
What is the best time to visit Malshej? The monsoon months lasting from late June to September are good for a visit to this place.
Check Places to Stay in Malshej
Wai
In the Satara district of Maharashtra, there is the hill station cum village of Wai. Some call it the "Dakshin Kashi" because the place is full of beautiful temples and religious places. It is one of those places to visit near Pune on weekends, a perfect spiritual getaway from city life.
Wai is a mesmerizing place on the banks of the Krishna River. Wai is not only a religious but also a historical place. The families of Rani Lakshmibai and Gopikabai had their origins here.
Visit the Dhoyla Ganpati Temple on the Ganpati Aali Ghat to worship in peace. Speaking of history, there are a number of forts as well. The Pandavgad, Kindergad and Kamalgad forts are also nice trekking spots.
How to reach Wai from Pune? It takes approximately an hour to reach Wai from Pune. Direct bus services are available.
What is Wai famous for? The beautiful Krishna River is one of the most popular attractions of Wai.
What is the best time to visit Wai? The ideal time to visit Wai is during monsoon.
Kamshet
A 45 km drive from Pune will bring you to this mesmerizing little village, Kamshet. It is the paragliding capital of India. Friends who are looking for an adventurous 2 days trip near Pune are sure to have an amazing time here. Apart from that, parasailing, kayaking and hiking are the popular activities that are enjoyed here.
Kamshet is a destination full of mountain cliffs, caves, lakes, and forts. Pay a visit to the sculpture of Lord Buddha in the Buddhist caves. You can also climb the Tikona and Lohagad forts.
Camping near Pawna Lake and stargazing at night will definitely account for an amazing experience here. This is certainly one of the most romantic weekend getaways near Pune for couples.
How to reach Kamshet from Pune? You can take private cabs from Pune airport or go to Lonavala by train and hire a cab from there. It is only 16 km from Lonavala.
What is Kamshet famous for? Kamshet is most famous for its variety of adventure sports.
What is the best time to visit Kamshet? October-May are the perfect months to visit this destination.
Check Places to Stay in Kamshet
Sinhagad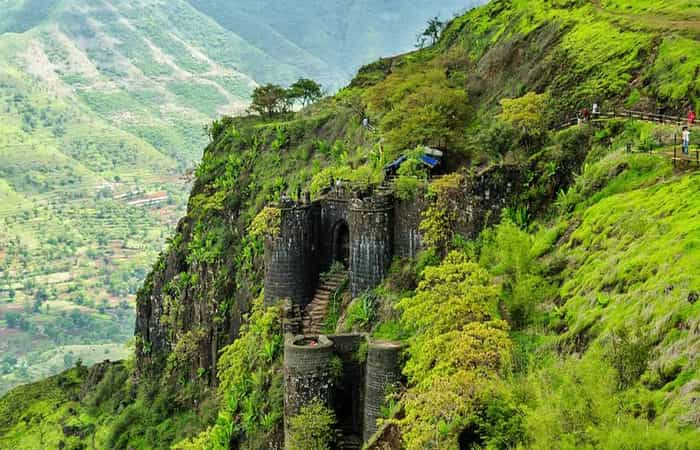 It is a spectacular hill fortress at a distance of only 37km from Pune. This destination is as old as 2000 years. It is a trekker's paradise because climbing the fort is a challenging activity as well as fun. Situated at a height of 1312 meters above sea level, the Sinhagad Fort is a safety structure to provide protection against the steep slope.
Just like historic forts, Sinhagad also offers you historic temples. The Kaundinyeshwar temple is particularly famous here. Visitors can check out the caves and carvings inside the temple to find the accounts of historic battles fought here. The lush greenery of Sinhagad is another reason to visit it.
How to reach Sinhagad from Pune? You can go by private car. It takes around 1 hour 15 minutes.
What is Sinhagad famous for? The historical Sinhagad Fort is the most special attraction here.
What is the best time to visit Sinhagad? June-February is great for visiting this historic marvel. 
Lavasa
Make your 2 days trip from Pune magical in this hidden gem Lavasa. It is just 65km from the city. The majestic Western Ghats surround this 25000 acres destination in Mulshi Valley. One can say that nature is certainly at its best here.
You will find beautiful lakes, hills, valleys, and dense greenery. The Tikona fort, Devkund Waterfall and Tamhini Ghat are a few of the must-visits.
While talking about natural beauty, one can hardly afford to miss the lofty Sahyadri Range and the beautiful rivers that flow right through it. The Xthrill Adventure Academy deserves special mention as well. It is a hub of exciting activities that youngsters will enjoy.
Although Lavasa is a hill station, the place has a fairly tropical climate. That is because it is just 3000 sq. ft. from sea level.
How to reach Lavasa from Pune? There are direct can and bus services from Pune to Lavasa. You can also take the train up to Lonavala from where it is only 29 km.
What is Lavasa famous for? Lavasa is well-known for its lakeshore water sports.
What is the best time to visit Lavasa? The best time to come here is from September to March.
Check Places to Stay in Lavasa
The best part about Pune is that its nearby vicinity has something for everyone. Whether you want the cool and lofty hills, the tropical seaside, a spiritual experience or an adventurous one, it is all located close to the city.
All the above-mentioned places for 2 days trip near Pune can be reached by car or bus. The roads are also quite beautiful with trees and mountains on the sides. This will make your road trip memorable indeed.
Places to Visit Near Pune Within 300 km
There are a hundred destinations for weekend getaways from Pune within 100km. Imagine what lies even further!
Bhandardara
This remote village in Igatpuri is a hidden gem, 161 km from Pune. Locals refer to it as the "Queen of Sahyadri Range" because of the dense green landscapes. Some of the amazing places to visit in this village are the Wilson Dam, Umbrella Falls and the pristine Arthur Lake.
The ideal time to plan a holiday to Bhandardara is October to February. In that way, you can also witness the beautiful and rare migratory birds that come in winter.
The highly popular Firefly Festival of Bhandardara also attracts tourists. You can camp by the lakeside and admire the beauty of hundreds of shimmering fireflies roaming around.
Check Places to Stay in Bhandardara
Revadanda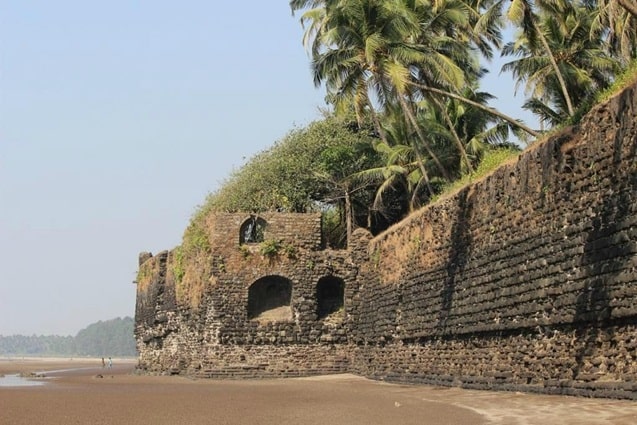 Situated close to Alibaug is the Revadanda village. It is recognized as one of the cleanest beaches in the northern Konkan region. The seashore is breathtaking and you can also witness white and black sand here. A 4-hour drive (186 km) from Pune will take you to this marvelous destination.
The picturesque Korlia fort on the secluded beach makes it seem like an exotic island. This beach is home to crabs. Therefore, tourists have to be careful while strolling through the sand. This coastal town is so peaceful that visitors can also sit and meditate here.
Since it is an offbeat location, resorts and homestays are located towards the side of Alibaug.
Check Places to Stay in Revadanda
Alibaug
Also referred to as "mini Goa", Alibaug is located at a distance of 143.5 km from Pune. Apart from the "Goa feel", it is mainly famous for its beautiful beaches and adventure sports. The best time to visit this coastal marvel is during the winter months.
The most popular attractions include the historic Colaba Fort, the island fort of Janjira, the Portuguese Korlai Fort, Kihim Beach, Nagaon Beach and of course, Alibaug Beach itself.
If you want to do parasailing, kayaking, beach camping and even trekking, this is the perfect destination. This is among the many amazing places to visit near Pune that have pleasant tropical weather all year long.
Check Places to Stay in Alibaug
Kolad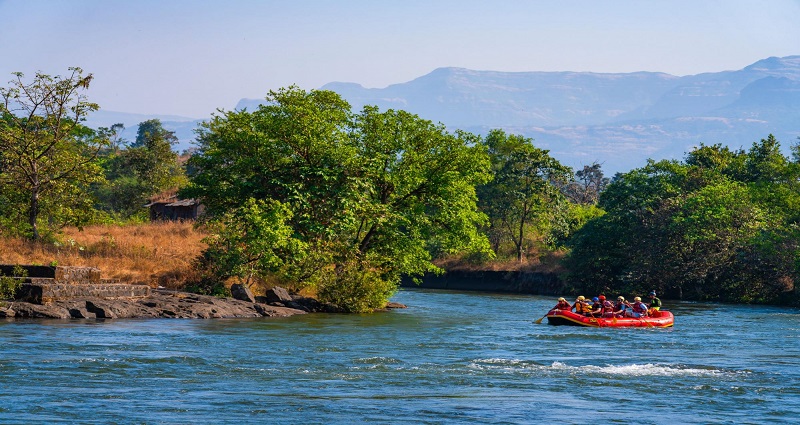 A 3-hour drive from Pune will take you to the exotic location of Kolad. Popularly known as "Maharashtra's home for white water rafting", this serene village has a lot to offer. The Ghosala Fort, Kuda Caves, and the pristine Sutarwadi Lake are some of the major attractions of this place.
Adventure sports enthusiasts can have the time of their lives rafting in the mighty Kundalika River.
FAQs (Frequently Asked Questions)
What are the best places near Pune for an adventurous weekend getaway?
Bunjee jumping and trekking in Lonavala, parasailing in Alibaug and river rafting in Panchgani are some of the mention-worthy adventure sports destinations for a thrilling 2 days trip near Pune.
Which places are best to visit during monsoon season?
Bhandardara and Lonavala are ideal for a 2 days trip near Pune during monsoon months.
What are the perfect summer destinations near Pune for a weekend getaway?
1. Sinhagad has a pleasant climate which can be suitable for a summer trip.
2. The Velas Beach is also a popular attraction during summer for the turtle hatching festival.
3. Tarkali Beach is quite a destination for your happening summer vacation near Pune.