Nagaland, where rich cultural heritage and natural beauty blend seamlessly. In this article, we will explore the best weekend getaways in Nagaland, highlighting famous places and offering options that cater to couples and budget travelers.
Whether you seek serene escapes amidst nature or vibrant cultural experiences, Nagaland has something for everyone. Join us on this journey to explore the hidden gems and affordable delights that make Nagaland an ideal destination for unforgettable weekend adventures.
Weekend Getaways In Nagaland
Kohima: A Serene Place
Situated at an elevation of 1500 meters above sea level, Kohima, the capital of Nagaland, is a haven for nature enthusiasts. Surrounded by majestic mountains and lush forests, this untouched paradise offers an idyllic escape and becomes one of the famous places of Nagaland.
Adventurous souls can partake in thrilling activities like trekking, hiking, and camping. Don't miss visiting the Commonwealth War Cemetery, where over 1400 soldiers who bravely fought in World War 2 rest in eternal peace.
Explore iconic landmarks like Japfu Peak and immerse yourself in the rich heritage of the Angami tribe at the Naga Heritage Village.
How to reach Kohima? Dimapur, situated approximately 74 kilometers away from Kohima, serves as the closest railway station and airport to the capital city.
What is Kohima famous for? Kohima, the capital city of Nagaland, is renowned for its rich cultural heritage and historical significance. It is famous for Kohima War Cemetery, Japfu Peak, Dzukou Valley, Kohima State Museum, etc.
Best time to visit Kohima: The best time to visit Kohima is during the months of October to May. This period offers pleasant weather.
Dimapur
Dimapur serves as the gateway to Nagaland, with its airport being the primary point of entry. This popular tourist spot in Nagaland offers a delightful experience for both nature enthusiasts and history buffs. It is a heart whelming and one of the best weekend getaways in Nagaland.
Explore the captivating Kachari ruins dating back to the 10th century, set against a backdrop of stunning natural beauty. Dimapur and its surrounding areas are brimming with surreal landscapes and historically significant ancient ruins, making it a must-visit destination for travelers.
How to reach Dimapur? You can take NH29 to reach Dimapur from the capital city Kohima. There are no regular flights or trains to Dimapur.
What is Dimapur famous for? Dimapur is famous for the places such as Diezephe Craft Village, Rangapahar Reserve Forest, Dimapur Ao Baptist Church, etc.
Best time to visit Dimapur: The best time to visit Dimapur is from the month of October to March.
Wokha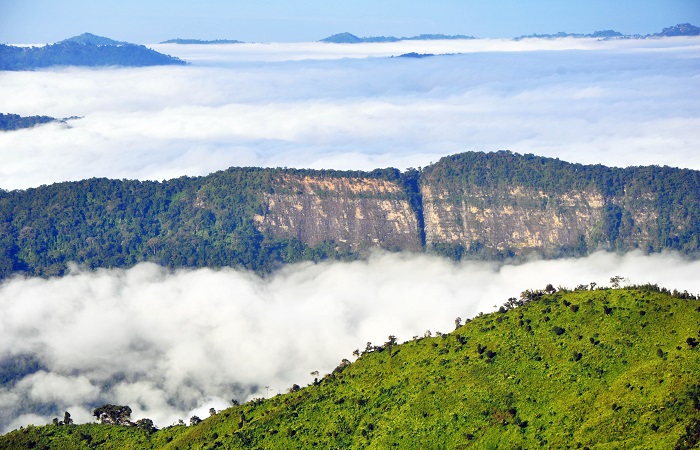 As you arrive in Wokha, the beauty of Nagaland's hills and green landscapes reaches new heights. The scenery becomes even more vibrant and picturesque, adorned with abundant plants displaying a kaleidoscope of colorful flowers and juicy, fresh fruits.
The rivers gracefully flowing through the region add to the enchanting allure. Wokha is home to the Lotha tribe, adding a rich cultural dimension to this captivating destination.
How to reach Wokha? If you're planning to visit Wokha, the nearest airport and railway station can be found in Dimapur. From Dimapur, you have the option to hire a taxi or board a bus to reach Wokha.
What is Wokha famous for? Wokha is famous for Mount Tiyi, Doyang River, Totsu Cliff, etc.
Best time to visit Wokha: The best time to visit Wokha is during the months of October to March. This period offers mild temperatures, making it an ideal destination for exploring.
Khonoma Village
Khonoma Green Village in Nagaland is a testament to the power of responsible living. Here, one can experience clean, fresh air, a tranquil atmosphere, and an untouched environment.
The Angami tribe resides in traditional huts crafted from natural and recycled materials, sustaining themselves through agriculture, handlooms, and weaving. This village showcases the remarkable achievements that a united community can accomplish.
In an era marked by climate change concerns, a visit to this village can inspire individuals to create similar environments for themselves and future generations.
How to reach Khonoma Green Village? If you're planning to visit Khonoma, the nearest airport and railway station can be found in Dimapur.
What is Khonoma Green Village famous for? Khonoma Green Village is famous for its emphasis on sustainable living and environmental conservation. It is recognized as the first "green village" in India.
Best time to visit Khonoma Green Village: It can be visited anytime throughout the year. However, the best time to visit is during the Hornbill Festival which is celebrated in December, attracting visitors from all over the world.
Benreu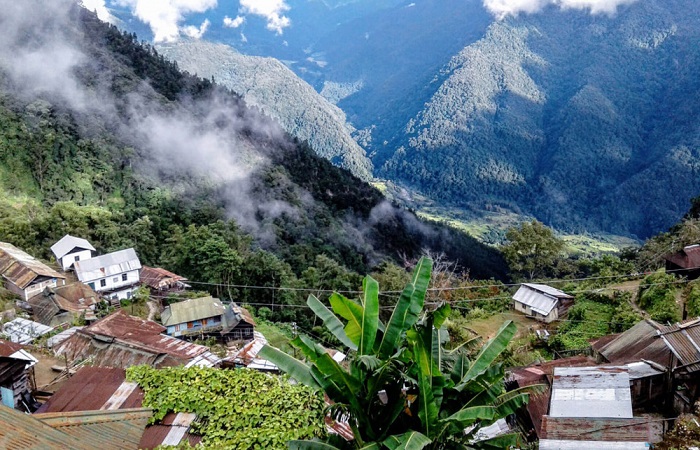 Benreu, nestled in Nagaland's Peren district, offers a serene haven of solitude. This unexplored village embraces nature with nearly 20 percent of its population consisting of flora and fauna. Situated at an elevation of 1950 meters, it gracefully overlooks Mount Pauna, the third-highest peak in Nagaland.
Benreu is not only the abode of the Zeliang tribe but also a place known for its abundant rainfall and mystical clouds due to its elevated location. Here, visitors can witness the simplicity of Naga village life, experiencing the richness of the local culture.
How to reach Benreu? The nearest railway station to reach Benreu is Dimapur Railway Station. From Dimapur Railway Station, you can hire a taxi or take a shared cab to travel to Benreu.
What is Benreu famous for? Benreu is famous for the Peren, Mt.Pauna Tourist Village, etc.
Best time to visit Benreu: For those planning to visit Benreu, the period from October to May is considered the best time. During these months, the weather in Benreu is generally favorable for travel.
Zunheboto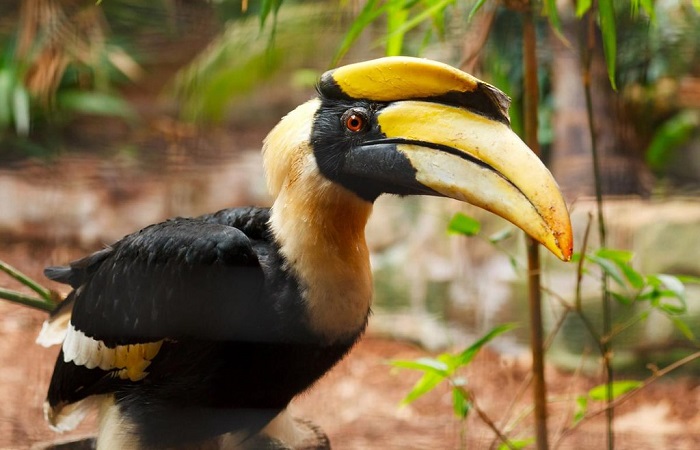 When you explore Zunheboto, you will be immersed in the vibrant culture of the Sumi Nagas. This resilient tribe, credited with introducing martial arts to the Nagas, showcases a rich heritage.
Zunhebo captivates travelers with its noteworthy attractions, including the largest Baptist church in Asia, a serene village setting, and a sanctuary dedicated to preserving endangered bird species. There is much to discover and appreciate in this captivating destination.
How to reach Zunheboto? To reach Zunheboto by train, the nearest railway station is Dimapur Railway Station. From Dimapur, you can opt for road transport to reach Zunheboto.
What is Zunheboto famous for? Zunheboto is famous for Sumi Baptist Church Zunheboto, Keltomi Village, Ghosu Bird Sanctuary, Satoi Range
Best time to visit Zunheboto: The months of October to March are ideal to plan a visit to Zunheboto.
Meluri
Nestled to Mt. Saramati in the Kiphire district, Meluri is a charming and tranquil village. It is inhabited by the Pochury tribe, renowned for their exceptional hunting prowess. Meluri stands as a must-visit destination in Nagaland, not only for its natural beauty but also for its intriguing rock formations. It is an ideal weekend getaway in Nagaland for couples.
Don't forget to explore the village's specialties, such as brine salt and exquisite cane furniture. Make sure to ascend Zanibu Peak, offering breathtaking panoramic views of Nagaland state and even Mount Everest. It's no wonder that Meluri ranks among the top tourist attractions in Nagaland.
How to reach Meluri? To reach Meluri by train, the nearest railway station is Dimapur Railway Station. From Dimapur, you can proceed to Meluri by road.
What is Meluri famous for? Meluri is famous for Dzudu Lake, Zanibu Peak, Shilloi Lake, etc.
Best time to visit Meluri: Winter season is the best time to visit Meluri. You can visit here from the month of November to March.
Naga Heritage Village
Naga Heritage Village, also known as Kisama Heritage Village is a captivating place that showcases the rich culture and traditions of the Nagas. Its primary aim is to safeguard and uphold the authentic ethnicities of the Naga tribes.
This village serves as a haven for art enthusiasts, providing an immersive experience to explore and appreciate. The highlight of Kisama Heritage Village is undoubtedly the vibrant Hornbill Festival, a festive celebration held in December that truly captures the essence of Naga culture.
How to reach Naga Heritage Village? The closest airport and railway station to Naga Heritage Village is located in Dimapur, just 41 kilometers away. From Dimapur, you have the option to hire a taxi or bus to reach.
What is Naga Heritage Village famous for? This beautiful village is famous for Shiirho View Point, World War 2 museum Kisama, Puliebadze, etc.
Best time to visit Naga Heritage Village: You can visit it in December and can experience the vibrant hornbill festival.
Pfutsero
Located at an altitude of 2,133 meters above sea level, Pfutsero is a charming town known for its chilly climate. The majestic Glory Peak stands as a prominent attraction, offering awe-inspiring views. During winter, the lakes in Pfutsero freeze, creating a magical winter wonderland that fills the Christian locals with a delightful Christmas spirit.
Another enchanting sight awaits in the months of March and April when cherry blossoms paint the historical town with vibrant hues, coinciding with the Tsukhenye Festival celebrated by the Chakesang families. Pfutsero truly holds captivating experiences throughout the year.
How to reach Pfutsero? To reach Pfutsero, the nearest airport and railway station are located in Dimapur, approximately 73 kilometers away.
What is Pfutsero famous for? Pfutsero is the coldest place in Nagaland. It is famous for Loho Lake, Kigwema, etc.
Best time to visit Pfutsero: It should be visited during the month of November and December.
Chumukedima Village
This mesmerizing hill station offers a breathtaking panoramic view of the picturesque Dimapur district. It's a true paradise where one can savor stunning vistas and feel the gentle caress of a cool breeze.
The region boasts captivating waterfalls to discover, inviting you to immerse yourself in the wilderness. With its serene beauty, this destination stands among the top choices for a memorable one-day visit to Nagaland.
How to reach Chumukedima Village? The closest airport and railway station to Chumukedima Village is located in Dimapur.
What is Chumukedima Village famous for? Triple Falls, Nagaland Zoological Park, etc are the places that make Chumukedima Village a famous destination.
Best time to visit Chumukedima Village: The period of October to March is the best time to visit Chumukedima Village.
The Kachari Ruins
The Kachari Ruins, also known as the Dimasa Kachari Ruins, consist of mushroom-shaped pillars and ancient houses that date back to the 13th century during the Dimasa Kachari Kingdoms. This offbeat destination is a treasure trove for art and history enthusiasts.
The scattered pillars, embraced by overgrown grasses and wild vegetation, evoke a sense of mystery and wonder. Exploring these ruins is a captivating experience that unveils glimpses of a bygone era.
How to reach Kachari Ruins? From Dimapur, you can easily take a taxi or bus to reach the Kachari Ruins.
What is Kachari Ruins famous for? The places such as Nagaland Science Centre, Hong Kong Market, etc make Kachari Ruins a famous attraction for visitors.
Best time to visit Kachari Ruins: The months of winter provide ideal weather to visit Kachari Runs.
Nagaland is a wonderful destination with a rich cultural heritage, offering a range of unique experiences for travelers. From the peaceful beauty of Khonoma Green Village to the historical significance of the Kachari ruins in Dimapur, each place showcases the charm of Nagaland in its own way. Whether you seek tranquility in nature, an immersion in indigenous traditions, or the exploration of lesser-known gems like Benreu and Meluri, Nagaland promises something special for every adventurer. So pack your bags, embark on a journey, and uncover the wonders of Nagaland.
FAQs (Frequently Asked Questions)
Question 1: What are the famous tourist places to visit in Nagaland?
Nagaland is home to several famous tourist places such as Kohima, Khonoma Green Village, Benreu, Meluri, and Zunheboto. Each destination offers unique experiences ranging from scenic landscapes to cultural immersion.
Question 2: When is the best time to visit Nagaland?
The best time to visit Nagaland is during the months of October to May. These months offer pleasant weather, making it ideal for exploring the attractions and engaging in outdoor activities.
Question 3: What are the main cultural festivals celebrated in Nagaland?
Nagaland is known for its vibrant festivals, with the Hornbill Festival being the most famous. Other significant festivals include Moatsu Festival, Sekrenyi Festival, and Tsukhenye Festival, which showcase the rich traditions and customs of the various Naga tribes.
Question 4: What is unique about the Naga tribes in Nagaland?
The Naga tribes in Nagaland are known for their distinct cultural heritage, traditional craftsmanship, and indigenous practices. Each tribe has its own language, customs, and colorful festivals, providing a fascinating glimpse into their rich cultural diversity.
Question 5: How can I reach Nagaland?
Nagaland can be reached by air and road. The nearest airport is Dimapur Airport, which is well-connected to major cities in India. By road, Nagaland can be accessed through neighboring states like Assam. Public buses, taxis, and shared cabs are available for travel within Nagaland.