Kayaking is slowly gaining popularity among the many recreational watersports activities in India, a sport that has a much larger fanbase worldwide. The popularity was previously seen on a linear rise in the Southern part of this country, and the appreciation for this water sport is on a continuous steady rise in the Western half of the country as well.
There has been a significant development, and Pune, a city belonging to the State of Maharashtra in the Western half of India has finally hopped on the trend.
Best Places to go Kayaking near Pune
If you are wondering where to go Kayaking in Pune or how to plan, here's where.
Where to go Kayaking near Pune?
Ambegaon Jambhulwadi Lake
This thrilling location is just outside the city of Pune. It is approachable and provides many chances for you and your friends to go kayaking. There is also enough water in the Ambegaon Jambhulwadi lake to allow boaters to cool off even during the hottest summer days. Additionally, it is only one hour from Pune and 2.5 hours from Mumbai.
Distance from Pune: 11.3 km
How To Visit: The Best way to reach Ambegaon Lake is by bus as the location is just outside the city with frequent buses running from and to the destination.
Nearest Bus Stand: Lipane Wasti and Bus Line 290
Kolad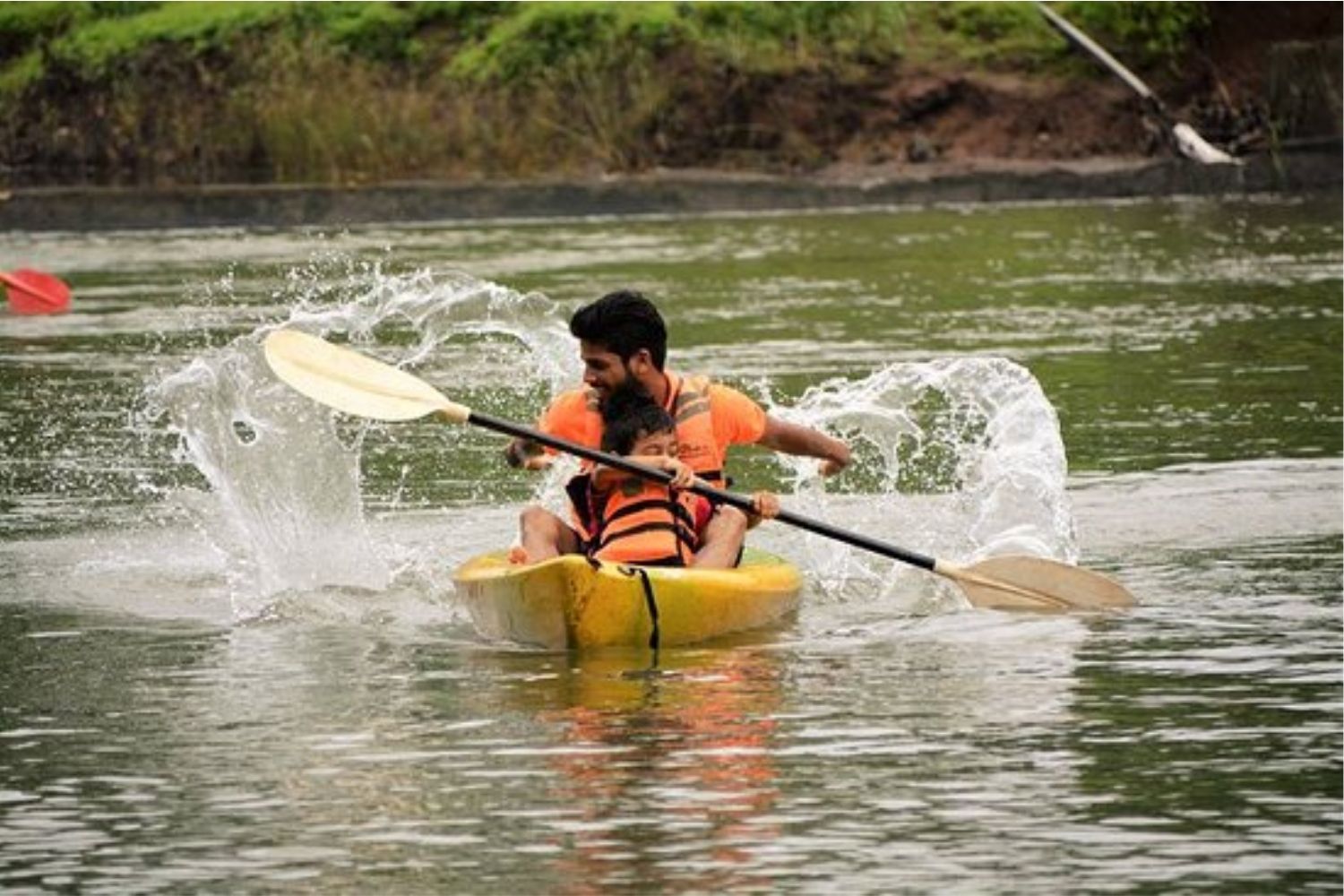 Activities like kayaking in Kolad are definitely worth a try. The Kundalika River serves as the venue for all activities, and you can purchase cheap packages that include a variety of adventurous sports including river rafting, kayaking, and river crossing for a low cost. The location's proximity to the city—just three hours—is the icing on the cake, favorable for a one-day trip.
Distance from Pune: 113.0 km
How To Visit: The fastest way to reach Pune to Kolad is by road, you can take a cab to Kolad which takes 3h 10m to reach. By train, the nearest railway junction is Kalyan from where you can take a cab.
Nearest Bus Stand: Mangaon Bus Stand
Shivsagar Lake, Mahabaleshwar
Shivsagar, a breathtaking lake, is an absolute paradise for those who love water. Because the area offers more than just water sports such as Kayaking and Canoeing. Huge groups frequently visit the calm lake as it has a lovely hike to Vasota Lake nearby. Don't forget your bathing suits because the water is clean enough to swim in as well.
Distance from Pune: 117.5 km
How To Visit: The best way to get from Pune to Shivsagar Lake without a car is t take a bus or taxi which takes 3h 47m and costs ₹2,400 – ₹3,100 while the fastest is by renting a cab service
Nearest Bus stand: (Bypass) Karad
Mandwa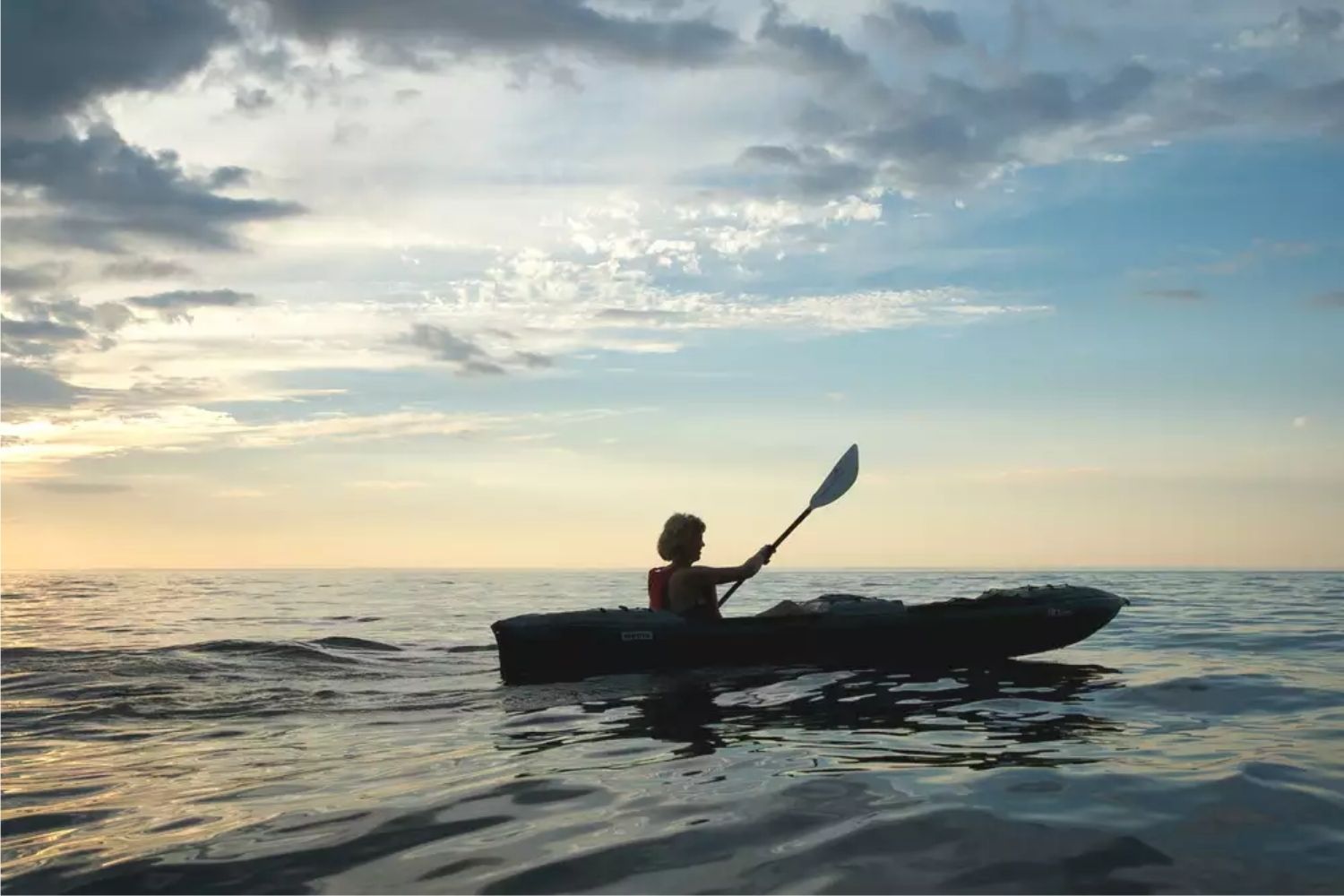 Mandwa is well renowned for its beautiful beaches but it also makes for an excellent place for kayaking too. You shouldn't be afraid to explore the ocean even if you are new to kayaking. The local guides will walk you through the specifics of the sport and show you how to use the safety precautions.
Distance from Pune: 152.5 km
How To Visit: There are 6 ways to get from Pune to Mandwa by train, bus, taxi or car, the nearest train junction is Shivaji Maharaj Terminal from where you can take a taxi which takes you to Mandwa in less than 2 hrs.
Nearest Bus Stand: Mandwa Bus stand
Top Tour Operators for Kayaking in Pune
Thergaon Boat Club
With a Google review of 2.1 thousand and a 4.2/5 rating is the second-best tour provider on the list. This Boat club is located on the Banks of the Pawana River. The Boat club includes amenities for kids as well as adults. There is a kid's play area which consists of a 15 m high watch tower, a toy train, and boating, rafting, and kayaking facilities.
Distance from Pune: 14.6 km
How To Visit: You can reach Thergaon either by train, bus, or private vehicle. The cheapest way however is by bus which takes 1 hr 40 mins to reach
Timings: Sun-Sat (11 am- 7 pm)
Price: Rs 40-100
Nearby places To Visit: Bhakti Shakti, Durgadevi Hill Park, Pimpri Chinchwad Science Centre, Nisargakavi Bahinabai Chaudhary zoo
Lakeshore Watersports
With a google review of 2.4 thousand and a 4.0/5 rating as of now, Lakeshore Watersports is the highly-rated Tour Operator on the list. Located in Lavasa, Lakeshore Watersport is a one-stop destination for all types of watersports, be it Jet Ski, boat ride, Kayaking solo, or as a couple, all within a reasonable price range. At Lavasa, there are ample eating and lodging options.
Distance from Pune: 60 km
How To Visit: The closest Railway Station is Pune, By air the closest Airport is Mumbai and via road, both Pune and Mumbai are well connected to Lavasa
Timings: Sat-Sun (9 am to 5 pm)
Price: Unavailable
Nearby places To Visit: Lakeside Promenade, The Karvi Spa, Temghar Dam, Varasgaon Dam
Big Red Tent

Kayaking and white water rafting are popular outdoor recreation activities in Kolad. But here at BRT, they have more to offer at their campground. One of the advantages of BRT Kolad is the opportunity to pitch a tent along the river. This location is great for adventure seekers, families with children camping, group camping, and friends because it is tucked away in the forest and close to the Kundalika River. If you're seeking for camping in Kolad, this is where you should go.
Distance from Pune: 151.2 km
How To Visit: From Pune, you can take the Chandni Chowk approach SH 60 (Pune Murud Highway) to reach the destination.
Timings: 4 am to 11 pm
Price: Rs 1200-1500
Nearby Places To Visit: Bhira Dam, Kundalika River, Kolad Museum, Avchitgad Fort, Sukeli Waterfalls
That concludes our list of the Best Kayaking spots in Pune, Maharashtra. People residing near Pune can partake in this recreational activity of Kayaking over the weekends. Happy Exploring!
FAQs (Frequently Asked Questions)
What to wear while Kayaking?
Quick-Drying Fabrics, Tough but Comfortable while we are at it. Dressing in layers, especially on top is important. Other precautions include SPF, Footwear, Gloves, hats, and Sunglasses.
What is the difficulty level of Kayaking?
For even a beginner, kayaking is rather simple. A paddling technique, getting into and out of the boat, and launching the boat are all you really need to get going.
What is the price of the Best Kayak Online?
Inflatable Cruising Kayak 2 or 3 Seater Orange. ₹ 35,999. MRP
Is Kolad worth visiting?
Kolad is home to a variety of tourist attractions and welcomes all different kinds of tourists. The Kundalika River, the center of white water rafting in the area, is among the top tourist attractions in Kolad City. You can also go to the tranquil Tamhini Ghat and take in the lovely views of the hills nearby.