Bangalore, also known as Bengaluru is nicknamed the Garden City of India. It is worth batting an eye why the city that is called the Silicon Valley of India is also simultaneously known as the Garden city of India.
The reason is the many gardens embellished all over the city, accompanied by the pleasant weather of Bangalore with the proper combination of heat and rain make for an ideal environment.
Try Out These Spots For Kayaking Near Bangalore
Kayaking is a perfect sport for this tech-savvy but nature-embracing city. Perfect recreational activity in a world of innovation. In this list, we have briefly summarized the many kayaking spots as well as accommodations that extend Kayaking services to its visitors.
Where To Kayak near Bangalore?
Averahalli Lake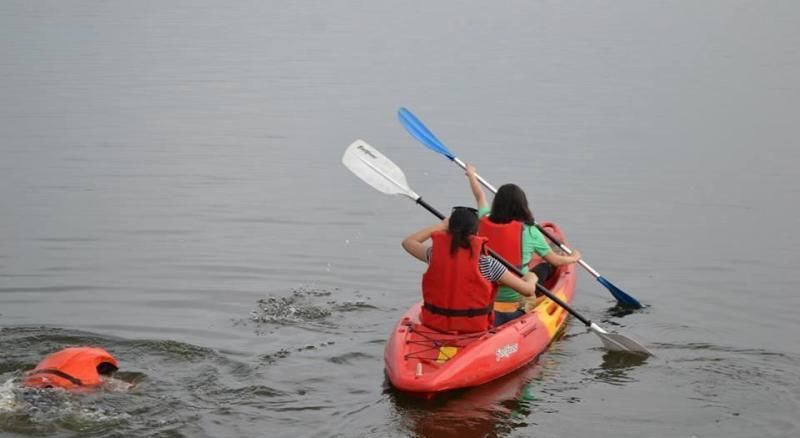 Just within a distance of 50 km from the city of Bangalore, you'll find a perfect spot for Kayaking. Paddle a kayak through the Averahalli Lake and ease your mind by letting yourself be immersed in the astounding presence of nature.
Distance from Bangalore: 1 hr 45 min (47.3 km) via Mysore Rd
The Cauvery River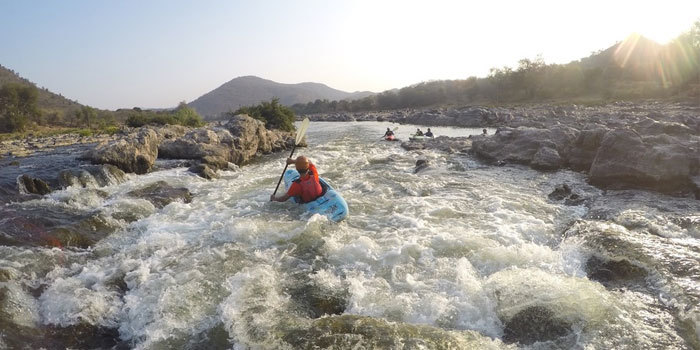 The Cauvery River, a stunning river in India, originates from the Talakaveri in the Brahmagiri range in the Western Ghats and flows through the states of Karnataka and Tamil Nadu offers a thrilling experience to those who like to indulge in awe-striking water sports such as Kayaking.
Distance from Bangalore: 2 hr 59 min (104.5 km) via NH948
Hosadoddi Lake
The Hosadoddi Lake is surrounded by the thick Bananthimari Forest makes for a great place to explore the natural flora as well as Kayaking. The forest inhabited by thin wildlife adds to the beauty stands the huge single rock formation. If you are Nature Lover and Adventure Seeker then you chose the right place as here you can get a blend of wildlife and adventure side by side.
Distance from Bangalore: Bangalore lies at a distance of 50 km
Resorts/Camps With Kayaking Facilities In Bangalore
Area 83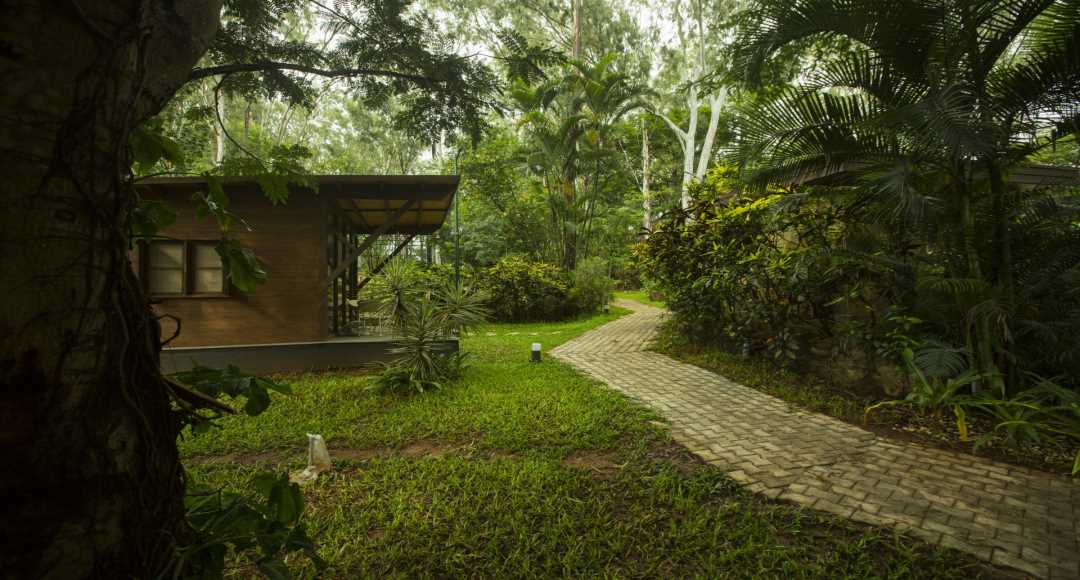 At area83, the essence of the countryside mixed with a hint of luxury will surely leave with feeling relaxed. With a selection of numerous fun activities including kayaking to bid your stress away Area83 makes for a thrilling but comfortable getaway with kith and kin.
Distance from Bangalore: 1 hr 40 min (42.8 km) via Magadi Main Rd and Mysore Rd
Average Price: ₹ 7000/day/person/room
How to reach: You can reach Area83 by Bus. The closest bus stations to Area83 are: Muneshwara Temple is 1142 meters away, 16 min walk; Shanubhogana Halli is 2165 meters away, 29 min walk and Shanubhoganahalli is 2175 meters away, 29 min walk.
Nearby places to visit: You can visit the Indian Music Experience Museum which is at a distance of 6.7 km of from the resort, other nearby places include Bannerghatta National Park and Dwadasha Jyotirlinga at a distance of 8.4 km and 9.7 km respectively.
Mango Mist Resorts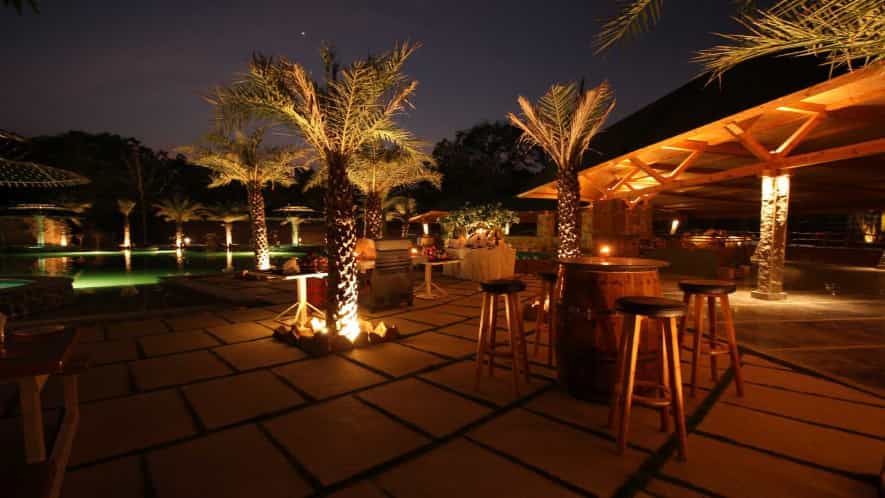 Mango mist Resorts is a perfect spot for a group of two, for a family of four, and even for an off-site corporate outing with special discounts depending on the number of groups. Built on 10 areas of mango groves, it gives way to a variety of outdoor sports and the large lake present within the abode serves as a gateway to a few more activities, especially Kayaking.
Distance from Bangalore: 54 min (19.0 km) via Bannerghatta Main
Average Price:₹ 2550/Day/Adult (9 am to 10 pm)
How to reach: You can first take a Bus from Majestic- Bannerghatta circle and from Bannerghatta-Harapanahalli, you Can travel by a Rickshaw or a local Bmtc to reach the resort.
Nearby places to visit: At a distance of 9 km from the resort you can locate the Bannerghatta Zoo and at 19 km you can find yourself in the natural presence of Thottikallu waterfall.
Wild Valley Adventure Retreat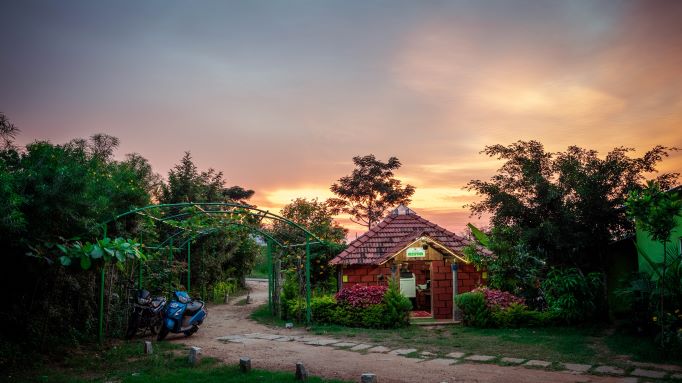 Will Valley Adventure Retreat is an exclusive adventure-focused resort in the Southern part of Bangalore. For an exciting day out you can choose from a catalog of exhilarating outdoor sports which includes Kayaking, Zipline, Rappelling, Russian ladder, and many more. To end the day on a perfect note, the resort also provides a DJ and a bonfire to its parting guests.
Distance from Bangalore: 1 hr 25 min (37.6 km) via NH948
Average Price:₹ 924/Day/Person (09:00 AM to 06:00 PM)
How to reach: The nearest airport is Kempegowda International Airport, 54 km. You can easily reach it either by using the public or private transport. You can in fact also take a train from the main city of Bangalore, it will be a 1 hour and 44 minutes journey from there to the resort.
Nearby places to visit: Wild Valley Adventure Retreat is situated within 16 km of ISKCON Hare Krishna Temple and 22 km of Bull Temple. Forum Mall is 23 km from Wild Valley Adventure Retreat, while Kanteerava Indoor Stadium is 25 km from the property.
Urban Valley
Urban Valley provides a thrilling selection of aquatic adventure sports. The resort provides peaceful lodging together with fun activities that include both adventure and relaxation pursuits, including Kayaking.
Distance from Bangalore: 1 hr 5 min (26.8 km) via NICE Bangalore Mysore Expressway
Average Price:₹ 1,575/Day/Person (7-9 hours)
How to reach: You can either take the bus or take the metro green line. The Closest Bus stations to Urban Valley Resort are in Bengaluru which are the Vaderahalli and Vaddarapalya bus stations at a distance of 4 min walk each and the nearest Metro station is Silk Institute which is at a distance of 49 min walk.
Nearby places to visit: Within 6 miles of Urban Valley you have the Bull Temple, Cubbon Park, Bangalore Palace, Shivoham Shiva Temple, Lalbagh Botanical Garden, Tipu Sultan's Summer Palace, Vidhana Soudha, ISKCON Temple Bangalore, and St. Mary's Basilica, Infant Jesus Shrine.
Bheemeshwari Adventure And Nature Camp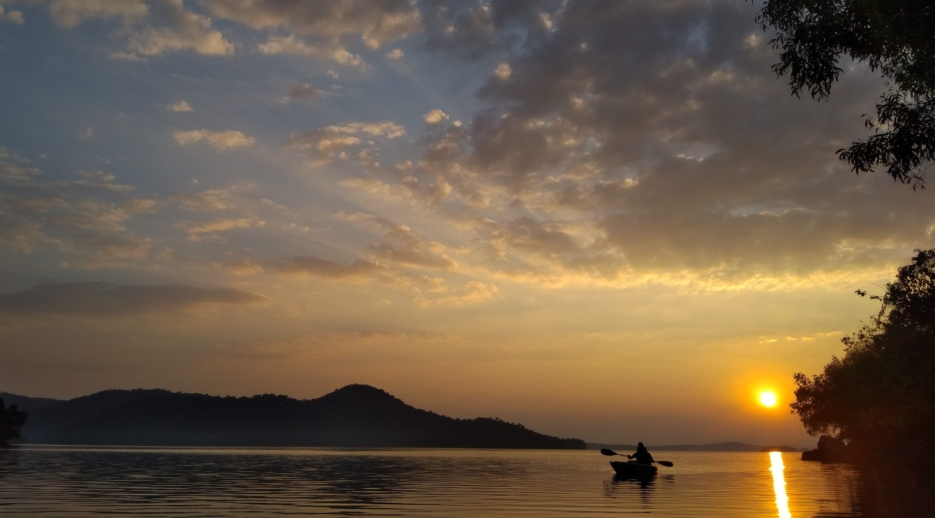 Bheemeshwari Adventure and Nature Camp is a kid and family-friendly accommodation. The Resort offers its guest many amenities and Kayaking is one of them. Canoeing on the tranquil Kali River will leave your soul rejuvenated from the clutter of daily life.
Distance from Bangalore: The camp is about 105 kilometers from Bangalore.
Average Price:₹ 2200/Person
How to reach: You can reach Bheemeshwari Adventure and Nature Camp by road as it takes about 2.5 hours to get there. KSRTC buses from all major cities in Karnataka as well as private buses to Bheemeshwari are always available. If you don't want to travel via bus or taxi, the connected roads make for an excellent road trip.
Nearby places to visit: You can visit the Cauvery Fishing Camp near the stay.
Nature Adventure Camp, Kanakapura
Situated aside from the beautiful lake Hosadoddi, Nature Adventure Camp is equipped with a plethora of fun activities, suiting the likes of veteran adventure seekers as well as novices. Kayaking along with Zipline landing is the most sort after water sport on this camp.
Distance from Bangalore: The camp is about 67.7 km from Bangalore.
Average Price:₹ 1500/Person
How to reach: Approximately 60 kilometers separate Nature Adventure Camp Kanakpura from Bangalore, while 95 kilometers separate it from Kempegowda International Airport. From Mysore Road, Alur Venkata Rao Road, and Mysore Road, you can go via the NICE Bangalore Mysore Expressway. After this, to get to the camp, take the Kanakpura Road. On this road, taxis are widely accessible, or you can drive yourself.
Nearby places to visit: You can visit nearby attractions like Kabbaladurga, Mekedatu, Chunchi Falls, Kanakapura Park, and Bilikal Rangaswamy Betta.
Where To Kayak In Mangalore?
Shambhavi River
Water sports enthusiasts from all over the world visit the river Shambhavi to participate. River Shambhavi, which has a length of 60 km and flows from Karnataka's east to west, passes via the well-known waterfall Parpaddi. Before finally combining with the Nandini River and spilling out to the Arabian Sea, the river passes through a number of villages. Imagine Kayaking on this magnificent stretch of water.
Distance from Mangalore: 40 min (27.0 km) via NH 66
Mantra Beach
Among all the beaches in South India, Mantra Beach is thought to be among the cleanest and pristine. Situated away from the city's flashing lights in the region between the towns of Udupi and Mangalore, Mantra Beach is a must-visit spot if you're looking for a tranquil beach to go light kayaking.
Distance from Mangalore: 41 min (27.0 km) via NH 66
Tannirbhavi Beach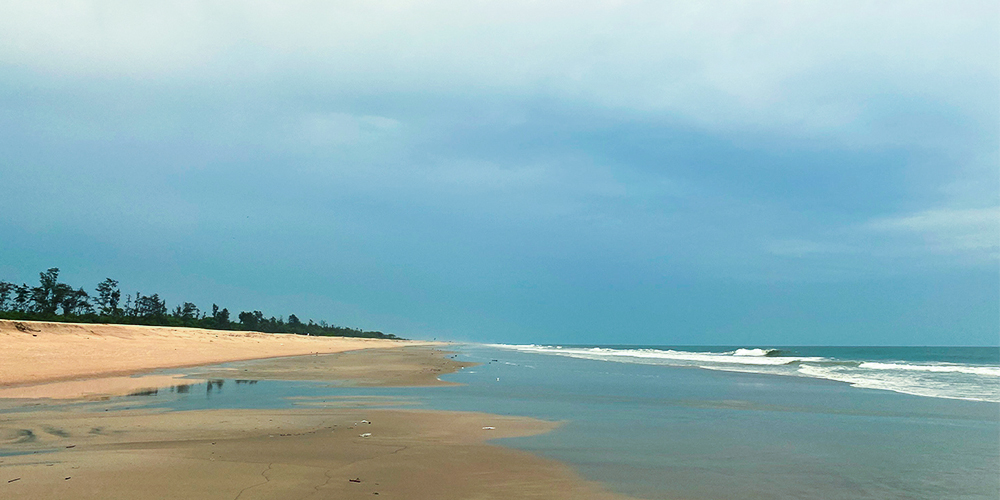 TannirBhavi Beach, which is the closest beach to Mangalore, provides guests with a variety of watersports to try out, including kayaking, jet skiing, and sailing. With the sun setting over the horizon, it's the ideal location for kayaking and a relaxing beach picnic.
Distance from Mangalore: 20 min (10.2 km) via Kuloor – Kavoor Rd and Tannir Bavi Beach Rd
Camps/Homestay With Kayaking Facilities In Mangalore
Mulki Sports & Adventure School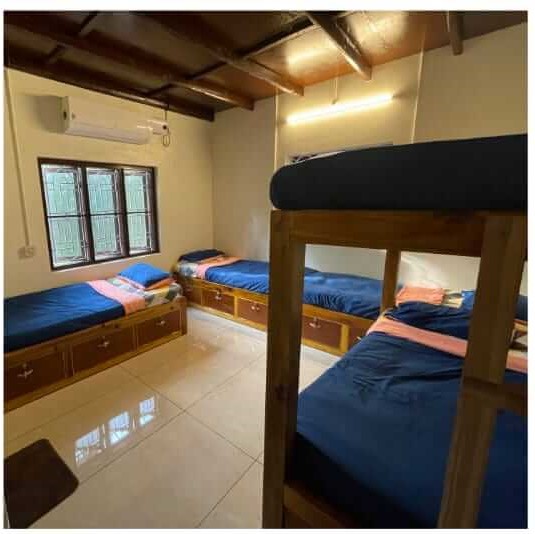 Mulki Sports & Adventure School Pvt Ltd is a tour operator in Mulki, a town located at Mangalore on the banks of Shambhavi River along with kayaking, surfing, and wake surfing trips also organizes camping and homestays, and facilities include ac dorms for their visitor's utmost convenience.
Distance from Bangalore: The camp is about 28.1 km from Mangalore.
Average Price:₹ 1800/Day/Person (3:00PM to 9:00AM)
How to reach: Take an express bus from Mangalore and get off at Mulki. Get an auto from the kolchi kambala end or direct them to the kayaking location; most auto drivers are familiar with the area. ten minutes from Mulki. Those traveling from Bengaluru can reserve a bus directly to Mulki.
Nearby places to visit: Mulki is a hidden gem and Kayaking is the major attraction of this scenic placid town, next in the line of attraction are Kapu beach and lighthouse · Malpe Beach, Sea Walk & St Mary's island · Padubidri beach & Blue Flag, Hejamadi Delta, Udupi & Manipal, Kemmannu & Kodi Bengre and Kateel Durgaparameshwari temple.
Mantra Surf Club
The remote camping experience on the beach is an of its kind experience provided by the Mantra Surf Club. Away from the maddening crowds and sounds alike, at these remote camps, the only noise that will linger in your ears will be the ones coming directly from the Ocean.
Distance from Mangalore: The camp is about 27.0 km from Mangalore.
Average Price:₹ 1600/Person (4:30 P.M to 7:00 AM)
How to reach: The club is about a 40-minute drive from the closest airport in Mangalore. By train: Mulki Railway Station, located approximately 3 kilometers from the surf club, is accessible by trains from Mumbai, Bangalore, Kochi, and Goa. State buses travel frequently between Mangalore and Mulki, and a local taxi should only cost you around 500 rupees.
Nearby places to visit: Mulki is a kayaking hub of Mangalore and it is no accident that Mantra Camp Surf is situated in Mulki, nearby places include Kapu beach and lighthouse · Malpe Beach, Sea Walk & St Mary's island · Padubidri beach & Blue Flag, Hejamadi Delta, Udupi & Manipal, Kemmannu & Kodi Bengre and Kateel Durgaparameshwari temple.
Bonus: What Is Mangrove Kayaking?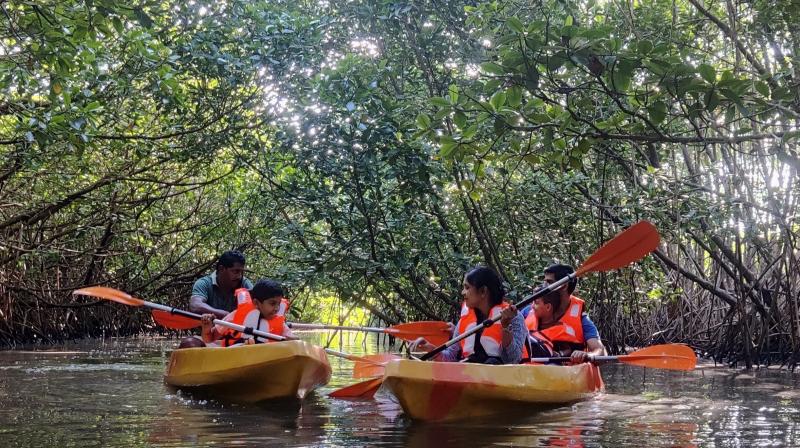 Large mangrove forests cover much of every area of Udupi. A new type of water sport has been gaining interest with the tourists visiting Udupi and that is Mangrove Kayaking.
Started by two people Mithun Kodi and Lokesh, together they came up with the idea of Mangrove Kayaking on the backwaters of Seethanadi in Saligrama village, and within a few days, it created a buzz on the social network such as Facebook with people contacting them nonstop enquiring about the fun water sport. 
Was this list convincing enough to convince you to try your hand at Kayaking? Kayaking has a slowly growing community in India but in the southern metropolis of Bangalore it is not the case, especially on the weekend when people need some much-needed break from communal life or need an adventurous weekend plan, Kayaking is more likely to be chosen over other water activities due to its ease of difficulty.
You may also like Best Kayaking spots in Pune.
FAQs (Frequently Asked Questions)
Is kayaking legal in India?
Aside from professional flat water kayaking, there is very limited recreational kayaking. Historically, Indian tourists considered kayaking a one-time activity and not a competitive sport. Long-distance flat water kayaking can be done in Mulki, India.
What is the use of a kayak?
Both canoeing and kayaking involve paddling a small craft through the water. They are low-impact activities that can improve your aerobic fitness, strength, and flexibility.
What to Wear When Kayaking
While in the water, a personal flotation device (PFD) should always be worn and should never be removed. Wear clothing that will keep you warm in the water rather than in the cold air; this may require a wetsuit or dry suit. Layer your clothing, especially the top. Wear sun-protection cream or gel.
Is kayaking hard for beginners?
Kayaking is not as hard as it seems, with a handful of techniques and tricks it will come easy. Beginners only need a few basic skills to paddle effectively.
Can kayaks tip over easily?
To generalize, kayaks are safe and don't just tip over on their own. Usually, when someone experiences this, it is because of a lack of experience or external factors.