Embark on an exciting and exhilarating journey exploring these Jungle resorts in Jharkhand. What makes a Jungle resort different from any other resort is that Jungle Resort takes care not only of your accommodation but it also takes charge of your entertainment as well.
In Jharkhand, there are a few resorts that offer such inclusive offers. Here are a few Jungle Resort in Jharkhand that fulfill all the above criteria.
Jungle Resorts in Jharkhand
Jungle Resorts Near Ranchi
Dari Village Resort
Dari Village Resort is an exciting forest resort near Ranchi and is one of the best jungle resort in Jharkhand. The list of activities at this resort seems endless. You can spend your day Basket weaving with the artisans or learn Pottery as you've always wanted to, go for a jungle safari, and even try your hand at Air Gun Shooting. 
You can even partake in the local folk dance of Jharkhand and experience the intermingling of the various indigenous tribes. It is a dream destination for a forest walk, you get to experience the luscious forest full of blooming flora and fauna and see the serene Karo River.
Do pay a visit to the beautiful and exciting Jungle Resort of Dari Village. 
Dari Village Resort Distance from Ranchi: 55.8 km
Nearby Places To Visit: Gaghgari Fall, Karo River, Sai Mandir
Prices: on per night basis


| | | | |
| --- | --- | --- | --- |
| Heritage Room | Delux Room | Heritage Cottage | Day Picnic |
| From ₹ 10000 | From ₹ 3000 | From ₹ 14000 | ₹ 5000 |

Website: https://dariecotourism.com
Naturehat Resort
Naturehat or Netarhat Forest Resort is a resort located in the majestic hill station Netarhat. It is one of the best jungle resorts in Jharkhand near Ranchi where times go to a standstill. At Naturehat Resort you get to choose to sleep like campers. Camping is indisputably an exciting way to experience nature, the thrill that one gets from camping is indescribable.
You can even select from a number of activities available at the resort from Jeep safari to Pine tree trekking and end your evening with an exciting barbeque by the bonfire.
Netarhat Forest Resort Distance from Ranchi: 150.7 km
Nearby Places To Visit: Betla National Park, Netarhat Dam, Magnolia Point
Jungle Resorts Near Jamshedpur
Dalmanchal-Our Khet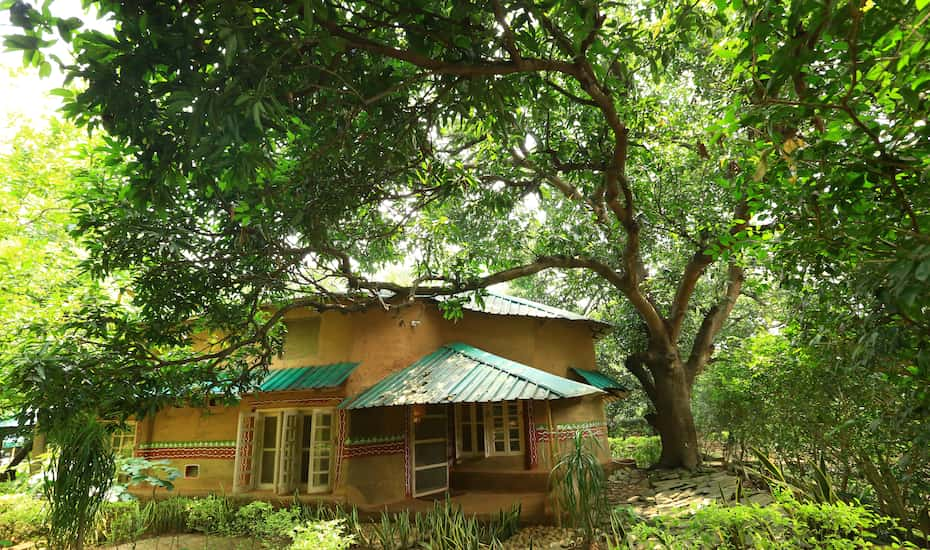 Dalmanchal is one of the best forest resorts near Jamshedpur. Why? Firstly, It is ideally located at the feet of the Dalma Hills, not so far from the majestic sight of the Dalma Wildlife Sanctuary. Since it is situated not so far from the Dalma Wildlife Sanctuary it is also one of the few jungle safari resorts near Jamshedpur.
You can experience the rustic life here at Dalmanchal amidst the sound nature and choose from a variety of accommodations including mud houses, tents, and even premium farm rooms.
Dalmanchal Distance From Jamshedpur: 10.9 km
Nearby Places To Visit: Dalma Wildlife Sanctuary, Dalma Hills, Dalma Lake, Dalma Trekking point
Prices: for one night (without breakfast option)

| | | | | |
| --- | --- | --- | --- | --- |
| Mud Huts | Farm Room | Premium Farm Room | Superior Farm Room | Tents |
| ₹ 6,720.00 | ₹ 4480 | ₹ 5600 | ₹ 6160 | ₹ 2,240.00- 3,360 |

Website: https://dalmanchal.com
Dalma Hill Hotel
As the name suggests, this hotel is surrounded by Dalma Hills. It makes for a perfect weekend destination for people traveling from the neighboring cities of Ranchi, Kolkata, and Durgapur.
If you wish to be awakened by the enchanting view of the Dalma Hills and of the Dalma Lake from your window pane, you should check in to Dalma Hill Hotel, a hill-view resort near Jamshedpur that guarantees just that.
Dalma Hill Hotel Distance from Jamshedpur: 35.0 km
Nearby Places To Visit: Dalma Wildlife Sanctuary, Shiv temple
Prices: ₹ 3,360 Per day per room (Including Breakfast and All Taxes)
Jungle Resorts Near Dhanbad
Eco Adventure Resorts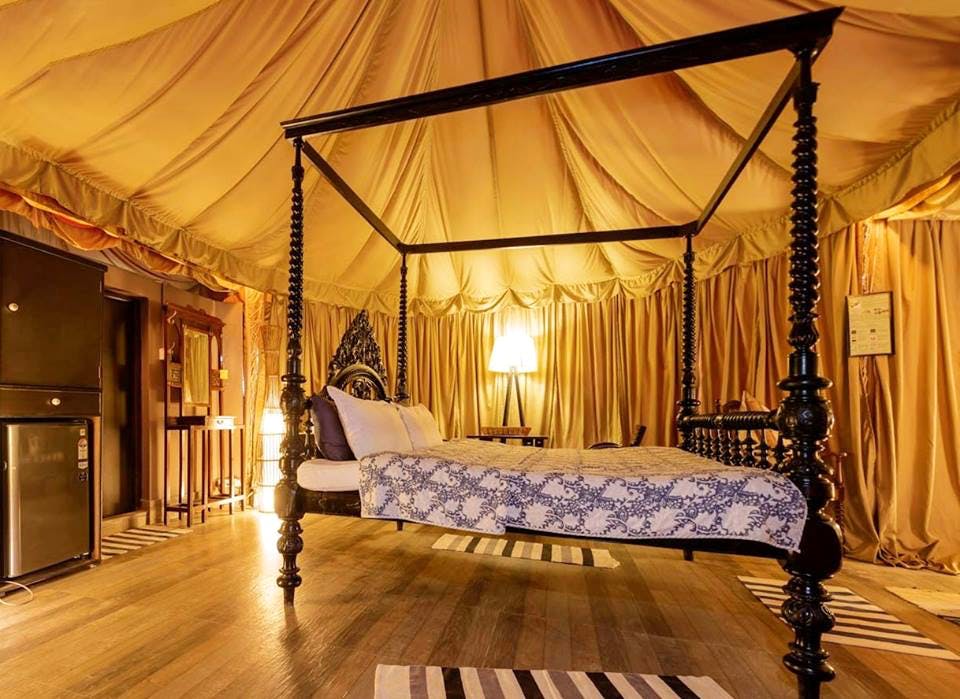 Eco Adventure Resort is a recognized resort by the Ministry of Tourism, Govt. of India. It is located in Khairabera Purulia only at a distance of approximately 125 km from the Coal City, Dhanbad. Accommodations include tents and cottages with fascinating interiors and exteriors.
The Tents at the resort are like no other, there is a kind of Arabian night charm to these tents and you can choose from three options for a tent going from Standard, Superior to Deluxe.
This resort has an impressive list of activities and site-seeing options too from Mountain Biking and trekking to Kayaking. Eco Adventure Resort is looking like a must-visit jungle resort near Dhanbad.
Eco Adventure Resort Distance from Dhanbad: 124.6 km
Nearby Places To Visit: Ayodhya Hills, Deulghata & Muruguma, Chandil Dam, Turga Falls, Bamni Falls
Prices: For one night


| | | |
| --- | --- | --- |
| Standard Tent | Superior Tent | Deluxe Tent |
| ₹ 7,500 | ₹ 8000 | ₹ 9,500 |
Jungle Resorts Near Ghatshila
Muktadhara Nature Resort
Muktadhara Nature Resort claims to leave a deep unforgettable bond with its visitors and as an Eco Resort near Ghatshila, it is highly aware of its social responsibility towards nature and takes active steps toward environmental sustainability.
The resort is a little nature paradise with luscious evergreen trees surrounding the resort from where you can hear the tantalizing sound coming from the nearby Kharasroti river. The harmony between nature and humans can be felt at the eco stay of Muktadhara Nature Resort.
Muktadhara Nature Resort Distance from Ghatshila: 7.2 km
Nearby Places To Visit: Burudih Dam, Dharagiri Falls, Bhibhuti Bhushan Bandyopadhyay house
Prices: For European Plan House, rooms start at ₹ 2000 and go up to ₹ 4000 depending on the view
Website: https://muktadhara.in/
This concludes the short article on Jungle Resort in Jharkhand. There aren't many but the ones that do offer their service make sure that their guests have a delightful time at their resort.
Do choose to stay at one of these Jungle resorts in Jharkhand for an exciting experience. Happy traveling! and exploring! You may also like 12 Wonderful Waterfalls In Jharkhand
FAQs (Frequently Asked Questions)
How many tigers are left in Jharkhand?
The Palamau Tiger Reserve is one of the nine original tiger reserves in Jharkhand, India, and the only one in this state, It forms part of Betla National Park and Palamau Wildlife Sanctuary.
Are elephants found in Jharkhand?
Yes, at Dalma Wildlife Sanctuary, Elephants are frequently spotted. This wildlife sanctuary is located 10 km from the city of Jamshedpur in the state of Jharkhand and was inaugurated in 1975.
Which animals are mostly found in Jharkhand?
Animals usually seen in Jharkhand include Tiger, Leopard, Sloth Bear, Sambhar, Cheetal, Barking Deer, Nilgai, Wild Boar, Giant Squirrel, Jackal, Fox, Hyaena, Langur, Porcupine.
Which is the most beautiful city in Jharkhand?
Ranchi is considered to be the most vibrant city in Jharkhand, it is also a beautiful city where many cultures and tribes intermingle. Ranchi is one of the best places to visit in Jharkhand which offers you the divine view of some of the best waterfalls in India. It is the capital of Jharkhand and is known as 'the City of Waterfalls.
Which is the biggest forest in Jharkhand?
Saranda is the largest forest in Jharkhand and it is also Asia's largest Sal Forest. This area is widely unexplored because of its huge land area but it is where nature rules supreme. It is the home of the endangered flying lizard.
What are some good jungle resort in Jharkhand?
Following are some good jungle resort in Jharkhand:
1. Dari Village Resort
2. Naturehat Resort
3. Dalmanchal-Our Khet
4. Dalma Hill Hotel
5. Eco Adventure Resorts
6. Muktadhara Nature Resort