IRCTC Account Login Registration online
Indian Railway Catering and Tourism Corporation Limited, better known as IRCTC is the most popular platform for booking and canceling reservations in trains, hotels, buses,& flight tickets for traveling within the country. You can create an IRCTC account absolutely free.
If you are a new user, register yourself first before proceeding with bookings. You don't have to pay any registration fee, as new user registration in IRCTC is free of cost.
To Sign-Up or Register on IRCTC, follow these simple steps:
Simply put in your valid Phone Number and working Email ID and you're all set for creating an account. Here is the process for IRCTC new account opening:
Go to the IRCTC website and click on the Register beside the log-in option at the top left side of the home page to open the IRCTC registration form for new users.
Create Your Account dialogue box will open
As you can see, 3 separate sections of information will appear as below
Step 1
Step 2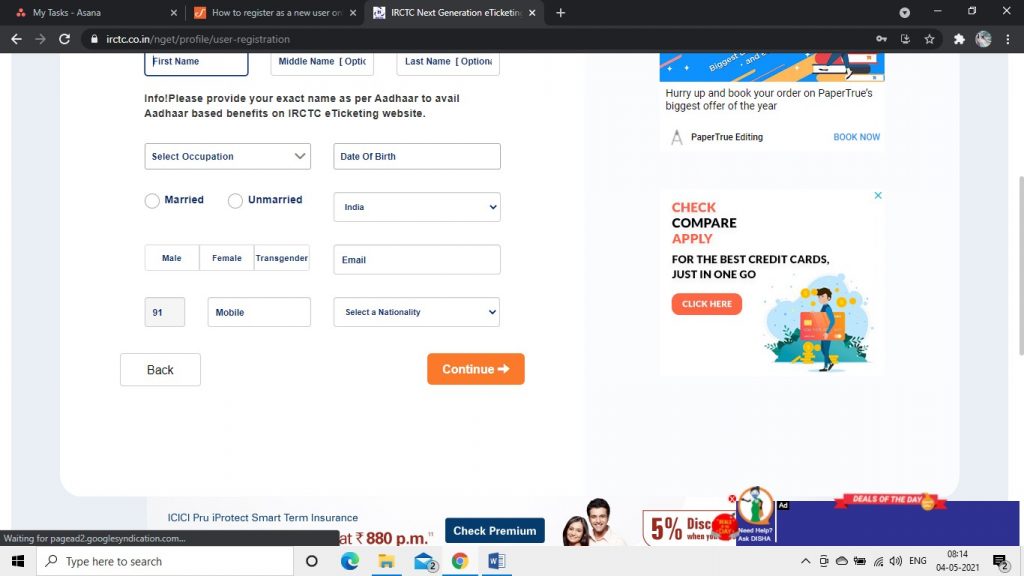 Step 3
Lets check these sections in detail
Basic Details:

The first one asks for your Basic Details

A unique Username
Password – something you can remember
Preferred language. The user will have to choose between English and Hindi.

Not only that, but you also need to answer a security question. It will help you to access your account at times when you have misplaced or forgotten the password.
Keep it confidential.

Personal Details:

After you complete filling up the basic details for registration in irctc, click on continue and move to the next section which asks for Personal Details.
Here, you need to input the following information:

Name
Occupation
Date of birth
Marital status
Gender
Valid Email ID
Mobile number
Nationality

Address:

Click on continue and move to the final section Address. This is the last step for your registration in IRCTC.
There are different boxes where you have to enter the details of your permanent address. Select the correct city and post office as well.
There is also another option that asks whether the residential address can be copied to the office address. If you select no, an additional section will pop up where you can fill out your office address.
Click on the captcha and agree to the terms and conditions to finish IRCTC account login registration online.
After you click on register, a dialogue box will appear asking you to confirm your Email ID and phone number.
Click OK if everything is correct.
Your registration with IRCTC is complete now. As we can see, the IRCTC sign-up process is quite easy and doesn't take much time.
Remember to note down your IRCTC login ID and password to access your account.
Ensure that the information you provide during IRCTC account login registration such as name, DOB, and nationality matches that of the information given on the Adhaar Card.
Move to the next step which is IRCTC account login to start booking railway tickets.
How to Log In to Your IRCTC Account?
On the home page, click on the IRCTC next generation login option on the top left side..
Enter the correct credentials i.e. the user ID and password that you used during IRCTC login registration online.
You also need to enter the correct captcha for verification.
Additionally, you can also log in and make bookings with an OTP. However, users who have a visual disability can only use this option. IRCTC also ensures that the misuse of this option gets treated effectively. For instance, it can lead to the temporary suspension of the account. Apart from that, IRCTC can also deactivate your account under such circumstances.
Important information regarding IRCTC Profile
IRCTC Phone Number change process
Log in to your account and you will get an IRCTC account login registration mobile number change.
The user needs to choose the option "update profile" that is available in the User profile section.
You can see the registered phone number by now. Put in the new phone number in the specific section.
IRCTC will be sent an OTP to the new number that you are trying to register with.
Put in the code and click on submit to finish the process.
You will also get a confirmation message that your new phone number has been updated in the database of IRCTC.
IRCTC Password change process
You may also require to change your password or reset it. Follow these steps to do so.
When you try to sign in to the account, click on the forgot password option in IRCTC Login form. The following page will appear

Put in your user ID so that IRCTC can find your account, along with the DOB, and enter the correct captcha for verification.
In the next password recovery page, enter the required mobile number that is linked with the IRCTC account.
An OTP will be sent to your phone automatically.
Enter the information and you will be directed to a page where you need to put in your new password twice.
After that, complete verification by putting in the right captcha and hit submit.
The process is complete. In fact, you can also use your Email ID to set a new password.
Other features on IRCTC website:
PNR Status: On the home page, you can enquire about the PNR status or live status of trains.
Seat Availability: In the same section, users can also check out the train charts and get to know about possible vacancies.
ChatBot: If you face any problems, there is always the CaaS or ChatBot as a Service option where your query will be dealt with.
Tatkal Tickets: IRCTC is also used to book tatkal tickets.
For a better experience, consider linking your Aadhaar to your IRCTC account.
FAQs
How can I log in IRCTC?
Go to the home page of the IRCTC website and put in your correct credentials: user ID and password. Click on Sign-In. Additionally, you can also reset your password in case you have lost it.
How can I get IRCTC user ID?
If you have forgotten your user ID, click on forgot user ID and you will be redirected to a new page. Enter your registered email ID or mobile number. Put in your birth date as it is on IRCTC and request for a new user ID. You will receive it via Email.
Can I book train ticket without IRCTC account?
If you want to book tickets without an IRCTC account, the only way is to use other reputed E-commerce platforms which offer similar services.
How can I change mobile number in registered IRCTC login?
Simply log in to your account and click on the update profile option. Put in the new phone number and enter the OTP sent instantly. Your phone number will be changed in the IRCTC account instantly.