Choosing the best luggage brand in India is just as essential as picking the right clothes for your journey. Good luggage keeps your belongings safe and organized. Many people in India are seeking strong and trustworthy luggage brands.
People want their luggage to last long, be easy to use, and look good too. That's why the demand for good luggage brands in our country is going up. In this article, we are going to show you the top 10 luggage brands in India. Let's find out which ones are the best!
Top 10 Luggage Brands To Choose
Our Top Picks
How to Choose a Travel Luggage Brand in India
When buying the perfect travel luggage, several important things must be considered to ensure you make the right choice. Choosing the right luggage brand is essential for a seamless and enjoyable travel experience.
When selecting a luggage brand, there are several key factors to look at. However, we have selected some important key factors to look at while choosing the best travel luggage brand in India:
Durability
Your luggage should be able to withstand the bumps and knocks of travel. Look for sturdy materials such as polycarbonate, aluminum, or ballistic nylon that can handle rough handling.
Size and Capacity
Choose a size that suits your travel needs. If you take short trips, a duffle bag might be enough. For longer trips, consider a rolling bag. Make sure it has enough space for your belongings.
Weight
Lighter luggage allows you to pack more without exceeding weight limits. Look for lightweight materials without compromising on durability.
Wheels and Handles
Smooth-rolling wheels make navigating airports and streets easier. Multi-directional spinner wheels offer better maneuverability. Also, check for comfortable and adjustable handles.
Compartments
Pockets, dividers, and straps help you keep your items organized and prevent wrinkles or spills. Well-organized luggage makes packing and unpacking hassle-free.
Material and Style
While choosing the best luggage brands in India, it is essential to choose a material that suits your preferences and style. Hard-shell luggage offers better protection, while soft-shell luggage is more flexible. Select a design that stands out for you.
Top 10 Best Luggage Brands In India
American Tourister
American Tourister is a well-known luggage brand with really great travel bags that make your trips super comfy and easy. Back in 1933, two brothers named Sol and Irving Koffler started a company called American Luggage Works in a place called Providence, Rhode Island in the USA.
Later, another company called Astrum International took over American Tourister. They also own another famous luggage brand called Samsonite. So, you've got lots of choices here. No matter what kind of bag you're looking for, this brand has got you covered.
Cool Features Of American Tourister Luggage Bags
These bags are made to keep your stuff safe while you travel.
They can handle a lot of bumps and still stay strong and tough.
You get more room to pack your things.
Its material is tough and doesn't easily scratch or get damaged.
The bags are light so you won't have to carry extra weight.
There is a special lock that keeps your things safe (it's called a TSA lock).
Safari
Safari is a luggage brand that is all about your journey – just like the name says! It is super popular and is the second-biggest seller in the world. This journey started back in 1974 when a company called Bombay Safari Industries India (SIIL) began making bags out of plastic molds.
It became a private company in 1980 and then a big public company in 1986. So, whether you are traveling for work or fun, Safari travel luggage bags are here to help you out.
Cool Things About Safari Luggage Bags
These suitcases are made strong to last a long time.
Safari bags have handles you can pull out and wheels to roll them around easily.
They are designed to be comfy for both short trips and long journeys.
Safari has lots of different bags – trolley bags, suitcases, backpacks, and more.
You get lots of space inside, and the bags are not heavy to carry.
The wheels on Safari bags look different and cool.
Skybags
Skybags is a cool and one of the most popular luggage brands in India. It is a part of VIP Industries (which started back in 1971) and has been super famous worldwide for nearly 50 years.
They make all sorts of great stuff like trolley bags, backpacks, cool bags, travel accessories, and more. No doubt, if you want to show off your style wherever you go, Skybags is a perfect choice.
Cool Things About Skybags
These bags are easy to take care of, and you would not need to do much to keep them nice for a long time.
Skybags make bags with really cool and different designs that help you stand out.
Even though they are good quality, Skybags would not cost you a lot.
You get lots of space to put your things.
Their bags are very light, so you won't have to carry a heavy bag around.
They have a special lock to keep your things safe.
Not So Good Things
Some people might find these bags a bit expensive.
So, if you want bags that look good, are easy to use, and won't break the bank, Skybags is a cool choice to think about.
VIP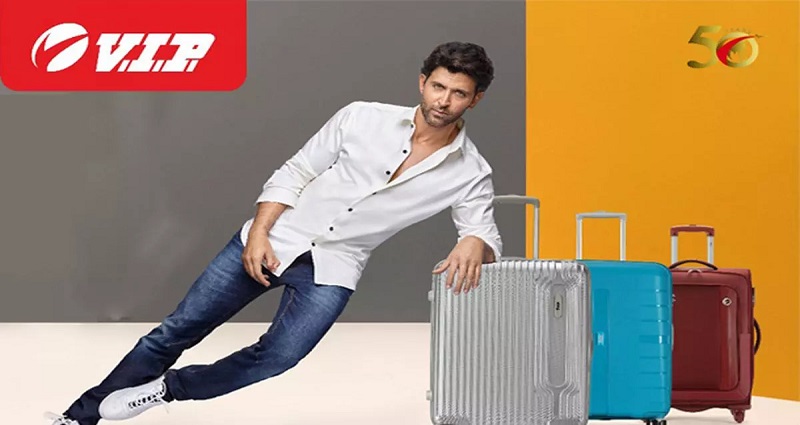 VIP Industries is the biggest luggage brand in India, and they make all sorts of bags for traveling and accessories. Their main office is in Mumbai, India, and they are the second biggest maker in the whole world.
Lots of people like this brand because their stuff is really good and you can find it easily – they have more than 8,000 stores all over India. If you want to travel in style, VIP is the way to go.
Cool Things About VIP Luggage Bags
VIP makes bags with handles you can pull out, wheels to roll them, and comfy straps so you don't get tired.
The bags they make look nice and stylish, so you'll stand out wherever you go.
These bags are tough and strong, and they're great for both short trips and long ones.
You have got lots of room inside to put your stuff.
You can choose from different sizes to find the one that's just right for you.
Wildcraft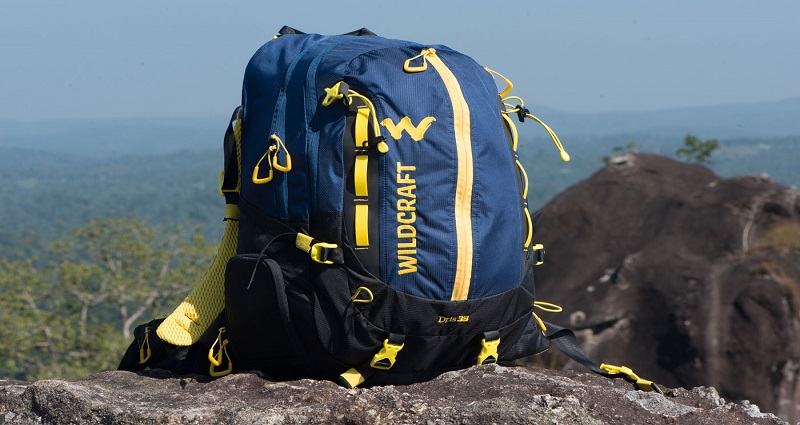 Wildcraft is an Indian luggage brand that is all about clothes and stuff you use, and they are in Bangalore. You can find their things in lots of different shops – more than 4,000 shops in India and also some in other countries. They have their special stores too, more than 200 of them!
They make lots of different bags for traveling and stuff. These bags are not expensive and have good quality. You can use them for your trips, and they will stay awesome for a long time.
Good Things About Wildcraft Luggage Bags
These bags are made from really good stuff that doesn't get ruined, even if you use them a lot and go on long trips.
You can use these bags every day or when you're traveling, depending on how you live. Wildcraft has different kinds of bags for people who like to travel smart, and they don't cost too much.
You can put your things in different parts of the bag to keep them neat.
You can pick from lots of colors. It is easy to find these bags because they are in many shops.
Samsonite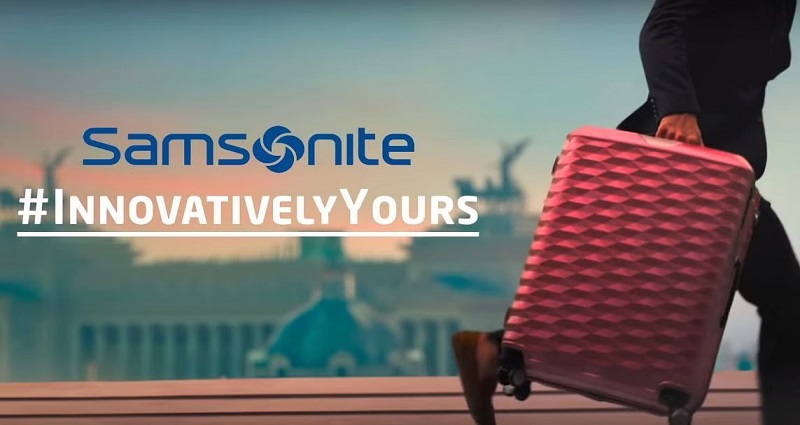 Samsonite is a famous and one of the best luggage brands in India. It was started back in 1910 by a person named Jesse Shwayde. It is a big name in making bags and stuff you use when you travel.
This brand is from the United States, and they make all kinds of things – from big suitcases to small bags for your stuff and even bags for your important papers.
For a long time, they have been making things that help people travel better. They come up with new and cool designs, and their bags are really strong but not heavy, so you can carry them easily.
Cool Things About Samsonite Luggage Bags
Samsonite bags look nice, and you can get them in different sizes and colors to match what you like.
These bags are made in a way that makes them light and easy to carry.
They have got a special lock that makes sure your things stay safe and sound.
If you buy their bags, you get a warranty for 10 years all around the world.
The inside of the bags is made really smart to help you pack your things better.
So, if you want bags that look good, are easy to use, and will stay strong for years, Samsonite Bags are a really good choice.
Aristocrat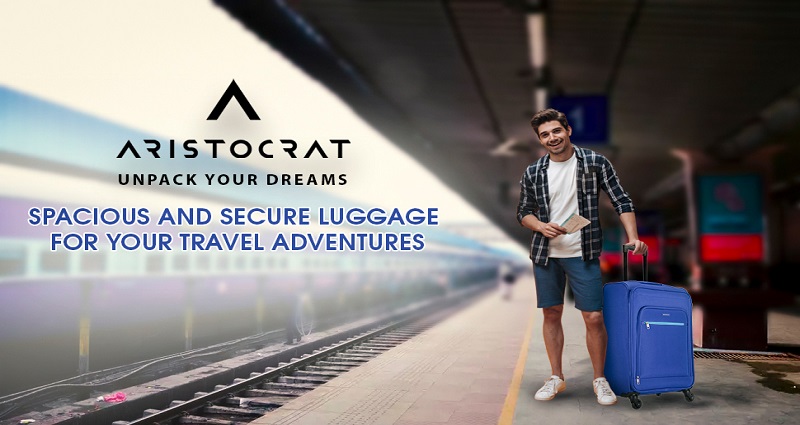 Aristocrat is like a part of VIP Industries, which has been really famous all around the world for almost 50 years. This brand makes lots of really good luggage bags that you can use for traveling. They have many different styles, so you can find the bag you like all in one place.
These bags are not just good-looking; they are also made to work really well and have all the new stuff you need.
Cool Things About Aristocrat Luggage Bags
Aristocrat has a big collection of bags, so everyone can find something they like.
They make sure the bags they make are strong and can do what they are supposed to do.
These bags are made from really good fabric and have locks to keep your goods safe.
They put special guards on the corners of the bags to protect your things.
When you buy their bags, you get a warranty from the maker for 5 years.
Delsey
Delsey is a company from France that makes luggage bags, you need when you travel. Their main office is in a place called Tremblay-en-France, which is near Paris. This brand is really good at making travel bags and things that look super stylish.
The bags they make are strong, not too heavy, and they make sure the bags are really good before they sell them.
Cool Things About Delsey Luggage Bags
Delsey makes lots of stuff for travel – big bags, small bags, hard bags, bags for school, and even more.
If you want bags that feel nice and don't cost too much, Delsey is a great choice.
They care about the Earth, so they make their bags from fabric that is been used before and they are really into protecting the planet.
The bags they make are useful, have lots of space inside, and are not heavy to carry.
You can organize your things well because the space inside is divided evenly.
Not So Good Thing
Their luggage bags are too expensive. However, they provide quality products.
F Gear
F Gear is a top luggage brand in India that's really good at making backpacks for travel. They have their main office in Bangalore. This brand is known for making really strong and tough bags, but they don't cost a lot.
When people talk about F Gear, they say it is like saying words like "strong" and "tough." They make all kinds of bags – some look like leather, and some are good for hiking and exploring.
Cool Things About F Gear Luggage Bags
F Gear makes bags that can handle rain, like backpacks, suitcases, and bags for your things.
Their bags are strong and don't weigh too much, so they're perfect for long trips.
Every bag they make is tested really well to make sure it is strong and lasts a long time.
You get lots of pockets with zippers to keep your things organized and safe.
Amazon Basics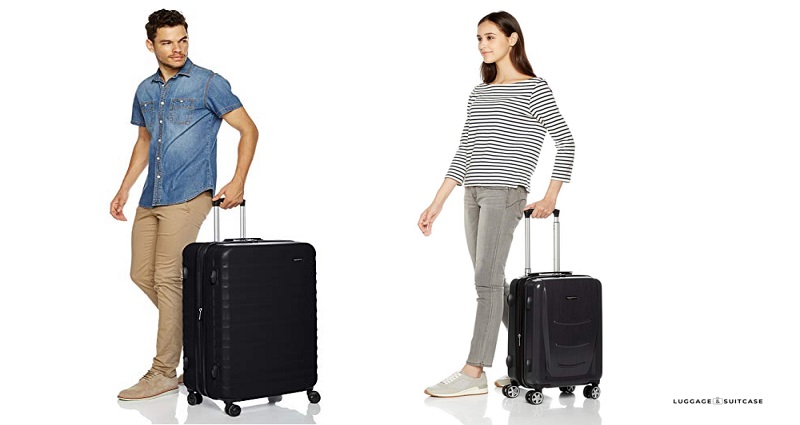 Amazon Basics is a special brand from Amazon, the big online store. They make all kinds of things for your home, office, and travel. This brand is really new, but a lot of people already like it because the stuff they make is really good.
They have lots of luggage bags for traveling, and people trust them for their good quality.
Cool Things About Amazon Basics Luggage Bags
Their luggage bags are big and have lots of pockets to fit more things than you thought.
These bags can fit well even in small spaces because they're flexible.
Amazon Basics luggage bags have really good zippers that don't break easily.
When you buy their bags, they'll take care of any problems for the first 3 years.
Not So Good Things
There are limited options to choose
To sum it all up, when it comes to picking the best luggage brands in India for your travels, you have got some amazing choices right at your fingertips. Each brand we have explored – American Tourister, Skybags, Safari, VIP Industries, Wildcraft, Samsonite, Aristocrat, Delsey, F Gear, and Amazon Basics – brings its own special touch to your journey.
Remember, a good travel bag is like a trusted partner, keeping your belongings safe, organized, and ready for the road ahead. So go ahead and choose the brand that speaks to you and suits your travel needs.
Suggested Read: Top 13 Lightweight Travel Trolley Bags in India 2023
FAQs (Frequently Asked Questions)
1: Are these luggage brands available internationally?
Yes, many of these brands have a global presence, allowing travelers from around the world to enjoy their quality products.
2: Can I find these brands in local stores?
Absolutely, you can find these brands in various retail outlets across India, making it convenient for you to explore and purchase them.
3: Do these brands offer warranties for their products?
Yes, most of these brands provide warranties ranging from a few years to more, ensuring your peace of mind and product satisfaction.
4: Are there luggage options suitable for different types of travel?
Certainly, these brands offer a variety of bags, from backpacks for daily use to suitcases for longer trips, catering to different travel needs.
5: Are the bags designed with security features?
Yes, many of these brands prioritize security by including features like locks, zippers, and durable materials to keep your belongings safe during travel.