It was August, 2015. My father revealed to me that all our family members were planning for a trip to Dubai for the Christmas holidays. I did not know how to react. Dubai has been a dream travel spot for me since childhood. Even the idea of being there sent goosebumps down my spine. It still does!
Luxury shopping, high-raised towers, modern architecture, skyscrapers-filled skyline, and adventure activities which take one's adrenaline rush to the peak, Dubai has got it all. Words fall short while describing this beautiful city as it welcomes one and all with a big hug. So, to be true, it is so much more than that. And when it's time to leave, probably the city is the one which is most disheartened. When I left, I wished it to be happy though. Because it gave me the best days of my life.
Dubai has enchanted me with its positive vibes, vigor, and liveliness. Architecture has literally been taken a level up in Dubai, of course, the best being the Burj Khalifa – the tallest and one of the most iconic manmade structures in the world.
The night view from the top of Burj Khalifa that I got to witness was a moment that my inner self yearns, again and again, to dream about.
It was the very first time in Dubai that I went to a mosque – the Abu Dhabi Sheikh Zayed mosque. How can I possibly describe a house of worship so grand? It is an extraordinary piece of artistry that deserves to be valued highly with a broad mind. The mosque looked incredible from any aspect.
One of its kind architecture, invaluable décor, alluring and precious gemstones and stunning lights! But there was something which was mysterious! When I visited the place, it was really crowded. But still, I felt a sense of serenity.
I wanted to stay longer to just stare the marvel and appreciate the calmness that my soul felt. And of course, the united prayer by 4000 people is something which I can never ever forget.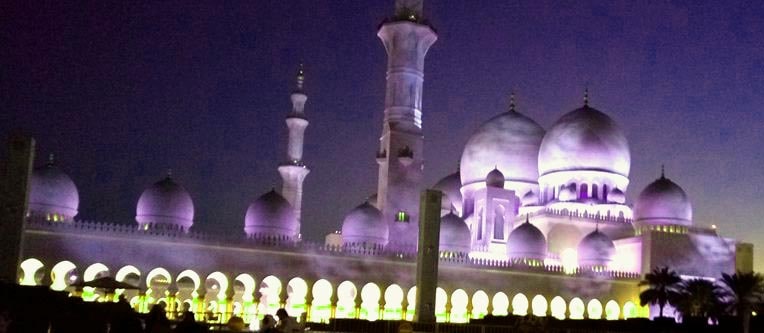 Visited Dubai and missed the famous Desert Safari? Well that's probably the biggest sin one can do! I could not afford to and so and as I reached the never-ending desert landscape, many undiscovered adventures were waiting for me.
The sunset, an amazing dune-bashing experience and the great thrill of quad biking exhilarated my entire trip. As I headed towards the desert camp in the evening, I discovered a countless number of people sitting around a large platform, relaxing, with a beautiful Lebanese belly dancer in the middle showing some tantalizing moves which was simply jaw-dropping and drove out each single men in the camp crazy. Females were no exception!
In our group, we were at least 16-17 people hunting for more adventures and thrills. Yes! The youngsters! So how could we miss the largest waterpark in Atlantis?
The Aqua Ventures and The Lost Chambers it was! Enjoying there was the best way to escape the heat and explore the undersea aquariums. Once you are in the Atlantis, the Palm, there are a huge set of adventures that are a must-try. Trust me! The list is actually huge! Don't forget to throw yourself into the aquatic fun of Wild Wadi Water Park too!
We were fortunate enough to have visited Dubai during Christmas. After all, it was New Year's time and each one of us was naturally waiting for the extraordinary and famous crackers show of Burj Khalifa on New Year's Eve which was tremendously phenomenal.
Dubai is a magical place that must be on your bucket list. It has got so much to offer, that a single visit might not satiate your desires. It didn't satiate mine and so for me, it's an unending affair!
Honestly, I can't speak enough about this trip! A must recommendation to all out there who are seeking and planning a vacation with a mix of every kind of activity that I can possibly think of!