India is a kaleidoscope of different experiences, For those seeking an adventurous vacation, India's varied terrain guarantees a maximum adrenalin rush. A dynamic travel experience can be experienced on land, on the water, or even in the sky. Lets take a look at top adventure places in India to visit.
Popular Adventurous Places You Need To Visit
Adventures in Northern India
Roopkund Trek- Uttarakhand
With an altitude of 5,020 meters, Roopkund is a high glacial lake in Uttarakhand, India. In the high of the summer when the snow melts, the mountains show remnants of human skeletons around the lake, and thus in recent times is also popularly known as the skeleton lake. Despite this urban legend's existence, it has become an anchor for attracting trekkers from around the world. It is one of the best adventure places in India to visit.
Distance from main city: Distance from Rishikesh to Roopkund is 242 Kms by road and 142 Kms by flight.
How to reach: Dehradun's Jolly Grant airport is the nearest airport to Roopkund and Rishikesh is the nearest railway station to Roopkund Lake. Direct bus service is also available from Rishikesh to Lohanjung which is operated by Uttarakhand Roadways but the weather plays an important role, on a good day it takes about 12-14 hours to reach Lohajung. The starting point Lohajang Pass has well-connected roads, one can drive up to there in a rental and then trek onwards.
Nearby places to visit: While trekking travelers can stop by Roopkund Lake, Bedni Kund, and Homkund Lake for a holistic trekking experience.
Whitewater Rafting- Rishikesh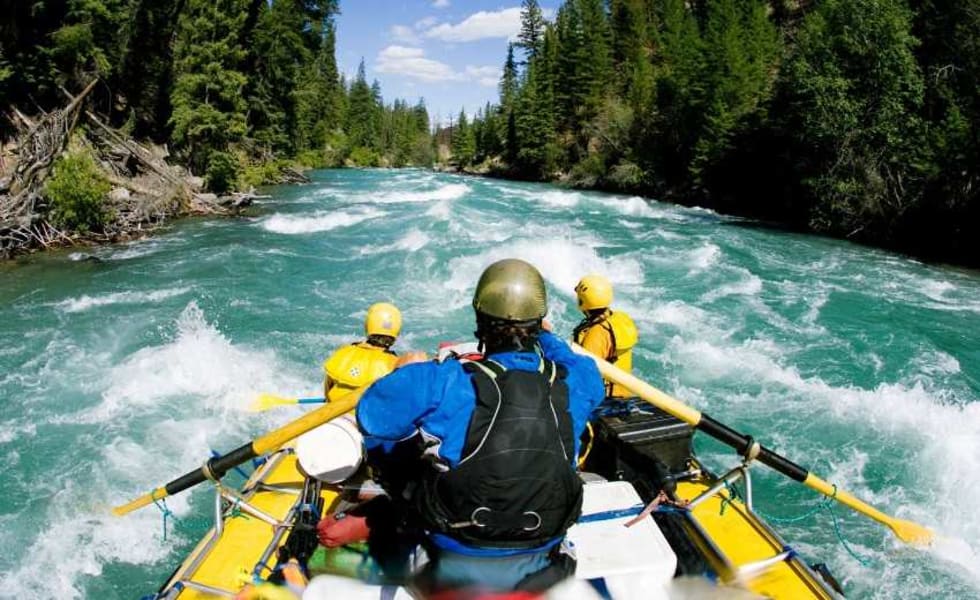 Located at the foothill of the Himalayas, beside the holiest river Ganga, Rishikesh is known for its religious and spiritual significance but if you want to experience Rishikesh in other ways, Whitewater rafting could be the one for you.
Distance from main city: Distance from Delhi to Rishikesh is 233km by road and 193 Kms by flight.
How to reach: Jolly Grant airport at Dehradun is the nearest airport to Rishikesh and The nearest railhead to Rishikesh is in Haridwar. Since it is well connected to other cities, driving is a good option given that the weather stays on its good side. It would take approximately 6 to 7 hours The drive from Delhi to Rishikesh.
Nearby places to visit: Top attractions in Rishikesh is the Triveni Ghat, Neer Garh Waterfall, The Beatles Ashram, Lakshman Jhula Bridge, Kunjapuri Devi Temple, Sivananda Ashram, Vashishta Gufa, Ram Jhula and many more.
Skiing- Auli
Uttarakhand yet again tops the list, it seems that as if it's calling out to us. Auli, surrounded by coniferous and oak forests, the Nanda Devi and Nar Parvat mountains is a Himalayan ski resort and hill station in the Northern part of Uttarakhand. It is one of the best adventure places in India to visit. It is in fact one of the best skiing places in India with long cable car that links Auli to the town of Joshimath. The best thing about Auli is that it can be visited all through the year.
Distance from main city: Distance from Dehradun to Auli is 305 Kms by road and 149 Kms by flight.
How to reach: The Jolly Grant Airport located in Dehradun is the nearest airport to Auli and Haridwar railway station is the nearest railhead situated at a distance of 273 km. Since it is a popular ski resort one can easily reach to Auli from the railway station and airport as Buses and Cabs are available at economical prices.
Nearby places to visit: In under 10 km radius you can visit places like the Auli Ropeway, Auli Artificial Lake, Gorson Bugyal, Chattrakund, Joshimath, Chenab Lake, Narsingh Temple, Auli Chair Lift from Auli ski resort.
Paragliding- Ladakh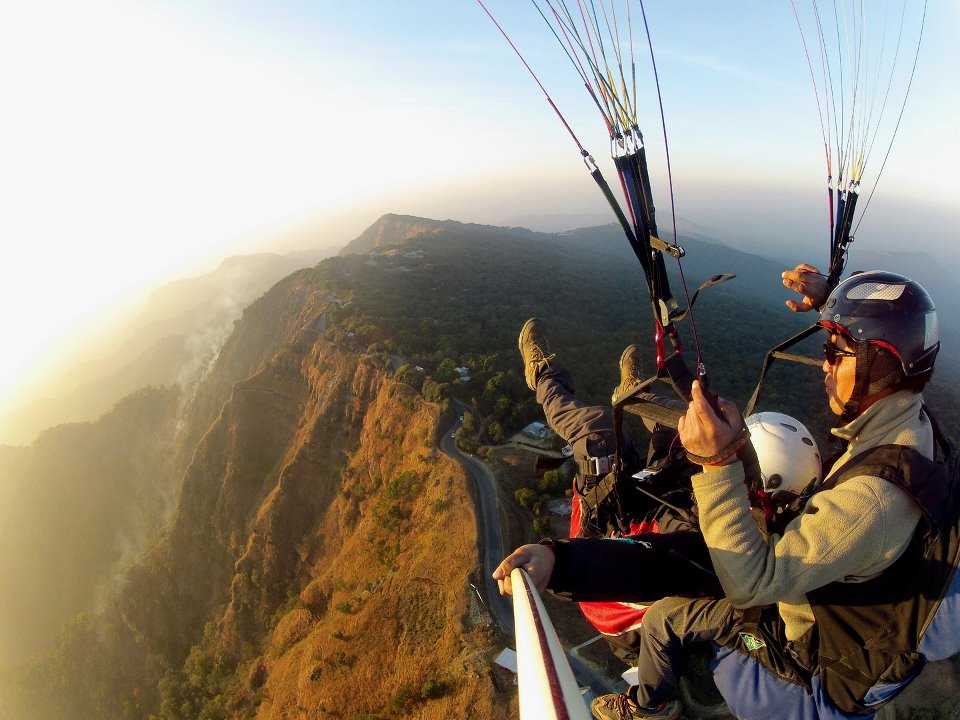 Feel on top of the world as you paraglide in Ladakh, quite literally. This enthralling adventure sport will leave you with a plethora of memories with an incredible view of the trans-Himalayan Ladakh. Known for its famous Chadar Trek, paragliding provides a refreshing perspective on exploring the highs and the lows of this part of Northern India.
Distance from main city: Distance from Srinagar to Ladakh is 434kms by road and 256kms by flight.
How to reach: Leh Kushok Bakula Rimpochee Airport is the nearest and main airport to the city. This city has its own railway station from where you can avail rides. Buses are frequent and available from the bus stand as Jammu & Kashmir State Road Transport Corporation (JKSRTC) provides its services to the passengers.
Nearby places to visit: Top attractions in Ladakh include Pangong Tso, Khardung La, Changla Pass, Thiksey Monastery, Dras War Memorial, Tso Moriri, Zanskar Valley, Hall of Fame of Kargil War, Confluence of the Indus and Zanskar Rivers, Nubra Valley, Gurdwara Pathar Sahib and Suru Valley.
Heli-Skiing in Gulmarg, Jammu Kashmir
Gulmarg or "meadow of flowers" is a popular skiing destination in Kashmir. According to CNN, Gulmarg is the "heartland of winter sports in India" and was rated as Asia's seventh best ski destination. Because of the many ice adventure sports, heli skiing is a popular option for those who want to have an unforgettable experience diving down the vertical slopes of Pir Panjal range of Western Himalayas aided by a helicopter. It is one of the best adventure places in India to visit.
Distance from main city: Distance from Srinagar to Gulmarg is 47 kms by road and 39 kms by flight.
How to reach: The nearest airport to Gulmarg is in Srinagar which is 56 kilometres away and Jammu is the nearest railway station, at a distance of 290 kilometres. Gulmarg is well-connected with regular bus services from Srinagar, Sonmarg and other neighboring towns in Kashmir which makes roadways a plausible option.
Nearby places to visit: When in Gulmarg one can visit many tourist attractions nearby such as the Gulmarg Gondola, Apharwat Peak and Lake, Outer Circle Walk, Ningle Nallah, Baba Reshi Shrine, Rani Temple, Drang, Kongdori, Gulmarg Biosphere Reserve, Children's Park and St Mary's Church.
Trekking-Spiti Valley, Himachal Pradesh
The word "Spiti" refers to the region that lies between Tibet and India and signifies "The Middle Land." The marriage between the two countries is a sweet amalgamation. When it comes to treks, Hampta pass leading up to Chandratal Lake is one of the most adventurous trails in the Himalayan mountains.
Distance from main city: Distance from Shimla to Spiti Valley is 414 Kms by road and 151 Kms by flight.
How to reach: Nearest Airport is Kullu Airport from where one can board a taxi or rickshaw to reach Spiti Valley and Joginder Nagar Station and Shimla Station is the closest railway station. Buses run only from the second week of June to 15th of October during these time of the year you can easily reach Spiti Valley by taking a bus from either Shimla or Manali.
Nearby places to visit: Spiti Valley is ladened with some of the most beautiful and remote wonders of the world. It includes Chandratal Lake, Key Monastery, Kunzum Pass, Pin Valley National Park, Suraj tal Lake and many more.
Bungee Jumping- Manali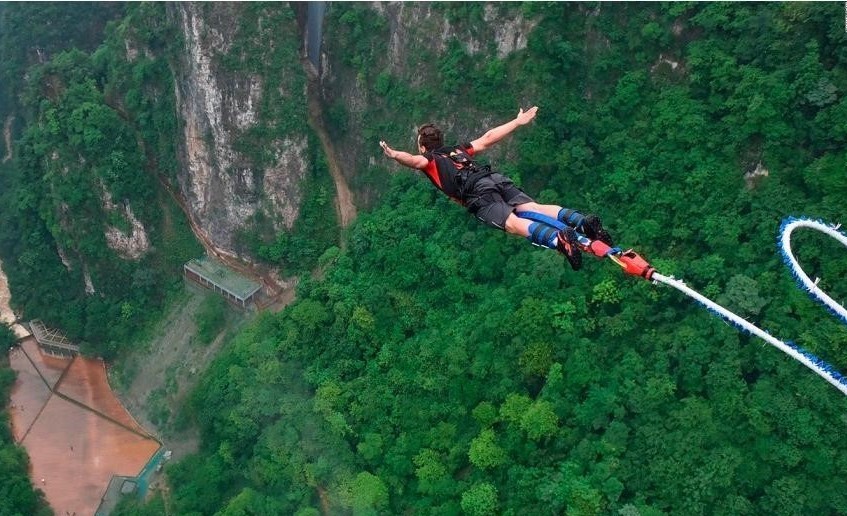 Jump into the arms of nature in Manali from a height of 10,500 feet and feel the adventure pumping in your veins. Judging from this height it is definitely not for the faint hearted but paired with the scenic beauty of Manali, jumping into the green bosom of mother nature may make it seems less scary. It is indeed the most famous and popular extreme adventure sport of them all on the list.
Distance from main city: Distance from Chandigarh to Manali is 307 Kms by road and 172 Kms by flight.
How to reach: Nearest Airport is Kullu or Bhuntar airport in Manali and the nearest railway station to Manali is Chandigarh. Many bus runs from Chandigarh to different cities and towns of India operated by the Jhajjz Transport, Himachal Road Transport Corporation (hrtc), Tanishq Holidays Tours, Global Travels Of India and Global Holidays Adventure Tours.
Nearby places to visit: Most popular tourist places to visit in Manali includes the Manu Maharishi Temple, Museum Of Himachal Culture And Folk Art, Jana Waterfalls, Solang Valley and Nicholas Roerich Art Gallery.
Adventures in Eastern India
Mountain Biking- Sikkim
It is impossible to miss a long train of mountain bikers enthusiasts on your trip to Sikkim. As it appears that it might in fact be the best way to discover the undiscovered and hidden paths of this Northeast jewel, which is full of challenging hikes and stunning terrains.
Feel the gush of adrenaline as you ride along the winding, high-altitude paths of Sikkim. It is one of the best adventure places in India to visit.
Distance from main city: Distance from Siliguri to Sikkim is 114 Kms by road, unfortunately there are no flights to Sikkim.
How to reach: The nearest airport is in Bagdogra which is 125 km away and the nearest railway station is New Jalpaiguri railway station which is nearly 120 km from the capital city of Gangtok. Roads are well connected and one can easily get luxury and roadways and state run buses from Siliguri, Darjeeling, Kalimpong and Kurseong for Gangtok.
Nearby places to visit: Sikkim is home to the gorgeous Rumtek Monastery, Enchey Monastery, Ganesh Tok, Nathu La lake and Hanuman Tok.
Caving- Meghalaya
Mother Nature, the world's greatest sculptor, has been and is still at work beneath the menacing cliffs and mountains of Meghalaya for millions of years. The Meghalayan caves are carved as water meets limestone and sandstone, with some being narrow, tall, and quite deep.
With a confluence of underground streams and rivers, Siju Cave is one of the most renowned caverns in the Garo Hills. With the help of all the necessary caving equipment and accompanied by an expert team you too can explore these natural caves in the months of November to February which is deemed to be most suited for exploration.
Distance from main city: Distance from Guwahati to Meghalaya's capital city Shillong is 97.9 kms and distance between Shillong to Meghalaya is 113 kms by road.
How to reach: The nearest airport Lokpriya Gopinath Bordoloi International Airport is located in Guwahati, Assam at a distance of 159 km and the nearest railway station from Meghalaya is located in Guwahati as well at a distance of 180 kms. Unfortunately, There are no direct bus connection from Guwahati Airport to Meghalaya but Meghalaya is well-connected to major cities through roads and driving or hiring a cab service ensures for a smooth ride.
Nearby places to visit: Top nearby sights in Meghalaya includes Cherrapunji, Mawlynnong Village, Nohkalikai Falls, Umiam Lake, Williamnagar,

Balpakram National Park,

Elephant Falls, Don Bosco Museum and Mawphlang Sacred Forest.
Rhino spotting- Kaziranga National Park, Assam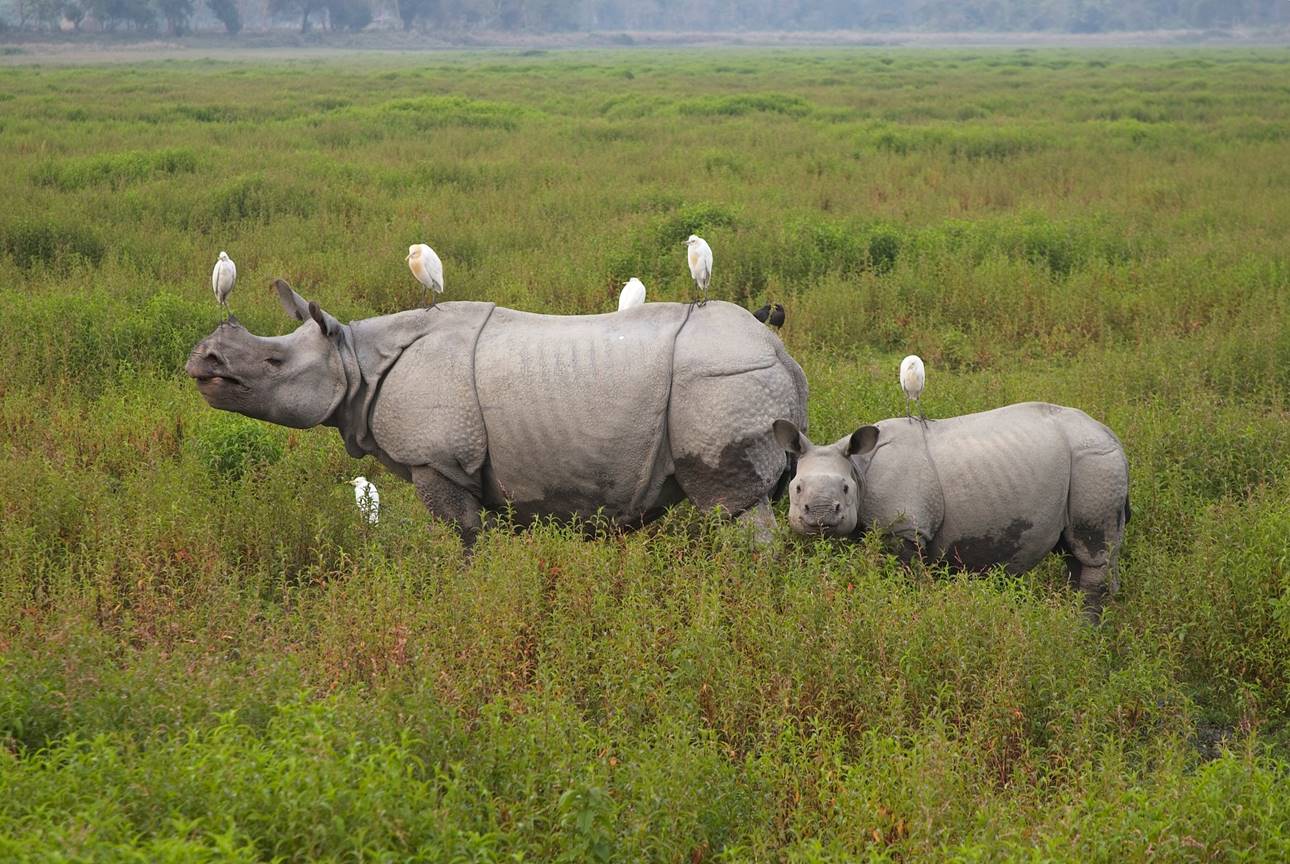 Kaziranga National Park is home to the world's largest population of Indian one-horned rhinoceroses due to the conservatory efforts of Mary Curzon, the wife of the then Viceroy of India in the year 1908 and by the year 1985 the vision of Mary Curzon became a success as the park was declared a World Heritage Site by UNESCO.
The best time to visit Kaziranga National Park is between November to April as in the mild and arid climate of the Winter season, chances of spotting rhinos are increased exponentially.
Distance from main city: Distance from Guwahati to Kaziranga is 193 Kms by road and 151 Kms by flight.
How to reach: There are two nearest airports to the park which are Guwahati International Airport and Jorhat Airport, and the nearest railway station is Furkating. The main gate of the Kaziranga Park is situated in a small Kohora town lies on the National Highway NH 37 due to which state transport buses or the privately run buses are made easy as Kohora has well connected roadways to all the major cities of Assam such a Guwahati,Tezpur, Jorhat, Nagaon, Golaghat, etc.
Nearby places to visit: Some Important Tourist Place near Kaziranga National Park are Hoollongapar Gibbon Sanctuary, Orang National Park, Pobitora National Park, Addabarie Tea Estate, Guwahati, Shillong, Manas National Park and Nameri National Park.
Adventures in Southern India
Scuba Diving- Andaman
Consisting of 572 islands, The Andaman Islands are a pristine cluster of smaller islands and is perhaps the perfect spot for deep underwater exploration. With flora and fauna that are endemic only to the island, scuba diving among scintillating underwater could be once in a lifetime experience. It is one of the best adventure places in India to visit.
Distance from main city: Distance from most major cities in India like Kolkata, Bengaluru, Chennai, Hyderabad, Delhi and Vizag to Port Blair, the capital of Andaman takes around 2.5-4 hours by flight.
How to reach: Flight is preferably the fastest way to reach Andaman from the mainland India, Veer Savarkar airport is the only commercial airport in Port Blair, Andaman. By sea, ships are operated by the Indian Government from the ports in three coastal cities in India but it is not recommended for a peaceful mode of transport as it's not a cruise-type vessel but more of a basic passenger cum cargo ship.
Nearby places to visit: Top Attractions in Andaman and Nicobar Islands includes Ross Island, Cellular Jail, Radhanagar Beach, Makruzz ferries, Jolly Buoy Island and Elephant Beach.
Camping- Coorg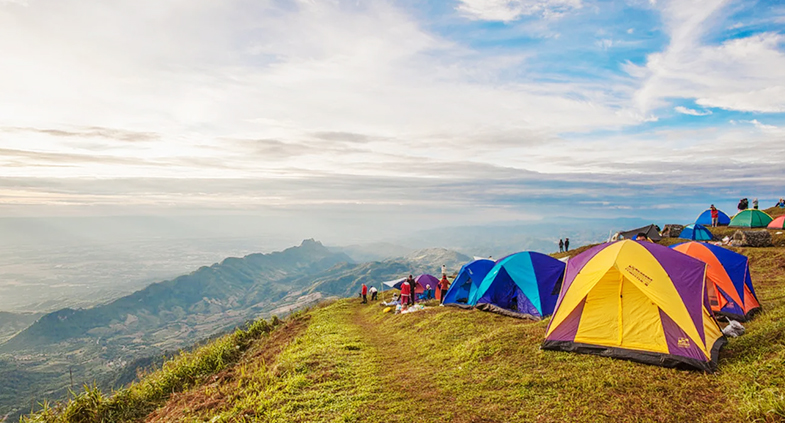 Coorg, a rural district of Karnataka is also known as the Scotland of India for its scenic beauty. Situated on the slopes of the Western Ghats, camping might be the best way to appreciate the beauty of the steep hills, countless streams and rich diversity of flora & fauna which makes for a breathtaking view of the lush forests.
Distance from main city: Distance from Mysore to Coorg is 112 Kms by road and 91 Kms by flight.
How to reach: The nearest Airport is in Mysore at a distance of 120 kms from Coorg. The neighbouring cities of Mysore or Bangalore are well-connected to nearly all corners of India by train but between the two, Mysore is closer railway station. One has to travel by road as Coorg neither has its own airport nor its own railway station. The 4-5 hours ride is a one of kind experience on its own. You can hire a taxi or book a seat on the state-owned or private luxury buses.
Nearby places to visit: Places to visit near Coorg includes Mysore, Abbey Falls, Sakleshpur, Virajpet, Dubare Elephant Camp, Iruppu Falls, Chikmagalur, Kabini, Kasargod, Belur, Wayanad, Kudremukh and many more.
Windsurfing- Kerala
Kerala, a state on India's tropical Malabar Coast is known for its palm-lined beaches and backwaters, a network of canals and is perfect for adventure sports like surfing, sailing or maybe a combination of both? If you are looking for something in between, Windsurfing could be the one for you, it is a wind propelled water sport that is a combination of sailing and surfing. It is one of the best adventure places in India to visit.
Distance from main city: Distance from Thiruvananthapuram to Kochi is 199 Kms by road and 173 Kms by flight.
How to reach: The nearest airport is Trivandrum International Airport and the rail network is incredible, with trains running from all major Indian cities. Buses are available in public as well as private operators offering coaches of varying standards from luxury sleepers to economy seaters. Being a coastal state, there are ways to reach Kerala by sea. Its famous backwaters are connected all the way to Lakshadweep Islands
Nearby places to visit: Some popular tourist destination in Kerala includes Alleppey, Wayanad, Cochin, Munnar, Kumarakom, Kovalam, Thekkady, Kollam, Vagamon, Kozhikode and many more.
Adventures in Western India
Hot Air Balloon- Goa

Known for its beaches and for harboring the dreams of the golden years of youth, hot air balloon ride is an uncommon but refreshing one on the list. With the efforts of the The Department of Tourism Government of Goa, it is an initiative to promote tourism in Goa. Might as well take the chance as long as we are here, shall we?
Distance from main city: Distance from Mumbai to Goa is 440 km by road which takes up to 12 hrs and 424 KM by flight which takes up to 1hr.
How to reach: The nearest airport Dabolim and the nearest railway station Madgaon is located around 26 kilometres and 38 kilometres from its capital city, Panaji, respectively. State and private buses also run to and from goa, the nearest bus stand is Kadamba bus stand of Panaji. Cruise ships coming from the UAE and travelling between Mumbai and Maldives are also available. However the fastest and uncontested way to reach Goa is to take a flight from Chhatrapati Shivaji International Airport in Mumbai which takes approximately an hour to reach.
Nearby places to visit: Popular tourist attractions in Goa includes Calangute Beach, Fort Aguada, Dudhsagar Waterfalls, Anjuna Beach, Chapora Fort, Thalassa, Basilica of Bom Jesus, Baga Beach and many more.
Tiger Safari- Bandhavgarh National Park, Madhya Pradesh
Bandhavgarh National Park is a biodiverse park with deciduous forests and flat green grasslands. Known for its large population of royal Bengal tigers, especially in the central Tala zone, offers you a chance to see the royal Bengal tigers up close. It is one of the best adventure places in India to visit.
Distance from main city: Distance from Umaria to Bandhavgarh is 22 km by road and 14 km by flight.
How to reach: The nearest airport is in the Jabalpur district of Madhya Pradesh and the closest station is located in Umaria which is at a distance of 32 km from the city. State buses connect this city with all the other major cities of the state from where reaching Bandhavgarh is made easy.
Nearby places to visit: Places to visit near Bandhavgarh National Park is Bandhavgarh Hill, Shesh-Saiya, Bandhavgarh Ancient Caves and Panpatha Wildlife Sanctuary.
This concludes our article on Top Refreshing Adventure Places In India To Visit. Did the list make you startled? A little jittery? Or maybe left you with a sense that there's not enough time to do everything? It's okay, take your time, we all have our dues to the world but don't let the spike in adrenaline leave your system, coax it by planning your next trip and allow yourself to experience a new adventure sport from the list above.
You may also like 10 Best Wildlife Sanctuary Near Pune To Visit.
FAQs (Frequently Asked Questions)
Which Indian states are best known for adventure tourism?
Here are the top adventure places in India:
Uttarakhand. 
Rishikesh
Ladakh
Goa
Manali
Kashmir
Which state is best for adventure?
Himachal Pradesh. Winner of Outlook Traveller Awards 2015 in the category for states offering the best adventure tourism options, Himachal Pradesh has something for everyone.
What are the best places to visit in India during summer?
Places like Manali, Shimla, Ladakh, Auli, Nainital, Ranikhet, Mount Abu, and Kashmir are the best places to visit in summer.