Nashik along with its many tourist attractions is also known for its free-falling collection of cascades. Waterfalls are such a beautiful sight to behold. We will discuss waterfalls near Nashik in a while.
The sound of the water tumbling from the mountain's peak, calming the surrounding noise, makes you want to stop and consider how long it has been since you experienced this natural wonder for yourself.
Situated on the second longest river, Godavari, and is surrounded by lush greenery with a blanket of mountains ranging from the Western Ghats. Nashik is a gold mine for cascades in the northern part of Maharashtra.
10 Must visit waterfalls near Nashik
Nashik is Separated from Mumbai at a distance of 165.6 km. With the convenience of railways, bus stations, and cabs one can easily reach Nashik in less than 3 hours.
Waterfalls peak during the monsoon season and the months preceding July to August serve as the most suitable time to visit one. 
Waterfall Near Nashik You Must Visit Once
Someshwar/Dudhsagar waterfall
With a Google review of 2.4 thousand, Someshwar Waterfall is the most popular tourist spot on the list. Popular sites like the Someshwar temple, Sula Vineyard, and the Pandav Leni caves make it ever so appealing for the people visiting this waterfall. During the peak monsoon season when the water level rises it could be a hotspot for mishaps and accidents. Visitors are advised.
Distance from Nashik

: 11kms (26 min)

How to go there: Nashik CBS Bus Station is only 7 km away from Someshwar Waterfall. You can either go for a direct bus or book a cab.
Nearby places to visit: Within a radius of 10 km, you can find the religious sites and vineyards for which Nashik is famous. Places to visit are Someshwar Temple, Kalaram Temple, Saptashrungi, Sula vineyards, Soma Vine Village, Spa and wellness center such as the Rose spa and historical sites like the PandavLeni caves make for a perfect detour, a little something for everyone.
Pahine waterfall
The heavenly presence of this waterfall will leave you mesmerized and awestricken. The mesmerizing aura is due to its reverse waterfall phenomena which as it trickles down resembles a necklace and thereby is also known as the necklace Waterfall. The rich greenery surrounding Pahine waterfall makes for a great spot for family outings, hikes, and nature viewing.
Distance from Nashik:

58.4 km (1hr 15 min)

How to go there: Igatpuri Rail Way Station is the closest railway station to Pahine. You can also reach Pahine Waterfall via road as Nashik , Igatpuri, Trimbak all have roads connecting directly to Pahine
Nearby places to visit: When in Pahine one must visit the historical site of Anjaneri fort, the architectural buildings of the religious site of Trimbakeshwar Shiva Temple and its specialty, the Coin Museum.
Ashoka/Vihigaon waterfall
Popular among the locals, Ashoka waterfall has many names, Vihigaon, Itagiri and Dhabdhaba, don't let the names confuse you, they are but the same thing. The best of this waterfall is showcased in the monsoon season estimate between the months of July and August and is easily accessible through the Itagiri Mokhada Road.
Distance from Nashik:

30km (47 min)

How to go there: The nearest railway stations are Kasara and Igatpuri. If you wish to travel by road, the best route to Ashoka waterfall from Nashik is the Nashik-Igatpuri-Ghatandevi Mandir-Vihigaon.
Nearby places to visit: One can explore nearby places such as the camel valley, Madangad mountains, Trigalwadi Fort, Dammagiri and the Ghatandevi Mandir Temple.
Durgawadi waterfall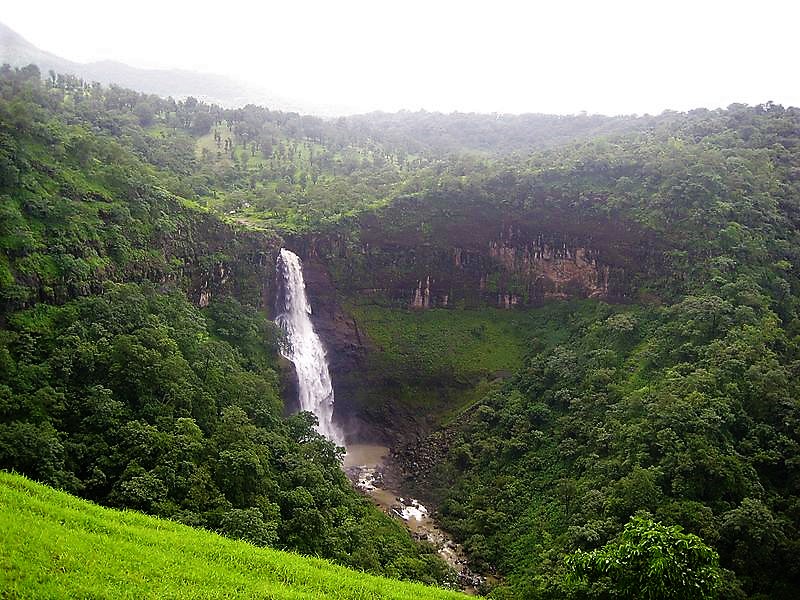 Even before you reach Durgawadi you are sure to be met by the paralyzing beauty of the Trimbakeshwar mountains near Trimbak Road. The short journey of only 30 km from Nashik will provide you with an instant air of relief when you find yourself in the presence of the scintillating view of this waterfall. The best way to get the most out of this trip is by taking the whole day off dedicated to the scenic hike around the fall.
Distance from Nashik

: 36.8 km

How to go there: Dugarwadi waterfall stands at a distance of 38km from the Nashik CBS Bus Station. Transportation modes include bus, cab, auto, hitchhiking, and even trekking.
Nearby places to visit: Neighboring sites that are worth a visit include names like the Trimbakeshwar temple, Anjaneri hills, Shubham Water World, and the Coin Museum.
Dabhosa waterfall
Situated in the village of Dabhosa in Jawhar Tehsil, Palghar district, Maharashtra. Dabhosa waterfall is one of the tallest waterfalls located near Mumbai. This waterfall is located over the Lendi River and falls down from a height of 300 feet. With a feast for the eye, this waterfall also serves the purpose of a popular trekking spot with a trekking difficulty of a medium.
Distance from Nashik

: 90.4km (2hr 9 min)

How to go there: The nearest railway station falls in Igatpuri at a distance of 81km. The most beautiful way to get there is through Vaitarna, the Trimbakeshwar route. A travel tip left by the varadprasadtours.com blog post.
Nearby places to visit: The list includes Igatpuri, Vaitarna Dam, Jawhar Hill station, Randha waterfall, and Trimbakeshwar
Umbrella waterfall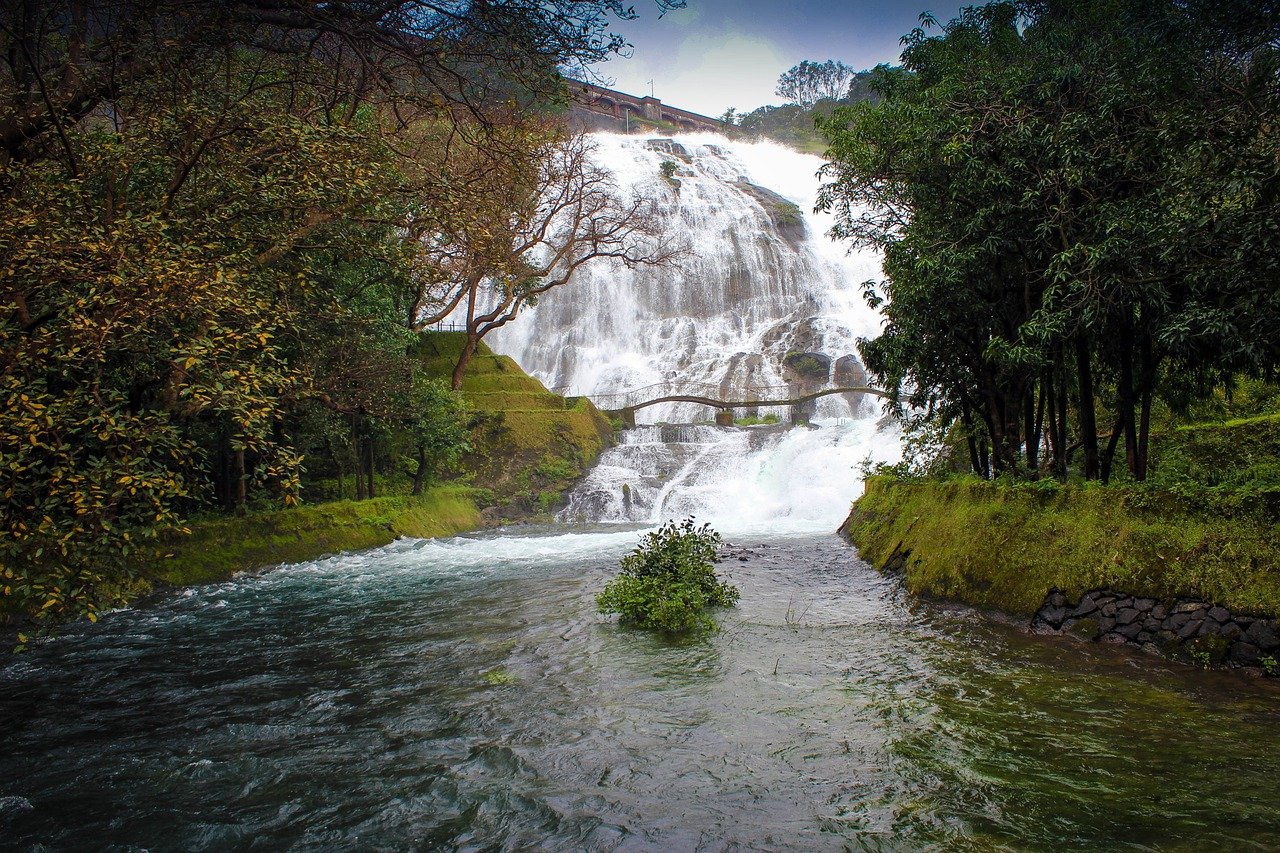 At a distance of 500m From Bhandardara, this man-made waterfall is created by an overflow on the Wilson Dam and is said to be best relished from a distance standing on the top of a neighboring bridge, the speedy water descends on the steps of the dam makes for a perfect dream-sequence reality enactment, exceeding expectation. Thus, It is advised to visit this Waterfall in the morning hours as an afternoon visit may disappoint you.
Distance from Nashik:

68.5 km (1hr 47 min)

How to go there: People visiting the fall can walk to the waterfall as Bhandardara Bus Stop is only 0.5km away from Umbrella Waterfall.
Nearby places to visit: Popular for its treks this waterfall is lined with breath taking views such as the Kalsubai Peak, Harishchandragad, Ratangad, and Lake Arthur Hill.
Pandavkada Waterfalls
Pandavkada waterfalls located near Mumbai is an incredibly picturesque cascade. The connection between these falls and the Hindu epic Mahabharata is their main attraction. According to mythology, the Pandavas took baths in these falls during their long exile, and ever since, the fall has seen a great outpour of visitors and devotees alike.
Distance from Nashik:

173 Km (4 hr 9 min)

How to go there: There are 3 ways to get from Nashik to Pandavkada Falls that is by train, taxi, or car. The best and cheapest way to get from Nashik to Pandavkada Falls without a car is by opting for the train which takes approximately 3h 9m to reach with ticket prices starting at ₹750.
Nearby places to visit: Nearby tourist attraction includes the Kharghar Hills, Shilip Chowk, and ISKCON Khargar. Standing at an advantage due to its close proximity to Mumbai, many heritages are at an arm's reach from Pandavkada waterfall, figuratively speaking. Sites include Elephanta Caves, Elephanta Island, Powai Lake, and so on.
Kojoli waterfall
Kojoli waterfall is slowly gaining more tourist attraction in recent times while already being a local favorite and resort-recommended tourist spot. At the peak of the rainy season, the natural pit created by the waterfall is an excellent place for a monsoon picnic with family and friends. With clean roads and a clean air index, this place is a good choice for a One-day excursion.
Distance from Nashik

: 30.8km (45 min)

How to go there: One can take the NH 160A Highway as this highway connects the towns of Sinnar, Ghoti, and Trimbakeshwar as Kojoli is close to Trimbakeshwar.
Nearby places to visit: Attractions include the aforementioned Anjaneri Fort, Trimbakeshwar Shiva Temple, Dugarwadi Waterfall, and JenJon Lake Vaitarna Waterfalls. Hey look a new name, did that spike your curiosity? Heres more, Harihar Fort and Grover Zampa Vineyards Nashik. Look forward to it.
Bhavli waterfall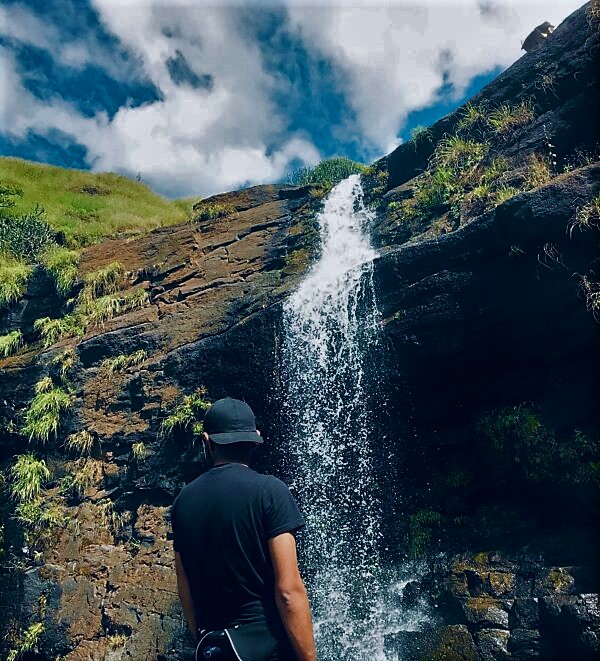 Without visiting this dam, a journey to Igatpuri would be incomplete, such is the charm of this waterfall. The area around this location has a lot of small to medium-sized waterfalls and during the height of the monsoon season when the waterfall is gushing water at full velocity paired with the rich vegetation around it, the area transforms into a Green Heaven.
Distance from Nashik

: 50 km (1hr 4 min)

How to go there: If you are thinking of using public transport, you either have to come to Igatpuri by road or by train. You can get a local transport option from Igatpuri just 12 km away from Bhavali Dam. The nearest railway station is Igatpuri at a distance of 11 km.
Nearby places to visit: Places of interest are Igatpuri, Randha Waterfall, Myanmar Gate, Nashik, Shirdi, Kasara Ghat, and Ghatghar dam.
Radha waterfall
The waterfall is created over the Pravara River and descends 170 feet into a stunning valley. The breathtaking Randha Falls, one of the most well-known waterfalls in India, is a must-see location during the monsoon season and a favorite tourist destination in Bhandardara.
Distance from Nashik

: 72.5 km (1hr 50 min)

How to go there: Located near Lake Arthur Hill, the best way to reach this waterfall is by catching a local train to Kasara from places like Mulund, Thane, Vashi, CST, etc. A shared cab is also an ideal choice as shared cabs and taxis to Bhandardara are available from both Kasara and Igatpuri.
Nearby places to visit: Bhandardara's top attractions include Umbrella waterfall, Lake Arthur Hill, Bhandardara lake, Wilson Dam, Kalsubai Peak, Ratangad Fort, Ratanwadi Village, Agastya Rishi Ashram, Bhavli waterfall and Amruteshwar temple.
Did this post compel you to make a short trip to Nashik this monsoon? Help others plan their trip by sharing your experience below or you can simply help by sharing this article.
You may also like Best Camping and Trekking Places Near Nashik.
FAQs (Frequently Asked Questions)
Which river flows through Nashik
The Godavari is the main source of water.
Which three rivers meet in Nashik?
This is the place where the Godavari unites with Varuni and Tharuni. So it is called Trivenisangam.
What is Nashik famous for?
Nashik is known as the "Wine Capital of India." More than half of India's vineyards and wineries are located in this city. About 190 kilometers (km) north of Mumbai that is where you'll find Nashik. Nashik is also well renowned for being one of the 12 year Kumbh Mela pilgrimage centers.
What is the easiest way to Someshwar fall?
Someshwar waterfall is separated from the Someshwar temple by 2 kilometers and is only 9 km away from the Nashik CBS bus station. To get to this stunning site by road, you can use a taxi, cab, auto, or other local transportation methods.