A real paradise for both environment lovers and wildlife aficionados, Sundarban is known for its stunning mangrove forests and rich species.
One of the most sought-after ecotourism locations in the world, this UNESCO World Heritage Site covers the deltas of India and Bangladesh and offers an unrivaled combination of stunning scenery and unusual species.
Sundarban National Park: An Exciting Travel Plan In The Land Of Tigers
In this post, we will explore the top 10 attractions in Sundarban National Park and reveal the undiscovered wonders that lie inside its luxuriant vegetation.
Each destination in this land of the Mangroves promises a one-of-a-kind experience that will certainly leave an imprint on your heart, from exciting tiger habitats to charming watch towers to tranquil bird forests.
10 Top Places In Sudarban
Sundarban National Park is home to numerous breathtaking locations that draw travelers from all over the world. Let's investigate the top ten locations within this captivating refuge.
Gosaba
Gosaba, the world's largest mangrove forest, is a charming village tucked away within the Indian state of West Bengal. It is surrounded by the spreading beauty of the Sundarbans. This town, which is revered for its rich biodiversity and ecological significance, serves as the entry point to the fascinating Sundarbans, which are reachable both by land and boat.
More and more tourists are flocking to Gosaba as the city's tourism industry takes off, eager to experience the Sundarbans' enchanting offerings and unspoiled natural beauty.
Visitors are fascinated by the attractiveness of this town after taking advantage of the guided Sundarban Tour Package that is available to enhance their experience.
Bird Forest
The Bird Forest in Sundarban National Park is a refuge for birdwatchers and nature lovers and gives a magical experience. Indian cuckoos' beautiful sounds will lull you to sleep, and you'll see little minivets peeking out of their nests.
In this gorgeous sanctuary, look for the colorful Black Capped Kingfisher and other bird pleasures.
Pakhiralay
An undiscovered gem in West Bengal, India, Pakhiralay attracts tourists with its variety of sights and unique offerings. Pakhiralay's affordable lodging options make it the perfect vacation destination for budget-conscious travelers from around the globe.
Take advantage of the chance to discover and appreciate the range of amenities offered by this affordable retreat.
SajnekhaLi Watch Tower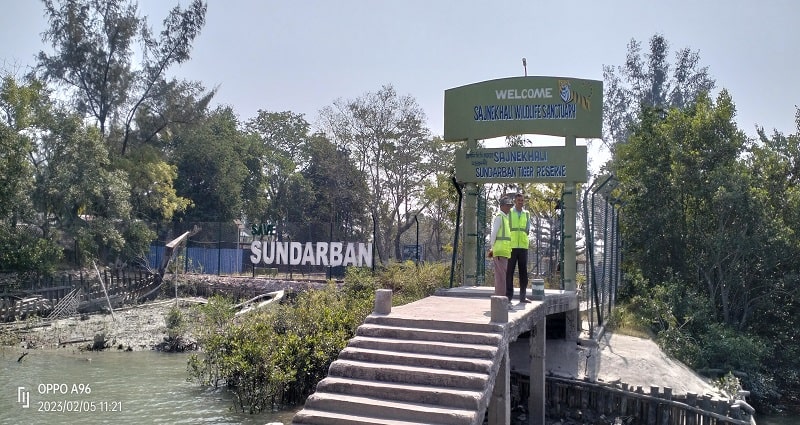 The Sajnekhali Watch Tower in Sundarban provides a breathtaking panoramic view and fantastic opportunities to see wildlife, including tigers, deer, and other creatures. The forest office grants authorization for other locations because it is a well-liked tourism attraction.
The 25-person tower has a view of a pond with pleasant water that draws animals. Colorful Kingfishers, White-Bellied Sea Eagles, and other birds can be seen by birdwatchers.
Sudhannya Khali Watch Tower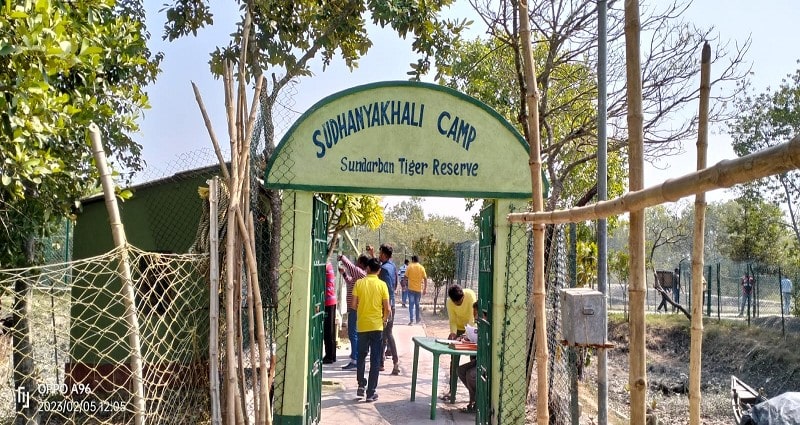 Sundarban National Park's Sudhanyakhali Watch Tower has room for 25 persons. Its advantageous location close to a freshwater pond makes for superb animal viewing opportunities. Find out where to see the magnificent Royal Bengal tigers and other animals, including axis deer, wild boars, and crocodiles.
This watchtower offers a unique perspective of the varied wildlife in the Sundarban forest region and is reachable via a boat journey through gorgeous creeks and rivers. It is an ideal place for viewing tigers and other wild creatures in their natural environment.
Dobanki Watch Tower
A must-see location in Sundarban National Park is Dobanki Watch Tower, which is renowned for its exhilarating Canopy Walk. With tigers and deer nearby, this half-kilometer-long promenade gives an unforgettable wildlife experience.
It guarantees security from wildlife because it is covered in grills and netting. A sweet water pond that draws deer, Brahmini Kites, and even Royal Bengal Tigers is visible from the watchtower.
Burirdabri Watch Tower
The Burirdabri Watch Tower provides a stunning view, and a mangrove cage trail and mud walk lead to Raimongal View Point. During the mud stroll, observe ground life like snails, crabs, and mollusks.
Reach the wooden watchtower overlooking Bangladesh, where the river Raimongal serves as the international border, by walking over wooden bridges and through a mud cage. From here, one can see Bangladesh's Sundarban region.
This watchtower in Sundarban is a must-see treasure despite being removed from the city's main attractions. Ten people can fit inside at once.
Netidhopani Watch Tower
A fascinating mythology about Behula and Lakhindar can be heard in the region where this watch tower resides. The 400-year-old Shiva Temple's ruins and the road that King Pratapaditya constructed to protect the coastline can now be seen from the watchtower.
This route is thought to be concealed within the forest, covered in dirt and trash. This watchtower, which can accommodate 20 people at once and has a sweet water pond close by, is an interesting place to explore in Sundarban.
Gajikhali (The Small River Chennal)
The Sundarbans' Gajikhali tiny river channel adds to the beauty and variety of this rare mangrove forest. One is exposed to stunning vistas of the nearby lush foliage and abundant fauna as they go through the labyrinthine waterways of Gajikhali.
The Sundarbans' captivating beauty can be seen up close in this tranquil river channel, making it a must-visit location for nature and animal lovers.
Jharkhali Watch Tower ( Tiger Project )
It is simple to reach Jharkhali from Kolkata, a well-known Sundarbans village close to Basanti town, using the Basanti highway.
Due to man-tiger conflicts and other tiger-related problems in this area, a "Tiger Rescue & Rehabilitation Centre" covering 22 bighas was established. The facility hosts 4 tigers with experimental artificial breeding setups.
In addition, there is a watchtower, a butterfly garden, a children's garden, and a mini zoo. During a day trip by car, families can take advantage of interesting picnic locations along the rivers. Additionally, inexpensive small launches are offered for quick joy rides inside the Sundarbans.
How Can You Get to Sundarbans? A Boat Journey to the Mangrove Meadow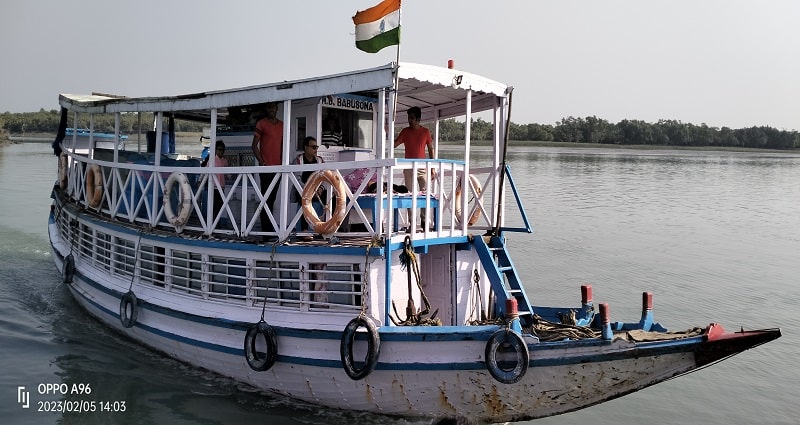 Sundarbans National Park is in the lovely state of West Bengal, around 100 kilometers southeast of Kolkata. To get there, start a mesmerizing boat journey. The main entrance is located on the alluring Sajnekhali Island, which is closest to the Netaji Subhash International Airport in Dumdum.
Travel by car, bus, or scenic boat instead of the sometimes crowded trains without reservations. Drive to Godkhali, Canning, Namkhana, Raidighi or Sonakhali from Kolkata and then board a ferry or charter a boat to get to Sajnekhali from there.
Enjoy the scenic delights of the hourly public buses departing from Kolkata that will take you to Sonakhali in a wonderful three hours. From there, take an auto-rickshaw to Godkhali, the Sundarbans' gateway village, where you'll board another boat for the picturesque Sajnekhali.
Sundarban Trip Planning: Budget and Factors to Consider
Visitors are invited to take advantage of Sundarbans National Park's wealth and see how the wonders of nature cohabit peacefully there. It's critical to coordinate with your Sundarban tour requirements and the spending capacity of your group.
Prioritize your needs before requesting prices from your travel agent and checking the validity of online reviews. A well-planned strategy guarantees a memorable and cost-effective trip in the captivating Sundarbans.
Package costs normally range between 4000 and 13000 INR, depending on the type of lodging and boat that you select.
Whenever you are customizing your package, take the following into account:
Choose how many days and nights you want to stay in the Sundarbans.
Whether to include all meals or just breakfast and dinner is up to you.
Go for an easy-going lodge or resort-style comfort.
Select an AC car or local transportation.
Indulge in the preferred activities, such as village hikes, boat rides, or excursions to mangrove forests.
Decide if you require a guide for the entire trip or just certain activities.
Top Tips for Your Sundarbans Adventure
For your trip to the Sundarbans, consider the following advice:
Entry Requirements: Before entering if you're a foreigner, make sure you have a permit and a current passport if you are a foreigner. Make reservations for permits with a tour operator or the forest department.
Boat Entry and Guide: Recall that a boat entry fee is required and that you must hire a guide for each boat in order to ensure your safety and navigation.
No Plastic Policy: Because plastic is prohibited in the area, refrain from bringing plastic bottles and bags to aid the environment.
Watchtower Awareness: Be mindful of the watchtowers during your visit because they could get busy and noisy.
Weather-Related Clothes: If you're traveling from November to February, bring warm clothing. From March through June, expect hot, muggy weather, and from July to September, monsoon rains.
Select a Reliable and Trusted Travel Agency: If you're utilizing a travel agency, go for one that specializes in visits to the Sundarbans as they can arrange transportation, offer qualified guides, and guarantee your safety at all times.
Wrapping Up
Sundarban, in sum, ensures a captivating encounter with nature. It could take more than one day to fully appreciate the beauty of this exceptional wildlife preserve. With so many engaging events in store, you might decide to extend your stay to completely enjoy each moment.
Sundarbans National Park offers an amazing hideaway to satisfy your desire for wildlife, whether you're planning a relaxing weekend getaway or a family holiday. Accept the splendor of this spectacular location and allow nature's marvels to leave a lasting impression on your soul.
Get ready to be enchanted by the Sundarbans as you explore its treasures and create lifelong memories.