North-East, the land of hills, forests & waterfalls, never fails to amaze the guests with its elegance & historic touch. The inherent natural beauty of this place attracts millions of national & international tourists every year.
This region consists of 8 gorgeous states, starting from the popular hill station Sikkim. Tripura, Nagaland, Mizoram, Manipur, Assam, Arunachal Pradesh, Meghalaya, these 7 states are known as the seven sisters of India.
Wild-life has always attracted me, I have grown up as a fan of Brady Barr, one of the best animal scientist. In the month of December of 2017, me and my 3 friends decided to explore the wild-life of Assam's famous Kaziranga National Park. I hope you have heard about it's immense beauty & wild life. We had planned for a 5 days trip and was dying to feel the adventure.
In the morning at 8 am we checked in for our flight from Kolkata to Guwahati. Unfortunately, it took 6 hours to complete the air journey because of the flight delay. But maybe due to the peak excitement none of us was irritated while waiting. We revised our trip plan at the airport and made sure there is no confusion.
At 3.45 pm we reached our hotel, little tired but not in a mood to take rest. The freezy wind kept our teeth busy all the time. After a quick hot shower and little refreshment in the room, we decided to spend the evening somewhere near.
We followed google map and reached to a traditional restaurant, google map makes traveling 10 times easier. Oh! Such mouth-watering dishes, Maasor Tenga, Khaar and many more. At the end I tasted SilkWorm, none of them even touched but I found it quite good.
We returned to our hotel at 8.30 at night and ended the day after taking some snaps from the balcony, the dark hills little visible by the moonlight were making an amazing scenario.
At the next day we headed towards Kaziranga wasting no time. We booked a car for our 140km long journey from our hotel. A long road trip on a cold day with less intense sunlight, what can you expect more?
We had our lunch in a Bengali restaurant and restarted our journey. The food was excellent. The driver drove little slow as the road was little foggy, but were ok with it.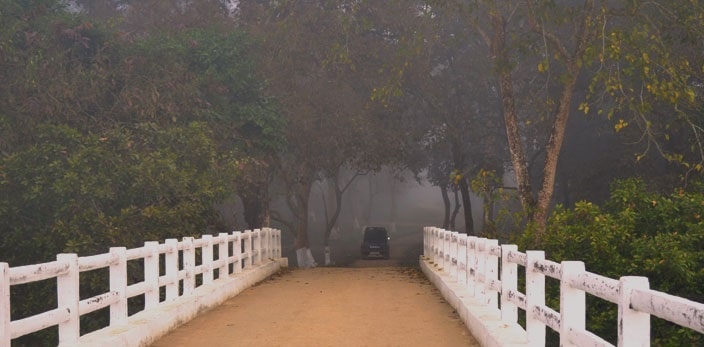 After 7 hours journey, we reached Kaziranga & booked Jupuri Ghar Resort, such a homely place operated by Assam Tourism. Finally, after hours of sightseeing, we retire for that day.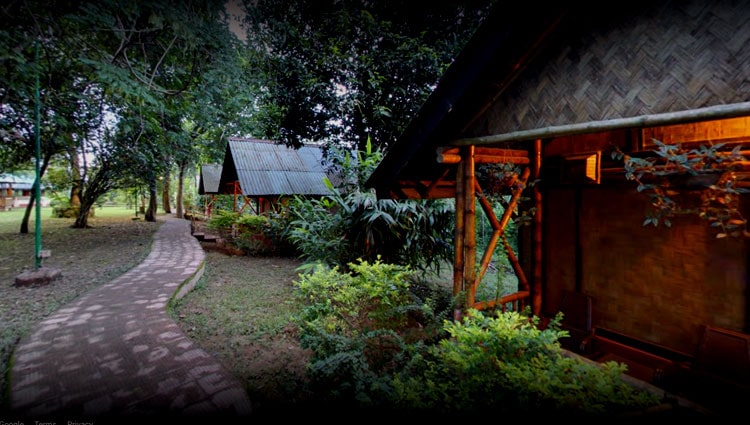 Next day we woke up early, approximately at 4.30 am, had a cup of coffee and rushed to the famous elephant safari. We had to pay for our cameras too according to the rules. Around 5.30 am our elephant journey started, something we have never ever experienced.
We couldn't see far enough for the foggy cold environment but after a while, we discovered ourselves in the middle of Kaziranga's deep forest. We saw the famous single-horned rhinos', the giant that makes Kaziranga exceptional. Antara & Arush couldn't stop taking pictures, well, justified enough. None can stop themselves from capturing such beauty.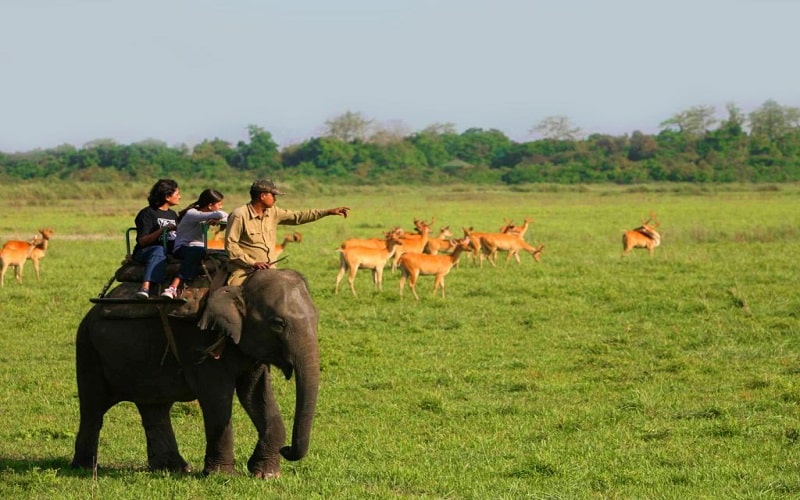 We saw a large group of deer near the small river and yes, how can I forget! Beautiful colourful parrots too. I had my first encounter with water deer there, I had never seen single horned rhinos & water deer before. A little bird on the back of a huge buffalo increased the density of the scenario.
After 1 or 2 hours journey our cameras and eyes were only focused to capture the national animal. After a long period's search when we almost gave up, suddenly the mahout gestured for silence, we all stopped talking, it was a pin-drop silent situation.
As soon as the mahout pointed towards a bush a heart-shaking roar totally broke the silence, just a glimpse of it and vanished. We couldn't find the tiger even after search for a long time, it was little disappointing though but overall we were very satisfied with the jungle trip.
Ending the elephant safari, we entered the flora & fauna in the orchid park. May be there were thousands of bird there, near the lake. There was a play zone for the kids & Assamese food, ah… I can never forget them!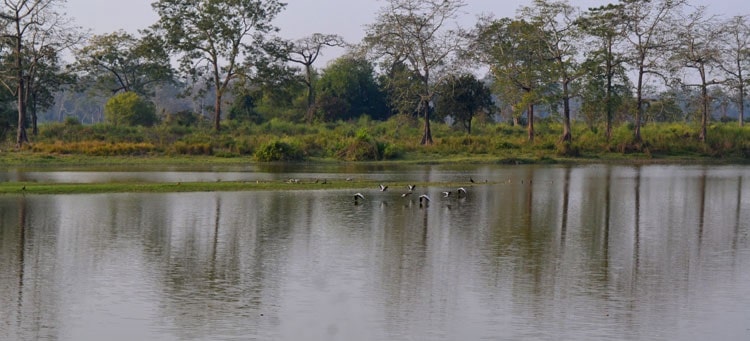 After some lunch we went for the four wheeler safari. In the central range of the Kaziranga National Park we had a close look to the animals in a jeep. The feeling cannot described in words, I can just say, surely I am coming back here. With some snaps of the red sky we ended the journey, the best one in my memory.
We returned to our resort and checked out next morning with some undying beautiful memories & thousands of pictures.