In the world of travel photography, capturing fleeting moments and weaving them into timeless stories is a calling shared by many. The right camera can guide you through amazing captivating sights and unexpected encounters. Join us to uncover the best camera for travel photography beginners in India, one that transforms mere beginners into visual storytellers, capturing the heart and soul of every journey.
Choose the Best Travel Camera For You
Our Top Picks
How To Choose The Best Camera For Travel Photography
Choosing the best travel camera as a beginner might seem like a daunting task, but with a few key considerations, you can find a camera that suits your needs and helps you capture incredible memories. Here is a simple guide to help you make the right choice:
Type of Camera
Consider whether you prefer a compact point-and-shoot camera, a mirrorless camera, or an entry-level DSLR. Each type has its advantages, so pick one that aligns with your preferences and desired features.
Size and Weight
Opt for a camera that is portable and lightweight, making it easy to carry during your travels. A compact camera or a mirrorless model can strike a good balance between performance and size.
Image Quality
Look for a camera with good sensor size and resolution. A larger sensor often results in better image quality, especially in low-light conditions.
Versatility
Choose a camera with versatile features that suit different shooting scenarios. A flexible zoom lens or interchangeable lenses can help you capture a variety of subjects, from landscapes to portraits.
Image Stabilization
Consider a camera with built-in image stabilization, which helps reduce blurriness caused by shaky hands or low light.
Battery Life
Check the battery life while buying the camera. Traveling often means being away from charging points, so a camera with good battery life will serve you well.
Video Capabilities
If you're interested in shooting videos, choose a camera that can record at least Full HD or 4K videos with good quality.
Wireless Connectivity
Built-in Wi-Fi or Bluetooth can make it convenient to transfer photos to your smartphone for quick sharing on social media.
Top 10 Best Cameras For Travel Photography
Canon EOS 200 D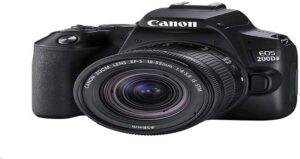 The Canon EOS 200 D is a lightweight DSLR camera from Canon, weighing only 450 g. It comes with a vari-angle LCD and an APS-C CMOS sensor with the DIGIC 8 image processor, delivering clean and colorful images.
It has a 4K video-recording feature making it an excellent option for beginner vloggers who want to shoot high-quality videos. Its long battery life of 1,070 shots per charge and Dual Pixel Autofocus (AF) in Live View with eye detection make it a great choice for both stills and movies.
Cool Features Of Canon EOS 200 D
Canon EOS 200D camera comes with great image quality.
It has dual-pixel technology.
The battery life of this camera is long-lasting.
Not So Good Things
The output has been cropped to display in 4K resolution.
The battery is placed in the wrong location.
Nikon D7500
The Nikon D7500 is a camera with a 20.9 MP sensor and a powerful image-processing engine similar to that found in the popular Nikon D500. It is the best camera option in India, featuring a DX-format CMOS sensor with a 180K-pixel RGB sensor for exceptional image quality.
The camera also has SnapBridge, Bluetooth, and Wi-Fi, and can shoot videos in 4K UHD at 30 FPS. It offers various special effects modes, including night vision and vivid pop. With a weight of 753 g, the Nikon D7500 is sturdy yet easy to grip.
Good Things About Nikon D7500
The camera has a 50-image buffer for uncompressed RAW files.
It performs well in high-ISO settings.
The touchscreen is fast and effective.
Not So Good Things
The 4K video has a significant amount of cropping.
The resolution of the rear screen is low.
Canon EOS RP
The Canon EOS RP is a 26.2-MP best mirrorless camera for travel photography beginners with a full-frame CMOS sensor. It weighs only 485 g and is one of Canon's lightest interchangeable lens cameras.
Users can shoot 4K-UHD videos and take advantage of features such as DIGIC 8 processor and eye detection AF. The camera also includes a feature assistant to help new users navigate.
Good Things About Canon EOS RP
The Canon EOS RP is a full-frame mirrorless camera.
It comes with a 24-105mm f/4-7.1 kit lens.
It has a comfortable grip, a clear EVF, and a vari-angle rear screen.
Not So Good Things
The EOS RP lacks in-body stabilization and has limited burst shooting.
It has limited video specifications and poor shadow noise performance.
Canon EOS Rebel SL3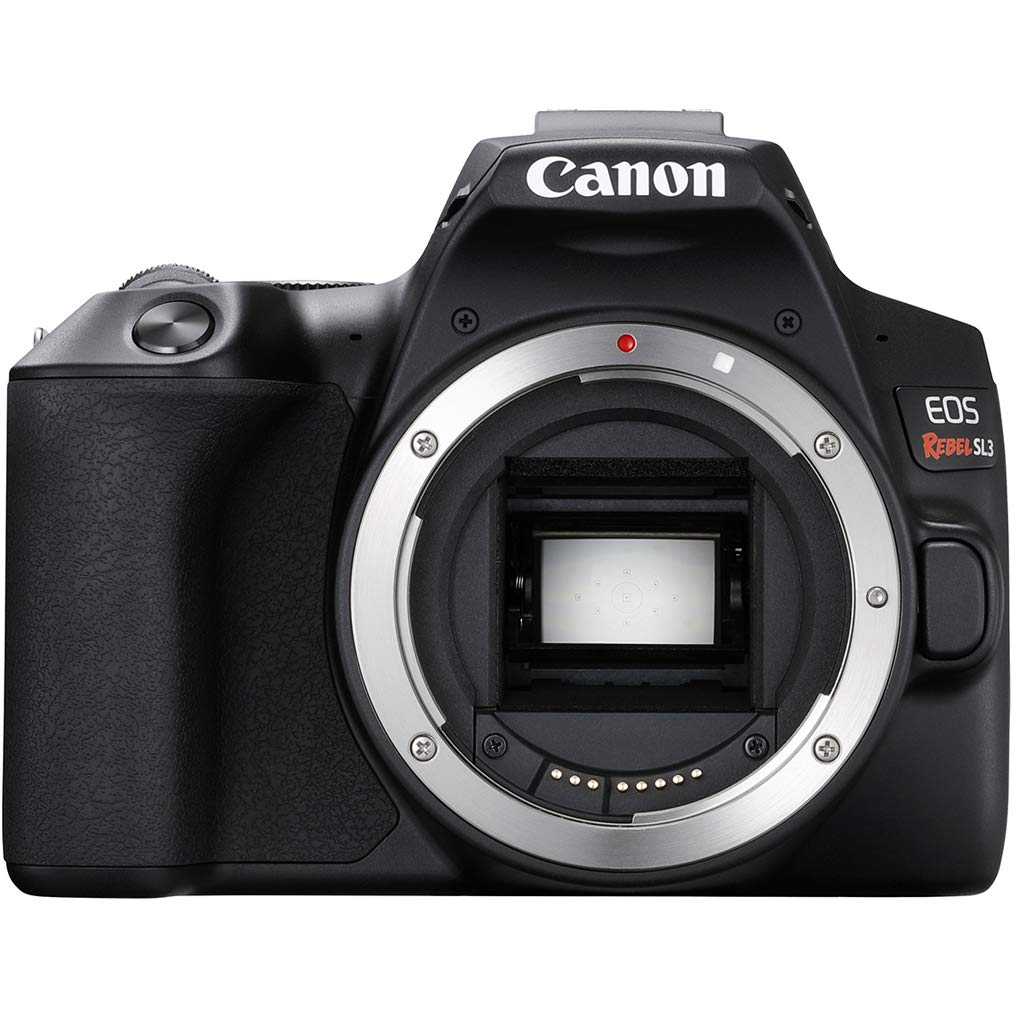 Canon EOS Rebel SL3 camera is one of the top cameras for travel photography in India. This 24.1-MP camera captures sharp footage and allows for blur-free photographs. The EOS Rebel features a shooting speed of 5 FPS and time-lapse capabilities.
Additionally, it has a responsive LCD, a DSLR sensor, and an optical viewfinder. Users can enhance the focal length and maximum aperture by adding the Canon EF-S 18-55mm f/3.5-5.6 IS II SLR lens. EF-S 18-55mm f/3.5-5.6 IS II SLR lens to it.
Cool Features Of Canon EOS Rebel SL3
The camera has a DIGIC 8 processor and a lightweight design.
It comes with great image quality, especially in daylight.
The control buttons are decently sized, and it has a fully articulated touchscreen.
Not So Good Things
The build quality of the optical viewfinder could be improved.
In-body image stabilization and automatic opening for the built-in flash are not available.
Canon EOS R10
Canon EOS R10 is a mirrorless camera for beginners with 24.2 megapixels. The Canon EOS has an APS-C-sized CMOS sensor for higher image quality and is lightweight (382 g), making it a great option for travel.
Powered by the Digic X processor, it has advanced autofocus technology and burst shooting speeds. It provides mechanical and electronic shutter and RAW burst modes with 0.5 seconds of pre-shooting, making it one of the best cameras for beginner videography.
The Canon EOS R10 can track various subjects, such as people, animals, and even motorcars.
Cool Things About Canon EOS R10
This device is both compact and lightweight, making it easy to carry around.
Its autofocus capabilities are impressive.
It has a speedy burst mode for capturing fast-moving subjects.
Additionally, it provides good value for its price.
Not So Good Things
This camera lacks in-body image stabilization.
It has only one card slot and has a small viewfinder.
Olympus OM-D E M10 Mark IV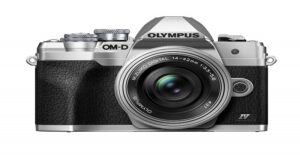 A great camera for beginners is the Olympus OM-D E M10 Mark IV. It has a 20-MP camera, a five-axis in-body image stabilization feature, and an MOS sensor that is always in connection.
The camera comes with a 14-42-mm lens and its ultra-compact body weighs about 499 g, making it easy to carry along. With all these features, the E M10 Mark IV is one of the best cameras for beginner photography.
Cool Things About Olympus OM-D E M10 Mark IV
This camera boasts a powerful 20MP sensor, providing high-quality images.
Its image stabilization technology is impressive, ensuring clear and steady shots.
The flip-down touchscreen is a convenient feature, making it easy to capture shots at different angles.
Not So Good Things
There is no microphone input available.
There is also no USB-C port on this device.
Fujifilm X-S10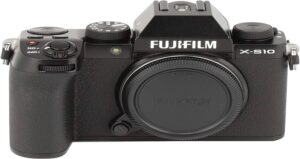 The Fujifilm X-S10 is a lightweight and versatile mirrorless camera perfect for beginner vloggers on a mid-range budget. Its 26.1-MP X-Trans CMOS 4 sensor and X processor 4 make it fast and easy to use.
With 18 film simulation modes, including ETERNA Bleach Bypass, users can record and edit in diverse color themes. The camera's ultimate feature is its six-stop, five-axis in-body image stabilization (IBIS) for smooth shots.
Users can shoot 4K videos and easily frame their subjects with face and eye AF tracking.
Cool Things About FujiFilm X-S10
The XS10 strikes a perfect balance between style and utility.
It boasts superb image quality that remains unmatched even at high ISO levels of up to 6400.
The inclined and flippy screen feature is also highly effective.
Not So Good Things
No weather sealing, only one UHS-I card slot.
Mediocre battery life and a max shutter speed of 1/4000.
Pentax K-70 24MP DSLR
Pentax is a Japanese company that specializes in DSLRs. The Pentax K-70 is a 24-MP DSLR camera that's an all-rounder with a dust- and weather-resistant body and a shake-reduction mechanism. It is an affordable travel photography camera for beginners.
K-70 has a cold-resistant body and a vari-angle LCD monitor with a night vision red light LCD. It is powered with an APS CAA filterless CMOS sensor and has a five-axis sensor shift (SR) system. It is compact but heavy at 907g, so be sure to carry it with the right accessory.
Good Features Of Pentax K-70
The camera is weather-sealed and has a solid build quality.
The lowlight autofocus is class-leading and the optical finder provides 100% coverage.
Additionally, there is a built-in WiFi feature.
Not So Good Things
Issues with autofocus, RAW buffer, and JPEG compression.
There should be wireless flash control.
Panasonic Lumix S5
The Panasonic Lumix S5 is one of the best cameras for travel photography beginners in India with a 24.2-MP full-frame CMOS sensor, allowing for wider shots and shallower field depth.
It is user-friendly and appealing to creators, with features such as contrast-detect DFD AF, touchscreen display, dual SD card slots, Wi-Fi Bluetooth, and one-touch image transfer.
However, it weighs 712 g, which may not be suitable for beginners who do not want to carry it extensively.
Good Features About Lumix S5
The Lumix S5 can capture 4K/60p 10-Bit 4:2:0 video at 200Mbps.
It also has a 4K/30p 10-Bit 4:2:2 video with greater color depth available internally.
10-bit video can be recorded for up to 30 minutes.
Not So Good Things
The Lumix S5's battery life might be relatively shorter compared to DSLRs
For beginners, Panasonic's menu system can be complex and overwhelming.
FujiFilm X-S20
With a compact and well-balanced body, the Fujifilm X-S20 is an ideal mirrorless camera for travel. It has simplified dials that make it beginner-friendly, and new features like a dedicated Vlogging mode make it forgiving for beginners.
This camera uses the same 26.1MP sensor as the X-S10 and X-T4, which produces quality stills. The X-S20 has a proven shooting system and an automatic scene detection mode that reliably chooses the correct settings.
It also offers 6K/30p 4:2:2 10-bit internal video recording and in-body image stabilization. While the lack of weather sealing and the price tag may discourage some adventurous travelers, the X-S20 is a very capable all-rounder for travel.
Good Features Of FujiFilm X-S20
FujiFilm X-S20 is accessible handling for learners.
It provides impressive video features.
Not So Good Things
It might be an expensive option for beginners.
In Conclusion, With the best camera options, India's vibrant landscapes and diverse cultures are yours to capture. Whether you are chasing sunsets on sandy shores or exploring bustling markets, the right camera will help you craft stories that linger long after the journey ends. So, find your perfect travel companion, frame your memories, and let your creativity paint the chapters of your adventures. Happy travels and happy clicking!
Suggested Read: Best Budget Camera For Travelling India 2023
FAQs (Frequently Asked Questions)
1: Is the Panasonic Lumix S5 suitable for beginners despite its weight?
While the Panasonic Lumix S5 offers impressive features, its weight of 712g might be a concern for beginners seeking a lighter travel option.
2: Can the Canon EOS R10 track different subjects for beginner videography?
Yes, the Canon EOS R10 features advanced autofocus technology, making it capable of tracking a variety of subjects, including people, animals, and vehicles.
3: Does the Canon EOS RP offer a budget-friendly option for travel photography?
Yes, the Canon EOS RP is a budget-friendly full-frame mirrorless camera that comes with a kit lens and features like a vari-angle rear screen.
4: What sets the Fujifilm X-S10 apart as a suitable camera for beginner vloggers?
The Fujifilm X-S10 offers a lightweight and versatile design, making it ideal for beginner vloggers. It features advanced image stabilization, versatile film simulation modes, and 4K video recording capabilities.
5: Is the Olympus OM-D E M10 Mark IV a good choice for beginners looking for steady shots?
Yes, the Olympus OM-D E M10 Mark IV comes equipped with a powerful 5-axis in-body image stabilization technology, ensuring steady and clear shots, which is beneficial for beginners seeking quality images.