Prepare yourself for a journey like no other as we explore the 7 best adventure activities in Nagaland. Nagaland is a land that dances to the rhythm of thrilling adventures. Located in the mystical northeastern part of India, this destination offers you vibrant culture, awe-inspiring landscapes, and various adventurous activities such as biking, trekking, boating, etc.
Imagine venturing through breathtakingly beautiful valleys, where emerald-green hills kiss the sky and nature's beauty surrounds you like a melodic embrace.
Best Adventure Activities In Nagaland
Trekking In Dzukou Valley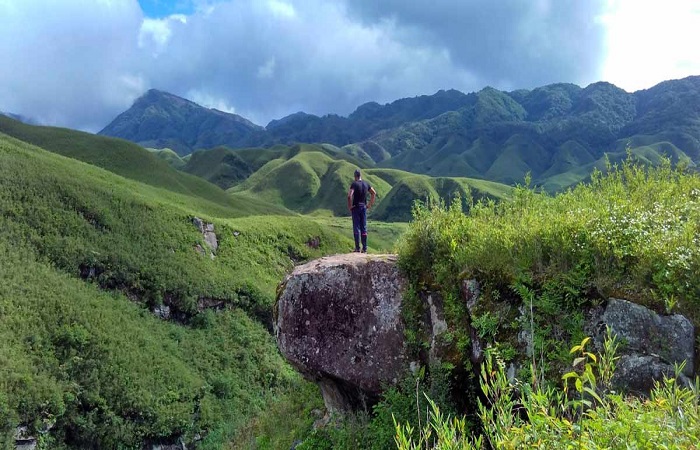 For an unforgettable experience, take a trip to the scenic mountain valley of Dzukou. If you have enough time, take the opportunity to trek further and reach the majestic Japfu Peak, towering at 10,118 feet above sea level.
The view from the peak surpasses any photograph, etching a lasting memory in your heart. Dzukou Valley is ideal for nature lovers, honeymooners, and adventure enthusiasts
If you are exploring Dzukou Valley so don't forget to equip yourself with hiking shoes, sticks, and a camera while wearing warm woolen fabrics.
How to reach Dzukou Valley? Situated just 20 kilometers away from Kohima, this captivating place is easily accessible by road.
What is Dzukou Valley famous for? The valley offers a thrilling and challenging trekking experience, taking adventurers through rugged terrains and scenic trails.
Best time to Treking in Dzukou Valley: The best time for trekking is from the month of May to October.
Wildlife Safari In Intanki Wildlife Sanctuary
Welcome to the Intanki Wildlife Sanctuary, a haven of rich biodiversity and natural wonders. This sanctuary is home to a diverse range of flora and fauna, offering a thrilling experience for wildlife enthusiasts.
As you explore the sanctuary, you'll see various species of wildlife, including majestic elephants, elusive tigers, playful gibbons, and a plethora of bird species. This wildlife safari is an opportunity to see magnificent creatures and create everlasting memories.
Prepare yourself for an unforgettable adventure to explore the Intanki Wildlife Sanctuary and immerse yourself in its vibrant ecosystem.
How to reach Intanki Wildlife Sanctuary? The sanctuary is well-connected by roadways. You can hire a taxi or use public transportation to reach the sanctuary from the capital city Kohima.
What is Intanki Wildlife Sanctuary famous for? Intanki Wildlife Sanctuary in Nagaland is famous for its rich biodiversity and diverse range of flora and fauna.
Best time to go for Wildlife Safari in Intanki Wildlife Sanctuary: The best time to go for a wildlife safari in Intanki Wildlife Sanctuary is during the winter months, specifically from November to February.
Boating In Doyang River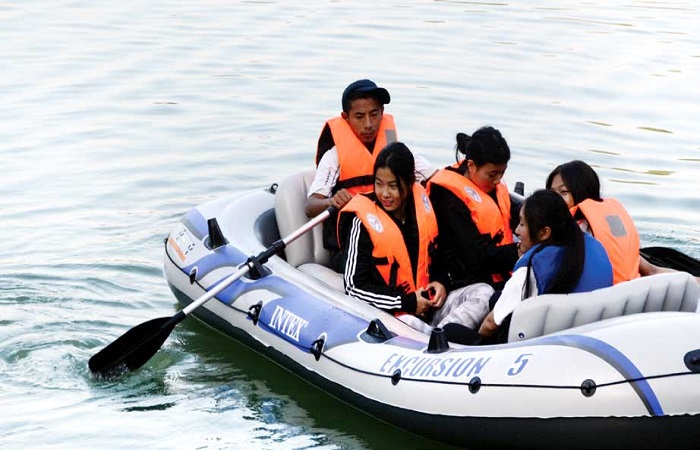 Located just 38 kilometers away from Kohima, the Doyang River is not only the longest river in Nagaland but also a scenic gem waiting to be explored. The best way to appreciate the beauty of its riverside areas is by taking a boat ride along its tranquil waters.
Additionally, you can witness tribal communities engaging in the art of angling, trying their luck to catch fish from the river shores. The weather of the Doyang River is very delightful for romantic individuals and groups of adventurers alike.
How to reach the Doyang River? Doyang River is well-connected by road. From Kohima, the capital of Nagaland, you can travel approximately 38 kilometers to reach the river.
What is the Doyang River famous for? Doyang River in Nagaland is famous for a range of adventure activities, including river rafting, angling, and boating.
Best time to go for boating in Doyang River: The months from November to April offer the ideal weather for boating in Nagaland.
Camping In The Lap Of Kohima Mountains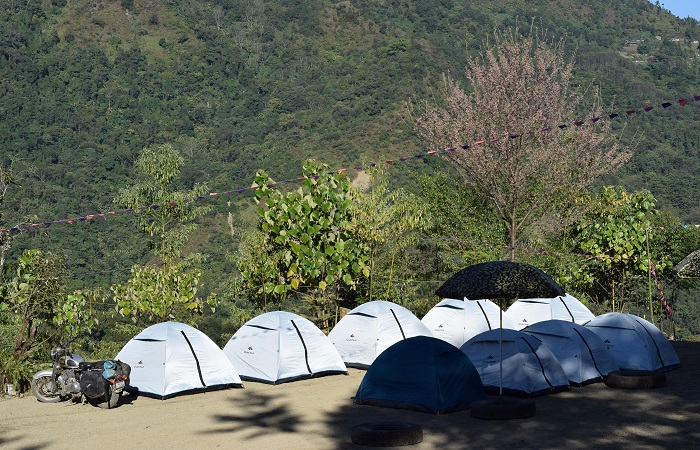 Experience the joy of camping at an altitude of 4,738 feet above sea level in the captivating hill station of Kohima, the capital of Nagaland. Offering exceptional facilities and amenities, it is an ideal camping destination suitable for all-age adventurers.
Feast on delectable barbeque dishes prepared on-site and savor the convenience of an onsite restaurant, eliminating the need to venture out for food and beverages. Embrace the serenity of camping and don't forget to pack your woolen garments for a cozy experience.
To add to the charm, the organizers arrange a bonfire during the night, creating a warm and inviting ambiance for all campers.
How to reach Kohima Mountain? To reach Kohima Mountain and Kohima, Dimapur serves as the nearest railway station and airport. Located just 74 kilometers away.
What is Kohima Mountain famous for? The mountain is famous for camping and its breathtaking natural beauty, including lush green forests, diverse flora and fauna.
Best time for camping in Kohima Mountain: The best time for camping in Kohima Mountain is during the months of October to April.
Biking On Forest Trail
Discover the thrill of mountain biking in Nagaland as you explore popular trail areas such as Lugsad, Forest Trail, and Bakahan. The well-maintained Naga roads provide a smooth and enjoyable biking experience, making it ideal even for those new to mountain road drives.
It is recommended to have a biking route map on your travel app or carry a physical map of the trail you plan to venture into. As you pedal through the scenic valleys, lush green mountain meadows, and mist-covered mountains, you'll be treated to breathtaking vistas.
Along the way, you'll find roadside vendors offering delicious bites and hot tea or coffee. You can gather a group of adventurers to enjoy together to get the best biking and adventurous activities experience.
How to reach Forest Trail? It can be done in any region of Nagaland that have forests.
What is Forest Trail famous for? The forest trail is famous for its biking experience.
Best time to do biking on Forest Trail: It can be done anytime throughout the year
Trekking At Japfu Peak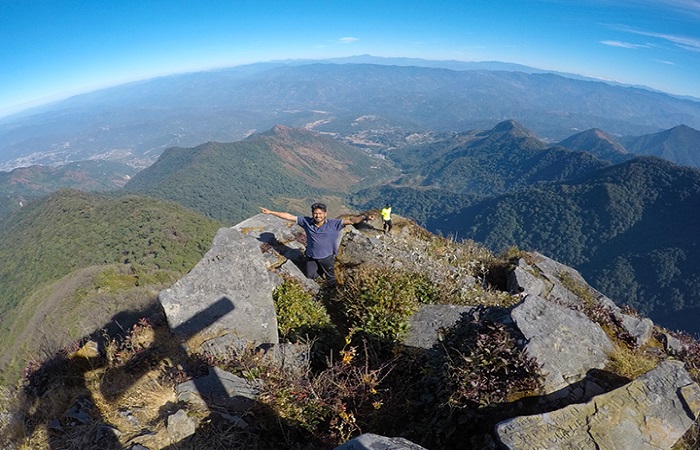 An awe-inspiring natural wonder, Japfu Peak is the second-highest peak in Nagaland. Rising majestically, it captivates with its sheer beauty and allure. Embarking on the Japfu Peak Trek promises exhilarating and rewarding adventurous activities.
As you navigate the challenging trails, you'll be rewarded with breathtaking panoramic views from the summit that leave you in awe of the surrounding landscape.
The trek takes you through lush green forests, creating a serene and immersive experience in nature. Prepare to be mesmerized by the magnificence of Japfu Peak and create everlasting memories of this remarkable journey.
How to reach Japfu Peak? Situated just 14 kilometers south of Kohima, the destination is conveniently accessible by car or bus.
What is Japfu Peak famous for? Japfu Peak in Nagaland is famous for its thrilling adventure activities, including trekking and rock climbing.
Best time to go Trekking at Japfu Peak: The best time to go trekking at Japfu Peak is from the month of June to September.
Caving In Mokokchung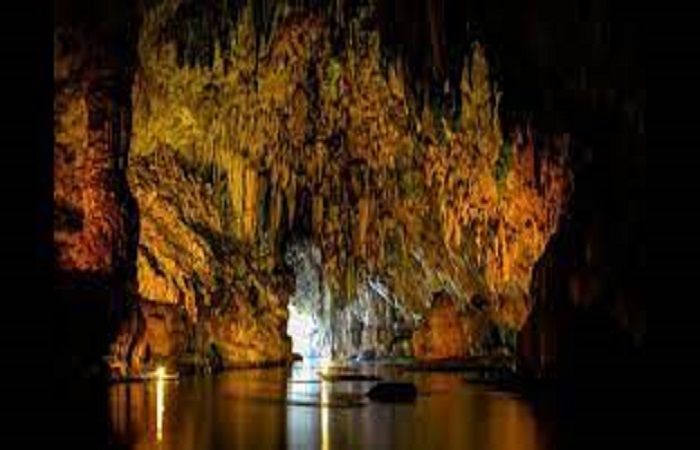 Welcome to Mokokchung, a captivating destination known for Langpangkong Cave that awaits exploration. This cave is a testament to the unique limestone formations and underground wonders found in the region. Mokokchung offers cave exploration which is the best adventurous activities.
Explore the depths of this mysterious cave with experienced guides by your side. Exploring this cave is an opportunity to unravel the secrets and marvel at the hidden treasures within.
Discover the awe-inspiring beauty and geological marvels that lie beneath the surface in the cave of Mokokchung.
How to reach Mokokchung? Situated approximately 105 kilometers away from Jorhat in Assam, Mokokchung is easily accessible by road.
What is Mokokchung famous for? Mokokchung is famous for exploring cave and for various places such as Longkhum, Mokokchung Village and Park, etc.
Best time to go for caving in Mokokchung: Caving in Mokokchung can be done anytime throughout the year.
Nagaland unveils a treasure for adventure enthusiasts, offering majestic peaks to delving into hidden caves. This land is a playground for the adventurer's heart with its vibrant culture, breathtaking landscapes, and adventurous activities. Nagaland gives you a chance for a journey that will leave you with unforgettable memories. So, pack your adventurous spirit, explore the 7 best adventurous places, and let Nagaland's wonders ignite your passion for exploration.
FAQs (Frequently Asked Questions)
What are the best adventure activities to do in Nagaland?
Some of the top adventure activities in Nagaland include trekking in Dzukou Valley, wildlife safaris in Intanki Wildlife Sanctuary, rock climbing in Kohima, caving in Mokokchung, and mountain biking in scenic trail areas.
Is Nagaland a safe destination for adventure activities?
Nagaland is generally considered a safe destination for adventure activities. However, it is important to take necessary precautions, follow safety guidelines, and opt for experienced guides or tour operators for a secure and enjoyable experience.
When is the best time to visit Nagaland for adventure activities?
The best time to visit Nagaland for adventure activities is generally during the months of October to May when the weather is pleasant and conducive to outdoor adventures. However, specific activities like trekking in Dzukou Valley are recommended between June and September for blooming flowers.
Are professional instructors available for adventure activities in Nagaland?
Yes, professional instructors are available for various adventure activities in Nagaland such as rock climbing, trekking, and mountain biking. They provide guidance, ensure safety, and help participants make the most of their adventure experiences.
Can beginners participate in adventure activities in Nagaland?
Yes, beginners can participate in certain adventure activities in Nagaland with proper guidance and instruction. It is advisable to choose activities that match one's fitness level and seek guidance from experienced professionals to ensure a safe and enjoyable experience.